Order Ectocarpales
Family Acinetosporaceae
Acinetospora crinita (Carmichael) Sauvageau 1899: 118
Plants comprising a tangled mass of fairly sparsely branched uniseriate filaments up to 25 mm long. Cells of main axis ca. 30-60 µm long x 15-25 (-40) µm broad: main axis bearing slightly incurved shorter laterals centrally on the parent cell. Growth of main axis generally diffuse, with meristematic regions towards the base of shorter laterals. Cells of laterals to 20 µm long x 15 µm maximum diameter, tapering to a false hair ca. 10 µm in diameter composed of 3-5 elongated cells. Numerous discoid plastids per cell.
Plurilocular sporangia sessile or with a one-or two-celled stalk, produced from centre of parent cell, occasionally terminal, 80-100 µm long, 25-35 µm diameter, with few (to ca. 20) loculi, tapering. No other reproductive structures seen.
Collections, ecology and regional distribution
Found in mixed turfs on intertidal algae. Recorded from False Bay (Western Cape) to the East London area (17-41).
World distribution: widespread in tropical and temperate Atlantic, Mediterranean, also Australia, New Zealand, Japan (Guiry & Guiry 2017).
Type locality: Scotland (Womersley 1987).
Note: Stegenga et al (1997) point out that this could be a phase in the life history of another ectocarpoid.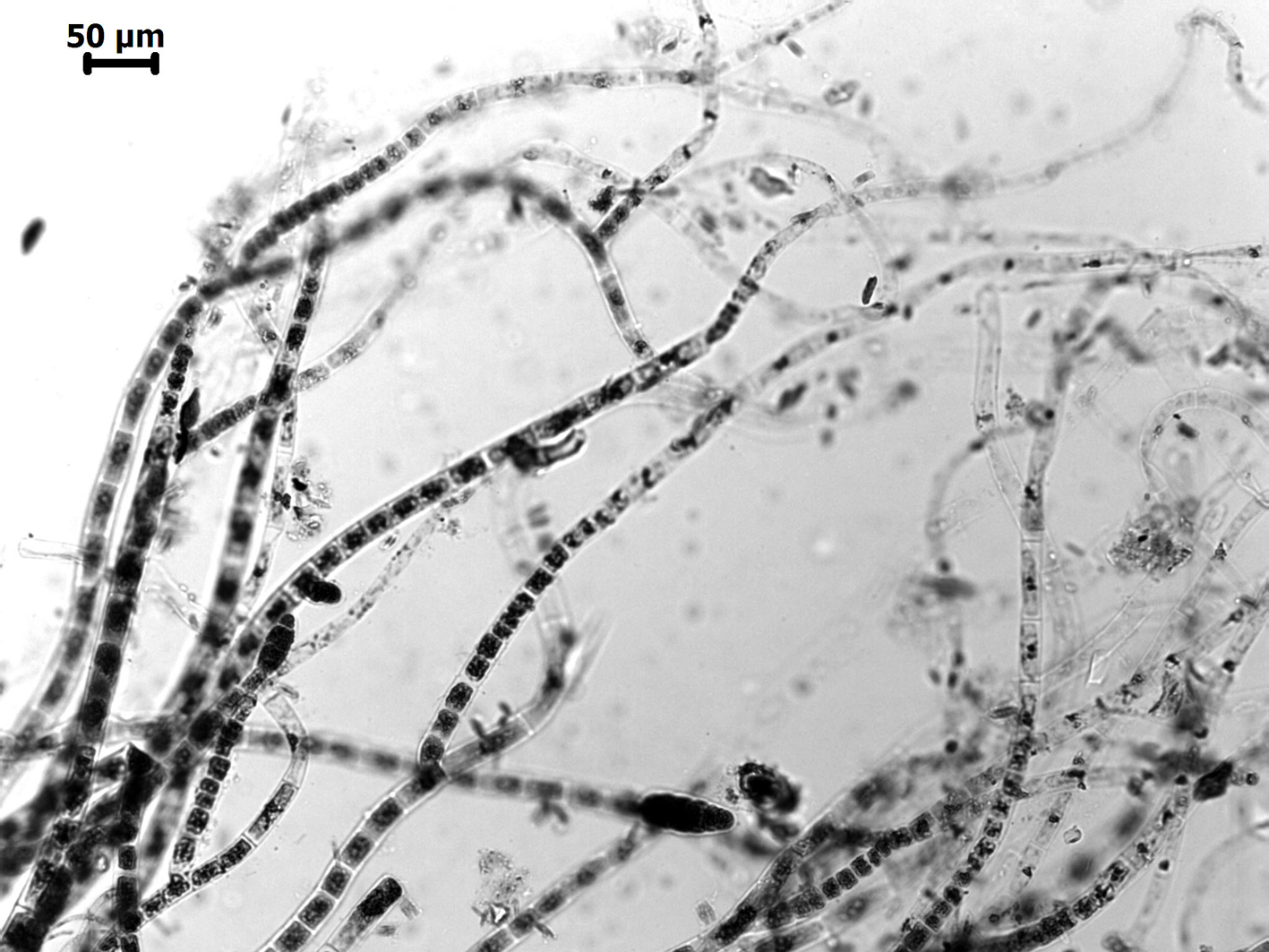 Acinetospora crinita, general view, stained slide material

Acinetospora crinita, detail showing plurilocular sporangium (stained slide material)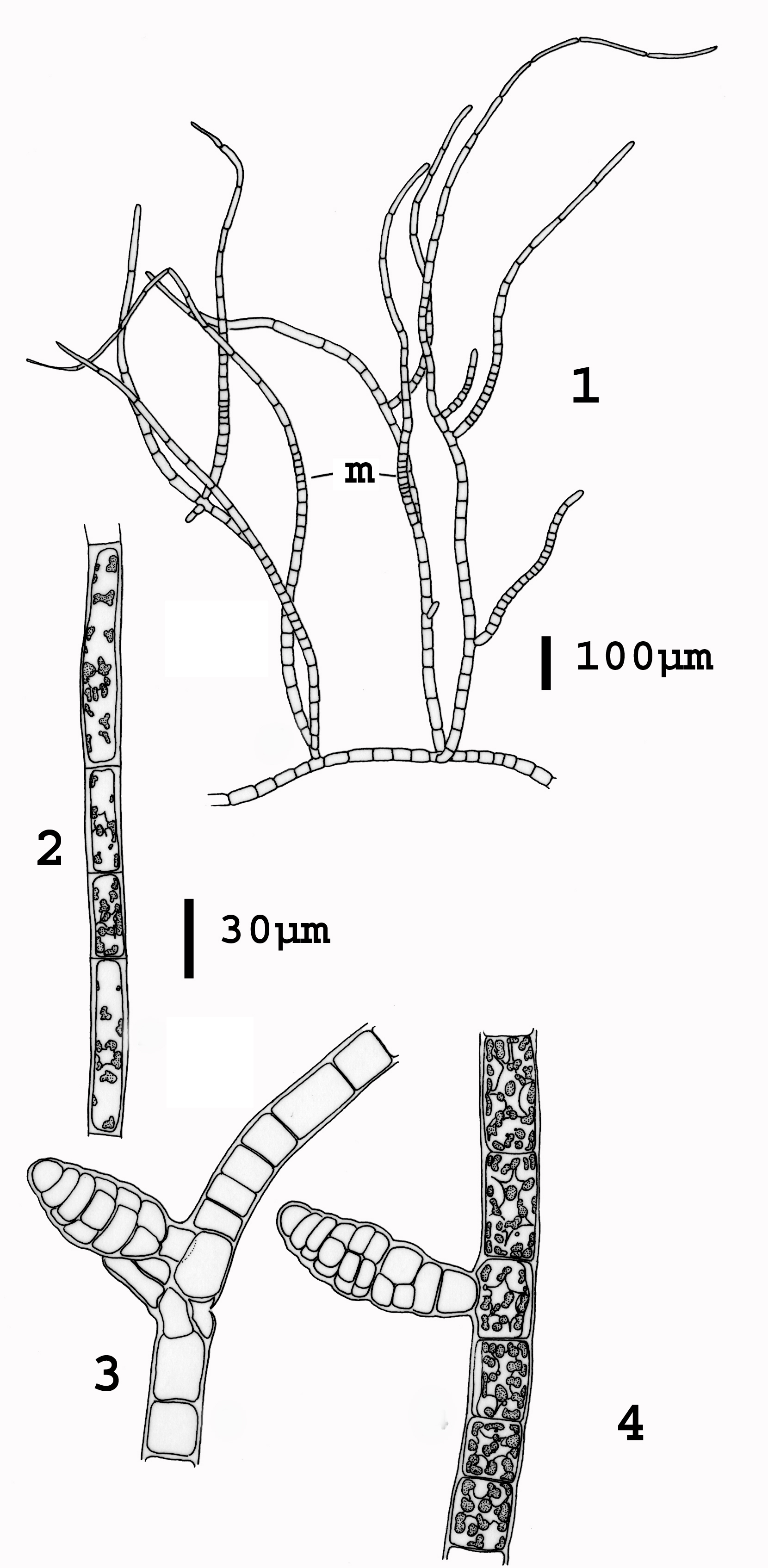 Acinetospora crinita. Top – microscopic habit; middle - detail of subapical (hairlike) part of erect filament; below – plurilocular sporangia (reproduced from Stegenga et al. 1997).
References Acinetospora
Guiry, M.D. & Guiry, G.M. 2017. AlgaeBase. World-wide electronic publication, National University of Ireland, Galway. http://www.algaebase.org; searched October 2017.
Sauvageau, C. 1899. Les Acinetospora et la sexualité des Tiloptéridacées. Journal de Botanique, Morot 13: 107-127.
Stegenga, H., Bolton, J.J. and R. J. Anderson. 1997. Seaweeds of the South African west coast. Contributions from the Bolus Herbarium 18: 655 pp.
Womersley, H.B.S. (1987). The marine benthic flora of southern Australia. Part II. pp. 481, 169 figs, 1 table, 8 plates, 4 maps. Adelaide: South Australian Government Printing Division.
Cite this record as:
Anderson RJ, Stegenga H, Bolton JJ. 2016. Seaweeds of the South African South Coast.
World Wide Web electronic publication, University of Cape Town, http://southafrseaweeds.uct.ac.za; Accessed on 01 October 2023.