Ectocarpales
Family Scytosiphonaceae
Chnoospora implexa J.Agardh 1848: 172
Plants brown, comprising entangled branching axes forming a cushion at least a few cm wide. Thalli cylindrical to compressed, 1-2 mm in diameter below, decreasing to 0.2 mm or less at the tips. Branching irregular becoming dichotomous near the apices; branches sometimes adhering to each other. Structure solid; medulla of large colourless cells surrounded by cortex of small pigmented cells. Reproductive structures not seen in our material.
Collections, ecology and regional distribution
Apparently rare on our coast, and probably in intertidal pools and some estuaries. On the south coast only recorded Mbotyi in northern Transkei (47) but there is one specimen in BOL of apparently the same species from Island Rock (near Mabibi) in northern KZN, indicating a possible distribution eastwards through Kwazulu-Natal.
World distribution: recorded from scattered tropical localities more-or-less worldwide, including Tanzania and Kenya in East Africa.
Type locality: Sinai Peninsula, Egypt (Agardh 1848).
Note: In Tanzania this species is reported to grow up to 30 cm long and in cushions up to 15 cm wide (Jaasund 1976). C. implexa from Japan was shown to have a heteromorphic life history in culture, the dioecious gametophytes alternating with a discoid sporophyte generation (Kogame 2001).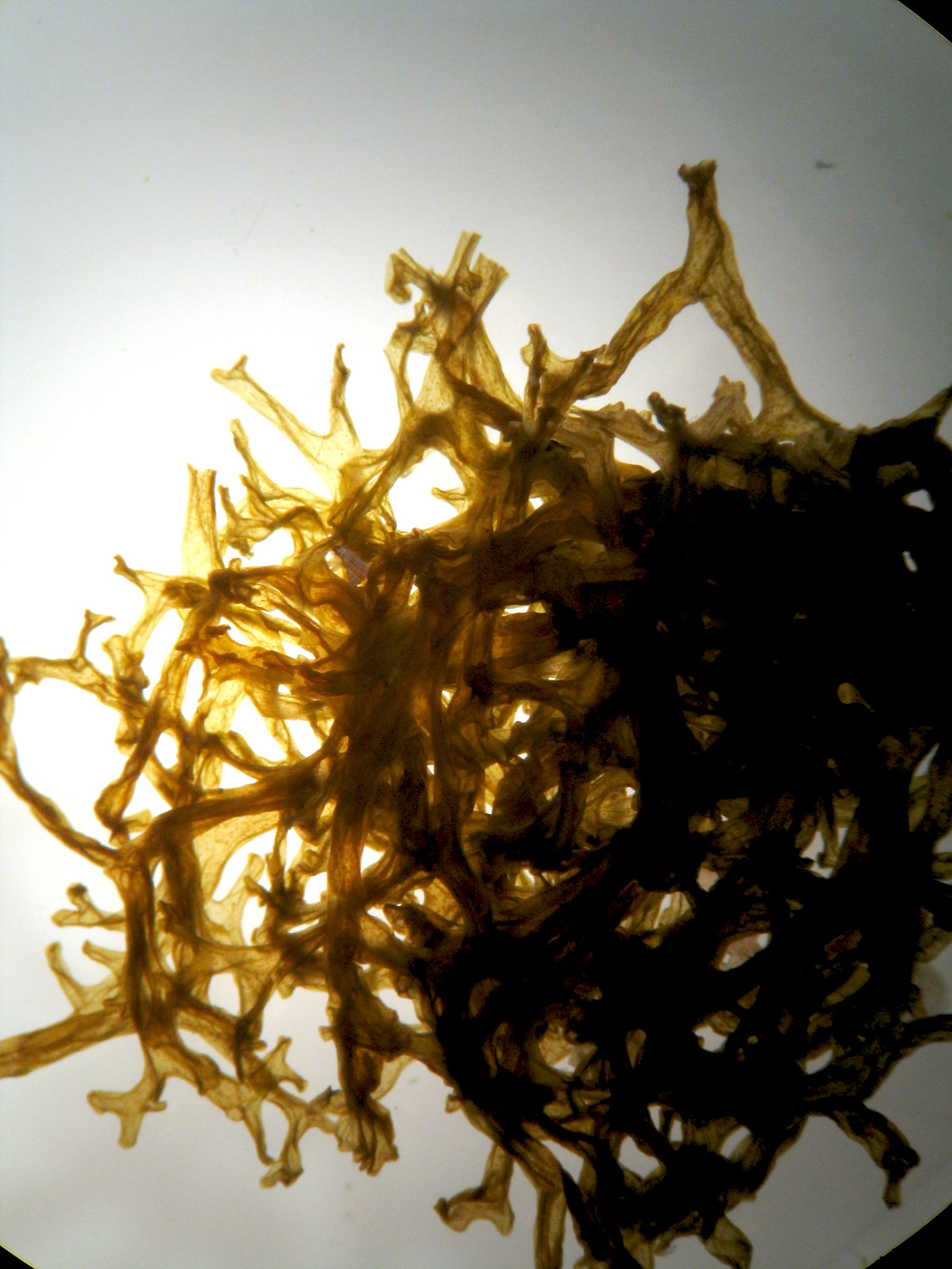 Chnoospora implexa, herbarium specimen from Mbotyi.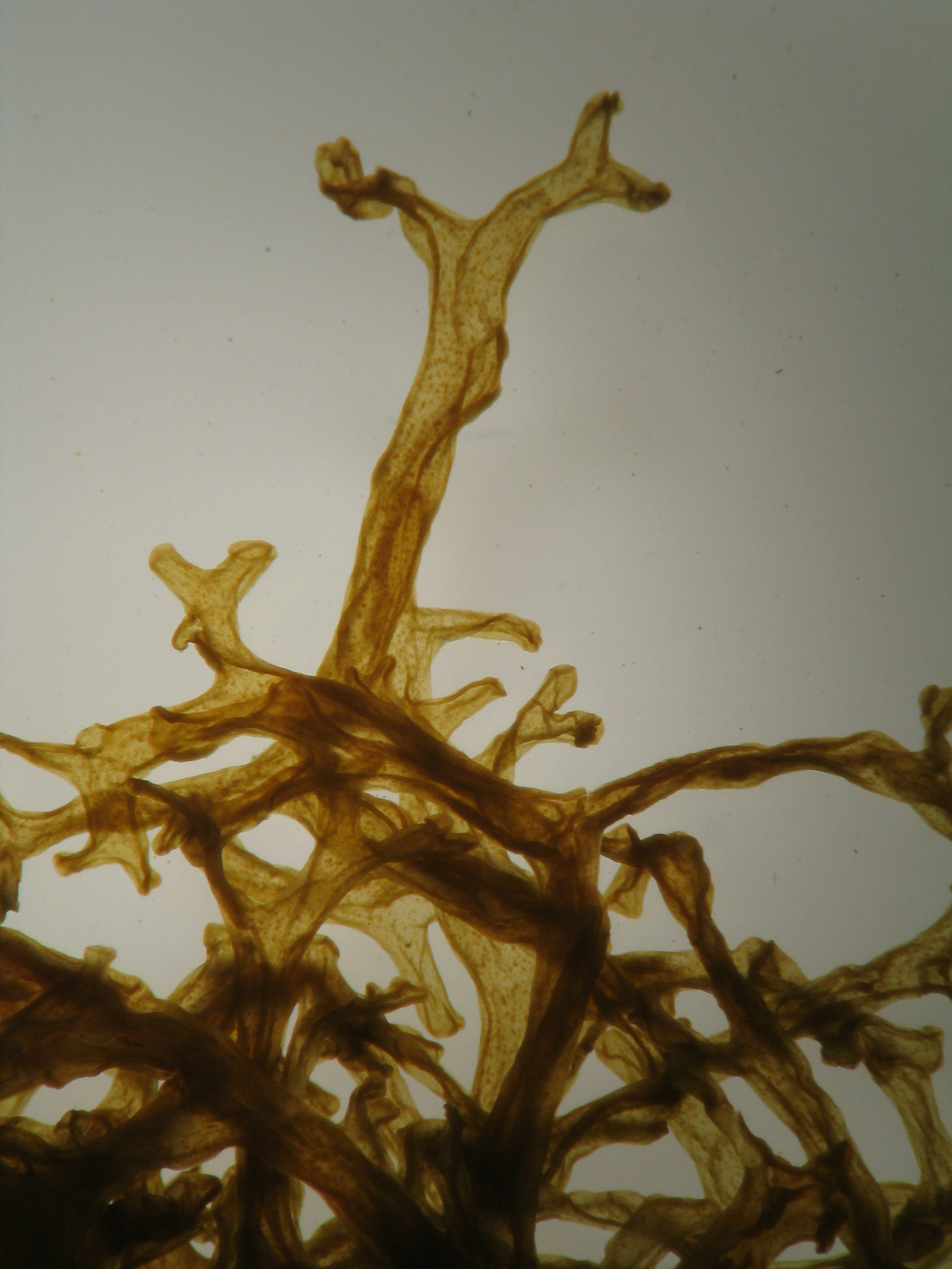 Chnoospora implexa, herbarium specimen from Mbotyi showing branching: main axes ca 1 mm wide.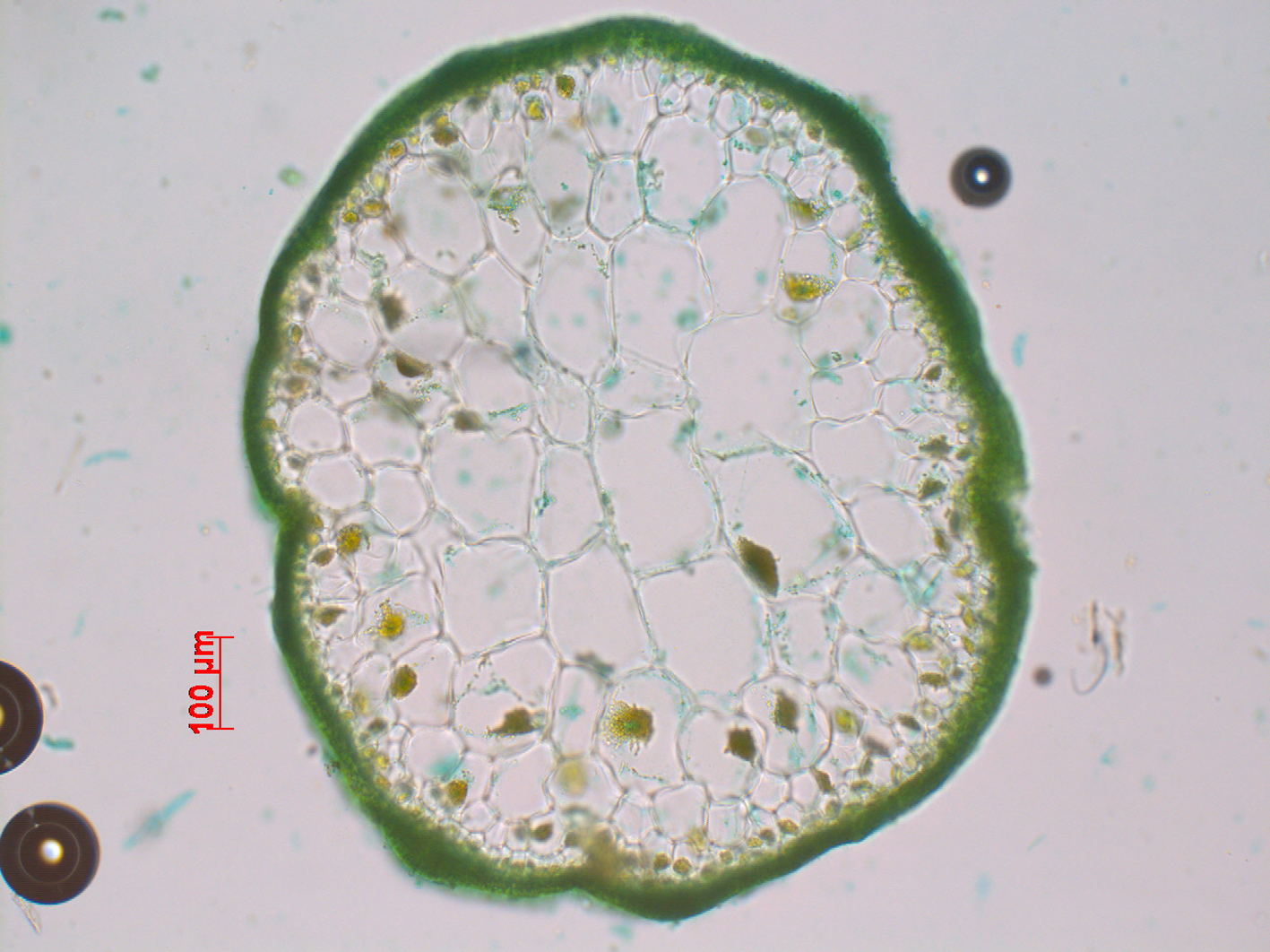 Chnoospora implexa, xs of Mbotyi specimen showing inner layer of colourless medullary and outer layer of pigmented cortical cells (stained slide).
References Chnoospora implexa
Agardh, J.G. (1848). Species genera et ordines algarum, seu descriptiones succinctae specierum, generum et ordinum, quibus algarum regnum constituitur. Volumen Primum. Algas fucoideas complectens. pp. [i-vi], [i]-viii, [1]-363. Lundae [Lund]: C.W.K. Gleerup.
Jaasund, E. (1976). Seaweeds in Tanzania: A field guide. pp. 160. Tromsø: University of Tromsø.
Kogame, K. 2001. Life history of Chnoospora implexa (Chnoosporaceaae, Phaeophyceae) in culture. Phycological Research 49: 123-128.
Cite this record as:
Anderson RJ, Stegenga H, Bolton JJ. 2016. Seaweeds of the South African South Coast.
World Wide Web electronic publication, University of Cape Town, http://southafrseaweeds.uct.ac.za; Accessed on 21 September 2023.