Ectocarpales
Family Scytosiphonaceae
Chnoospora minima (Hering) Papenfuss 1956: 69
Plants brown to yellow-brown, up to about 8 cm tall, comprising tufts of branched uprights attached by rhizoidal holdfast; erect axes terete to compressed, 1-2 mm wide, 3-6 times dichotomously to irregularly branched at angles of 30-50o, apices pointed, often forked. Structure solid, with medulla of large colourless cells surrounded by cortex of small pigmented cells; hair tufts emerging through cortex, scattered over thallus. Plurilocular sporangia up to about 55 µm long, in sori, often associated with hair tufts.
Collections, ecology and regional distribution
Epilithic, found in wave-exposed sites in the lower eulittoral/eulittoral fringe. Recorded from Dwesa to northern KwaZulu-Natal (44-58).
World distribution: Widespread in tropical and warm-temperate waters; in southern Africa also recorded in Mozambique (Guiry & Guiry 2011).
Type locality: Port Natal (Durban), South Africa (Tronchin & De Clerck 2005).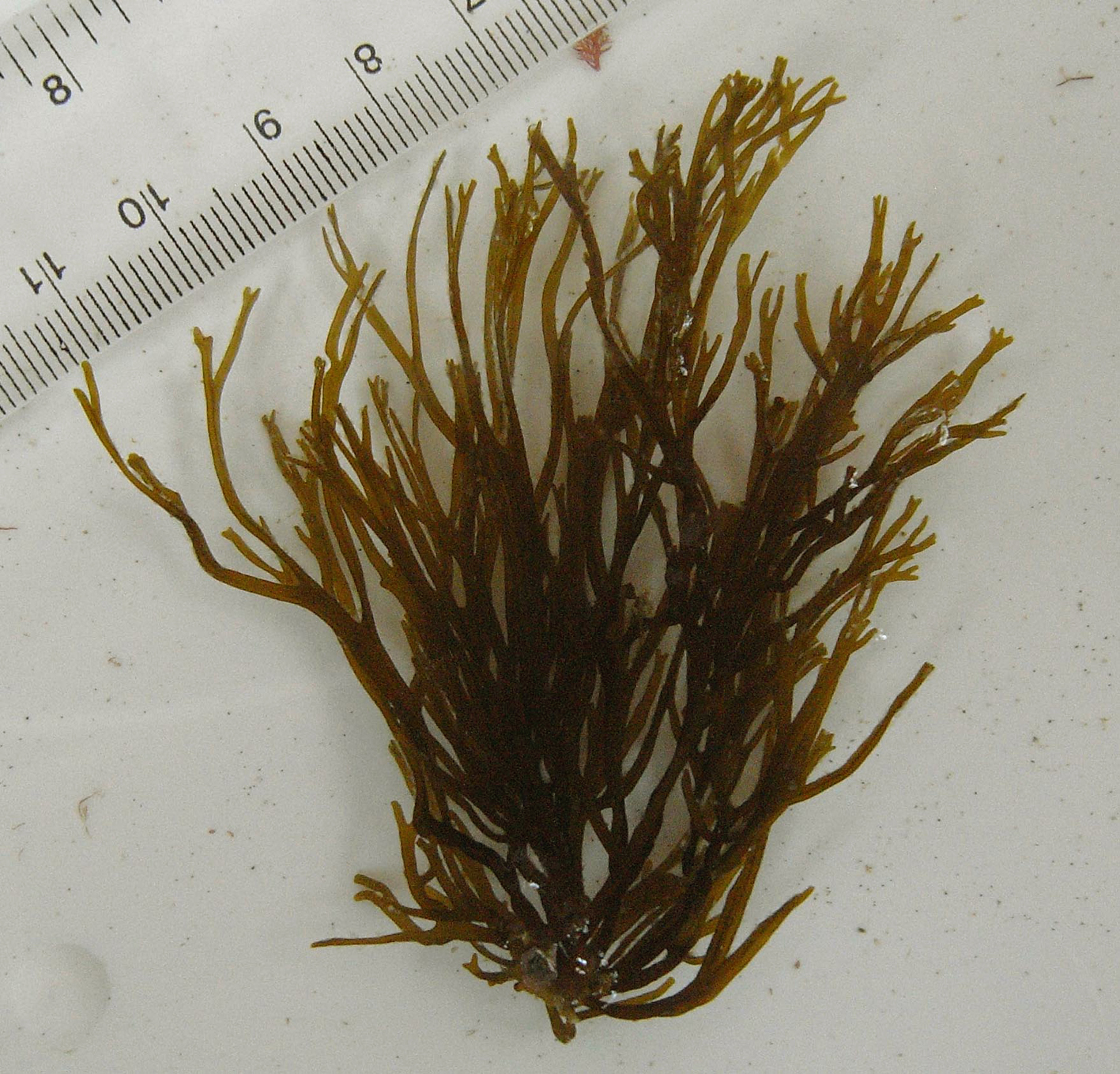 Chnoospora minima, whole thallus.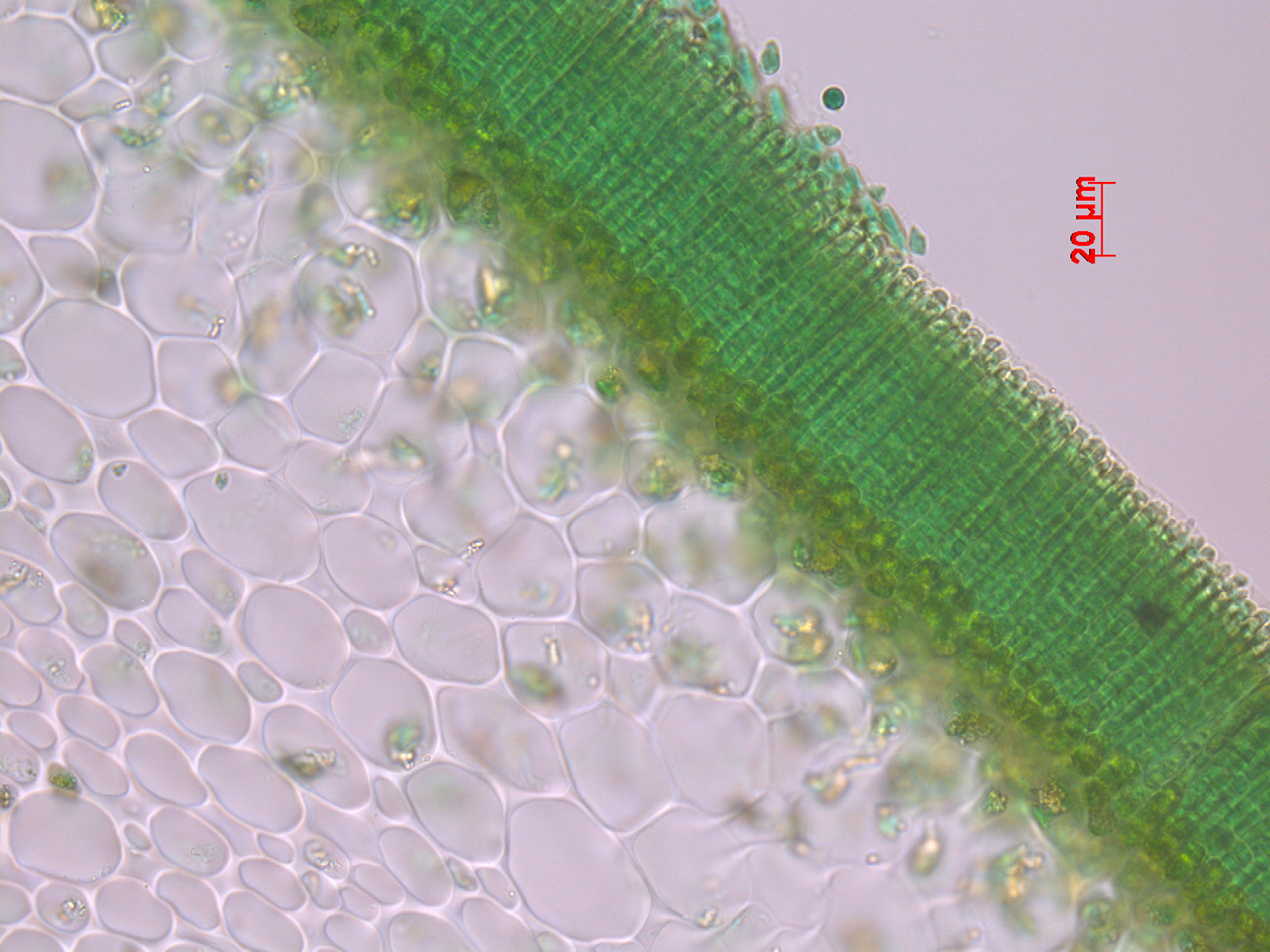 Chnoospora minima, xs of thallus showing plurilocular sporangia (Mkambati specimens, stained slide).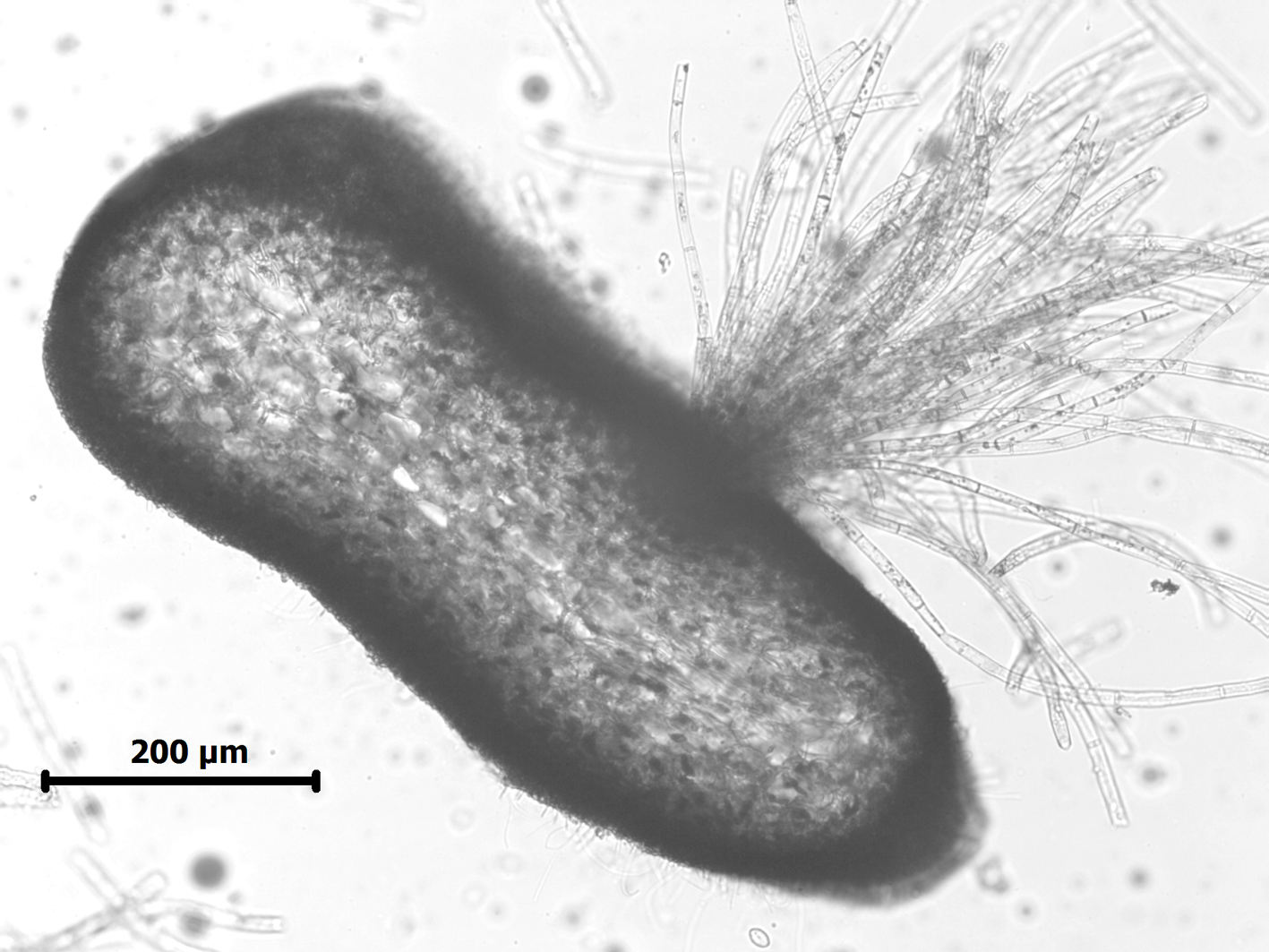 Chnoospora minima, xs of edge of thallus showing tuft of phaeophycean hairs.
References Chnoospora minima
Guiry, M.D. & Guiry, G.M. 2011. AlgaeBase. World-wide electronic publication, National University of Ireland, Galway. http://www.algaebase.org; searched October 2011.
Papenfuss, G.F. (1956). Notes on South African marine algae. IV. Journal of South African Botany 22: 65-77.
Tronchin, E. M., & De Clerck, O. 2005. Brown Algae. In: De Clerck, O., J.J.Bolton, R. J. Anderson and E. Coppejans, 2005. Guide to the Seaweeds of Kwazulu-Natal. National Botanic Garden of Belgium, Brussels (Scripta Botanica Belgica), pp. 96-129.
Cite this record as:
Anderson RJ, Stegenga H, Bolton JJ. 2016. Seaweeds of the South African South Coast.
World Wide Web electronic publication, University of Cape Town, http://southafrseaweeds.uct.ac.za; Accessed on 25 September 2023.