Order Ectocarpales
Family Ectocarpaceae
Ectocarpus fasciculatus Harvey 1841: 40
Plants brown, up to 1-3 cm long, epiphytic on larger seaweeds, comprising tightly-packed tufts of uniseriate filaments arising from a mass of irregularly branched basal filaments. Erect axes profusely branched with primary filaments of barrel-shaped cells reported in west coast specimens to be up to ca. 50 µm wide x 80 µm long, but smaller in some of our south coast specimens (12.5-20 µm wide). Secondary branches narrower, ca. 10 µm wide, arising in fascicles mainly from distal half of primary axes; commonly a third order of branches produced adaxially. All orders of branching tapering gradually. Growth diffuse : no clear meristematic zone. Cells with several elongate plastids each with several pyrenoids. Plurilocular sporangia ca. 80 x 20 µm , usually borne adaxially in series on branches, pedicellate, cylindro-conical. Unilocular sporangia not seen.
Collections, ecology and regional distribution
Epiphytic on various large seaweeds (e.g. Anthophycus longifolius, Ecklonia radiata). Recorded from the Orange River to Mbotyi (1-47).
World distribution: Widespread in temperate seas (Guiry & Guiry 2011).
Syntype localities: Mangan's Bay, Co. Waterford, Ireland: Miss Ball; Strangford Lough, Northern Ireland: On Zostera: W. Thompson; Torquay: Mrs Griffiths (Harvey 1841: 40). According to Guiry & Guiry (2011) a type has not been selected from the syntypes.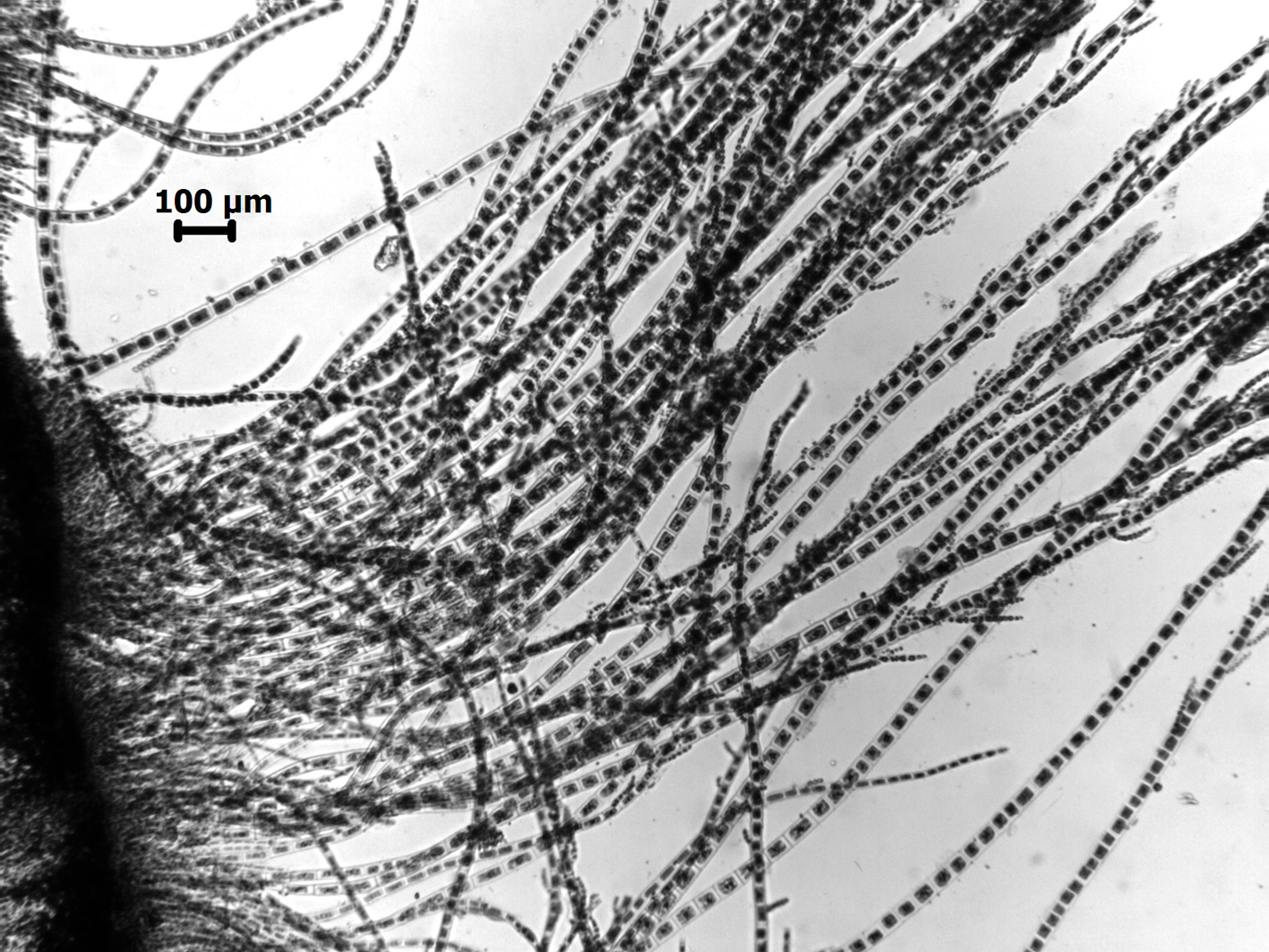 Ectocarpus fasciculatus.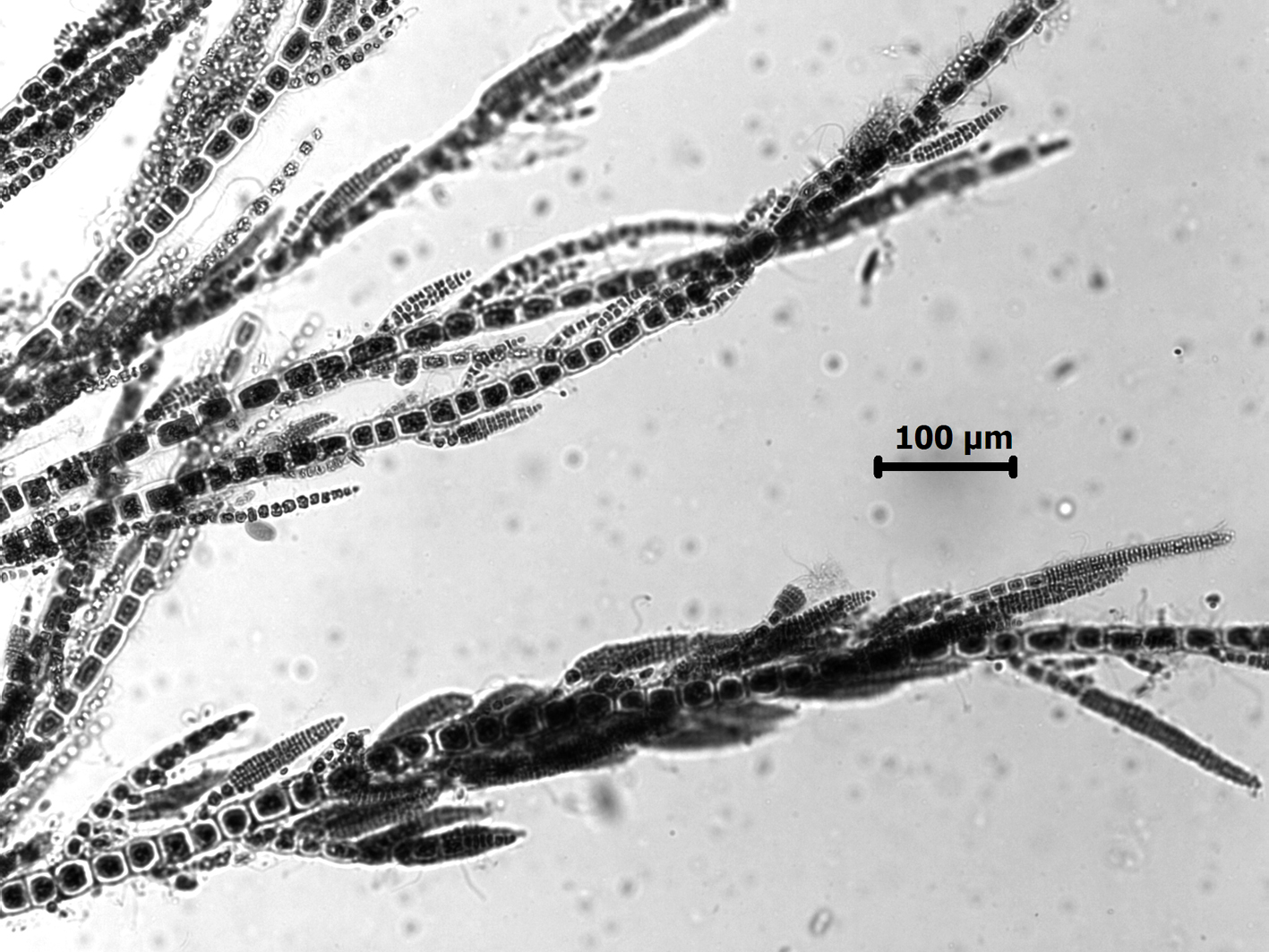 Ectocarpus fasciculatus.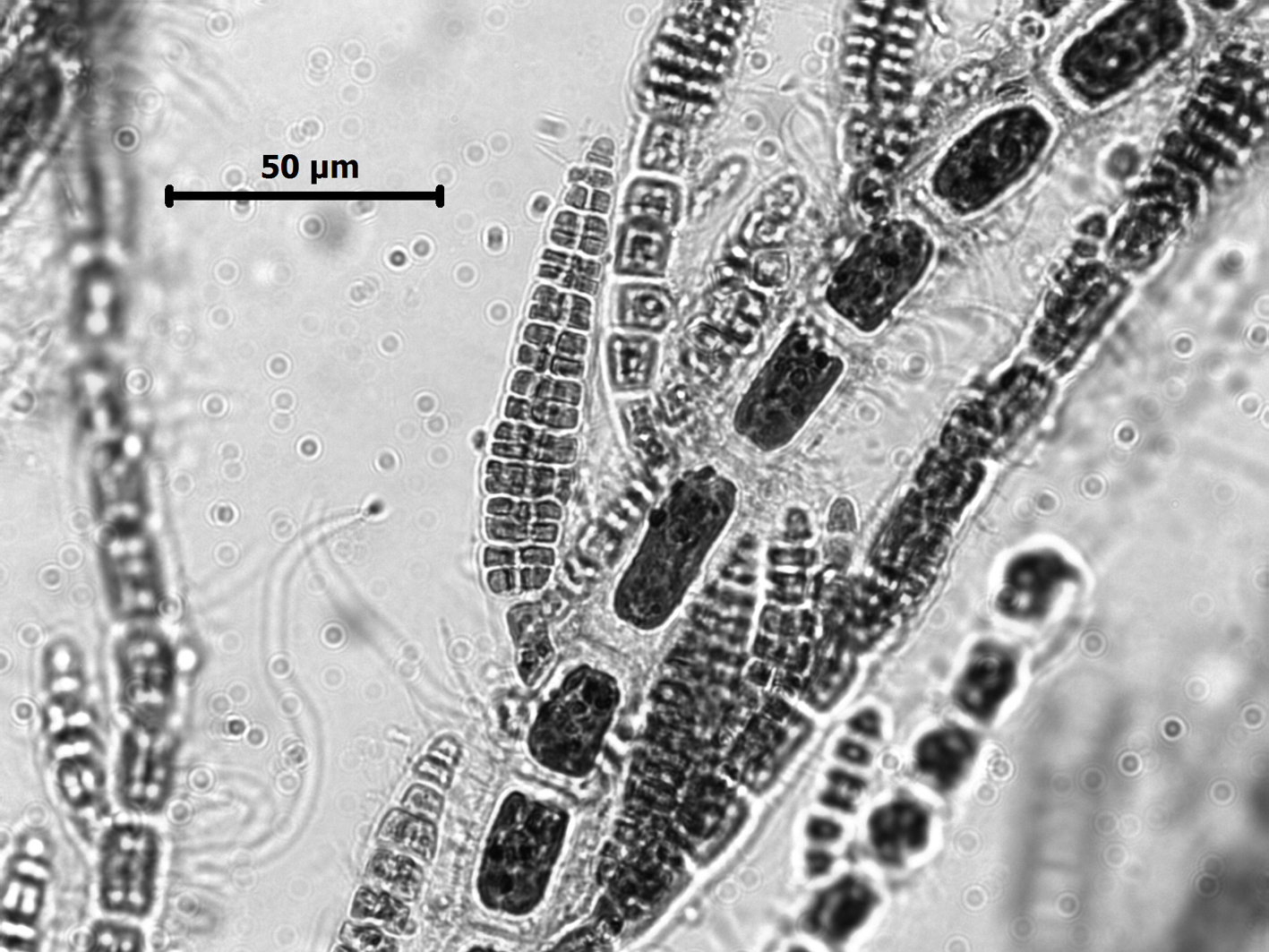 Ectocarpus fasciculatus, detail of plurilocular sporangia.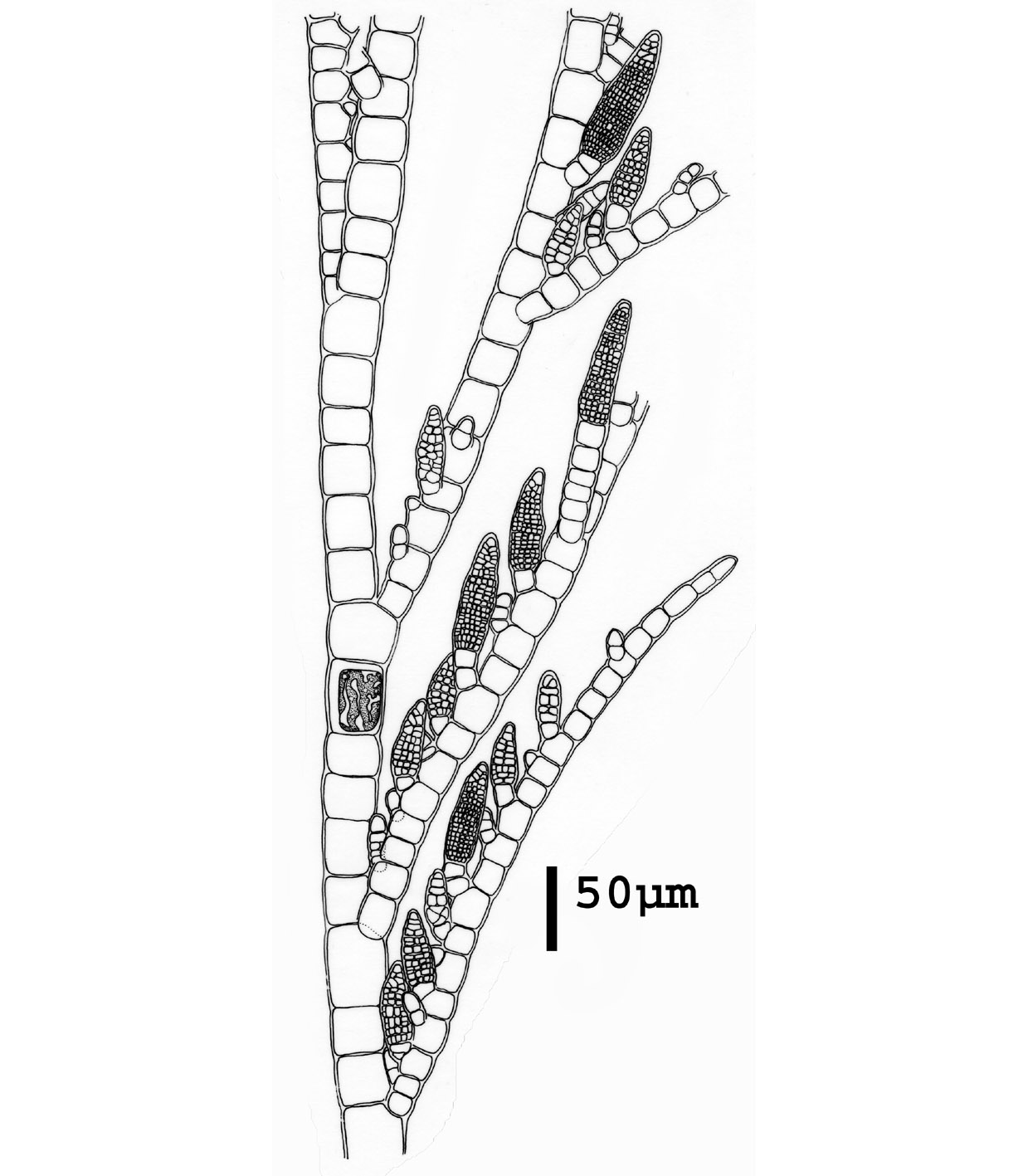 Ectocarpus fasciculatus, detail of thallus with plurilocular sporangia (reproduced from Stegenga et al. 1997).
References Ectocarpus fasciculatus
Guiry, M.D. & Guiry, G.M. 2011. AlgaeBase. World-wide electronic publication, National University of Ireland, Galway. http://www.algaebase.org; searched October 2011
Harvey, W.H. (1841). A manual of the British algae: containing generic and specific descriptions of the known British species of sea-weeds and of Confervae both marine and fresh-water. pp. [i-v]-lvii, [1]-229. London: John Van Voorst.
Stegenga, H., Bolton, J.J. and R. J. Anderson. 1997. Seaweeds of the South African west coast. Contributions from the Bolus Herbarium 18: 655 pp.
Cite this record as:
Anderson RJ, Stegenga H, Bolton JJ. 2016. Seaweeds of the South African South Coast.
World Wide Web electronic publication, University of Cape Town, http://southafrseaweeds.uct.ac.za; Accessed on 25 September 2023.