Order Dictyotales
Family Dictyotaceae
Lobophora variegata (J.V.Lamouroux) Womersley ex E.C.Oliveira 1977: 217
Plants dark brown through medium brown to yellowish-brown, rather variable in habit, ranging from prostrate loosely attached crusts to semi-erect, comprising flattened, fan-shaped or irregularly-shaped blades up to about 5 cm in diameter and ca. 300 μm thick, often with concentric growth lines; prostrate thalli attached by ventral rhizoids, erect thalli with rhizoidal holdfast and narrow stipe. Blade margins not in-rolled, meristem of marginal row of apical cells; tufts of short hairs on both surfaces. Medulla with single layer of large rectangular cells and 2-4 layers of smaller cells on either side; cortex of single layer, cortical cells forming visible longitudinal lines. Sporangia in sori, covered by indusium, scattered on both surfaces. Sporangia up to 120 μm long and 90 μm wide, without stalk cell, each containing 8 spores.
Collections, ecology and regional distribution
Recorded from East London eastward throughout Kwazulu-Natal (41-58). Epilithic, in rock pools, and from the sublittoral fringe to at least 45 m depth: very common on deep reefs and coral reefs.
World distribution: Widely distributed in temperate and tropical seas (Guiry & Guiry 2012).
Type locality: Antilles, West Indies (Silva et al. 1996).
Note: this entity includes a wide range of growth forms, and needs further study (Tronchin & De Clerk 2005).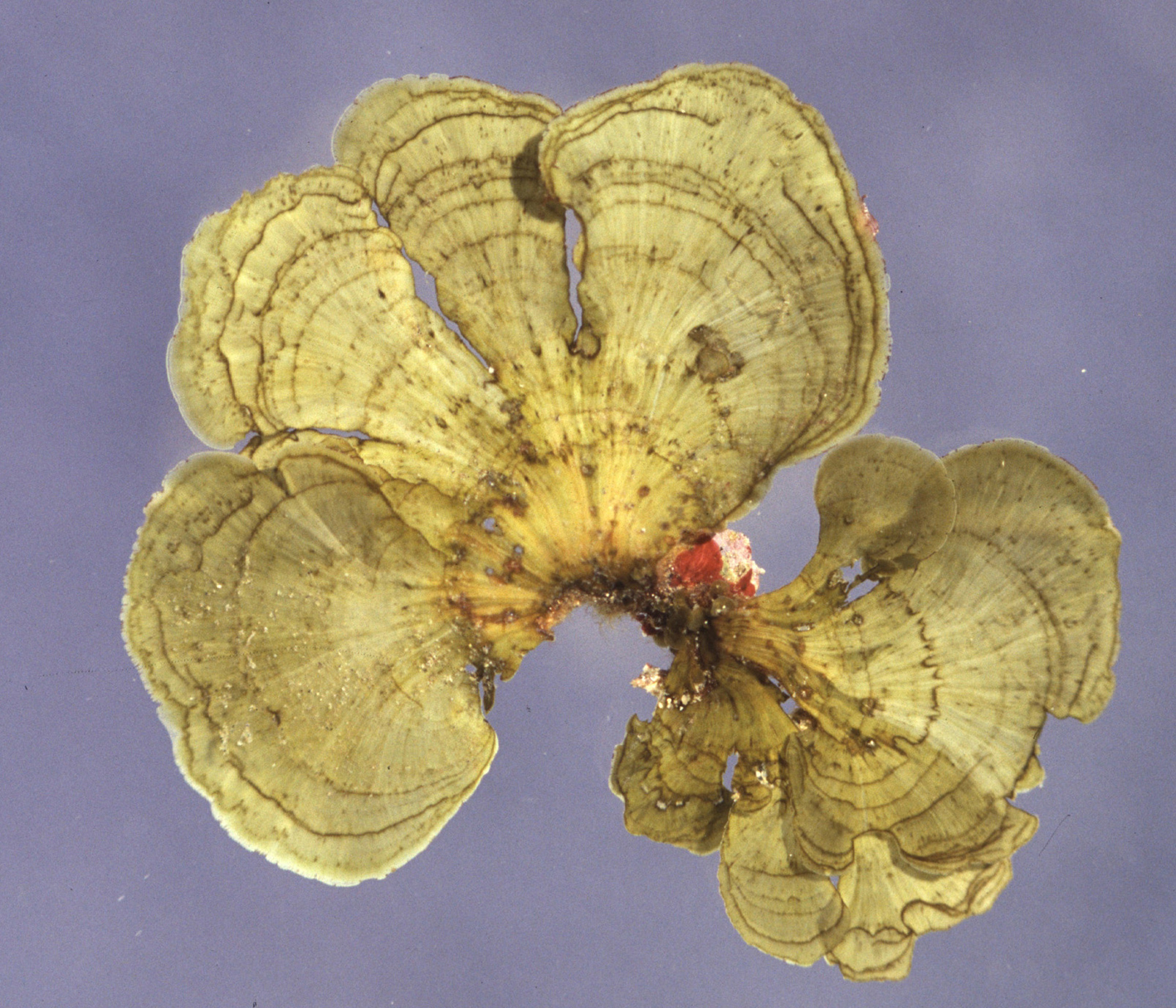 Lobophora variegate.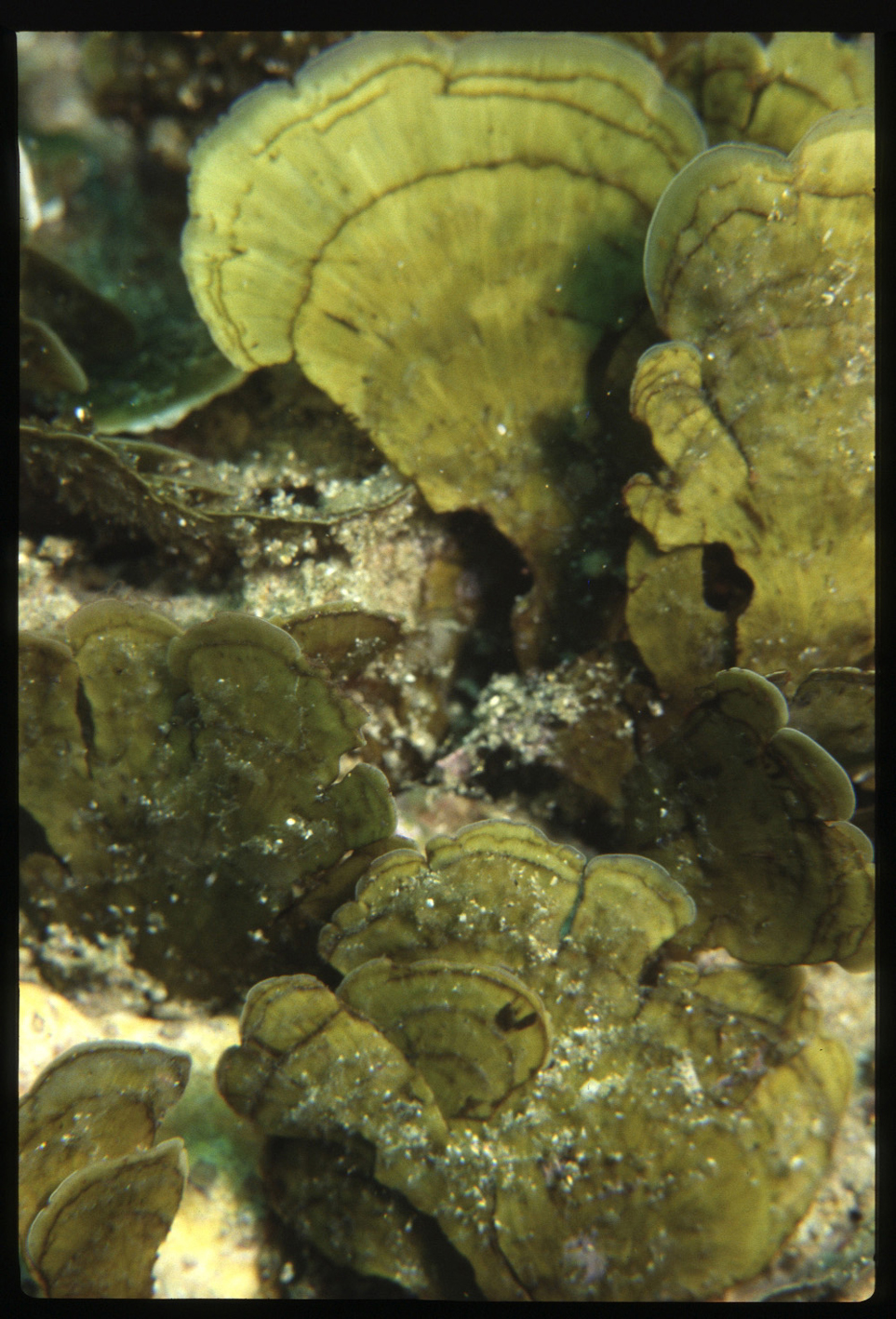 Lobophora variegata seen underwater.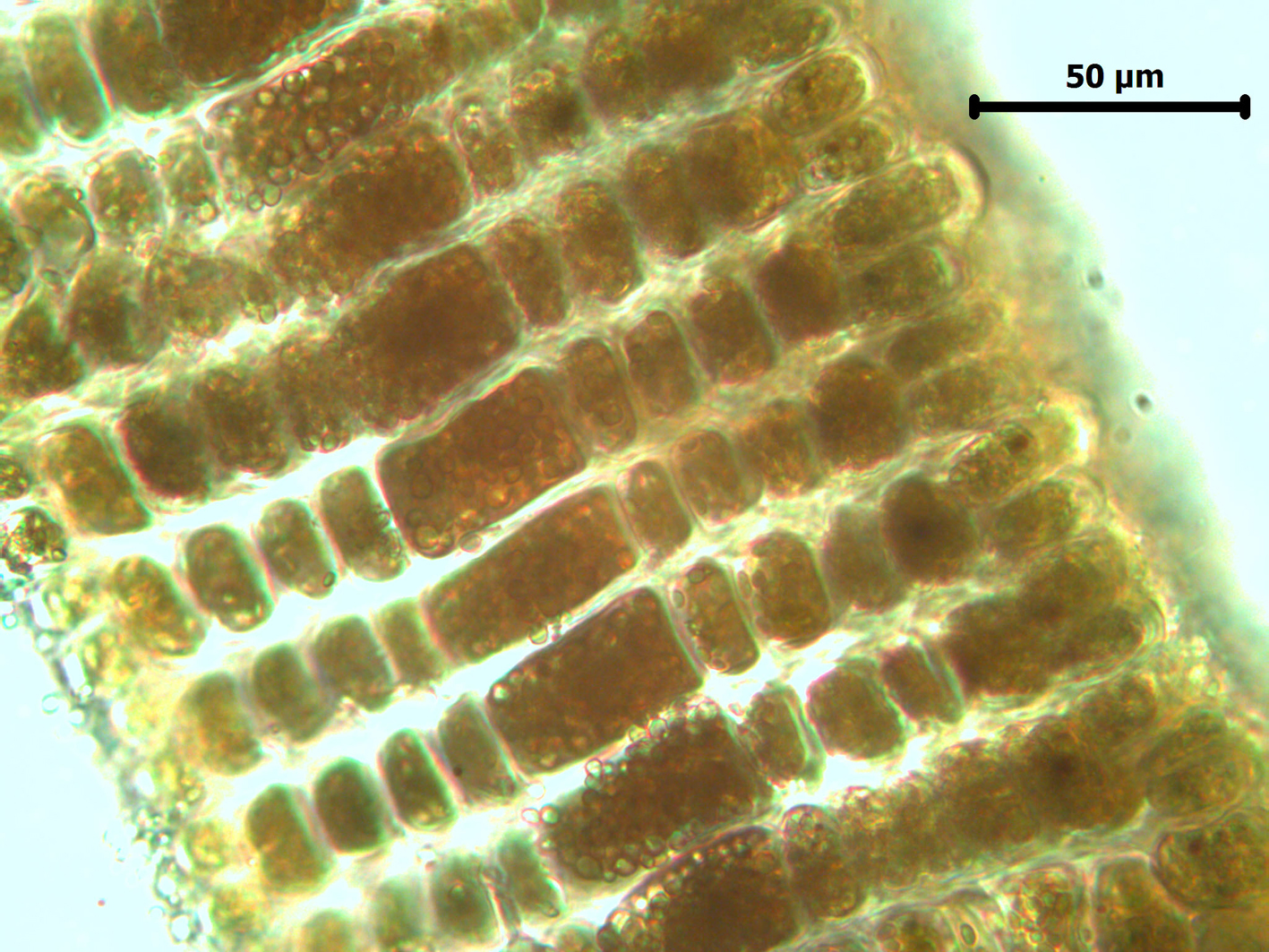 Lobophora variegata, cross section showing cell layers and large central cells.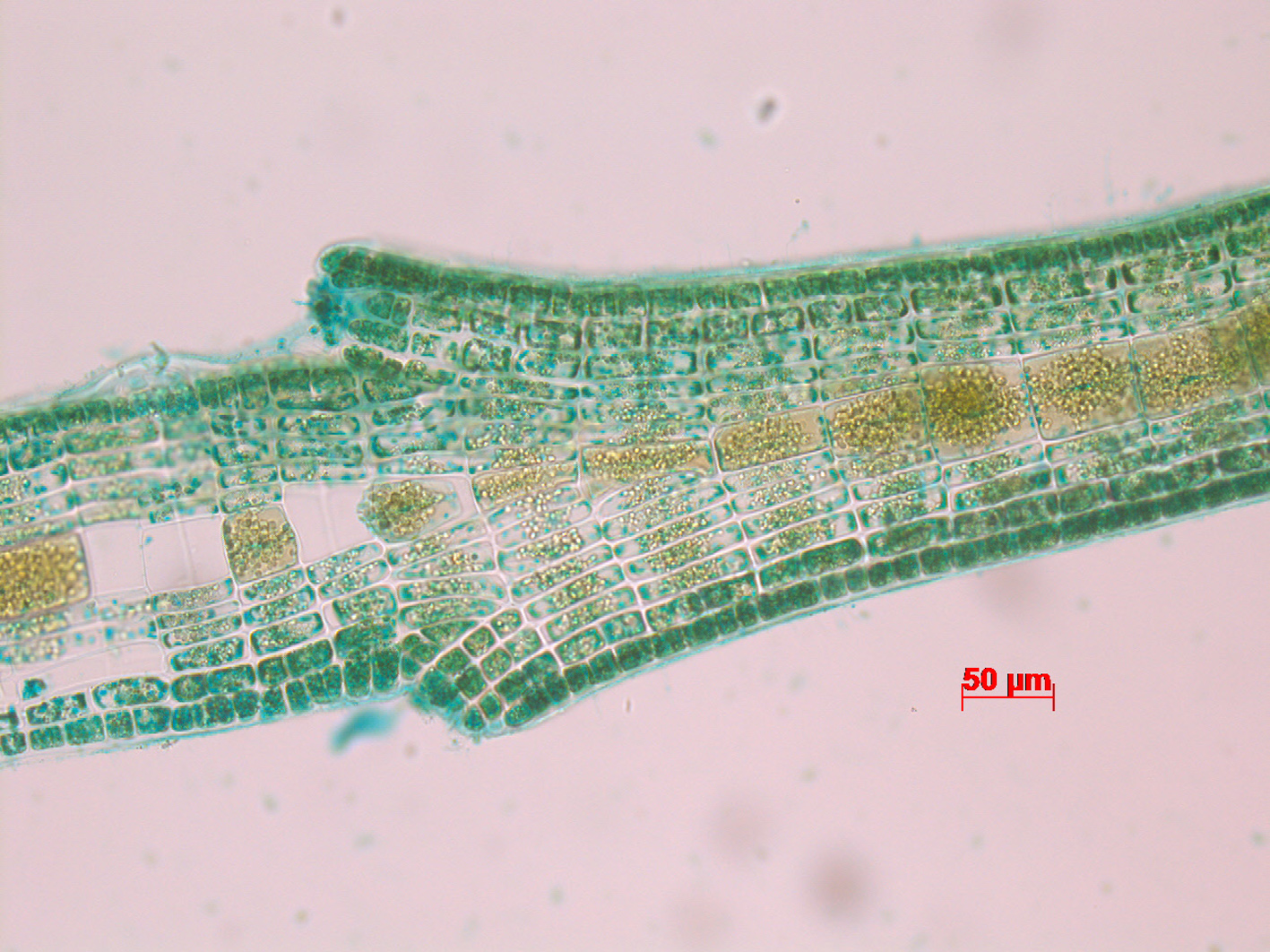 Lobophora variegata, longitudinal section through "joint" in frond showing cell layers and large central cells (stained slide preparation).
References Lobophora
Guiry, M.D. & Guiry, G.M. 2012. AlgaeBase. World-wide electronic publication, National University of Ireland, Galway. http://www.algaebase.org; searched February 2012.
Oliveira Filho, E.C. de (1977). Algas marinhas bentônicas do Brasil. pp. [i-iv], [1]-407. São Paulo, Brazil: Universidade de São Paulo, Instituto de Biociências.
Silva, P.C., Basson, P.W. & Moe, R.L. (1996). Catalogue of the benthic marine algae of the Indian Ocean. University of California Publications in Botany 79: 1-1259.
Tronchin, E. M., & De Clerck, O. 2005. Brown Algae. In: De Clerck, O., J.J.Bolton, R. J. Anderson and E. Coppejans, 2005. Guide to the Seaweeds of Kwazulu-Natal. National Botanic Garden of Belgium, Brussels (Scripta Botanica Belgica), pp. 96-129.
Cite this record as:
Anderson RJ, Stegenga H, Bolton JJ. 2016. Seaweeds of the South African South Coast.
World Wide Web electronic publication, University of Cape Town, http://southafrseaweeds.uct.ac.za; Accessed on 01 October 2023.