Order Ectocarpales
Family Chordariaceae
Myriocladia capensis J.Agardh 1848: 54
Plants dark brown, 20-30 cm long, soft and slippery, profusely branched in 1-3 orders, the last order of branches short (1-20 mm). Medulla of tightly packed unpigmented filaments of elongated cells 15 µm in diameter and 100-150 µm long. Cortex comprising two types of assimilatory filaments: short filaments ca. 500 µm long, ca.x 8 µm in diameter at apex tapering to the base with cells ca. 15-18 µm long, and long filaments ca. 2 mm long , ca. 20 µm wide at the apex with cells ca. 18 µm long tapering gradually and consistently to the base. Cells deeply indented at cross walls throughout except for short, narrow region at the base. Phaeophycean hairs sparsely present, similar in length to long assimilatory filaments. Unilocular sporangia clavate, with truncate apex. ca. 100 µm long x 35 µm wide.
Collections, ecology and regional distribution
Recorded along the west coast as far as De Hoop (1-24). Epilithic in lower eulittoral and rock pools, reported to be a summer annual, present between about September and January (Stegenga et al. 1997).
World distribution: Endemic to southern Africa. Not recorded in Namibia (Stegenga et al. 1997).
Type locality: "Cape of Good Hope", South Africa (Silva et al. 1996).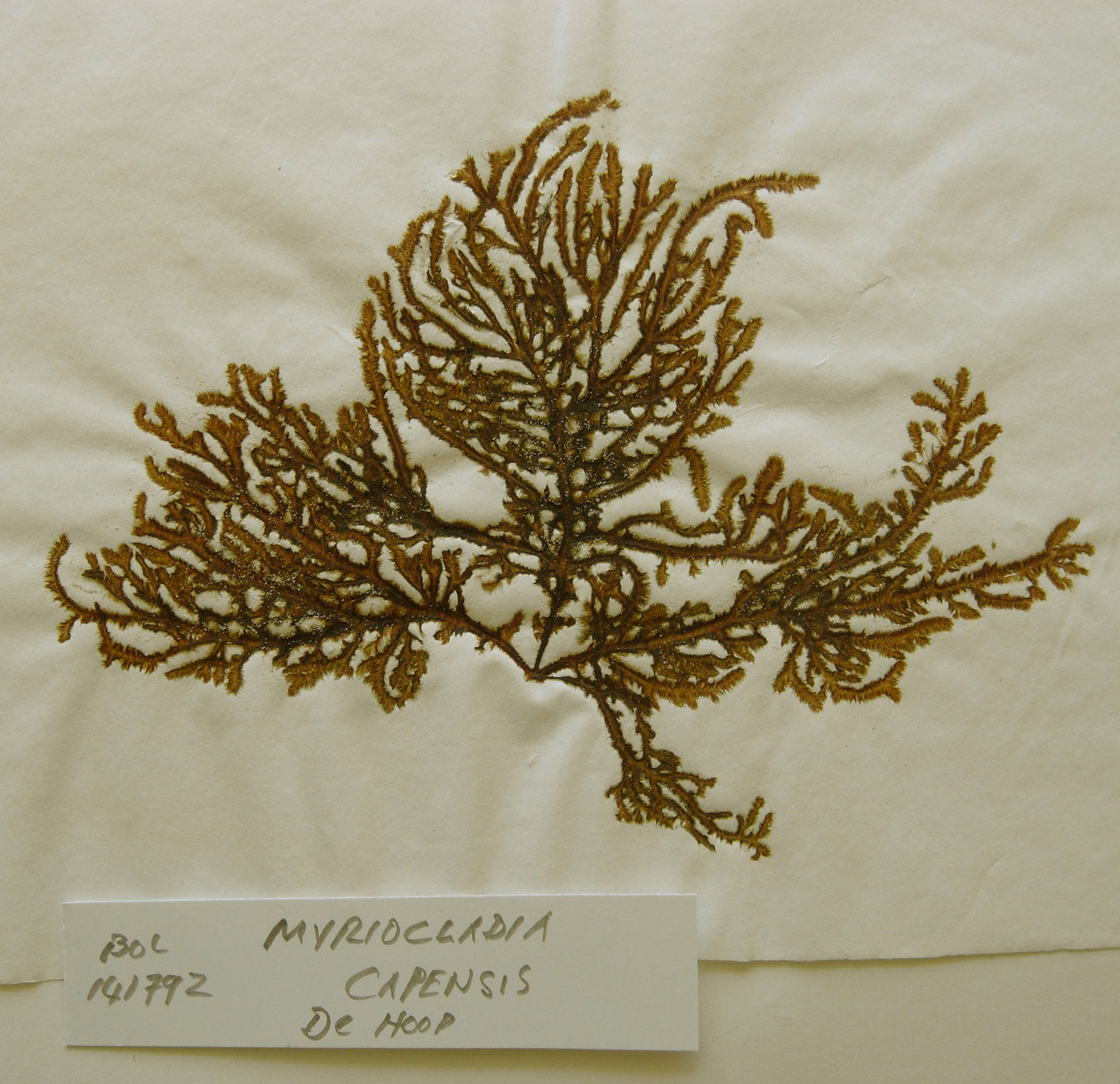 Myriocladia capensis, De Hoop specimen, ca. 15 cm tall.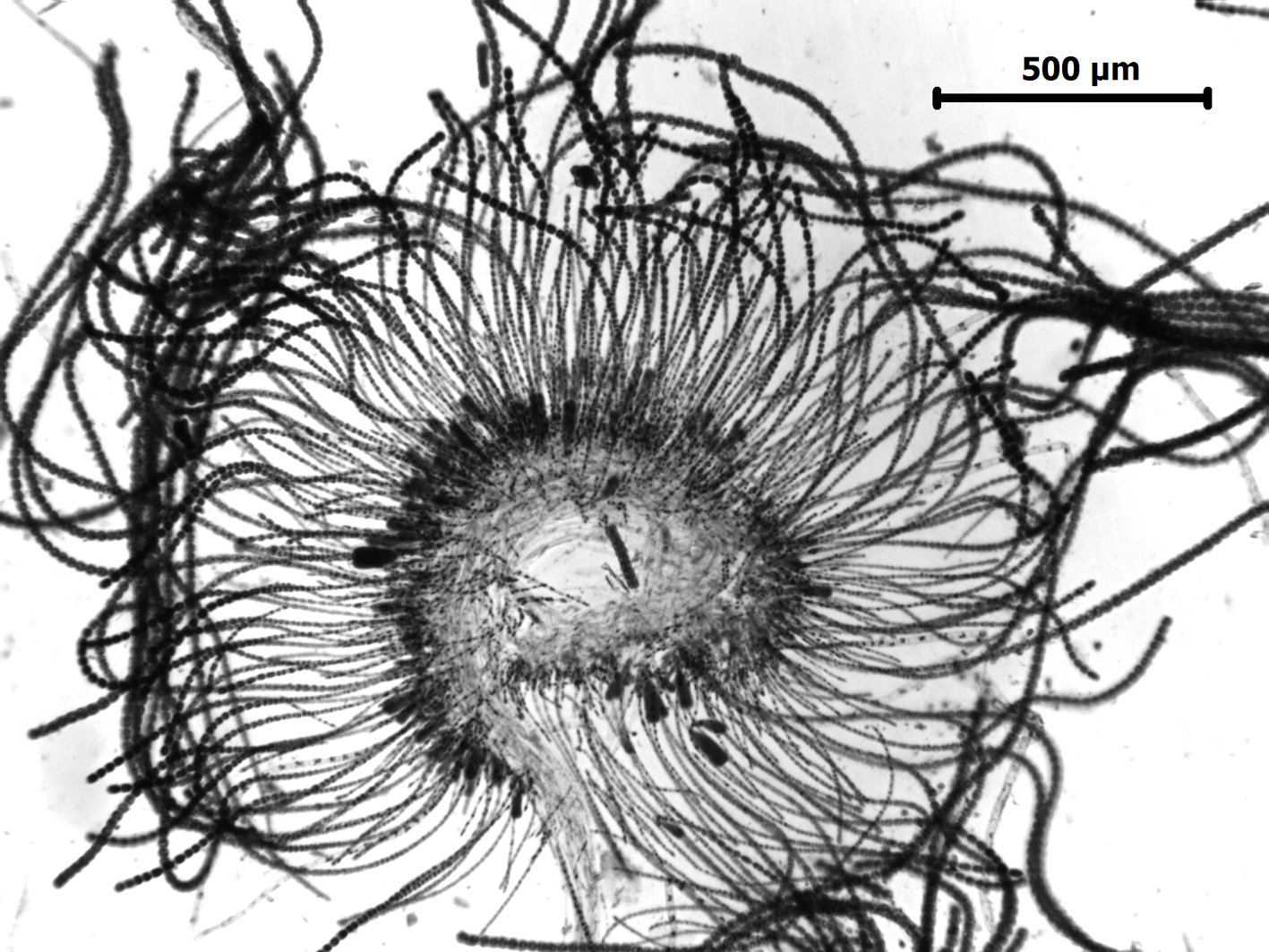 Myriocladia capensis, xs of thallus.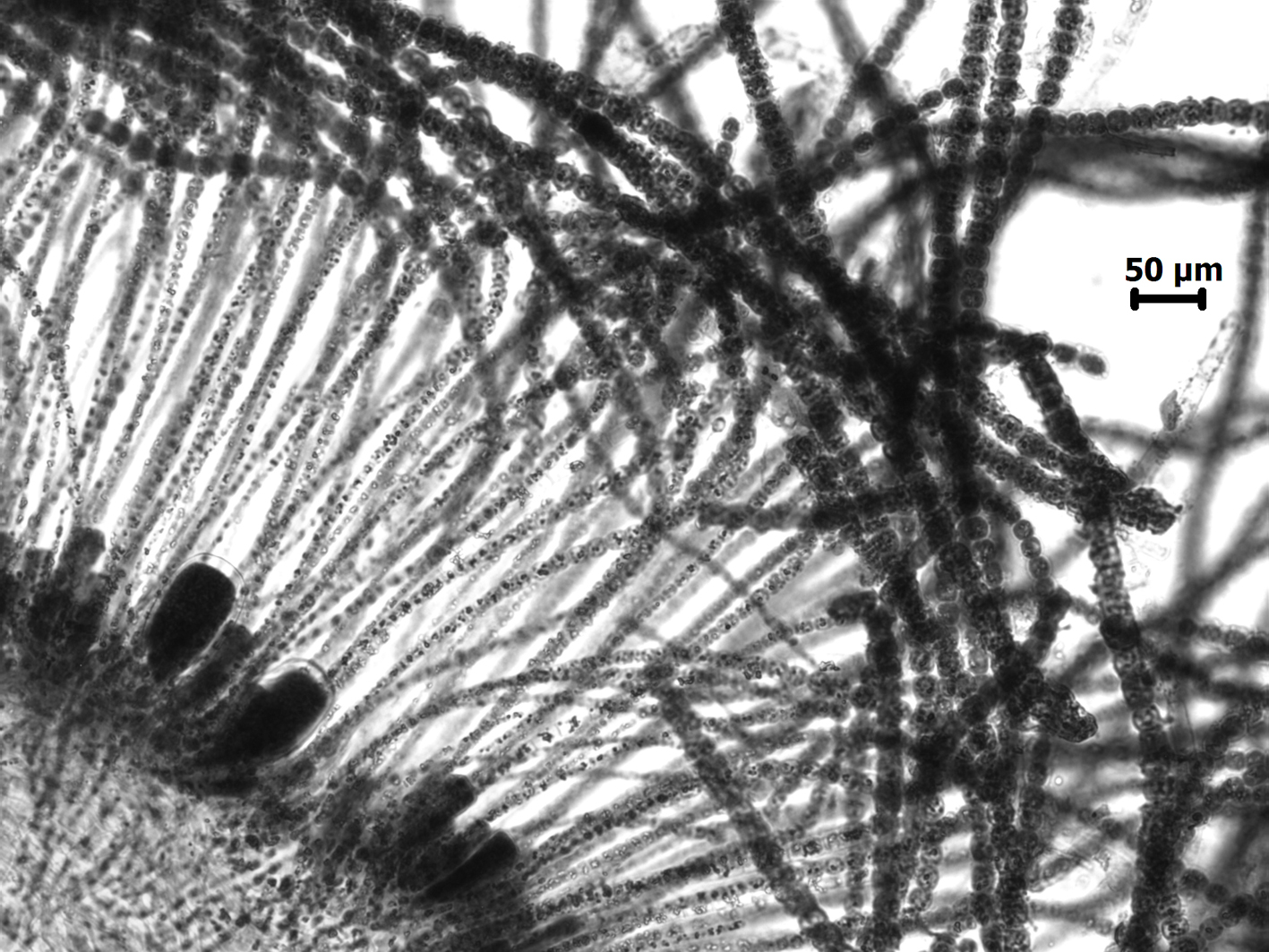 Myriocladia capensis, xs showing cortex and unilocular sporangia.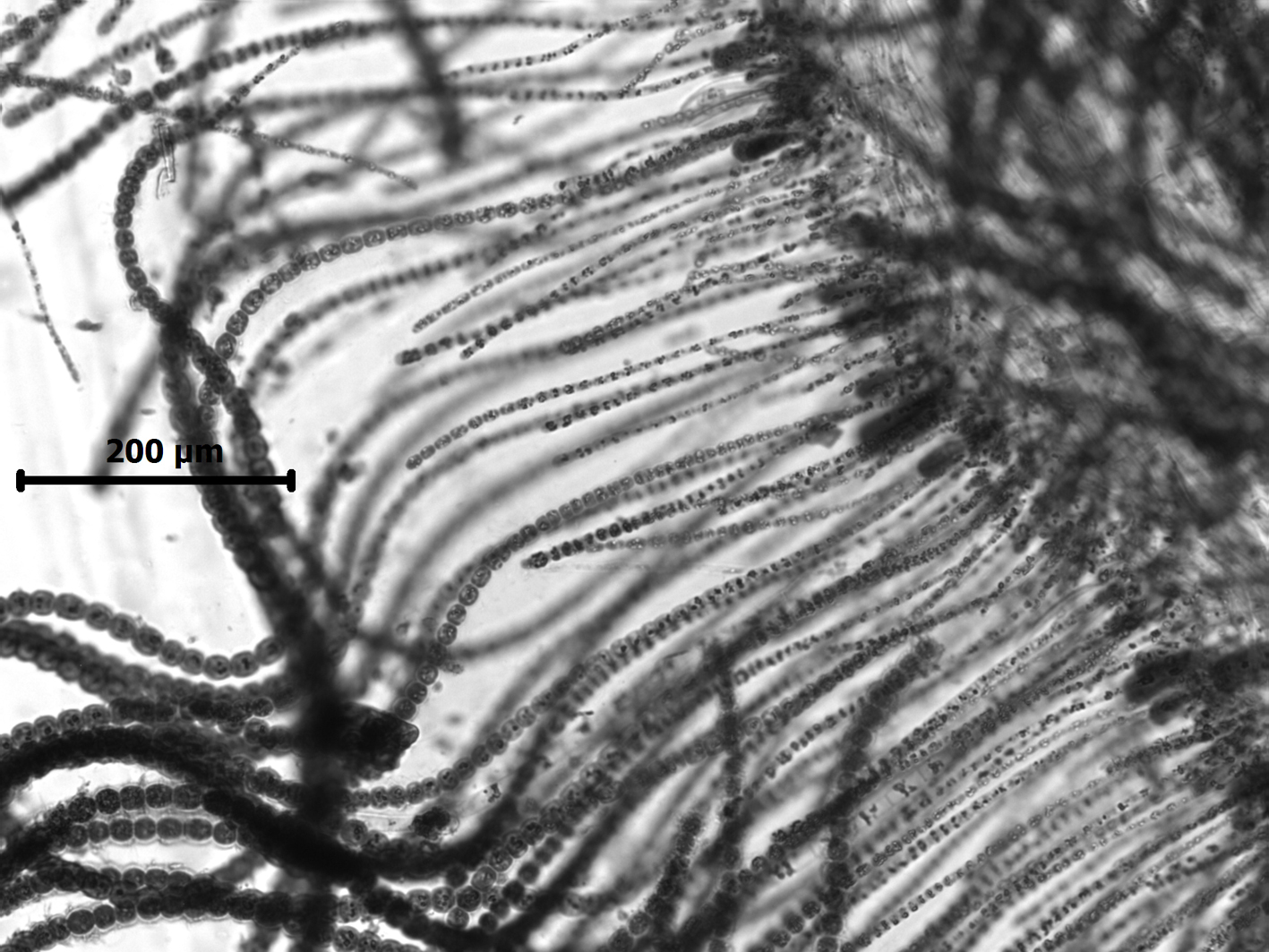 Myriocladia capensis, xs showing short and long cortical filaments.

Myriocladia capensis, unilocular sporangia at base of filaments.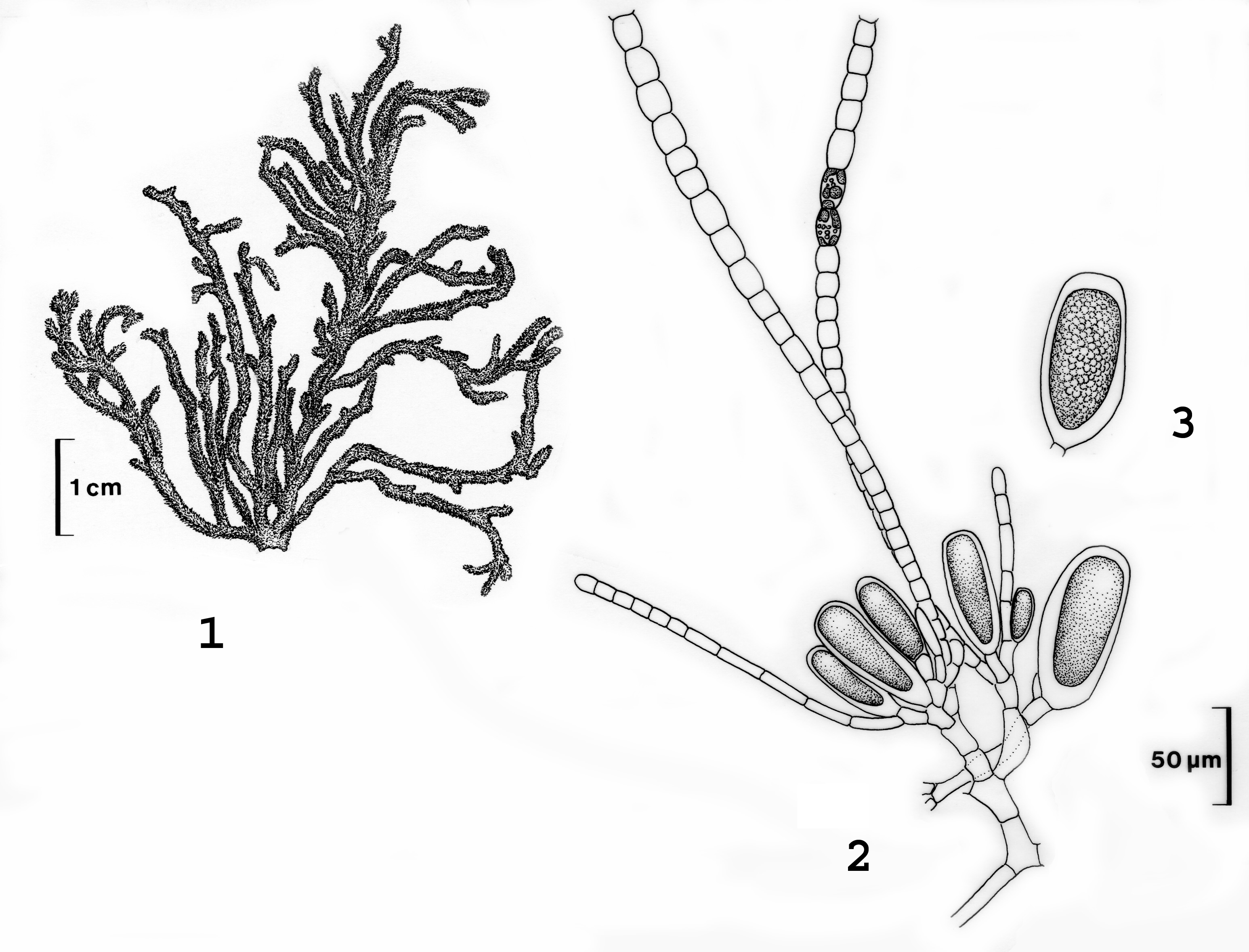 Myriocladia capensis: 1. Habit. 2. Detail of cortex with assimilatory filamnets and unilocular sporangia. 3. Mature unilocular sporangium. From Stegenga et al. (1997).
References Myriocladia
Agardh, J.G. (1848). Species genera et ordines algarum, seu descriptiones succinctae specierum, generum et ordinum, quibus algarum regnum constituitur. Volumen Primum. Algas fucoideas complectens. pp. [i-vi], [i]-viii, [1]-363. Lundae [Lund]: C.W.K. Gleerup.
Silva, P.C., Basson, P.W. & Moe, R.L. (1996). Catalogue of the benthic marine algae of the Indian Ocean. University of California Publications in Botany 79: 1-1259.
Stegenga, H., Bolton, J.J. and R. J. Anderson. 1997. Seaweeds of the South African west coast. Contributions from the Bolus Herbarium 18: 655 pp.
Cite this record as:
Anderson RJ, Stegenga H, Bolton JJ. 2016. Seaweeds of the South African South Coast.
World Wide Web electronic publication, University of Cape Town, http://southafrseaweeds.uct.ac.za; Accessed on 25 September 2023.