Order Ectocarpales
Family Scytosiphonaceae
Petalonia binghamiae (J.Agardh) K.L.Vinogradova 1973: 31
Plants medium brown, ribbon-like, up to ca. 10 (-20) cm long and 5-10 (-25) mm wide, several blades borne from a single discoid holdfast. Blades 200-300 µm thick at centre, narrower at edges. Phaeophycean hairs, in bundles, abundant, individual hairs to 300 µm long. Structure of cortex of 2-3 (-4) layers of isodiametric cells ca. 6-10 µm in diameter, 1-2 layers of larger colourless outer medullary cells (often difficult to discern) covering a central region of a very loose network of medullary hyphae ca. 4-8 µm in diameter. Plurilocular sporangia forming a continous layer over surface of fertile blades; uniseriate, ca. 30 µm long x 5-7 µm wide with 5-7 locules per sporangium. Unilocular sporangia unknown.
Collections, ecology and regional distribution
Epilithic and epiphytic in the eulittoral zone and edges of rock pools (plants from high on the shore usually smaller than low-shore plants). Recorded from False Bay to Ballito in Kwazulu-Natal (17-52).
World distribution: scattered localities in various warm temperate locations; in southern Africa also found in Namibia (Guiry & Guiry 2011).
Type locality: California, USA (Silva et al. 1996).
Note: Previously known as Endarachne binghamiae. May be confused with Petalonia fascia, a species found mainly on the west coast, but P. fascia has an almost solid medulla.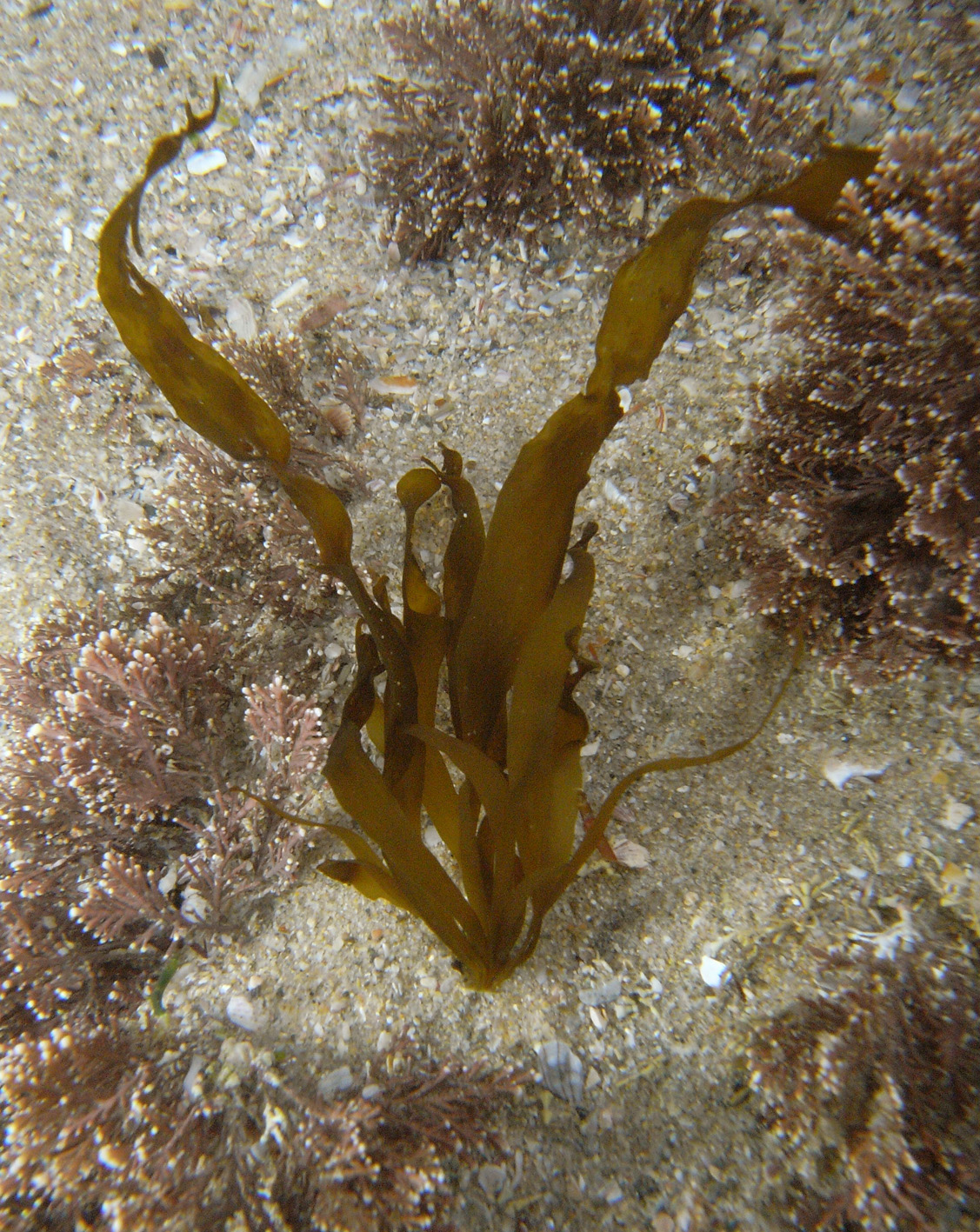 Petalonia binghamiae, tidal pool, Kei Mouth.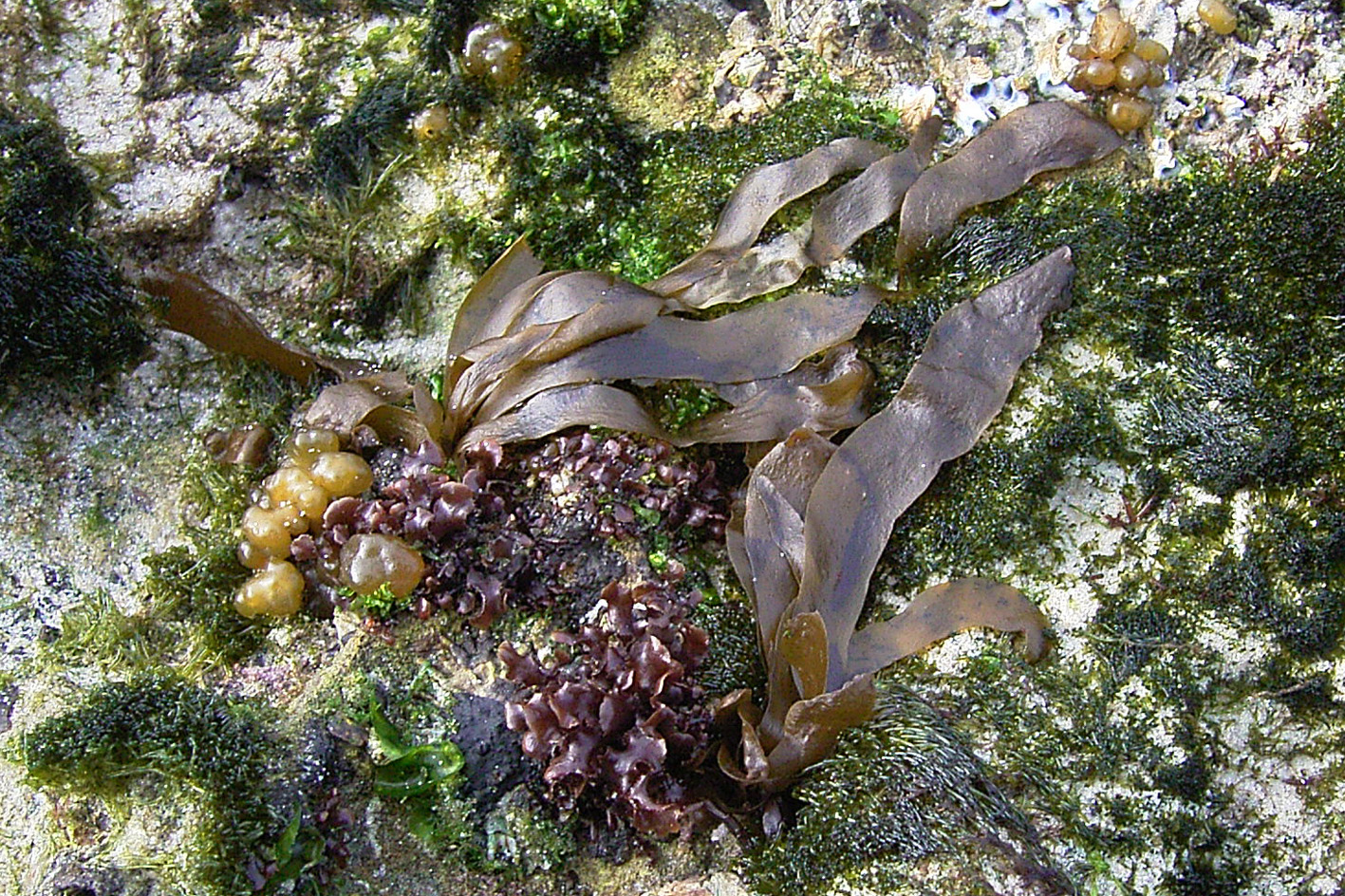 Petalonia binghamiae, exposed on shore at low tide, De Hoop.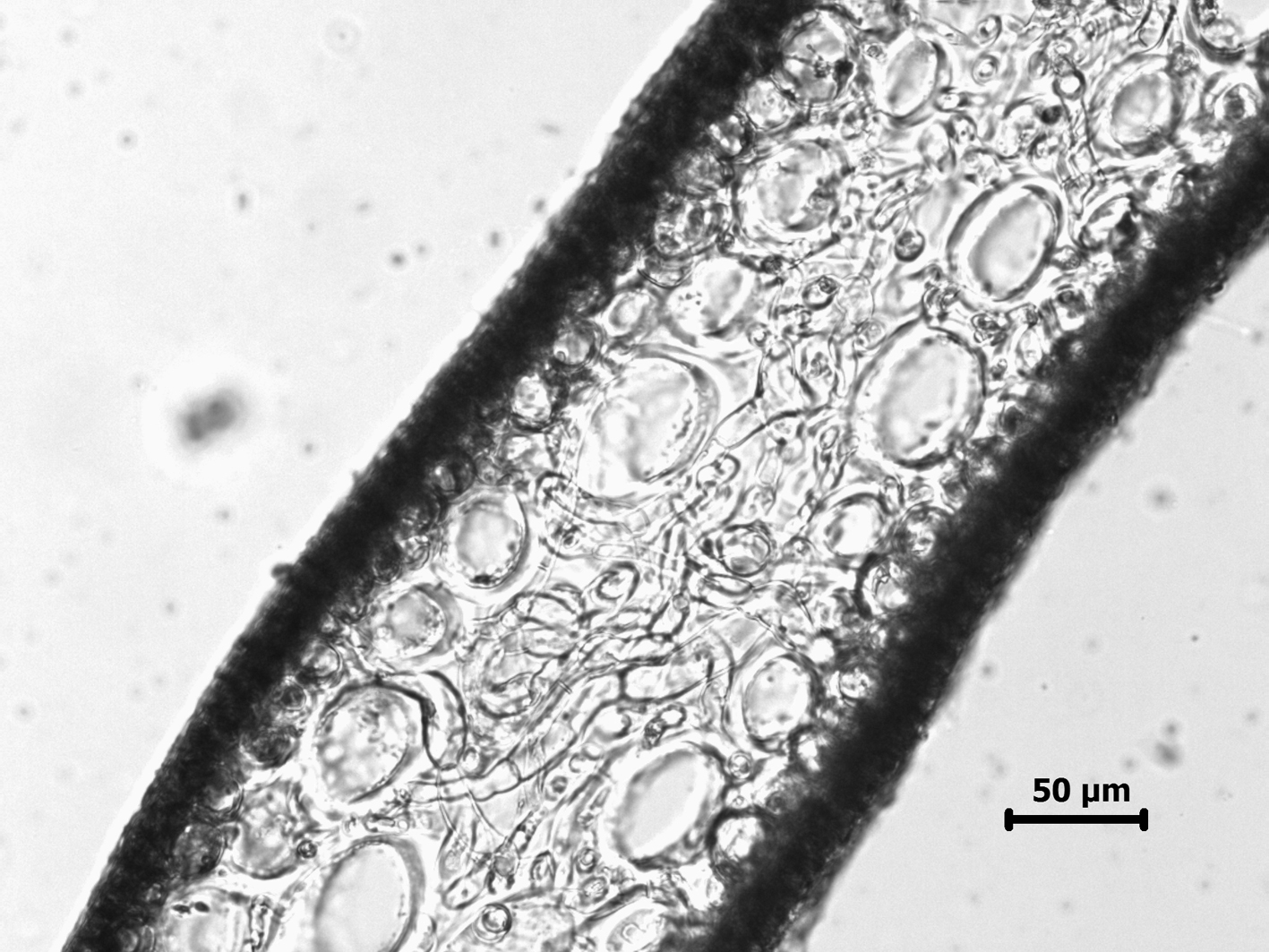 Petalonia binghamiae, xs showing medulla with outer layer of large cells and inner layer of loose filaments (Port Edward specimen).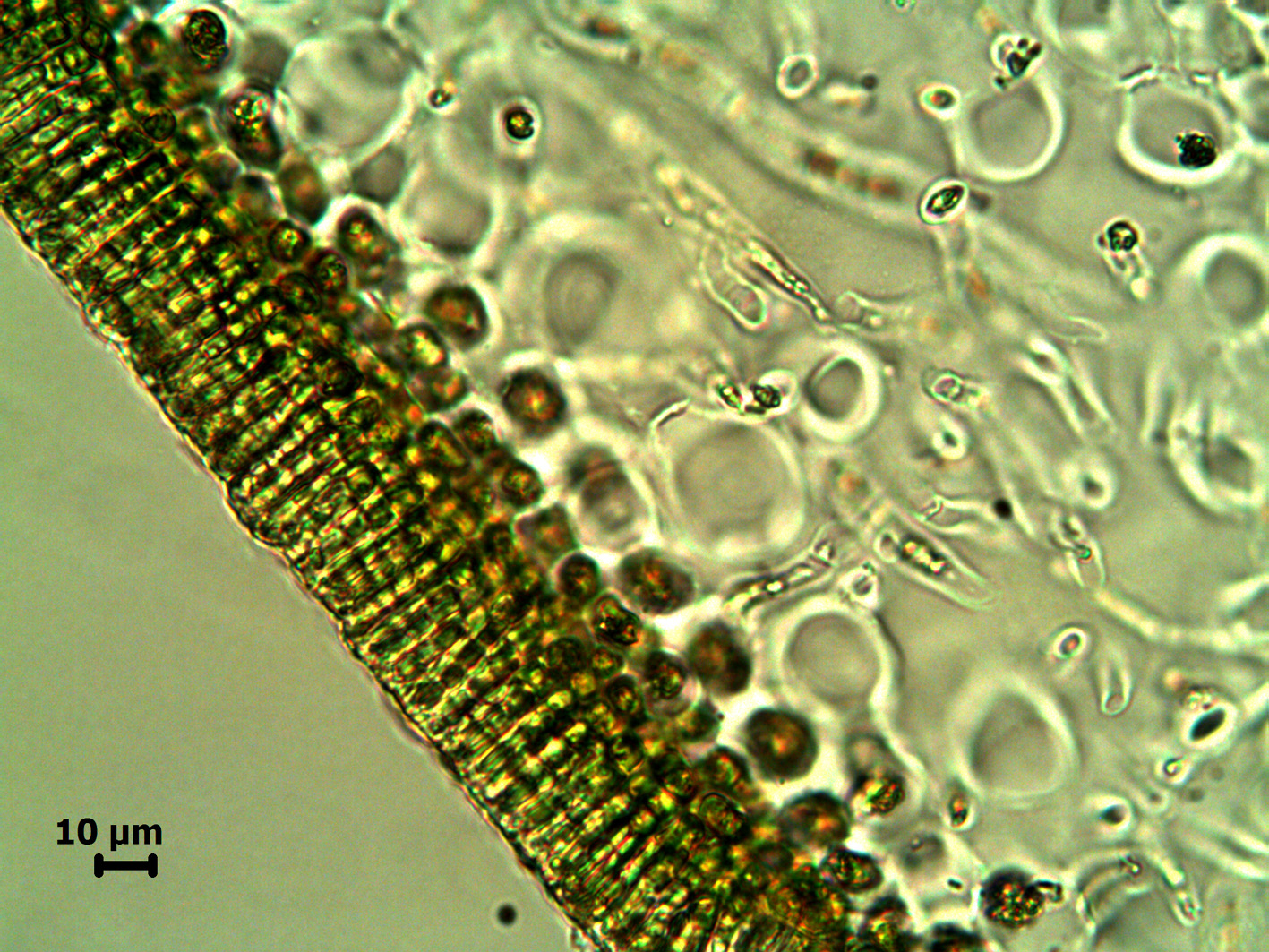 Petalonia binghamiae, xs showing cortex with plurilocular sporangia, Eastern Cape specimen.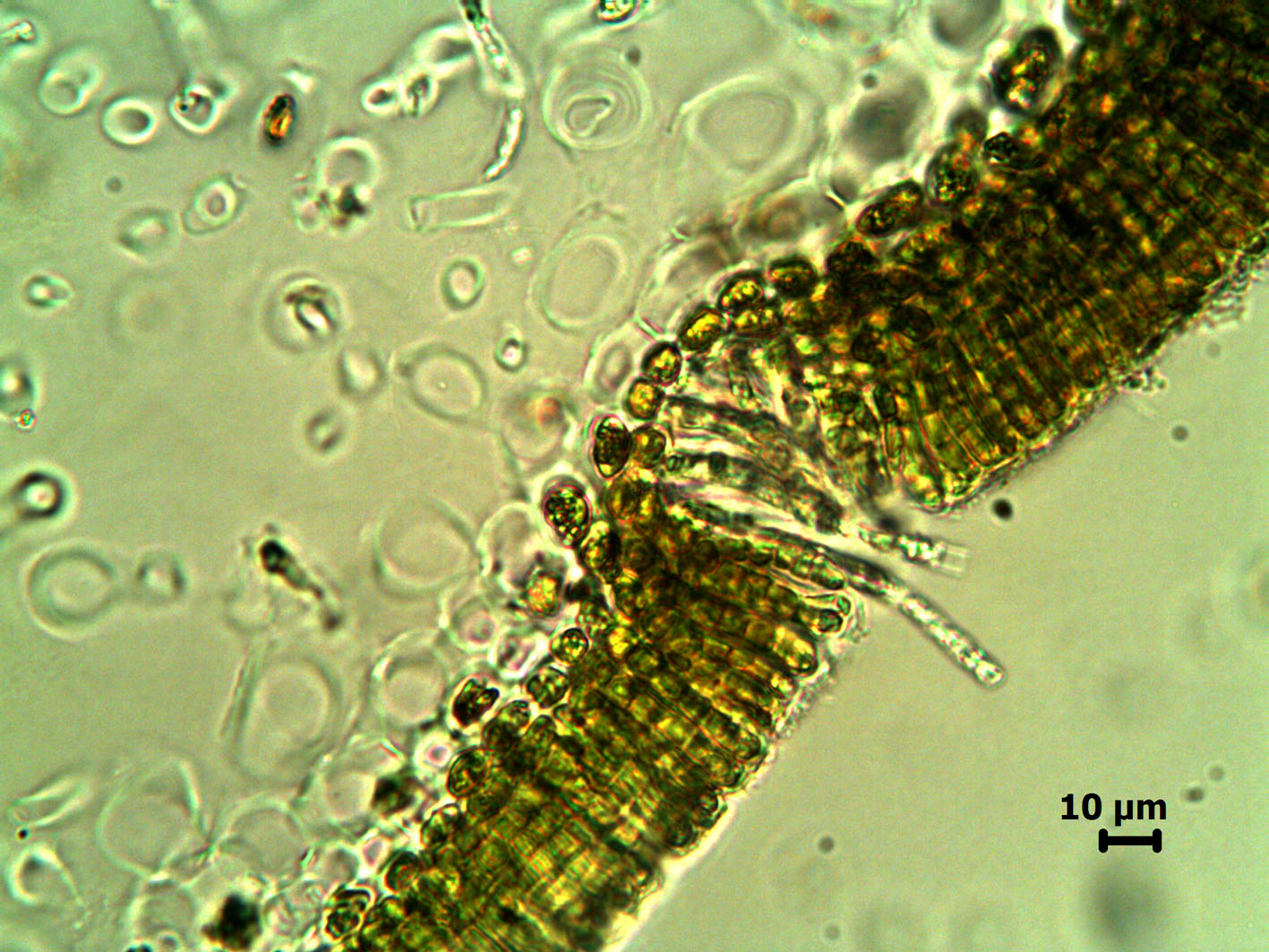 Petalonia binghamiae, xs showing bundle of phaeophycean hairs.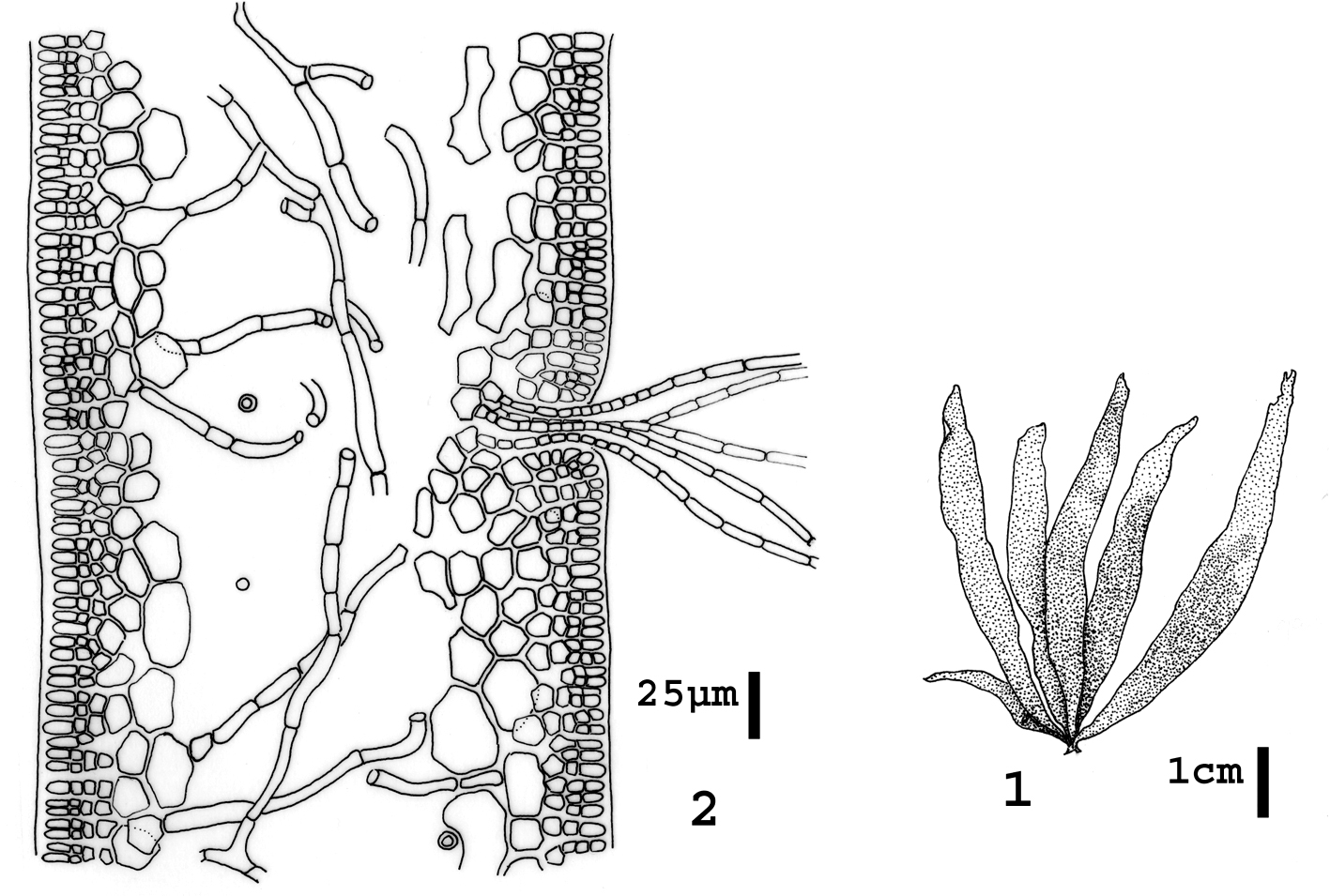 Petalonia binghamiae,. 1. Habit. 2. Cross section. Reproduced from Stegenga et al. (1997).
References Petalonia binghamiae
Guiry, M.D. & Guiry, G.M. 2011. AlgaeBase. World-wide electronic publication, National University of Ireland, Galway. http://www.algaebase.org; searched October 2011.
Silva, P.C., Basson, P.W. & Moe, R.L. (1996). Catalogue of the benthic marine algae of the Indian Ocean. University of California Publications in Botany 79: 1-1259.
Stegenga, H., Bolton, J.J. and R. J. Anderson. 1997. Seaweeds of the South African west coast. Contributions from the Bolus Herbarium 18: 655 pp.
Vinogradova, K.L. (1973). Anatomii roda Petalonia Derb. et Sol. (Scytosiphonales). Novosti Sistematiki Nizshikh Rastenij Botanicheskij Institut, Akademiya Nauk SSSR 10: 28-31, 2 figs.
Cite this record as:
Anderson RJ, Stegenga H, Bolton JJ. 2016. Seaweeds of the South African South Coast.
World Wide Web electronic publication, University of Cape Town, http://southafrseaweeds.uct.ac.za; Accessed on 25 September 2023.