Order Ectocarpales
Family Scytosiphonaceae
Petalonia fascia (O.F.Müller) Kuntze 1898: 419
Plants brown to yellowish-brown, foliaceaous, comprising several simple, linear to broadly lanceolate blades arising from a common holdfast. Blades up to 20cm long and 5 cm wide, the margins often ruffled; up to 120 µm thick, thicker when reproductive. Structure parenchymatous, with medulla of 2-4 cell layers and one or two layers of much smaller cortical cells on each side; epidermal cells each with one plastid. Bundles of hairs arising from the subcortex, scattered over blade surface. Plurilocular sporangia formed in large areas on both sides of blades; 4-8 straight rows of 4-6 loculi each developing from each epidermal cell; paraphyses absent. Unilocular sporangia not seen.
Collections, ecology and regional distribution
Found in rock pools and the shallow sublittoral. Recorded from the west coast to the Knysna area (1-30), but records may be confused with Endarachne binghamiae, (see note).
World distribution: worldwide in temperate and cold-temperate seas (Guiry & Guiry 2014).
Type locality: near Kristiansand, Norway (Silva et al. 1996).
Note: Anatomical examination is usually necessary to distinguish Petalonia fascia from Petalonia binghamiae.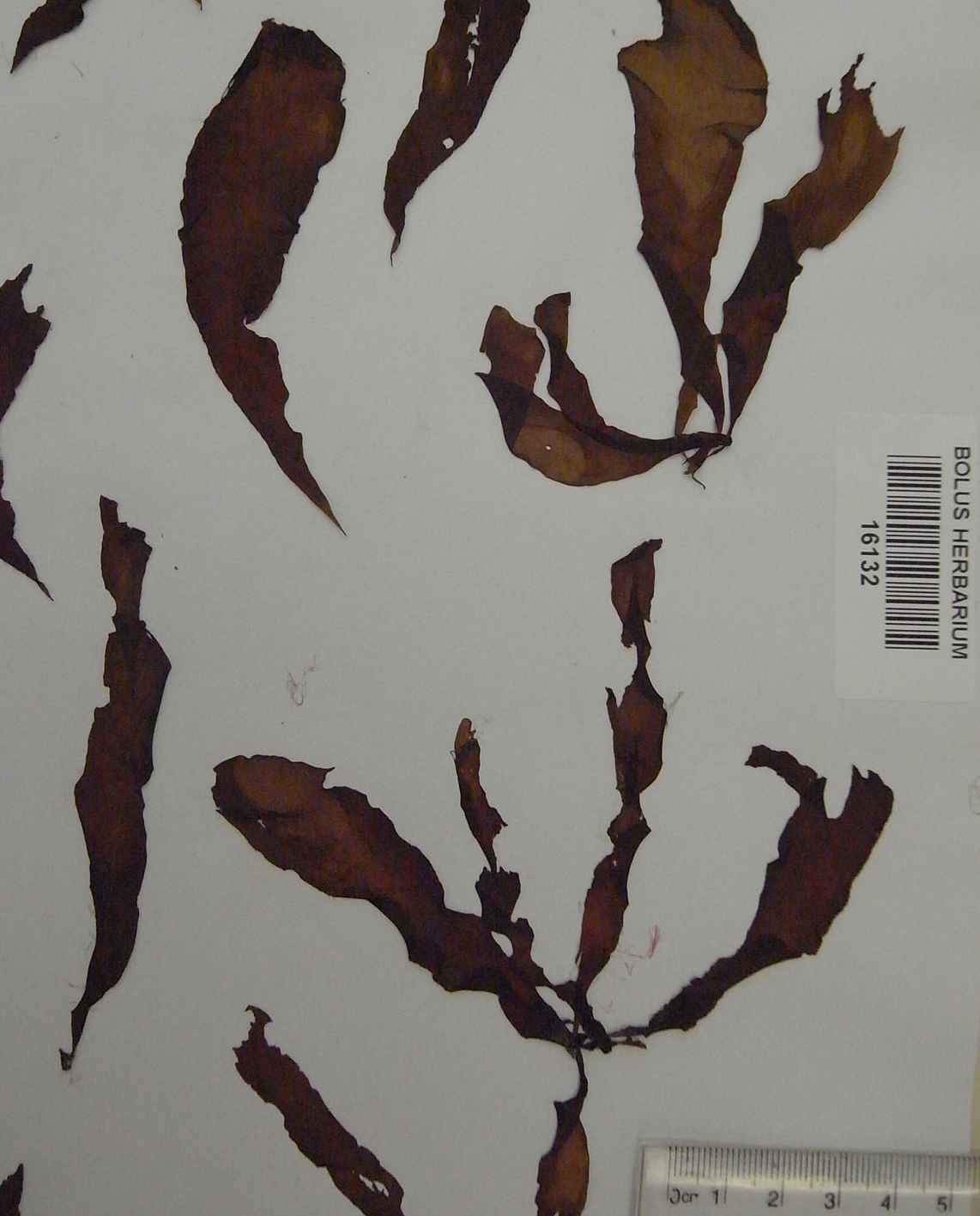 Petalonia fascia, Knysna lagoon(BOL).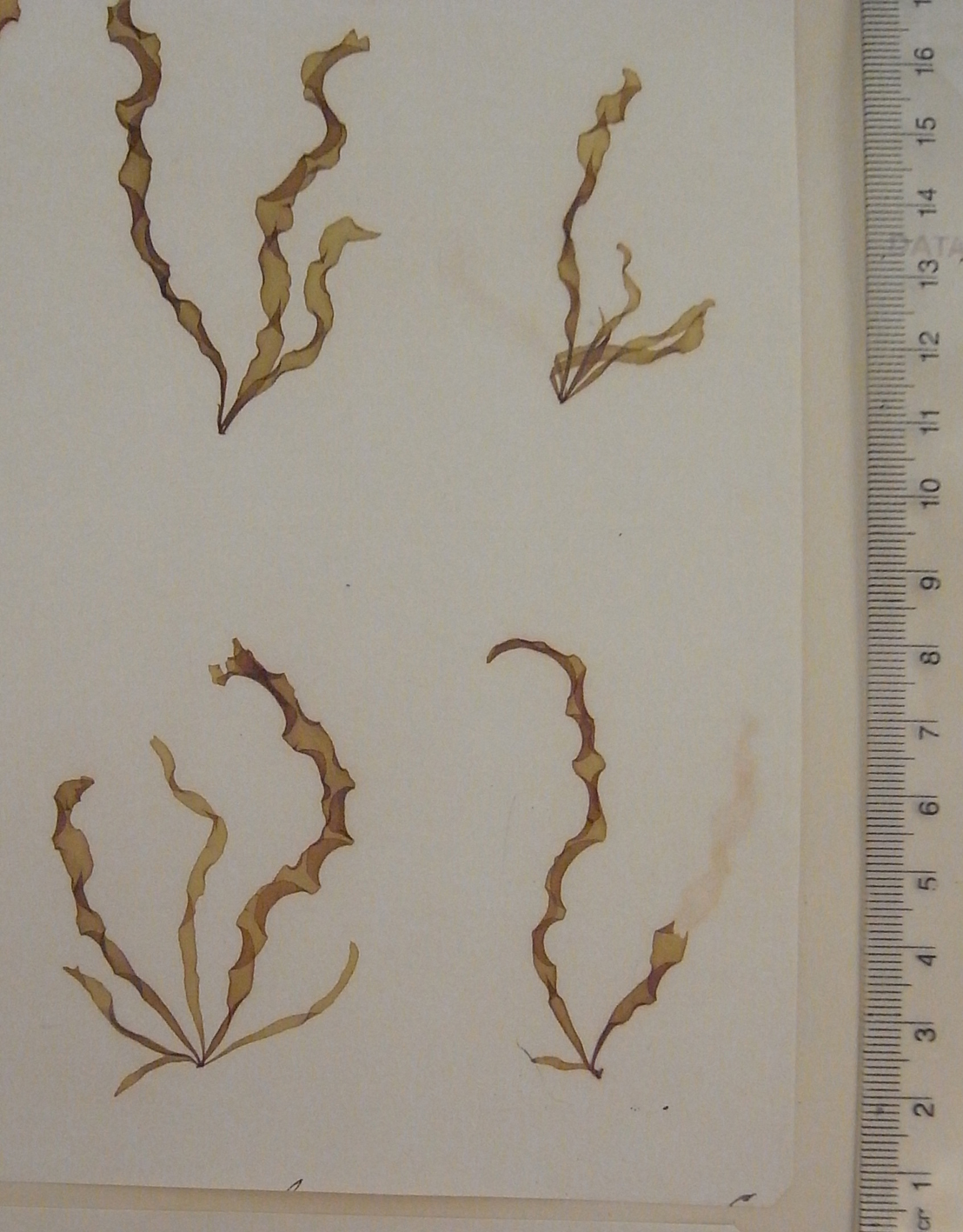 Petalonia fascia, (Morgan Bay, BOL).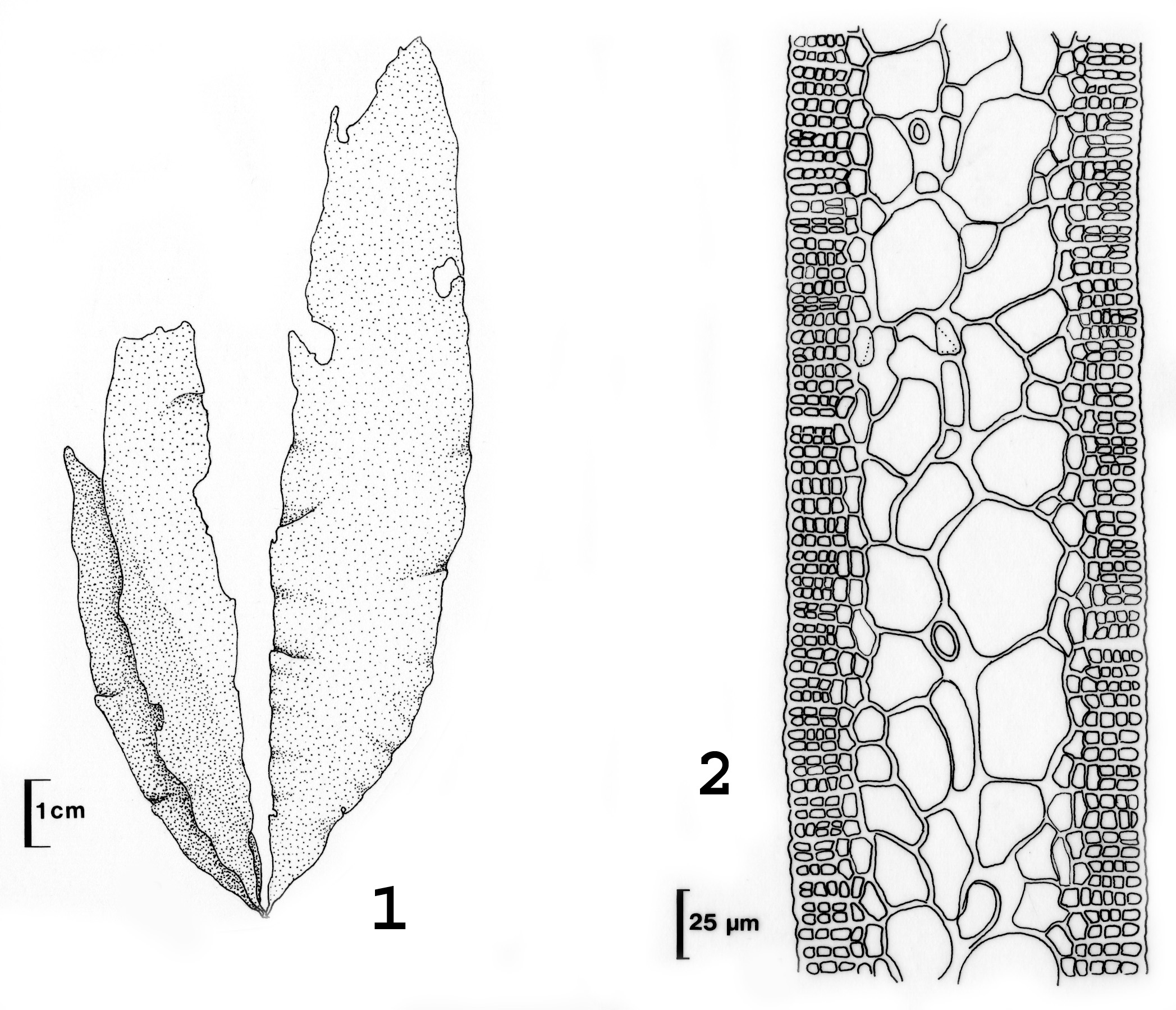 Petalonia fascia. 1. Habit. 2. Cross section with plurilocular sporangia. Drawings from Stegenga et al. (1997).
References Petalonia fascia
Guiry, M.D. & Guiry, G.M. 2014. AlgaeBase. World-wide electronic publication, National University of Ireland, Galway. http://www.algaebase.org; searched April 2014.
Kuntze, O. (1898). Revisio generum plantarum. Part 3 (3). pp. 1-576. Leipzig, London, Milano, New York, Paris: Arthur Felix, Dulau & Co., U. Hoepli, Gust. A. Schechert, Charles Klincksierck.
Silva, P.C., Basson, P.W. & Moe, R.L. (1996). Catalogue of the benthic marine algae of the Indian Ocean. University of California Publications in Botany 79: 1-1259.
Stegenga, H., Bolton, J.J. and R. J. Anderson. 1997. Seaweeds of the South African west coast. Contributions from the Bolus Herbarium 18: 655 pp.
Cite this record as:
Anderson RJ, Stegenga H, Bolton JJ. 2016. Seaweeds of the South African South Coast.
World Wide Web electronic publication, University of Cape Town, http://southafrseaweeds.uct.ac.za; Accessed on 21 September 2023.