Order Dictyotales
Family Dictyotaceae
Rugulopteryx suhrii (Kützing) De Clerck & Coppejans in De Clerck et al. 2006: 1286
Thalli erect, to 15 cm tall, brown, non-iridescent. Attached by fibrous holdfast; branching sparse, dichotomous, lax, fronds 3-4.5 mm wide in between branching points; frond surfaces with hair tufts; frond margins smooth, apices rounded. Structure of single cortical layer and medulla that is multi-layered throughout proximal parts and near the margins of distal parts; medullary cells ca. 110-120 µm long, 70=80 µm wide, 85-105 µm high; cortical cells ca 15 µm long, ca 17-18 µm high and wide. Tetrasporangia on 2-celled stalks, 190-210 µm in diameter, in rectangular patches near apices. Gametangia not seen.
Collections, ecology and regional distribution
Recorded from Algoa Bay to Mission Rocks (36-56). Found in rock pools and the shallow subtidal zone, usually on exposed shores (Tronchin & De Clerck 2005).
World distribution: Also recorded from Cape Verde Islands and Sri Lanka (references in Guiry & Guiry 2016), but these records require confirmation.
Type locality: South Africa: Cape Province: Algoa Bay (as Zonaria marginata Suhr).
Note: previously known as Dictyota suhrii (e.g. Tronchin & De Clerck 2005), this taxon was placed in the genus Rugulopteryx that was erected by De Clerck et al. 2006.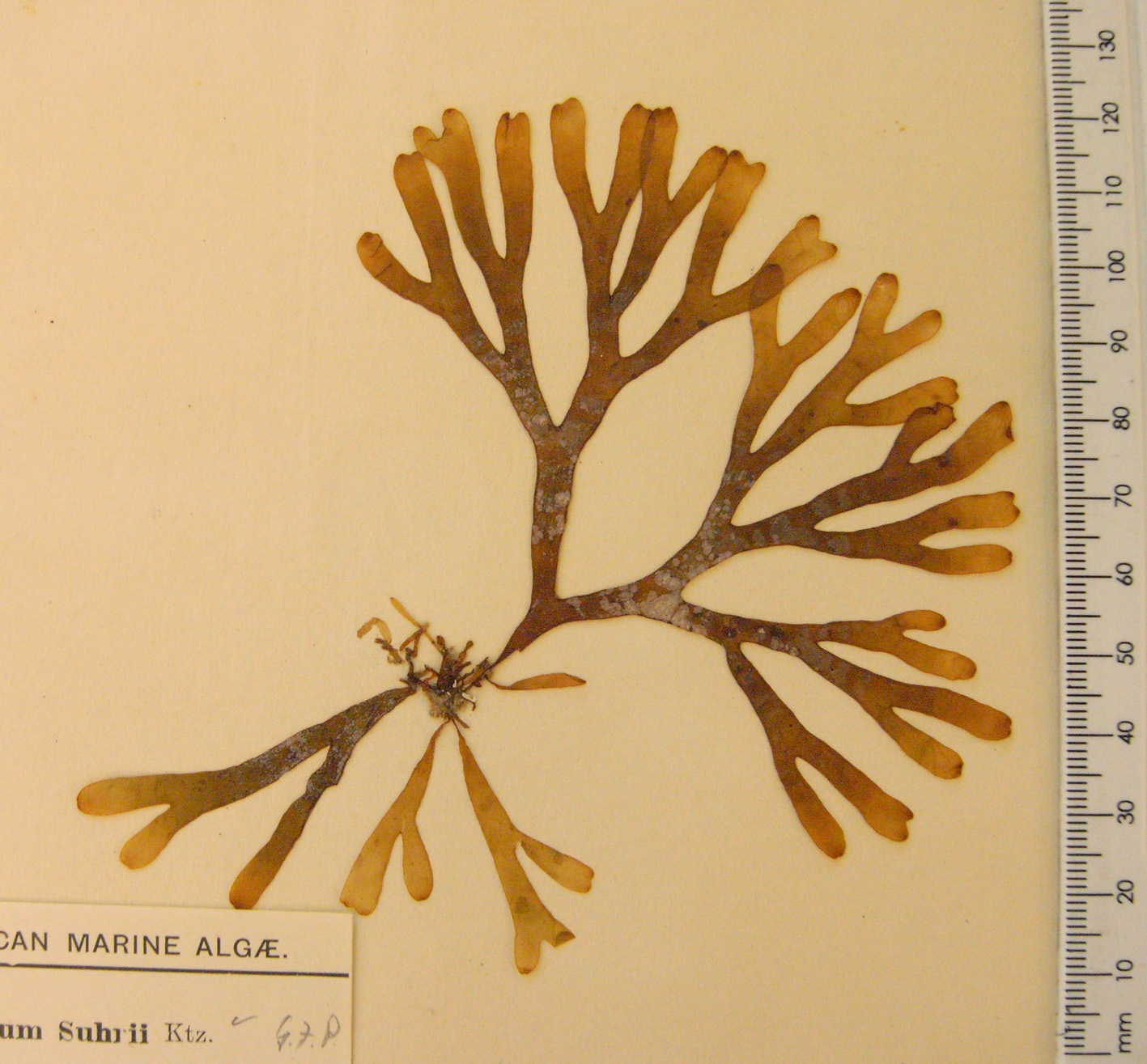 Rugulopteryx suhrii. Pressed specimen, "submerged rocks", Algoa Bay (BOL).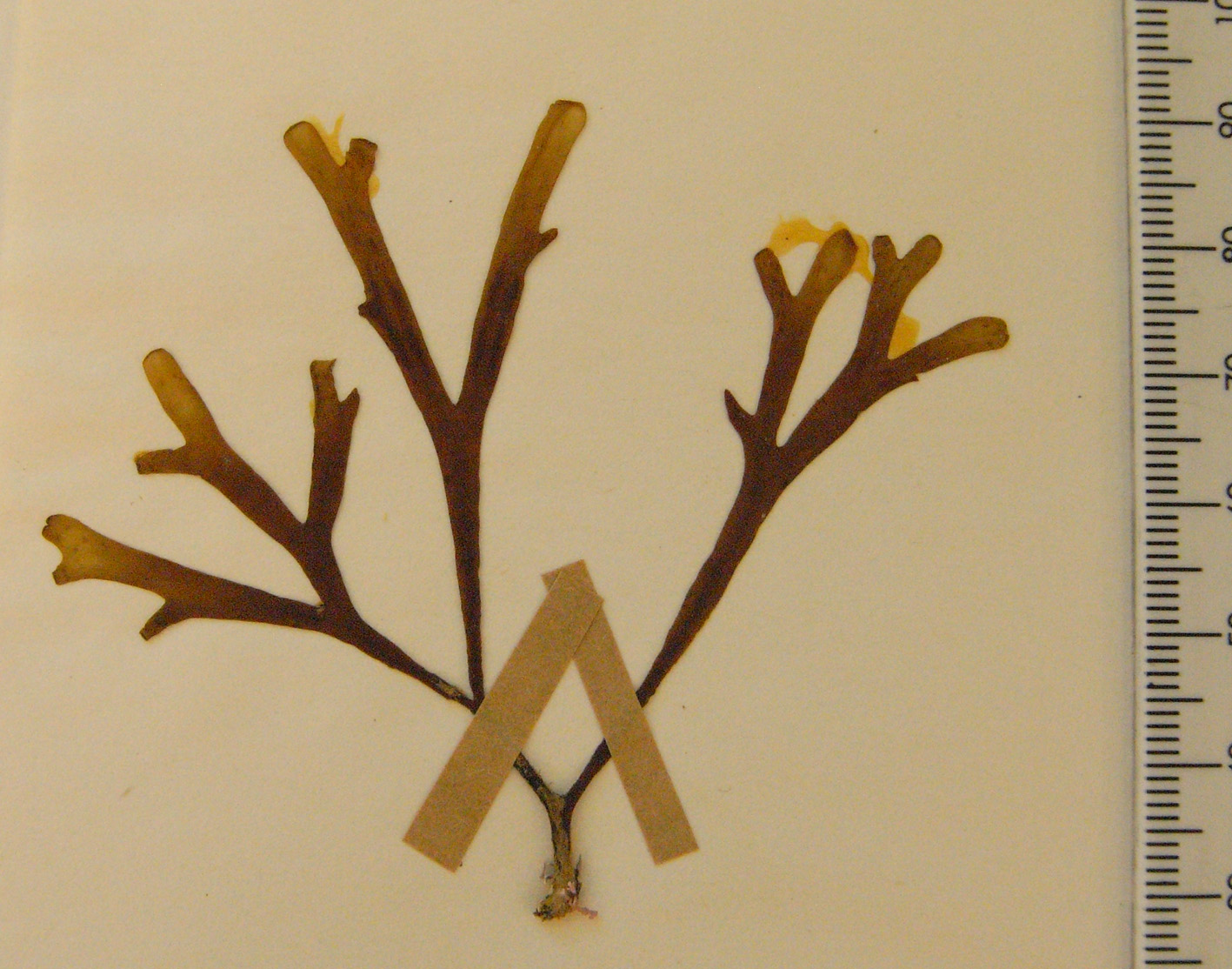 Rugulopteryx suhrii. Pressed specimen, Hluleka (BOL).
References Rugulopteryx
De Clerck, O., Leliaert, F., Verbruggen, H., Lane, C.E., De Paula, J.C., Payo, D.I. & Coppejans, E. (2006). A revised classification of the Dictyoteae (Dictyotales, Phaeophyceae) based on rbcL and 26S ribosomal DNA sequence data analyses. Journal of Phycology 42: 1271-1288, 6 figs.
Guiry, M.D. & Guiry, G.M. 2016. AlgaeBase. World-wide electronic publication, National University of Ireland, Galway. http://www.algaebase.org; searched on 26 February 2016.
Steen, F., Vieira, C., Leliaert, F., Payri, E.C. & De Clerck, O. (2015). Biogeographic affinities of Dictyotales from Madagascar: a phylogenetic approach. Cryptogamie Algologie 36(2): 129-141.
Tronchin, E.M. & De Clerck, O. (2005). Brown algae. Phaeophyceae. Guide to the seaweeds of KwaZulu-Natal. Scripta Botanica Belgica 33: 95-129.
Cite this record as:
Anderson RJ, Stegenga H, Bolton JJ. 2016. Seaweeds of the South African South Coast.
World Wide Web electronic publication, University of Cape Town, http://southafrseaweeds.uct.ac.za; Accessed on 21 September 2023.