Order Sphacelariales
Family Sphacelariaceae
Sphacelaria brachygona Montagne 1843: 305
Plants dark brown, up to 15 mm long, uprights growing in tufts from a restricted base, attached by rhizoids. Main axes about 65 µm in diameter (ca. 40-50 µm at apex), secondary segments 35-40 µm long, with (2-) 4-6 (-8) cell walls visible. Branching relatively sparse, of 3-4 orders.
Propagules single or in pairs, ellipsoid becoming fusiform with a 2-4 celled pedicel and 1 or 2 small cells on the distal side midway between the arms, to 105 µm long (including the pedicel) and ca. 220 µm wide across the arms.
Collections, ecology and regional distribution
Recorded from False Bay to Mbotyi "east of river mouth" (18-47). Found in intertidal turfs and sometimes in estuaries attached to littoral vegetation.
World distribution: widespread in tropical and warm temperate localities (Guiry & Guiry 2012).
Type locality: Brazil (Womersley 1987).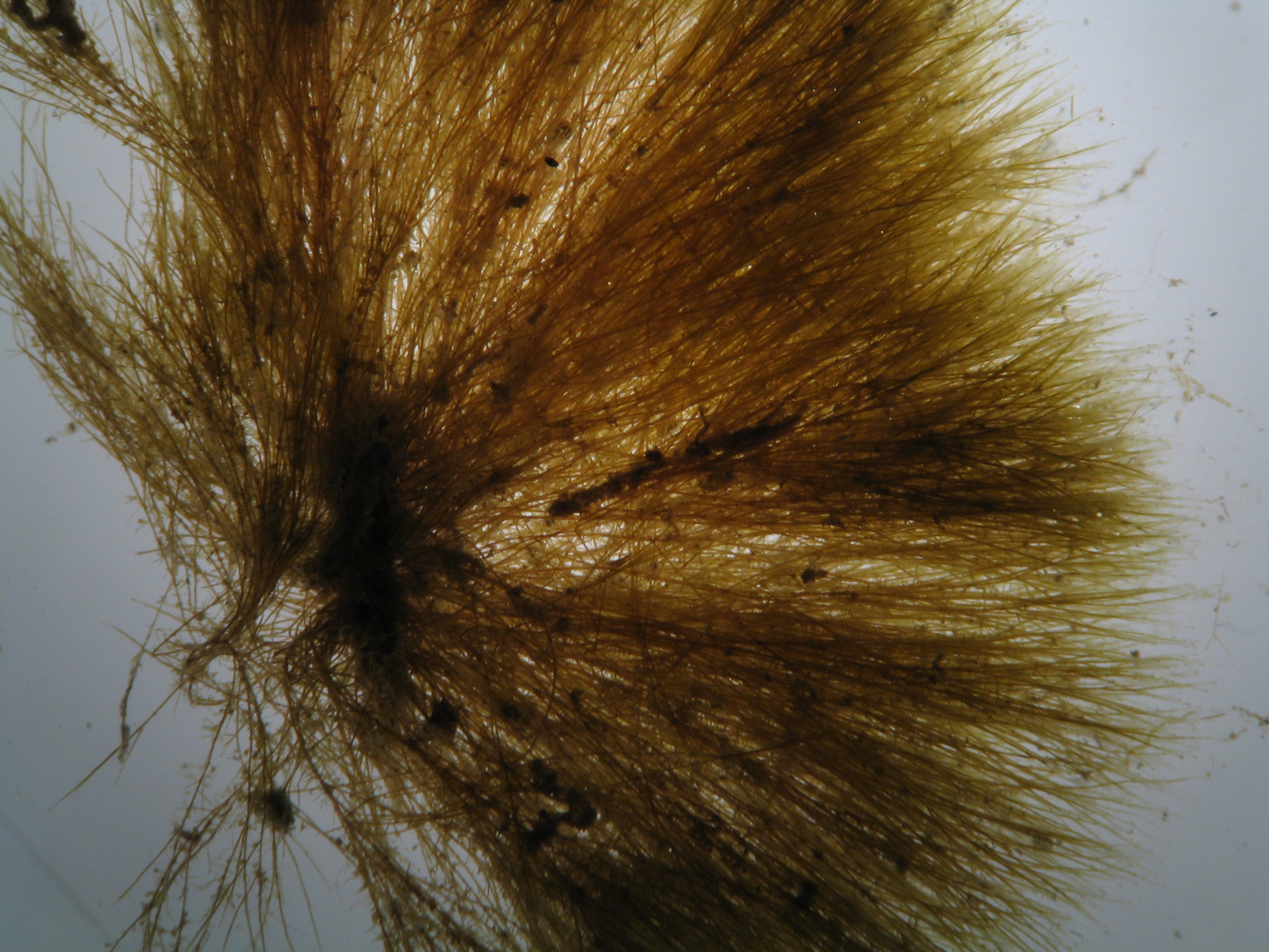 Sphacelaria brachygona, tuft of whole thalli (ca 13 mm high), Goukamma.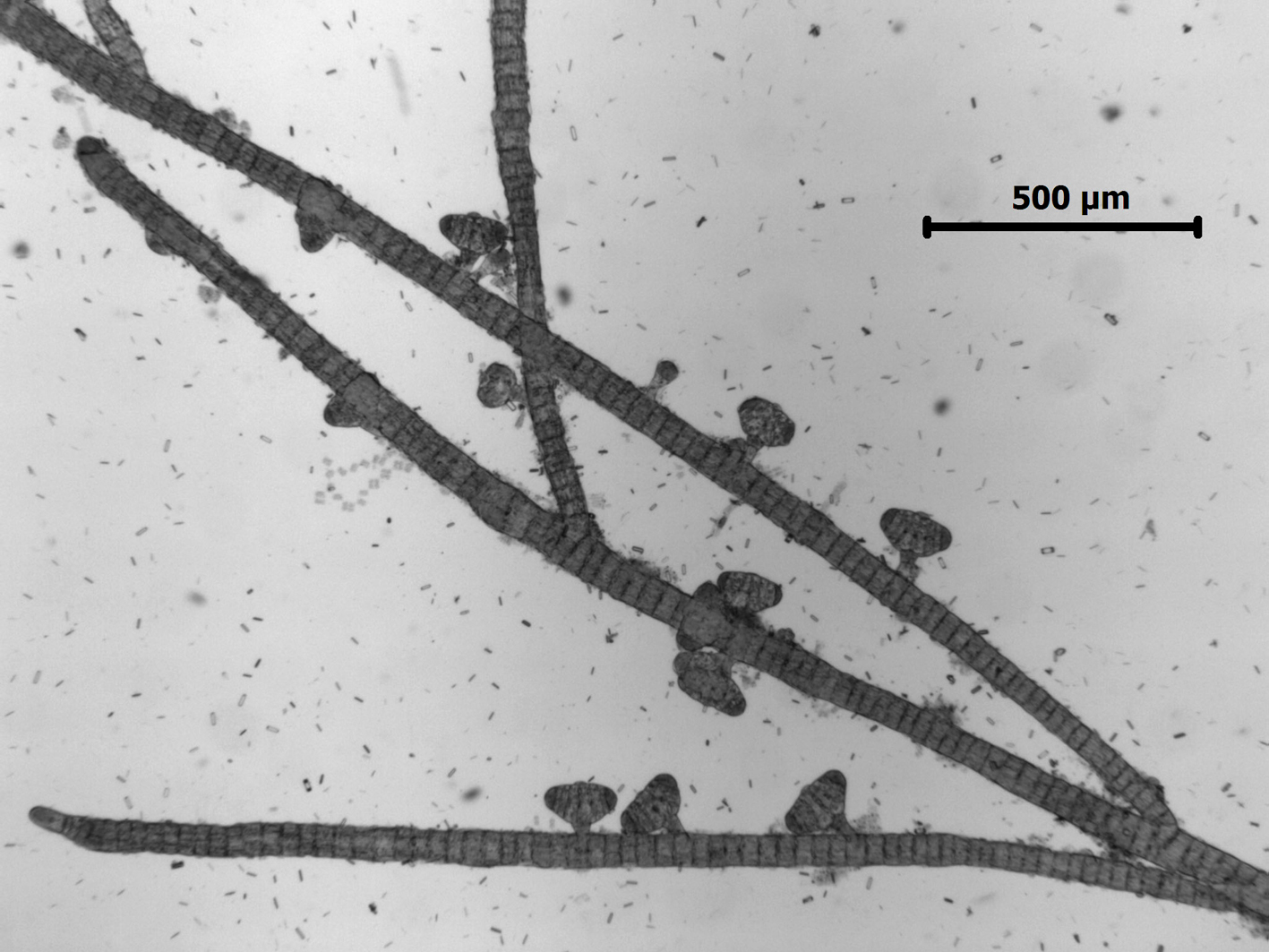 Sphacelaria brachygona, Keurboomstrand, with propagules.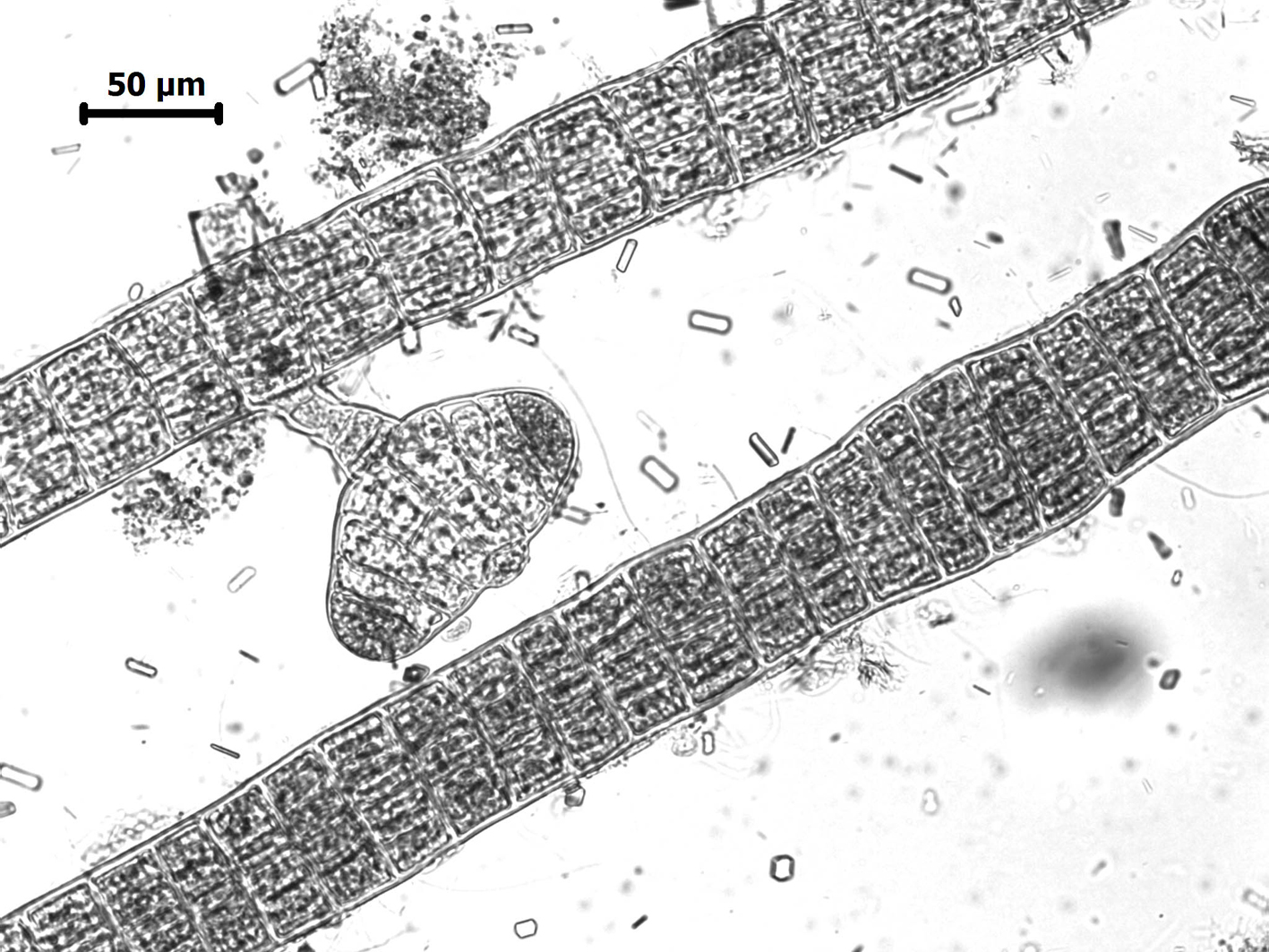 Sphacelaria brachygona, propagule and detail of uprights.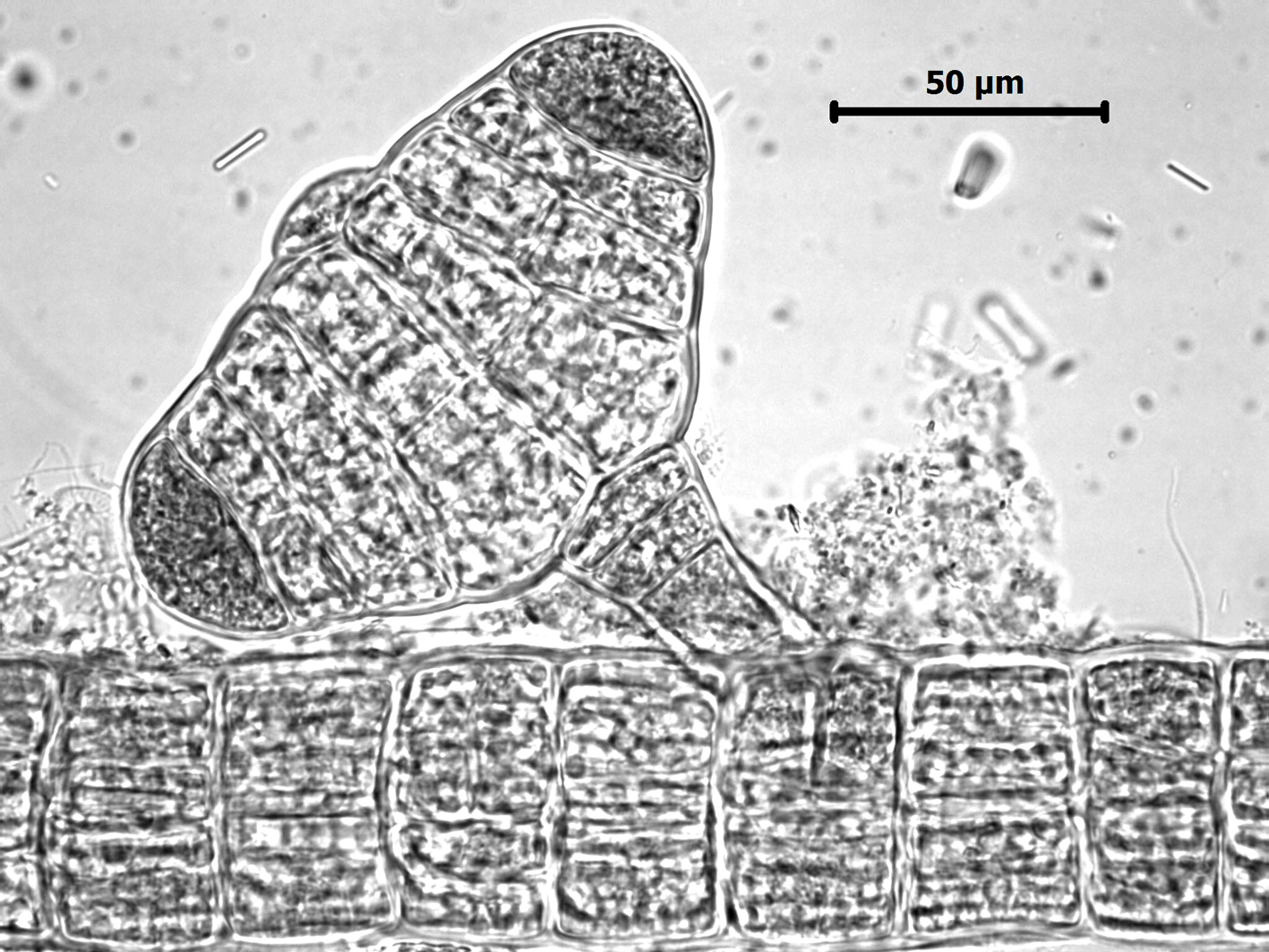 Sphacelaria brachygona, detail of propagule.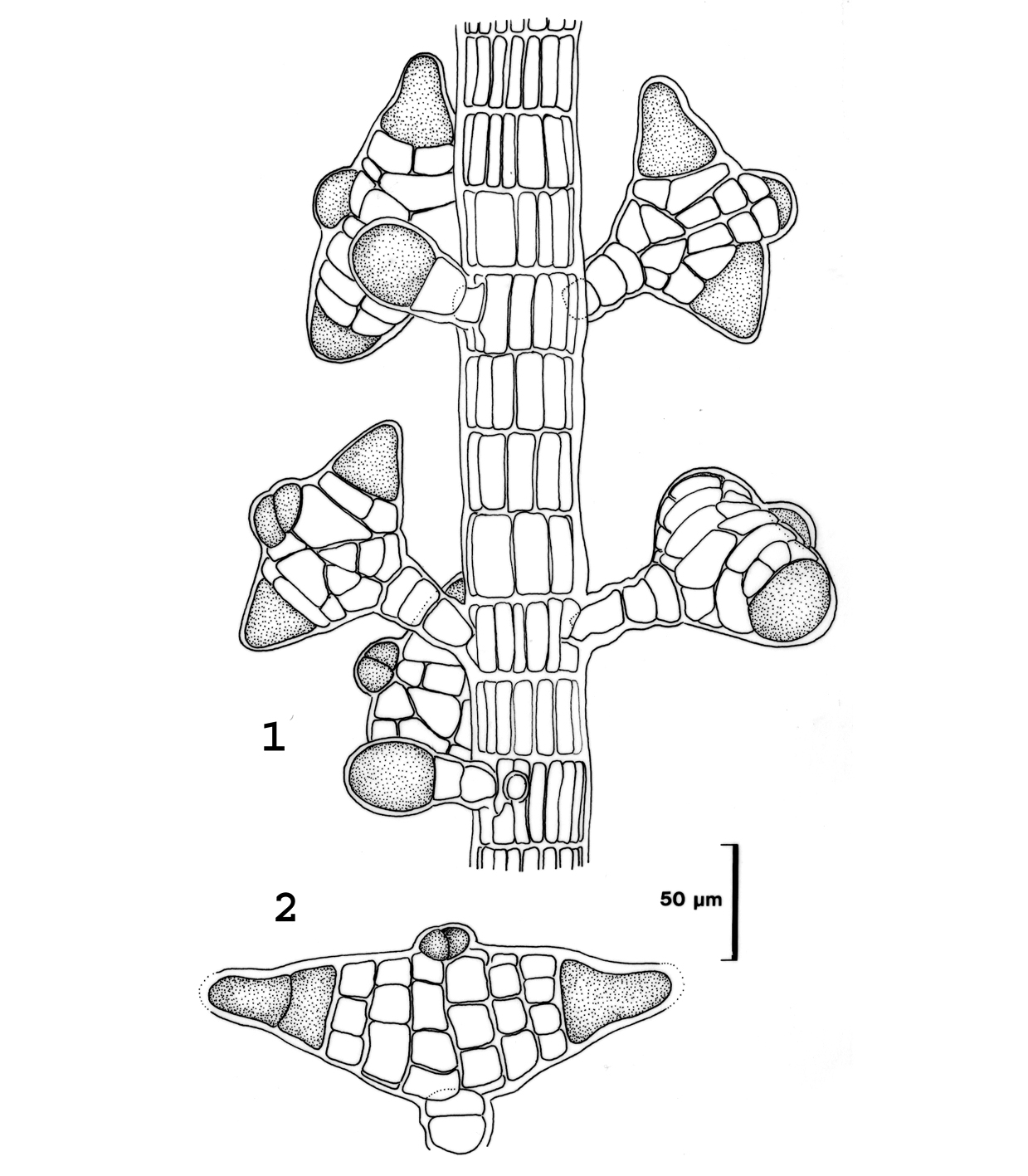 Sphacelaria brachygona. 1. Erect axis with propagules. 2. Propagule in first stage of germination. Reproduced from Stegenga et al. (1997).
References Sphacelaria
Guiry, M.D. & Guiry, G.M. 2012. AlgaeBase. World-wide electronic publication, National University of Ireland, Galway. http://www.algaebase.org; searched January 2012.
Montagne, C. (1843). Quatrième centurie de plantes cellulaires exotiques nouvelles. Décades VII. Annales des Sciences Naturelles, Botanique, Seconde Série 20: 294-306, pl. 12.
Stegenga, H., Bolton, J.J. and R. J. Anderson. 1997. Seaweeds of the South African west coast. Contributions from the Bolus Herbarium 18: 655 pp.
Womersley, H.B.S. (1987). The marine benthic flora of southern Australia. Part II. pp. 481, 169 figs, 1 table, 8 plates, 4 maps. Adelaide: South Australian Government Printing Division.
Cite this record as:
Anderson RJ, Stegenga H, Bolton JJ. 2016. Seaweeds of the South African South Coast.
World Wide Web electronic publication, University of Cape Town, http://southafrseaweeds.uct.ac.za; Accessed on 21 September 2023.