Order Scytothamnales
Family Splachnidiaceae
Splachnidium rugosum (Linnaeus) Greville 1830: xxxvi
Plants mid-brown to yellow-brown, up to 30 cm long but usually shorter, comprising a cylindrical main axis up to 1.5 cm in diameter and a single order of whorled or irregularly inserted , cylindrical basally constricted branches up to 1 cm in diameter. The swollen but turgid and wrinkled appearance of the plant gives rise to the common name "dead man's fingers". Structure pseudoparenchymatous, consisting of a surface meristematic epidermis of small cells (ca. 13 x 8 µm diameter), a pigmented cortex about 60 µm deep of closely packed isodiametric cells, an outer medulla of a reticulate network of filaments and an inner medulla of sparse, loosely arranged hyphae. Most of the thallus comprises the mucilaginous central region, which also contains sparse hyphae.
Unilocular sporangia in sunken sub-spherical conceptacles that are up to 400 µm in diameter and visible as dark spots on surfaces of main axis and branches. Sporangia clavate to spindle-shaped, to 90 x 35 µm , in large numbers around inner wall of conceptacle, surrounded by phaeophycean hairs.
Collections, ecology and regional distribution
Common in the mid-shore, Recorded along the entire west coast and along the south coast as far as the East London area (1-41).
World distribution: Namibia, Chile, Tristan da Cunha, Amsterdam Island, New Zealand, Australia (Guiry & Guiry 2011).
Note: An alternate filamentous phase producing plurilocular sporangia is reported in Australia from culture (Price and Ducker 1966) and in the field (Womersley 1987).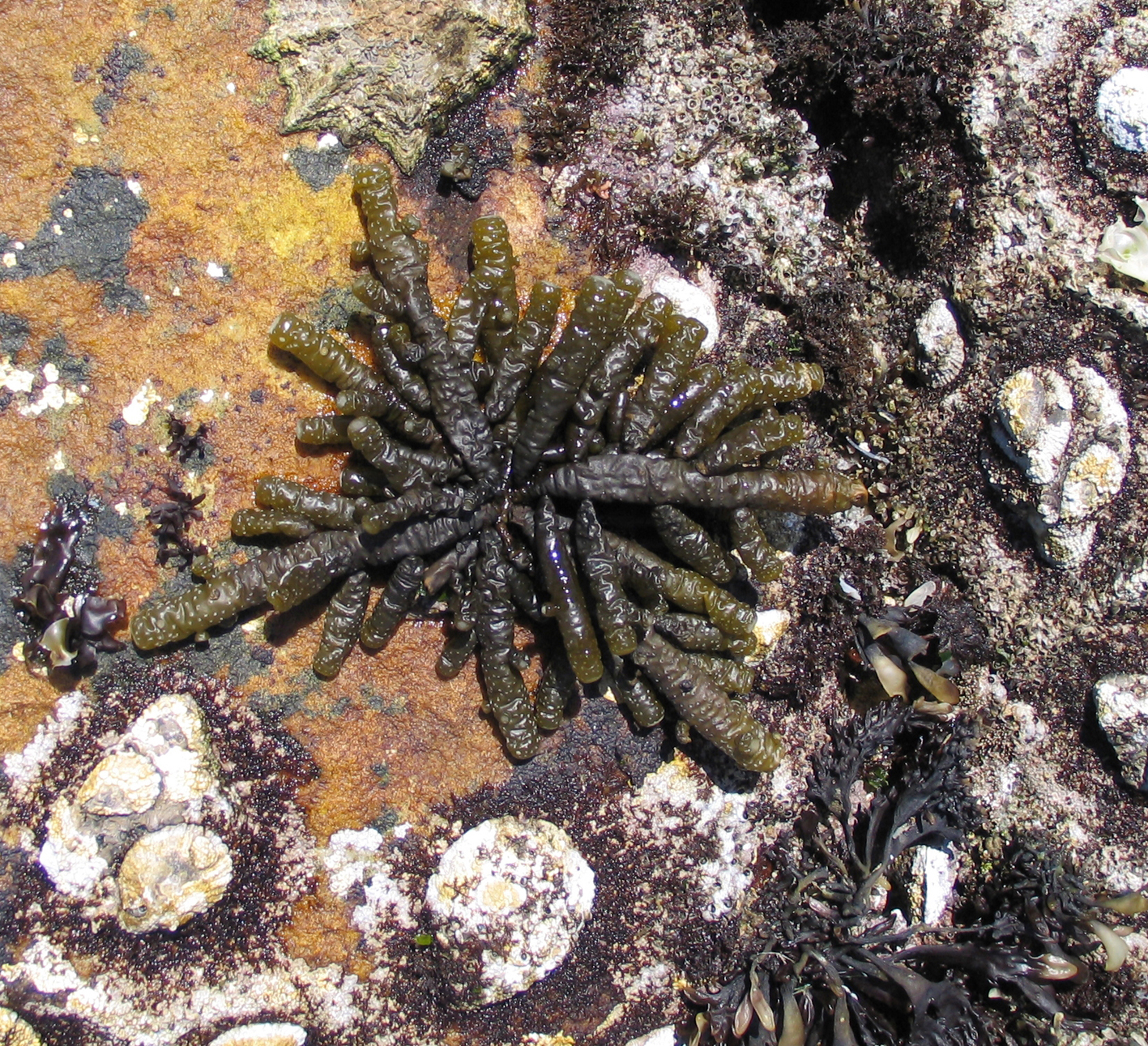 Splachnidium rugosum, exposed during low tide.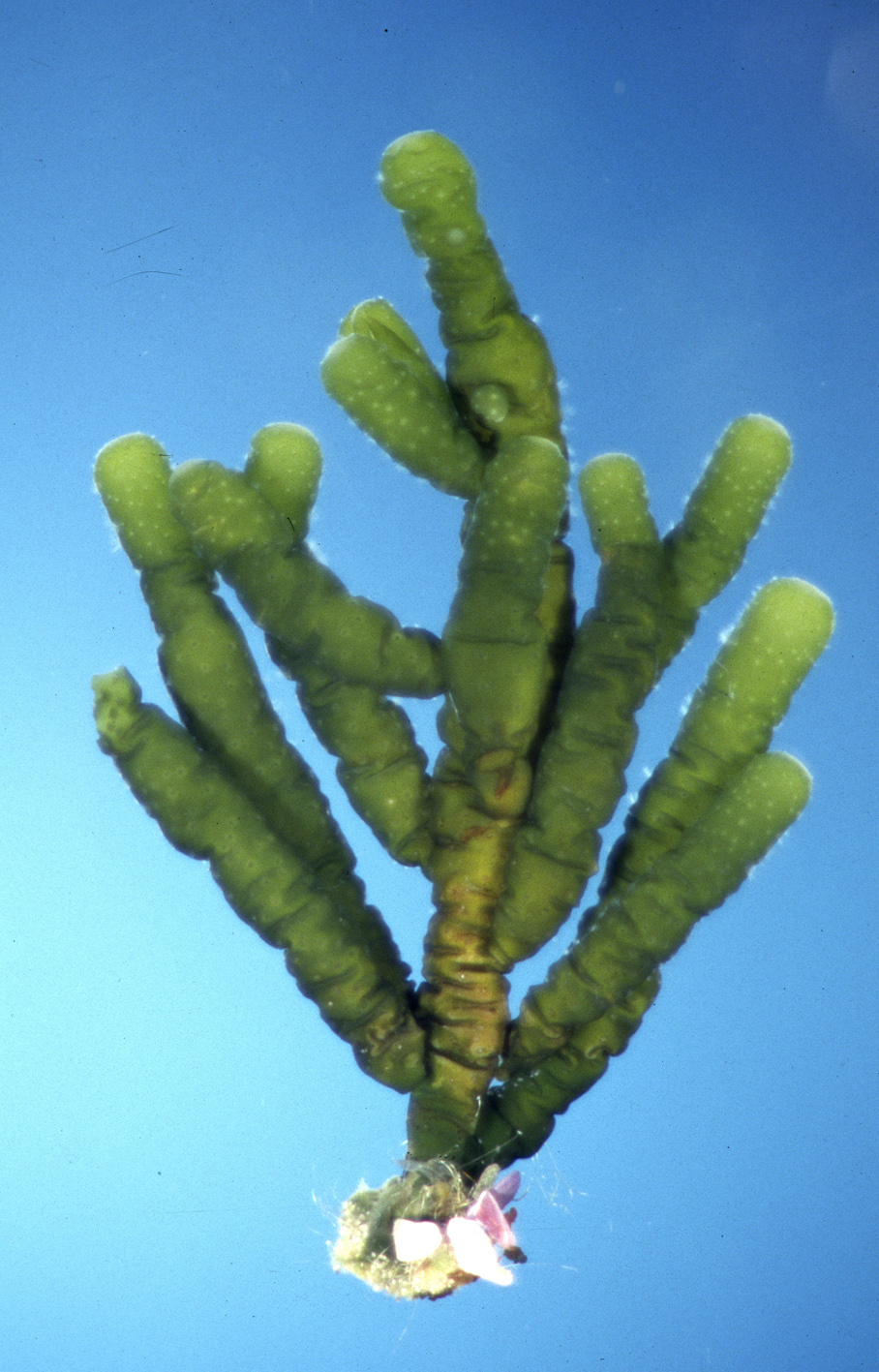 Splachnidium rugosum with shell fragments attached to base.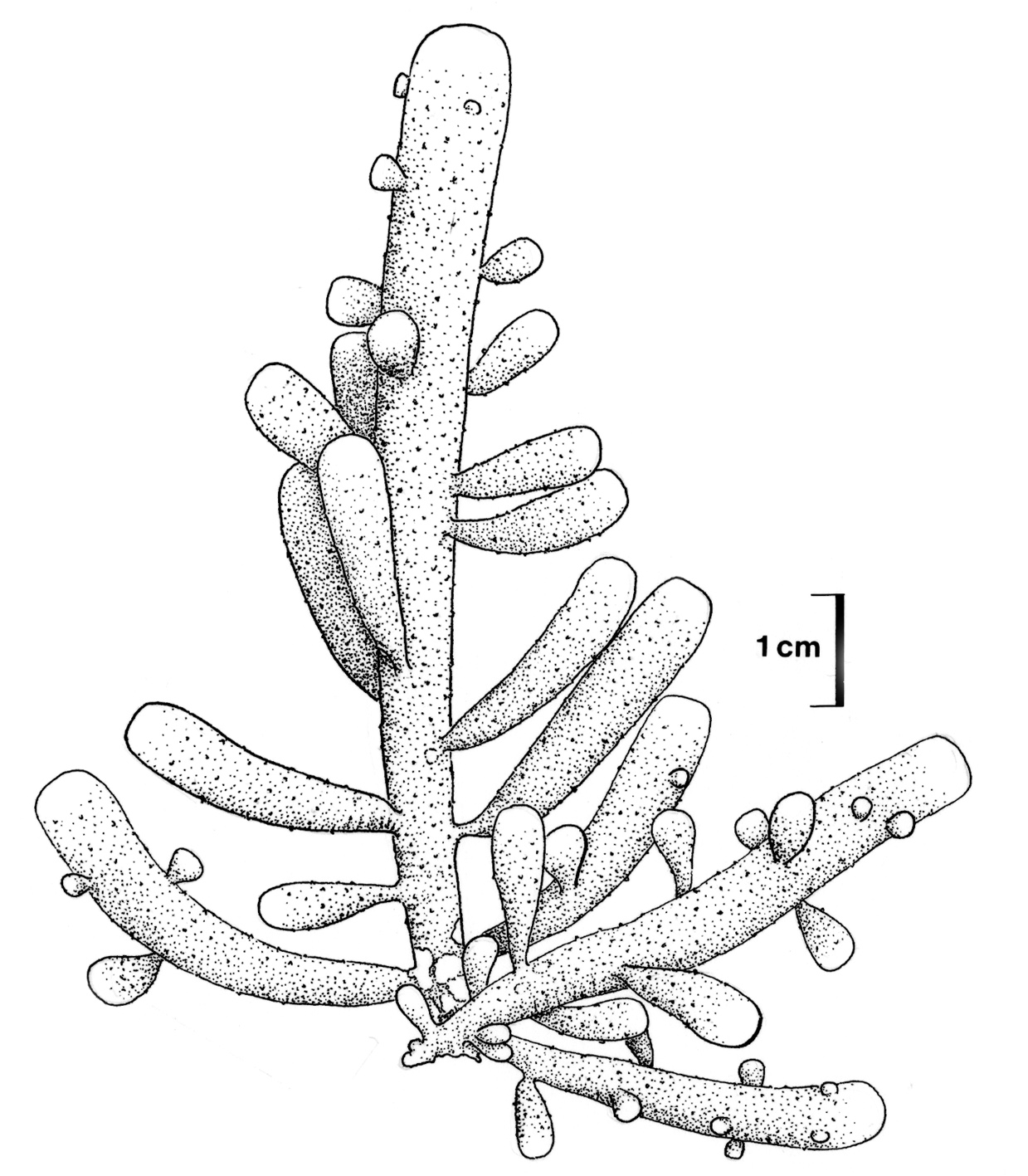 Splachnidium rugosum (reproduced from Stegenga et al. 1997).
References Splachnidium
Greville, R.K. (1830). Algae britannicae, or descriptions of the marine and other inarticulated plants of the British islands, belonging to the order Algae; with plates illustrative of the genera. pp. [i*-iii*], [i]-lxxxviii, [1]-218, pl. 1-19. Edinburgh & London: McLachlan & Stewart; Baldwin & Cradock.
Guiry, M.D. & Guiry, G.M. 2011. AlgaeBase. World-wide electronic publication, National University of Ireland, Galway. http://www.algaebase.org; searched October 2011.
Price, J. H. and Ducker S. C. 1966. The life history of the brown alga Splachnidium rugosum. Phycologia 5: 261-373.
Stegenga, H., Bolton, J.J. and R. J. Anderson. 1997. Seaweeds of the South African west coast. Contributions from the Bolus Herbarium 18: 655 pp.
Womersley, H.B.S. (1987). The marine benthic flora of southern Australia. Part II. pp. 481, 169 figs, 1 table, 8 plates, 4 maps. Adelaide: South Australian Government Printing Division.
Cite this record as:
Anderson RJ, Stegenga H, Bolton JJ. 2016. Seaweeds of the South African South Coast.
World Wide Web electronic publication, University of Cape Town, http://southafrseaweeds.uct.ac.za; Accessed on 25 September 2023.