Order Dictyotales
Family Dictyotaceae
Zonaria tournefortii (J.V.Lamouroux) Montagne 1846: 32-33
Plants erect, a few to ca. 15 cm tall, yellowish-brown to dark brown, comprising one to several sub-dichotomously to irregularly branched axes arising from a densely matted rhizoidal holdfast; axes flattened, ca. 2-5 (-10) mm wide, with visible midrib, widening distally into wedge-shaped or fan-shaped blades; blades with faint concentric zonation, often incised. Blades 6 cells and 80-100 µm thick near centre, 4 cells and ca. 60-70 µm thick near edges; in cross-section central two rows of medullary cells ca. 15-20 µm high x 10-15 µm wide, cortical cells smaller and usually wider than high. Sporangia in sori scattered irregularly over both surfaces of blades. Sporangia ca. 125 X 90 μm, at maturity dividing into 8 spores. Paraphyses 5-6 cells long overtop the sporangia, their apical cells are roundish, ca. 25 μm in diameter.
Collections, ecology and regional distribution
Recorded from De Hoop to northern Kwazulu-Natal. (24-58). Found from the sublittoral fringe to the sublittoral (at least 10 m depth), not common (much scarcer that Z. subarticulata).
World distribution: World distribution: widespread in the tropical/warm temperate Atlantic and Mediterranean (Guiry & Guiry 2012).
Syntype localities: Corsica, southern France and Italy (Silva et al. 1996).
Note: Littler & Littler (2000) state that the sporangial sori have no sterile hairs. Their illustration shows a somewhat different cell arrangement in cross-section.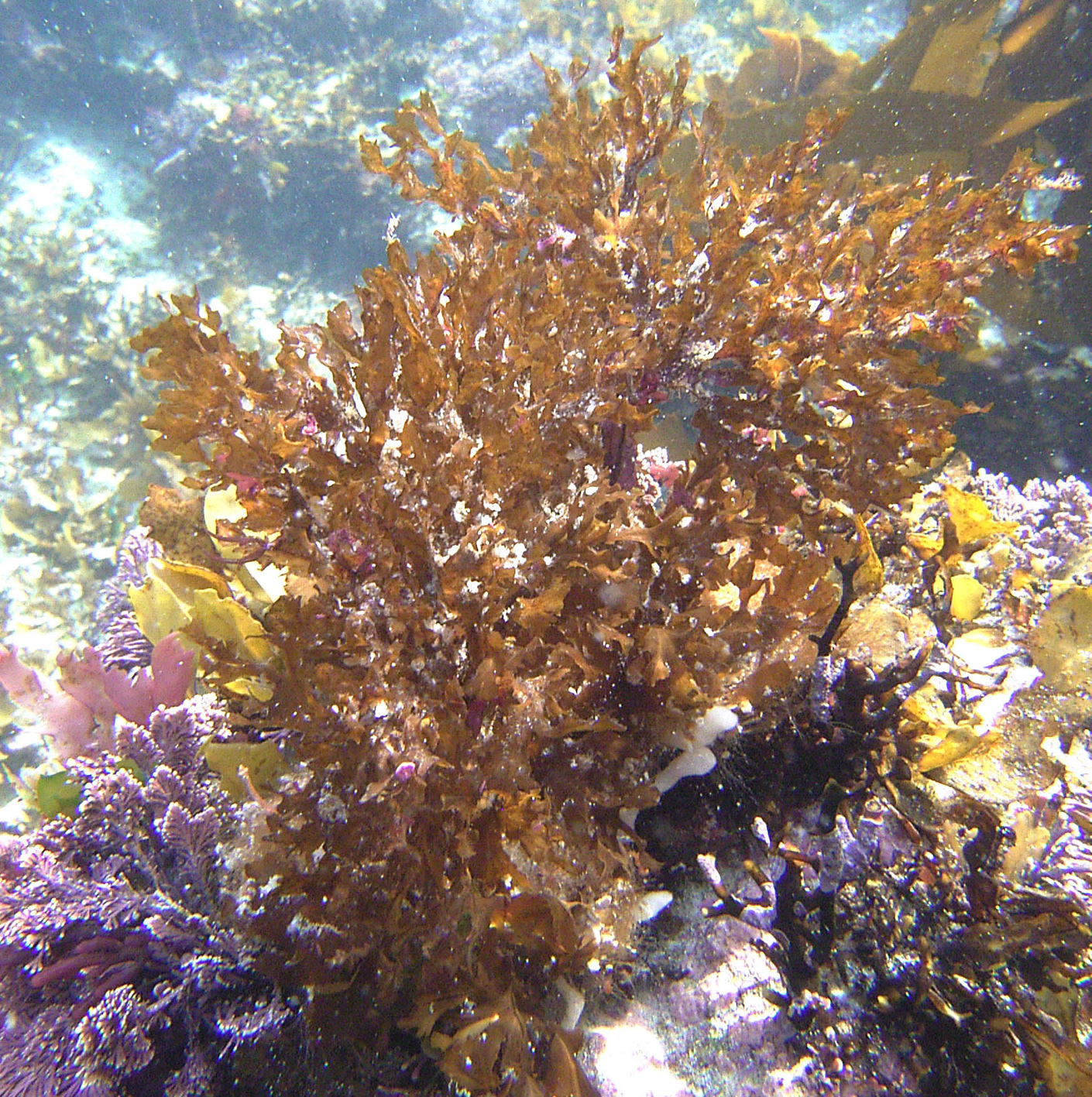 Zonaria tournefortii, De Hoop.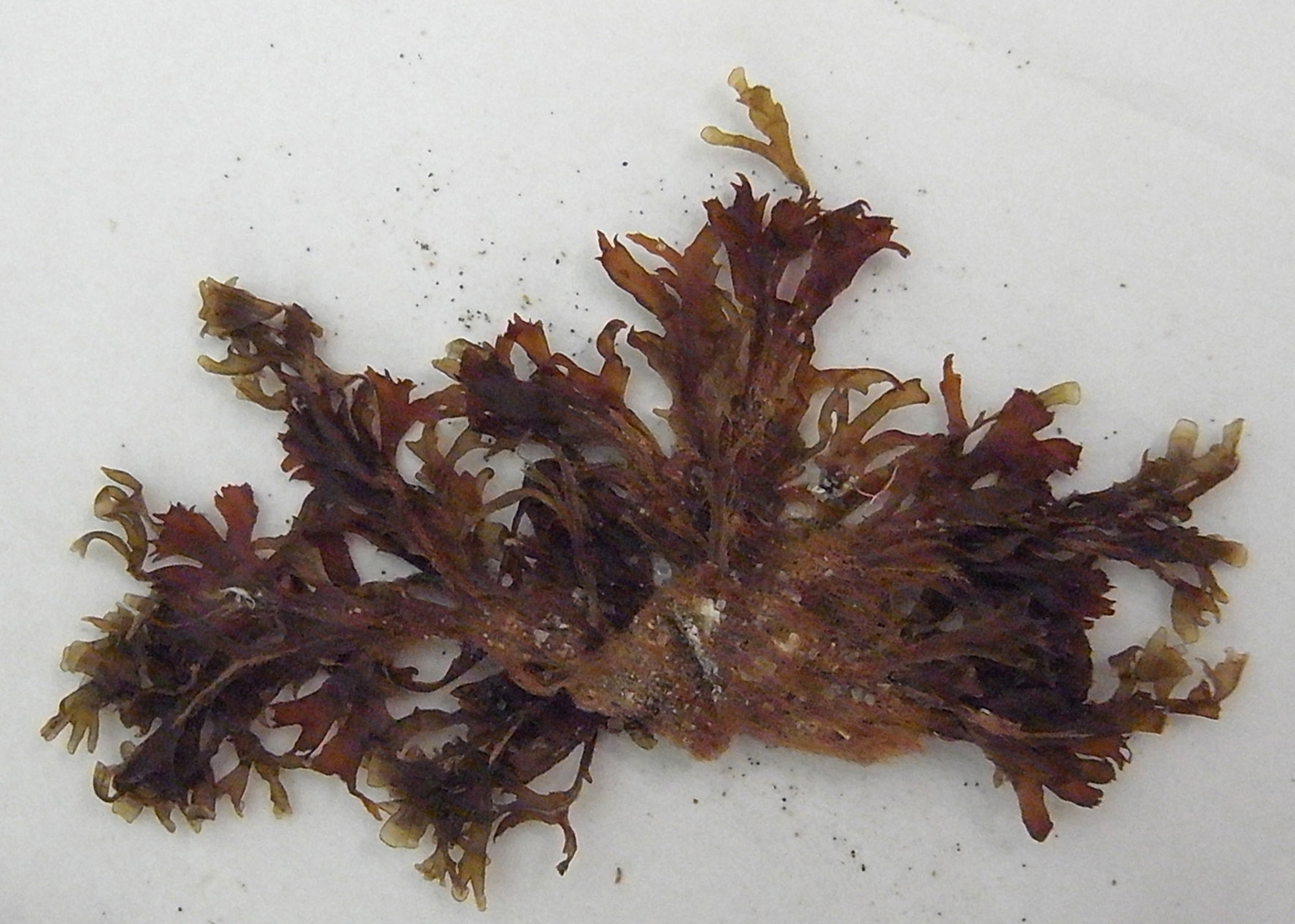 Zonaria tournefortii, specimen out of water, ca 6 cm long, Mkambati.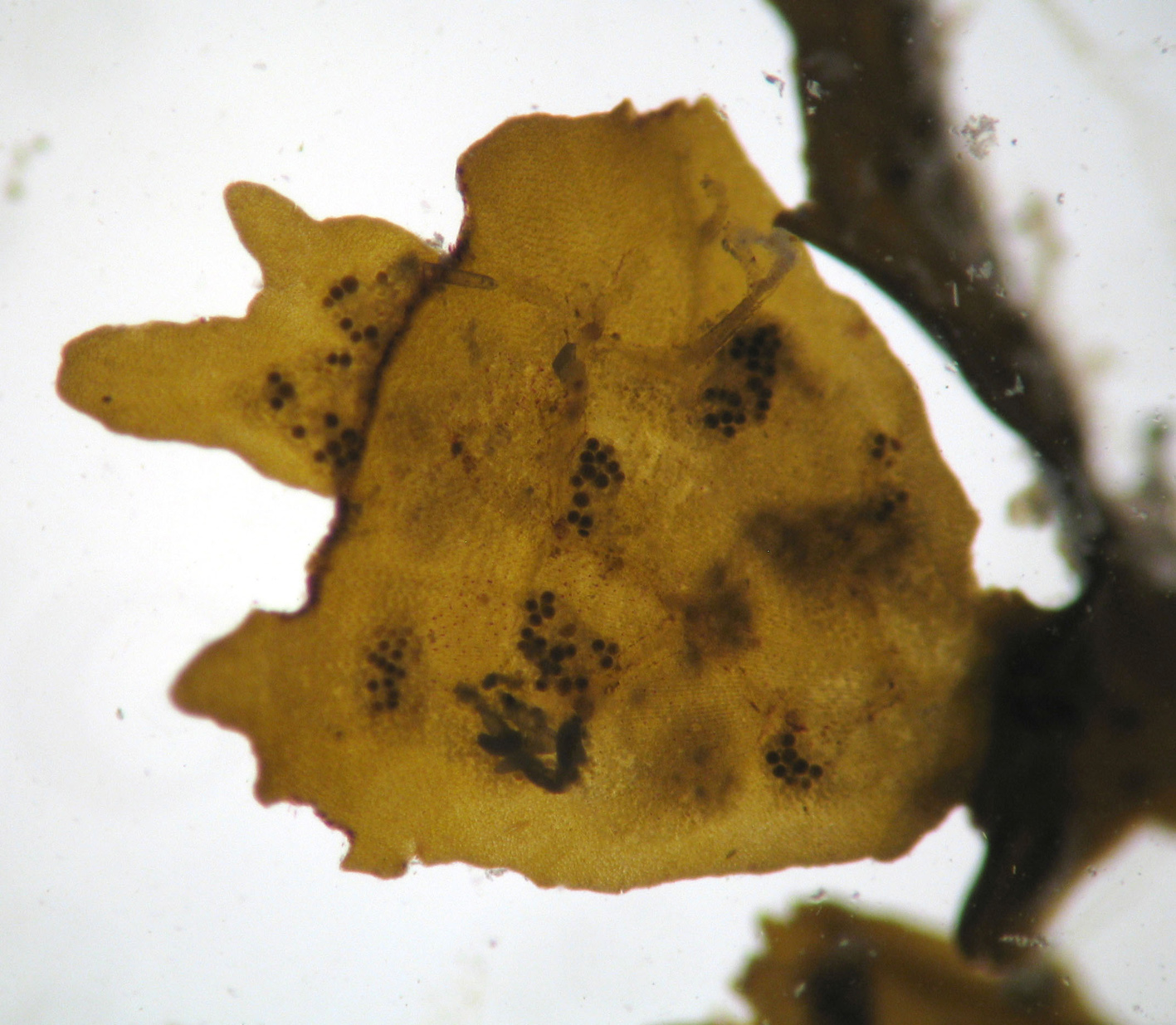 Zonaria tournefortii, detail of sori on apical blade.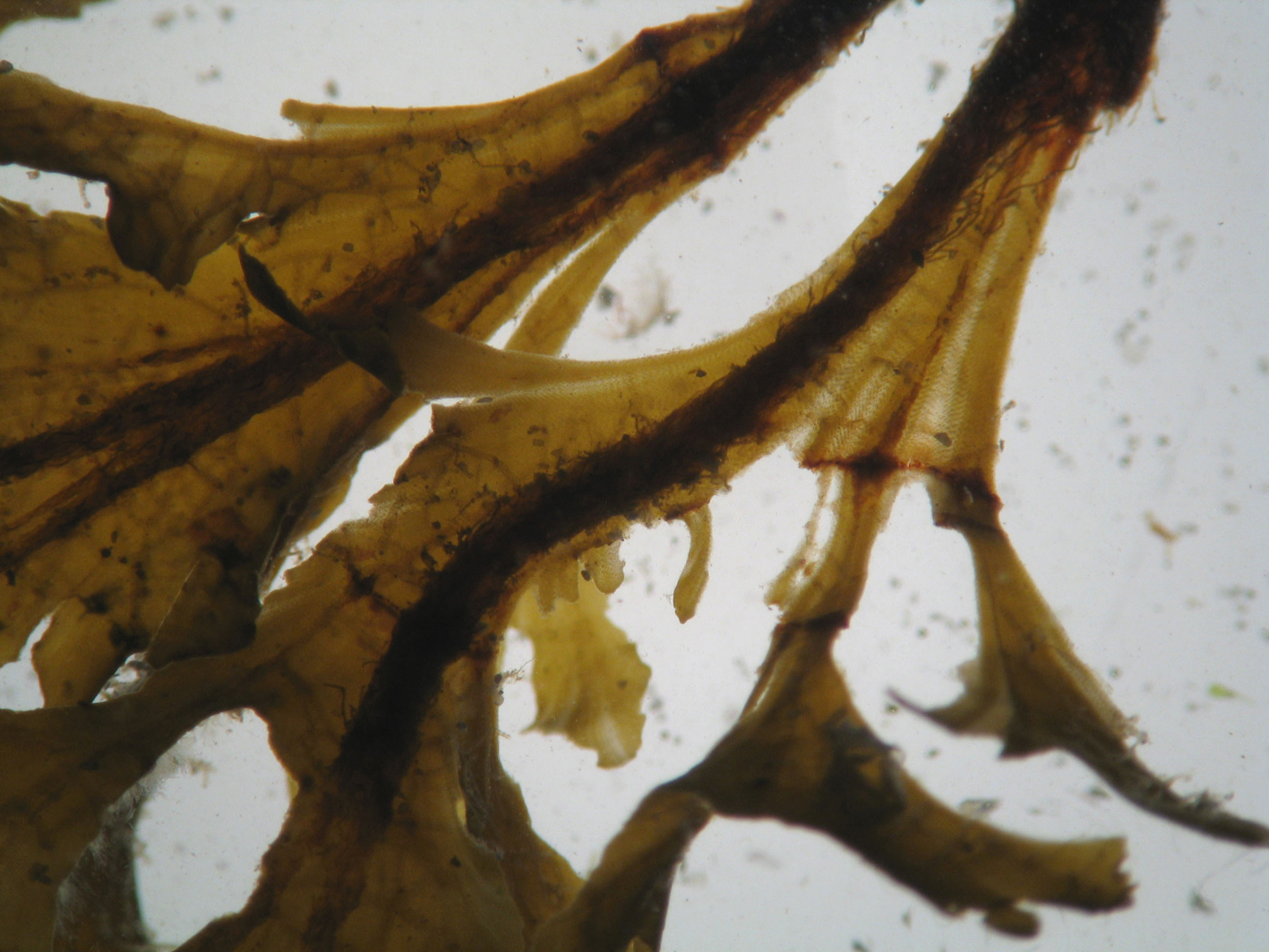 Zonaria tournefortii, basal part of fronds.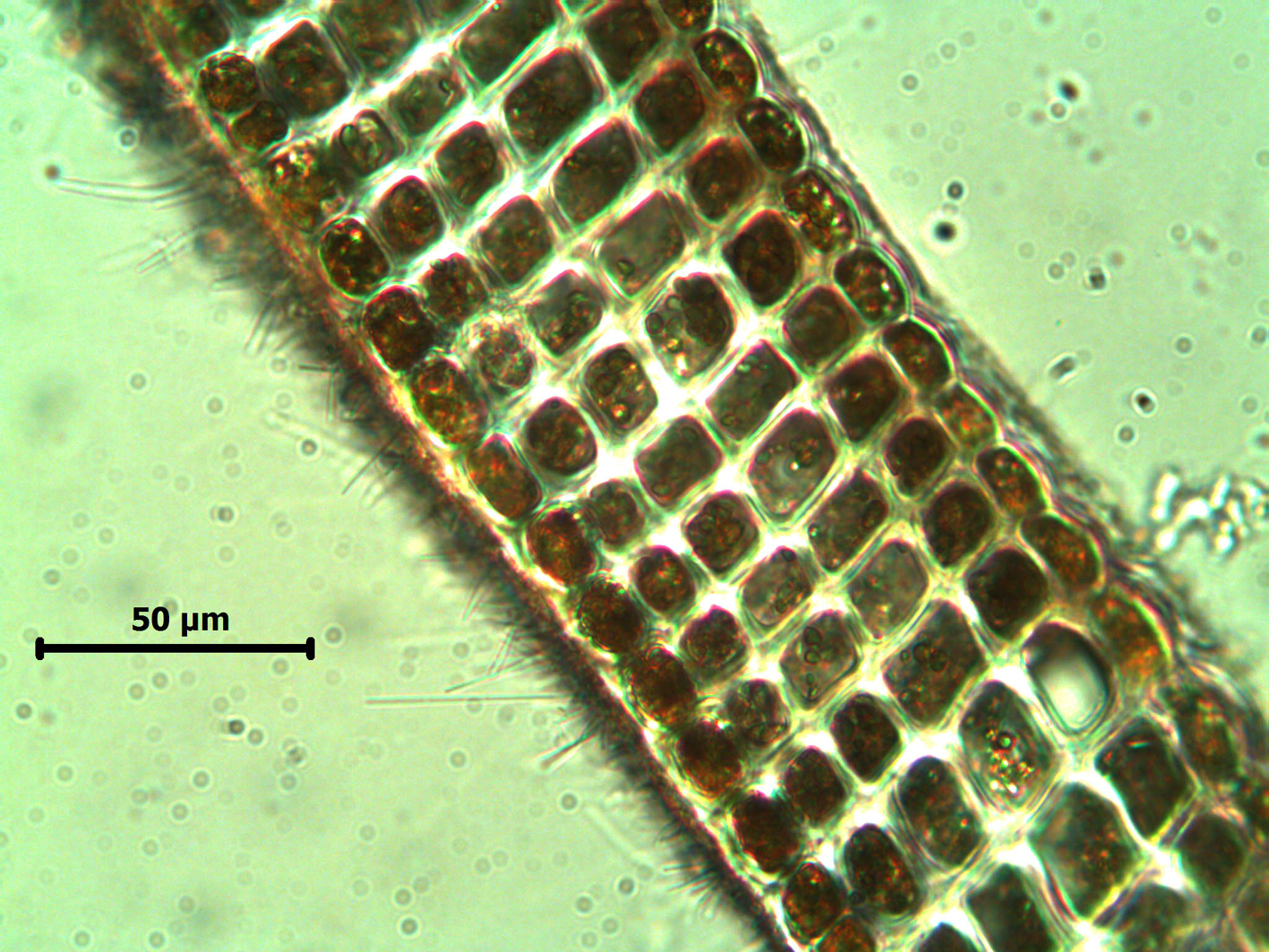 Zonaria tournefortii, cross section of central part of blade showing 6 cell layers.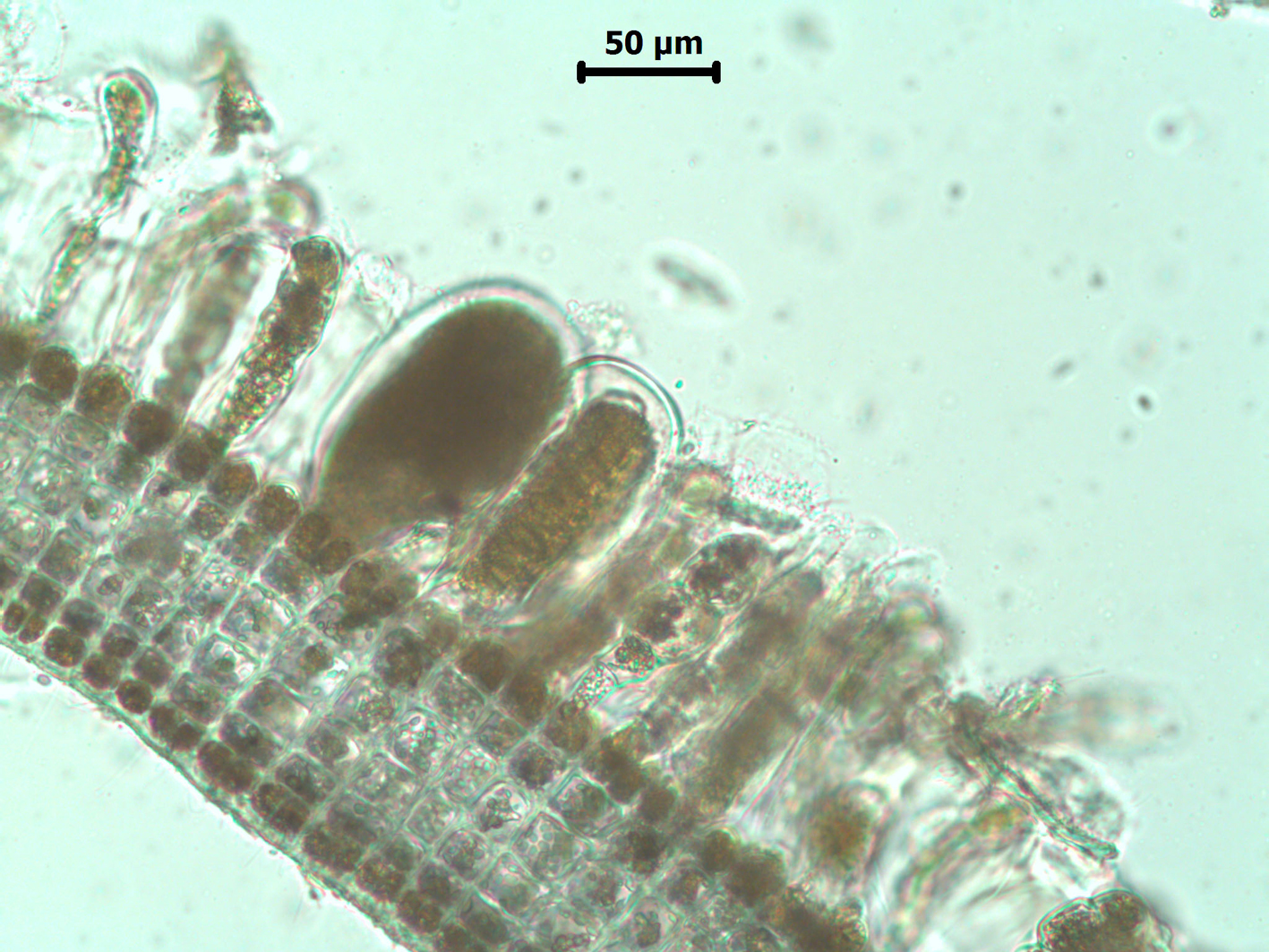 Zonaria tournefortii, cross sectin showing probable unilocular sporangia (fresh material, Hluleka).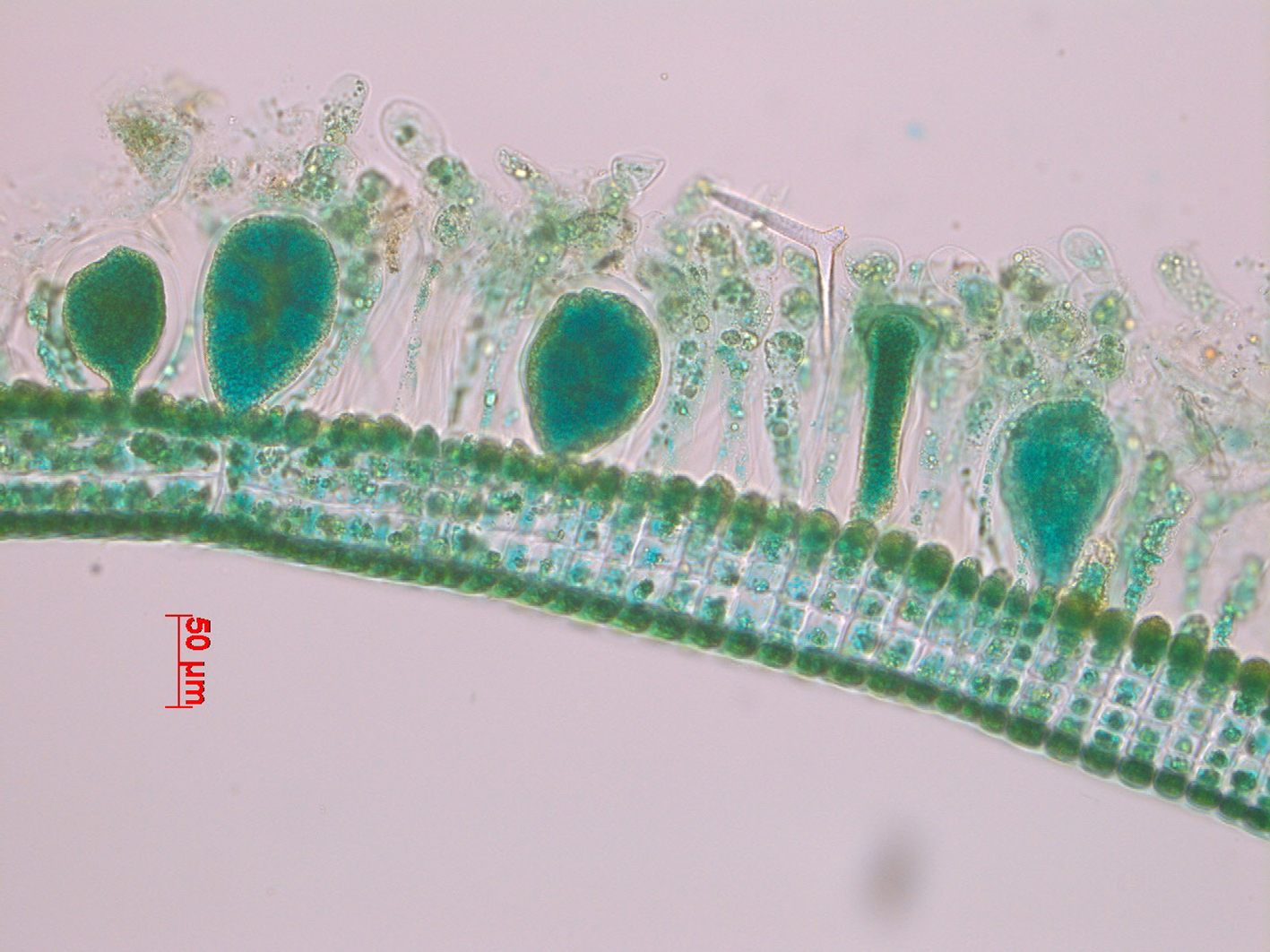 Zonaria tournefortii, cross section showing probable unilocular sporangia (stained slide material, Mzamba).
References Zonaria
Guiry, M.D. & Guiry, G.M. 2012. AlgaeBase. World-wide electronic publication, National University of Ireland, Galway. http://www.algaebase.org; searched February 2012.
Littler, D.S. & Littler, M.M. (2000). Caribbean Reef Plants. OffShore graphics, Inc., Washington. 542 pp.
Montagne, [J.F.]C. (1846). Flore d'Algérie. Ordo I. Phyceae Fries. In: Exploration scientifique de l'Algérie pendant les années 1840, 1841, 1842...Sciences physiques. Botanique. Cryptogamie. (Durieu De Maisonneuve, M.C. Eds) Vol. 1, pp. 1-197. Paris: Imprimerie Royale, publiée par ordre du Gouvernement et avec le concours d'une Commission Académique.
Silva, P.C., Basson, P.W. & Moe, R.L. (1996). Catalogue of the benthic marine algae of the Indian Ocean. University of California Publications in Botany 79: 1-1259.
Cite this record as:
Anderson RJ, Stegenga H, Bolton JJ. 2016. Seaweeds of the South African South Coast.
World Wide Web electronic publication, University of Cape Town, http://southafrseaweeds.uct.ac.za; Accessed on 21 September 2023.