Order Bryopsidales
Family Bryopsidaceae
Bryopsis myosuroides Kützing 1856: 27
Plants medium-dark green, sometimes with bluish iridescence, forming dense tufts up to 8 cm tall; main siphons 300-450 µm diameter, with lateral branchlets along the apical 2-15 mm; branchlets 90-150 µm wide, distichously arranged, directed upward and curving inwards imparting distinctly feather-like appearance
Distribution and collections
Collected from Plettenberg Bay area to northern KZN (31-58). Common in rock pools and some shallow subtidal gulleys. Plants from intertidal pools tend to be longer and laxer than those from the intertidal shore.
World distribution: Also reported from Madagascar and various rather disjunct, mainly warm-temperate localities around the world (Silva et al. 1996).
Type locality: Durban, South Africa.
Note: this species includes the synonyms B. setacea and B. flanaganii. Coppejans et al. (2005) point out that B. myosuroides resembles the widespread tropical B. pennata, but they maintain the use of the former name for the South African taxon.

Bryopsis myosuroides, Haga Haga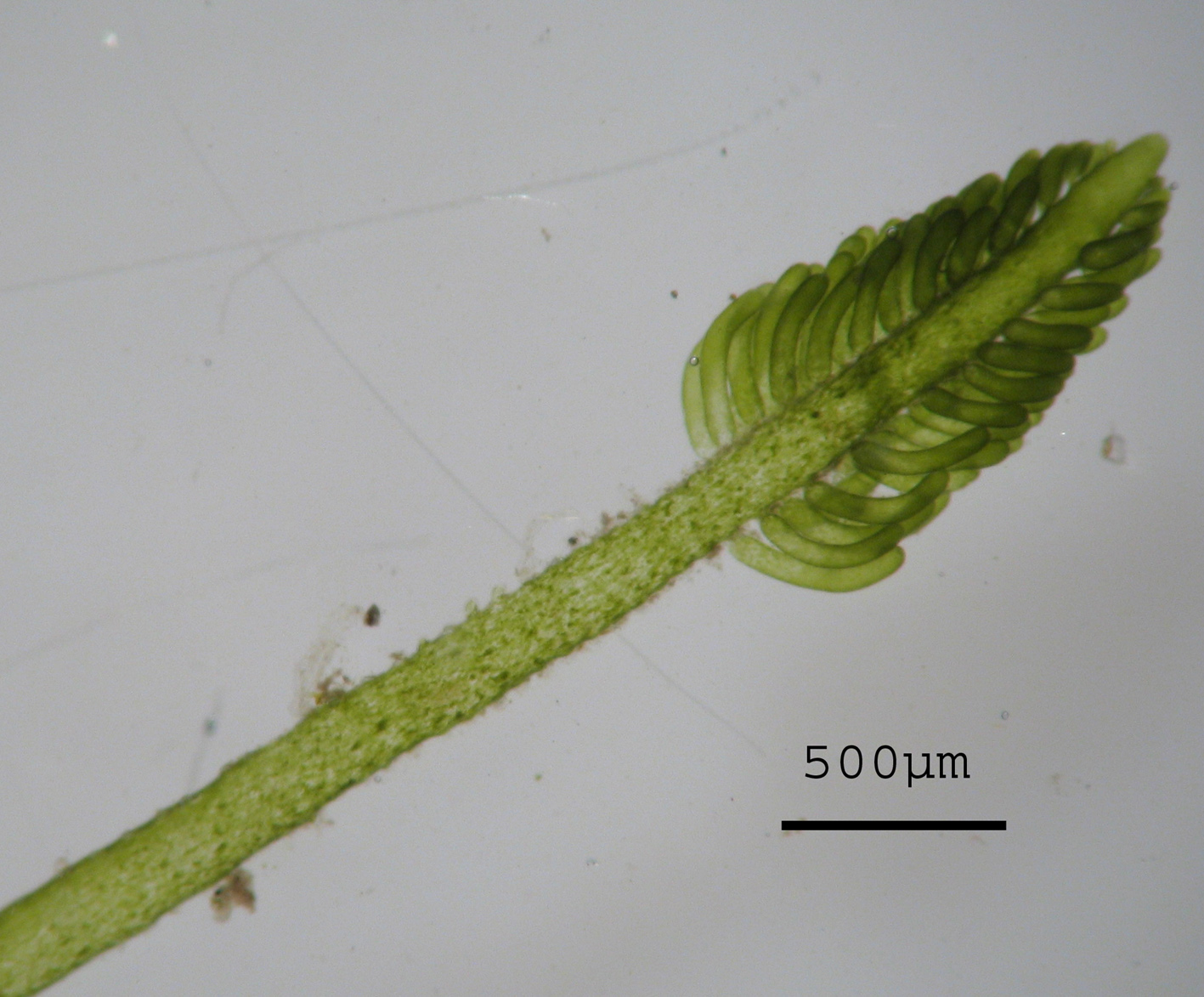 Bryopsis myosuroides, typical arrangement of branches
References Bryopsis myosuroides
Coppejans, E., Leliaert, F., Verbruggen, H. 2005. Green Algae. In De Clerck, O., J.J.Bolton, R. J. Anderson and E. Coppejans, 2005. Guide to the Seaweeds of Kwazulu-Natal. National Botanic Garden of Belgium, Brussels (Scripta Botanica Belgica), pp 40-93.
Kützing, F. T. 1856. Tabulae Phycologicae 6.
Silva, P.C., Basson, P.W. & Moe, R.L. (1996). Catalogue of the benthic marine algae of the Indian Ocean. University of California Publications in Botany 79: 1-1259.
Cite this record as:
Anderson RJ, Stegenga H, Bolton JJ. 2016. Seaweeds of the South African South Coast.
World Wide Web electronic publication, University of Cape Town, http://southafrseaweeds.uct.ac.za; Accessed on 25 September 2023.