Order Caulerpales
Family Caulerpaceae
Caulerpa brachypus Harvey 1860: 333
Plants light to medium green, up to 20 mm tall. Stolons thin (0.5 mm in dried material) bearing short stipes with one or two (dichotomously branched) thin fronds, each 10-15 (-20) mm long and 3-4 mm wide, ovate to strap-shaped, with rounded apices.
Collections, ecology and regional distribution
Uncommon on the south coast: collected from intertidal shores in Transkei, at 23 m off Stilbaai and a few metres deep at De Hoop, but probably more common northwards into Kwazulu-Natal (24-58), where it is found from the intertidal down to 40 m (Coppejans et al. 2005), as C. brachypus forma parvifolia).
World distribution: Widespread in the Indian and Pacific Ocean tropics.
Type locality: Tanegasima, Japan (Harvey 1860).
Note: Coppejans et al. (2005) distinguish forma parvifolia from the considerably longer forma brachypus (Coppejans et al. 2004). See Wynne et al. (2009) for comparisons with similar species of Caulerpa.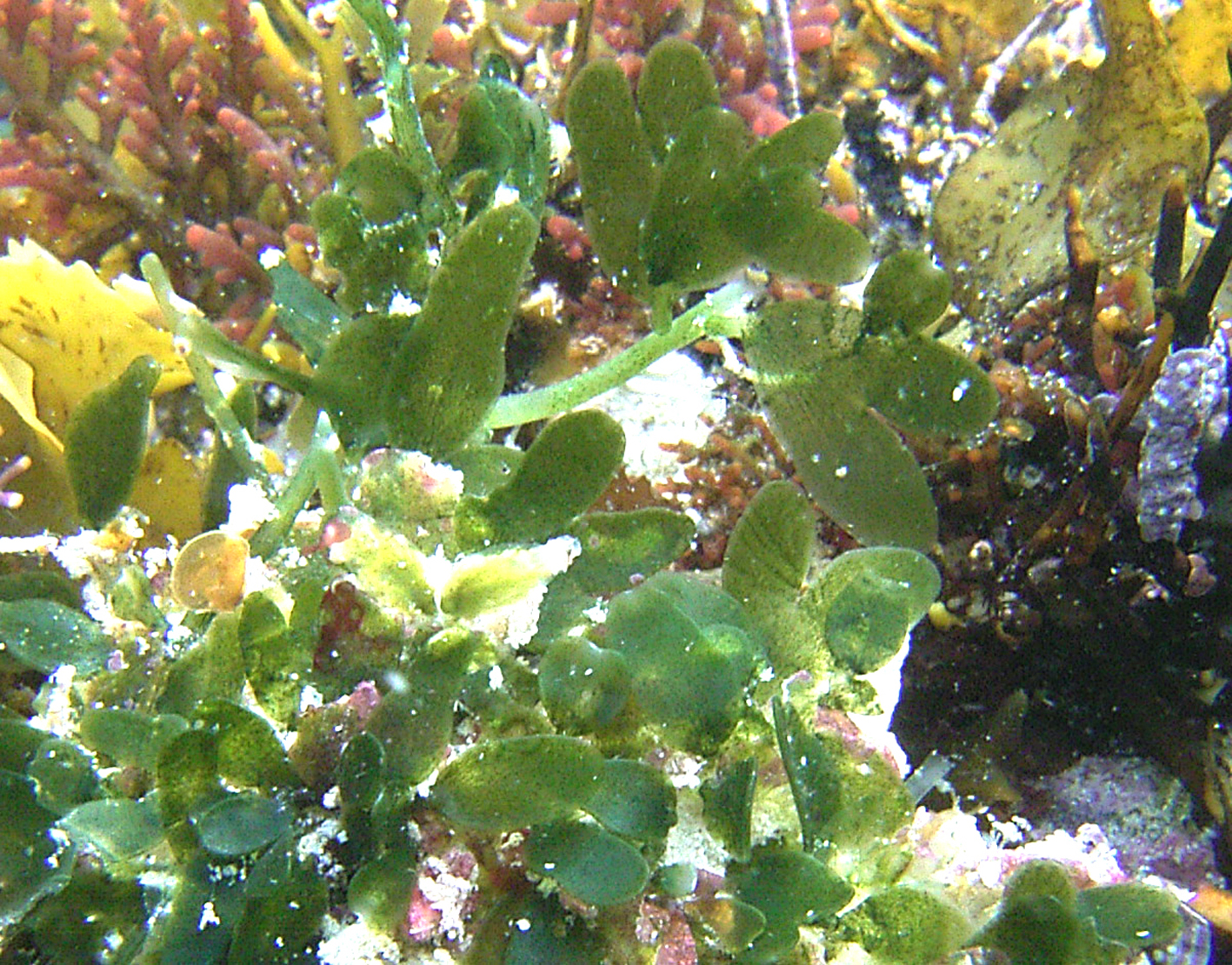 Caulerpa brachypus, De Hoop, 2m depth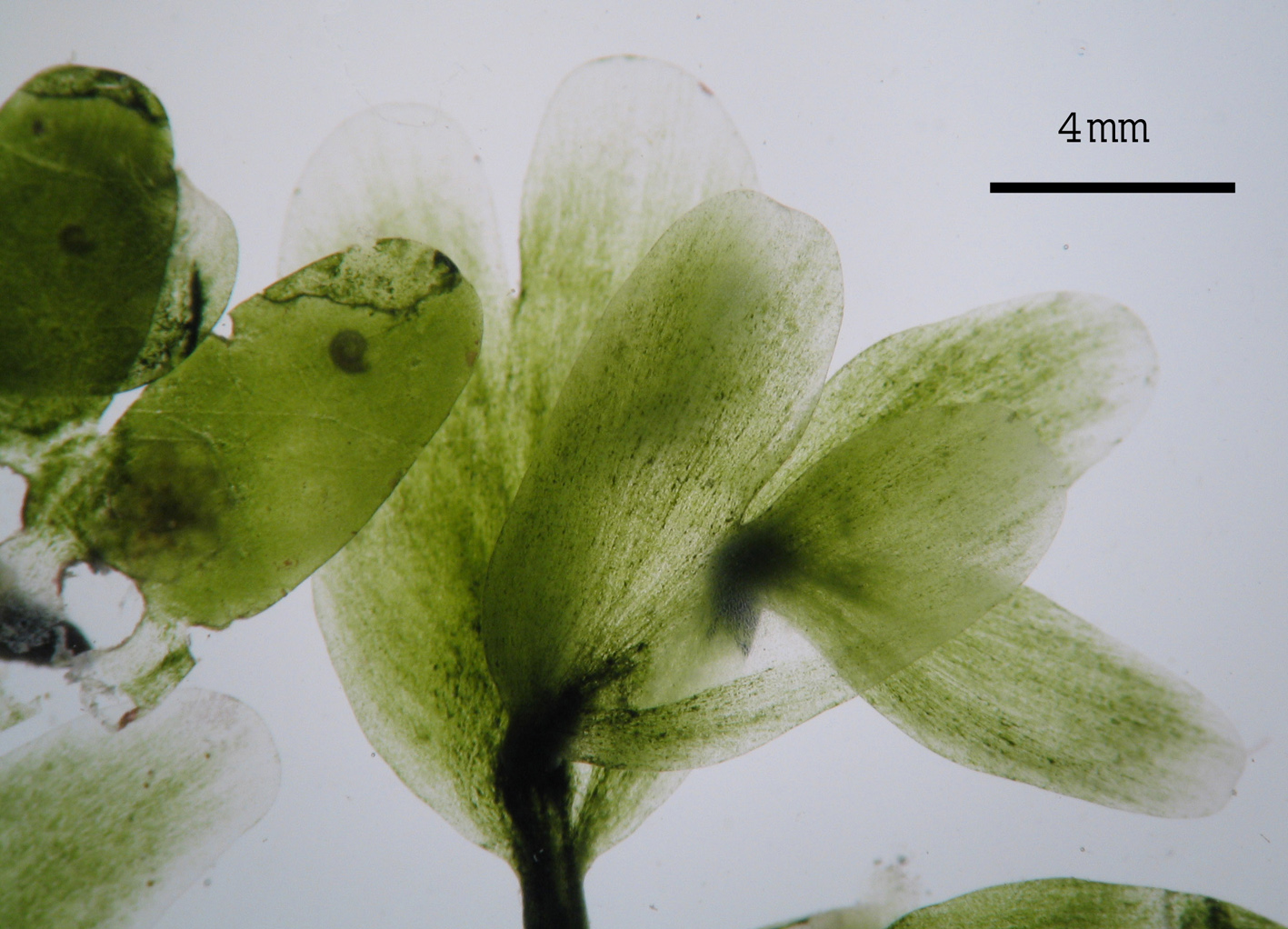 Caulerpa brachypus, frond detail
References Caulerpa brachypus
Coppejans, E., Leliaert, F., Verbruggen, H., De Clerck O., Schils T., De Vriese T. & Marie T. (2004). The marine green and brown algae of Rodrigues (Mauritius, Indian Ocean). J. Nat. Hist. 38: 2959-3019.
Coppejans, E., Leliaert, F., Verbruggen, H. 2005. Green algae. In: De Clerck,O., Bolton, J.J., Anderson,R.J., Coppejans, E. (2005). Guide to the Seaweeds of Kwazulu-Natal. Scripta Botanica Belgica 33: 294 pp.
Harvey, W.H. (1860). Characters of new algae, chiefly from Japan and adjacent regions, collected by Charles Wright in the North Pacific Exploring Expedition under Captain James Rodgers. Proceedings of the American Academy of Arts and Sciences 4: 327-335.
Wynne, M.J., Verbruggen, H. & Angel, D.J. (2009). The recognition of Caulerpa integerrima (Zanardini) comb. et stat. nov. (Bryopsidales, Chlorophyta) from the Red Sea. Phycologia 48(4): 291-301, 13 figs, 2 tables.
Cite this record as:
Anderson RJ, Stegenga H, Bolton JJ. 2016. Seaweeds of the South African South Coast.
World Wide Web electronic publication, University of Cape Town, http://southafrseaweeds.uct.ac.za; Accessed on 21 September 2023.