Order Caulerpales
Family Caulerpaceae
Caulerpa filiformis (Suhr) K. Hering 1841: 91
Plants bright green, usually forming seagrass-like beds in sandy gulleys. Rhizoidal branches (haptera) 2-10 mm long and 5-10 mm apart anchor smooth, cylindrical stolons to the rock; basal part of assimilators cylindrical, pale, with annular constrictions, up to a few cm long; assimilators flat, strap-like, 1-3 times dichotomously branched, up to 20 cm or more long, 3-5 mm wide, margin sometimes wavy, tips rounded; blades usually with black dots.
Collections, ecology and regional distribution
Found from False Bay, through to northern Kwazulu-Natal, and abundant in the Eastern Cape (17-58). Characteristically growing in the lower eulittoral to shallow sublittoral on sand-covered rocks in monospecific stands, stolons and haptera often concealed by sand. This alga has a bitter taste and probably contains anti-grazer compounds.
World distribution: Disjunct- known from Mozambique, but also recorded from Peru and New South Wales, Australia. (Guiry & Guiry 2012).
Type locality: Algoa Bay (Silva et al. 1996).

Caulerpa filiformis (background and Caulerpa holmesiana (foreground), False Bay, 4m depth.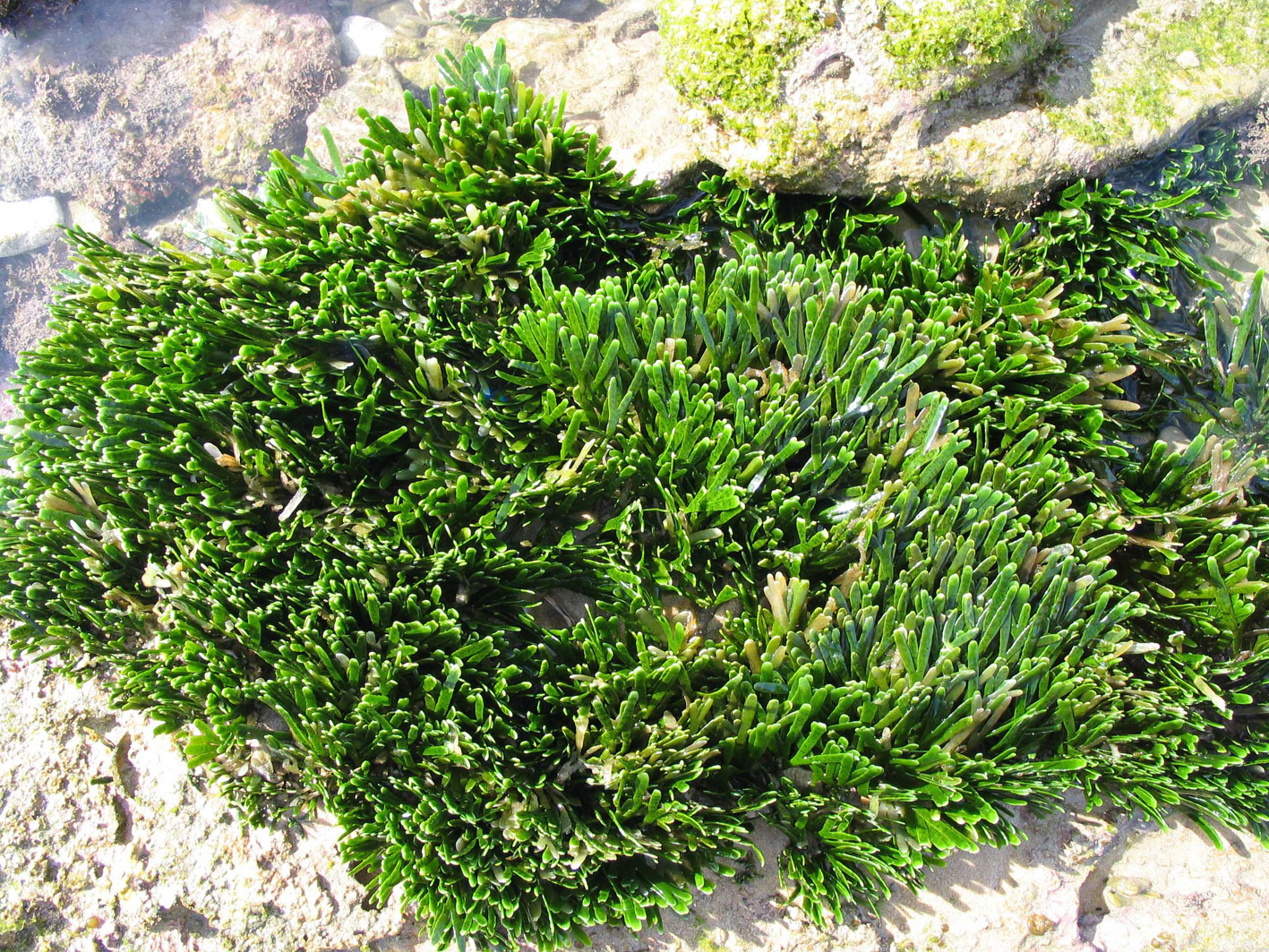 Caulerpa filiformis, Woody Cape intertidal pool.

Caulerpa filiformis, individual thallus showing stolon and uprights

Caulerpa filiformis, drawing reproduced from Stegenga et al. (1997).
References Caulerpa filiformis
Guiry, M.D. & Guiry, G.M. 2012. AlgaeBase. World-wide electronic publication, National University of Ireland, Galway. http://www.algaebase.org; searched August 2012.
Hering, [K.] (1841). Diagnoses algarum novarum a cl. Dre. Ferdinand Krauss in Africa Australi lectarum. Annals and Magazine of Natural History [Series 1] 8: 90-92.
Silva, P.C., Basson, P.W. & Moe, R.L. (1996). Catalogue of the benthic marine algae of the Indian Ocean. University of California Publications in Botany 79: 1-1259.
Stegenga, H., Bolton, J.J. and R. J. Anderson. 1997. Seaweeds of the South African west coast. Contributions from the Bolus Herbarium 18: 655 pp.
Cite this record as:
Anderson RJ, Stegenga H, Bolton JJ. 2016. Seaweeds of the South African South Coast.
World Wide Web electronic publication, University of Cape Town, http://southafrseaweeds.uct.ac.za; Accessed on 30 September 2023.