Cladophorales
Cladophoraceae
Chaetomorpha vieillardii (Kützing ) M. J. Wynne 2011: 112, figs 1, 2 a, b
Plants leaf green to dark green forming unattached, loose tangled clumps of fairly tough, curled, stiffish, unbranched, septate filaments. Filaments 350-600 µm in diameter, cells visible to the naked eye, thick-walled, 1-1.5 x as long as broad.
Collections, ecology and regional distribution
Recorded from Port Alfred to northern Kwazulu-Natal (39-58). Found in the eulittoral zone and rock pools, often entangled with other algae. (But see Note 2 below).
World distribution: Widespread in warm temperate and tropical seas (Guiry & Guiry 2012).
Syntype localities: Trieste and Venice, Italy; England (Silva et al. 1996).
Note1: This species was previously known as Chaetomorpha crassa Kützing.
Note 2: There are several specimens in BOL (as C. crassa) but most appear to be coiled and cannot be clearly distinguished from C. spiralis. As a result we are uncertain as to whether this species occurs on the south coast. C. vieillardii is unattached, while C. spiralis is attached and narrows towards the base.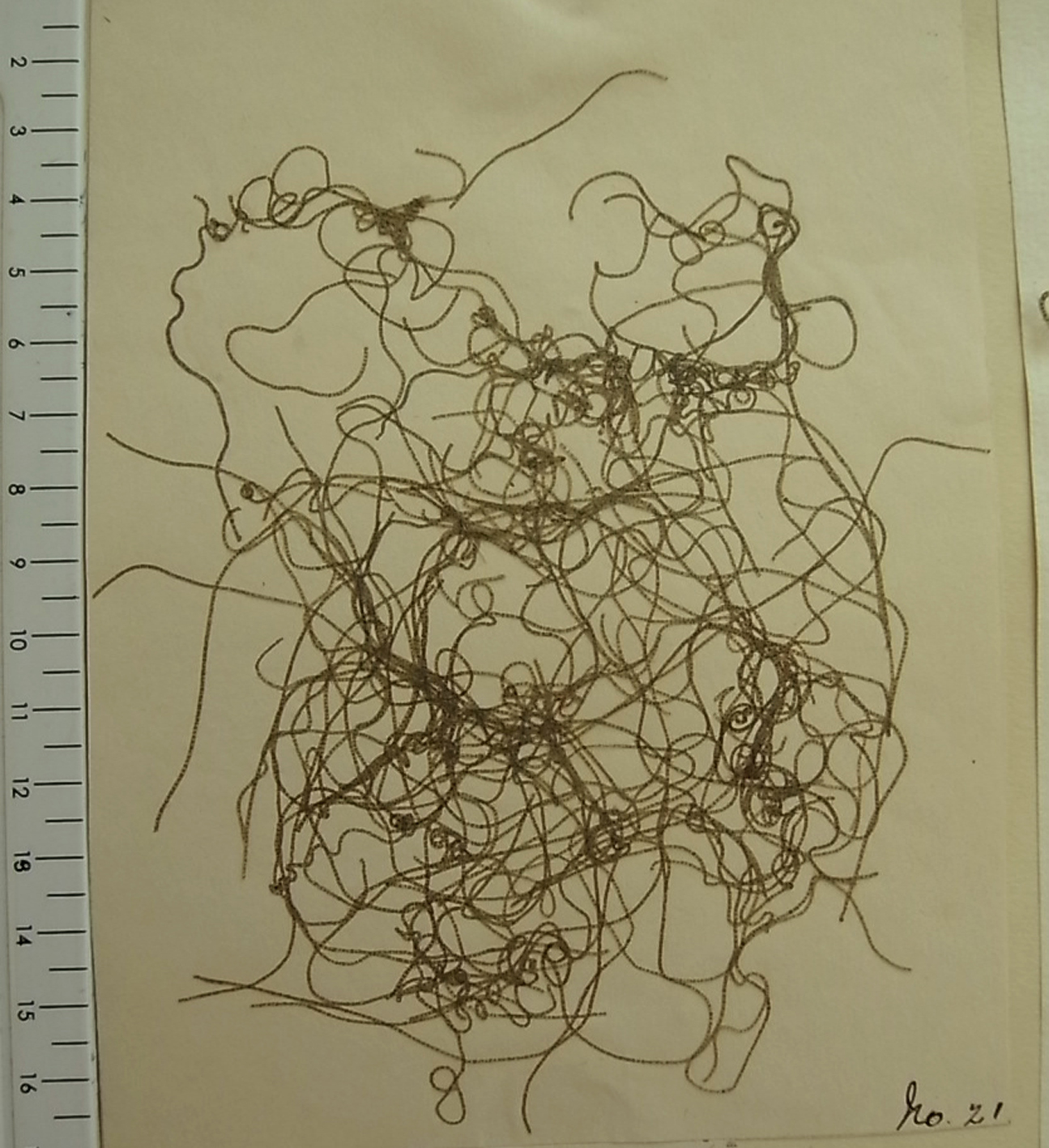 Chaetomorpha vieillardii (herbarium specimen, BOL)
References Chaetomorpha crassa
Guiry, M.D. & Guiry, G.M. 2012. AlgaeBase. World-wide electronic publication, National University of Ireland, Galway. http://www.algaebase.org; searched July 2012.
Kützing, F.T. (1845). Phycologia germanica, d. i. Deutschlands Algen in bündigen Beschreibungen. Nebst einer Anleitung zum Untersuchen und Bestimmen dieser Gewächse für Anfänger. pp. i-x, 1-340. Nordhausen: W. Köhne.
Silva, P.C., Basson, P.W. & Moe, R.L. (1996). Catalogue of the benthic marine algae of the Indian Ocean. University of California Publications in Botany 79: 1-1259.
Wynne, M.J. (2011). Proposal of the name Chaetomorpha vieillardii (Kütz.), n. comb., for a large-celled tropical Chaetomorpha (Chlorophyta). Pacific Science 65(1): 109-115.
Cite this record as:
Anderson RJ, Stegenga H, Bolton JJ. 2016. Seaweeds of the South African South Coast.
World Wide Web electronic publication, University of Cape Town, http://southafrseaweeds.uct.ac.za; Accessed on 21 September 2023.