Order Cladophorales
Family Cladophoraceae
Cladophora sericea (Hudson) Kützing 1843: 264
Plants pale to grass-green, erect, up to ca. 10 (-20) cm tall, attached by rhizoids. Growth mainly scattered intercalary; branching of terminal systems acropetal to irregular, apical branch systems often of main axis with long secund series of short branchlets. Main axis pseudodichotomously branched. Laterals cut off via an oblique cross wall that moves into a transverse position in older branches. Branch angle of laterals off main axis 30-45o, up to 3 laterals per cell. Apical cells tapered with blunt tip, 15-70 µm in diameter, cells of main axes up to 50-170 µm in diameter, 2-10 times longer than broad.
Description from Stegenga et al. (1997) and Leliaert & Coppejans (2003).
Collections ecology and regional distribution
Recorded from Melkbosstrand on the west coast to De Hoop (15-24) (Stegenga et al. 1997). Found in the eulittoral zone and rock pools, also able to grow in low salinity water (Leliaert & Coppejans, 2003).
World distribution: Virtually worldwide in temperate and tropical waters (Guiry & Guiry 2012).
Type locality: Kent, England (Leliaert & Coppejans 2003).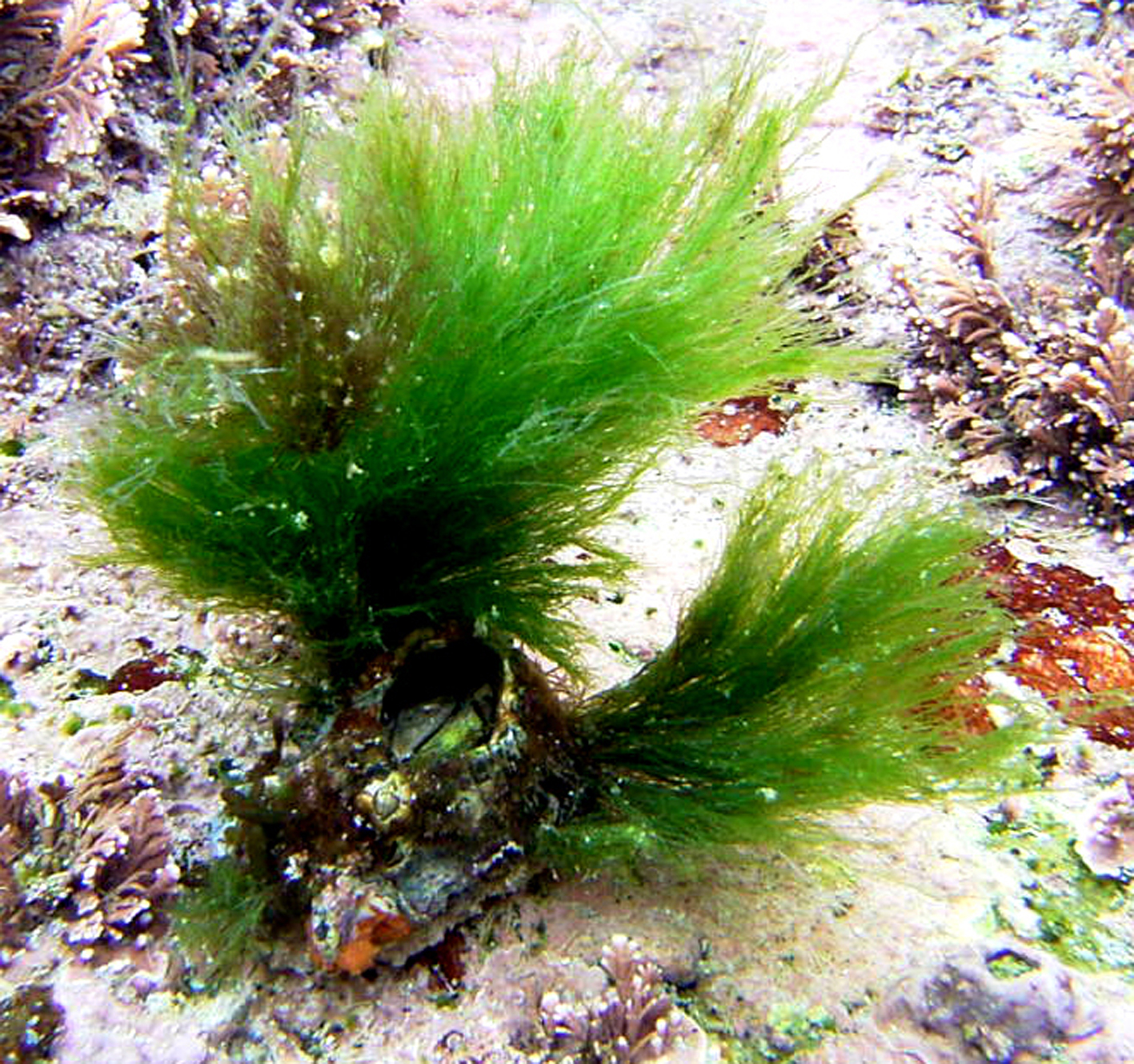 Cladophora sericea, Arniston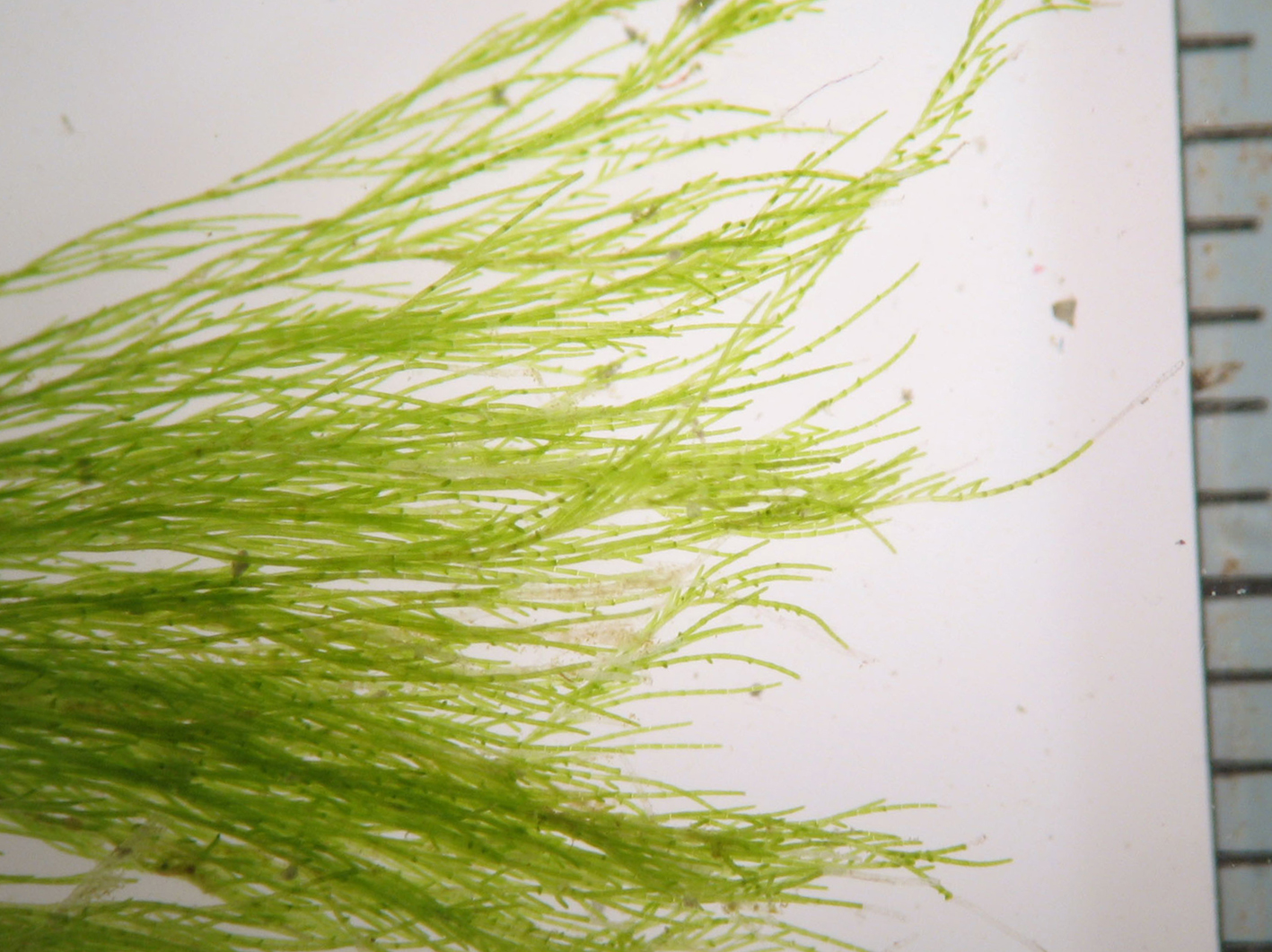 Cladophora sericea, Arniston (scale divisions 1 mm)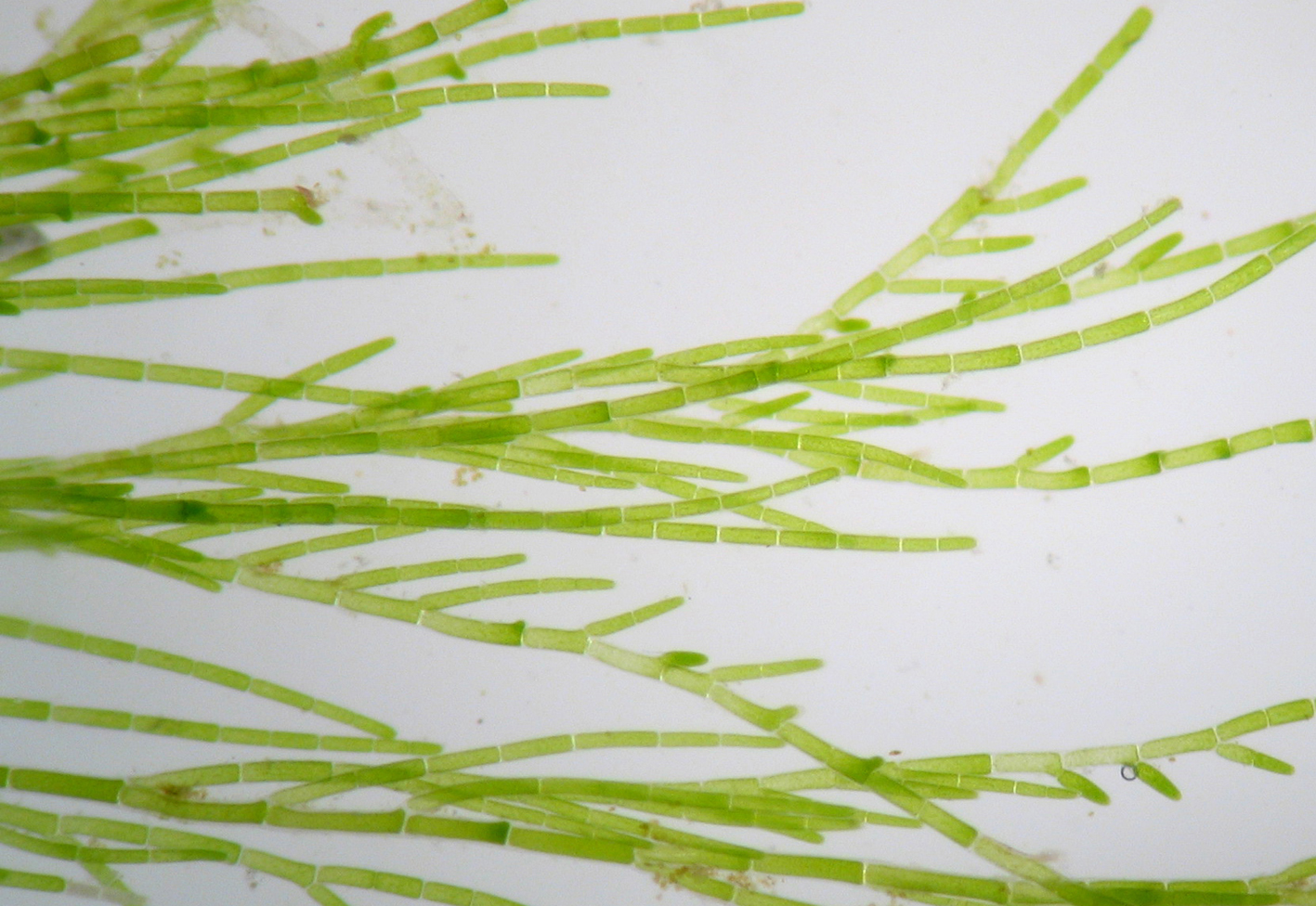 Cladophora sericea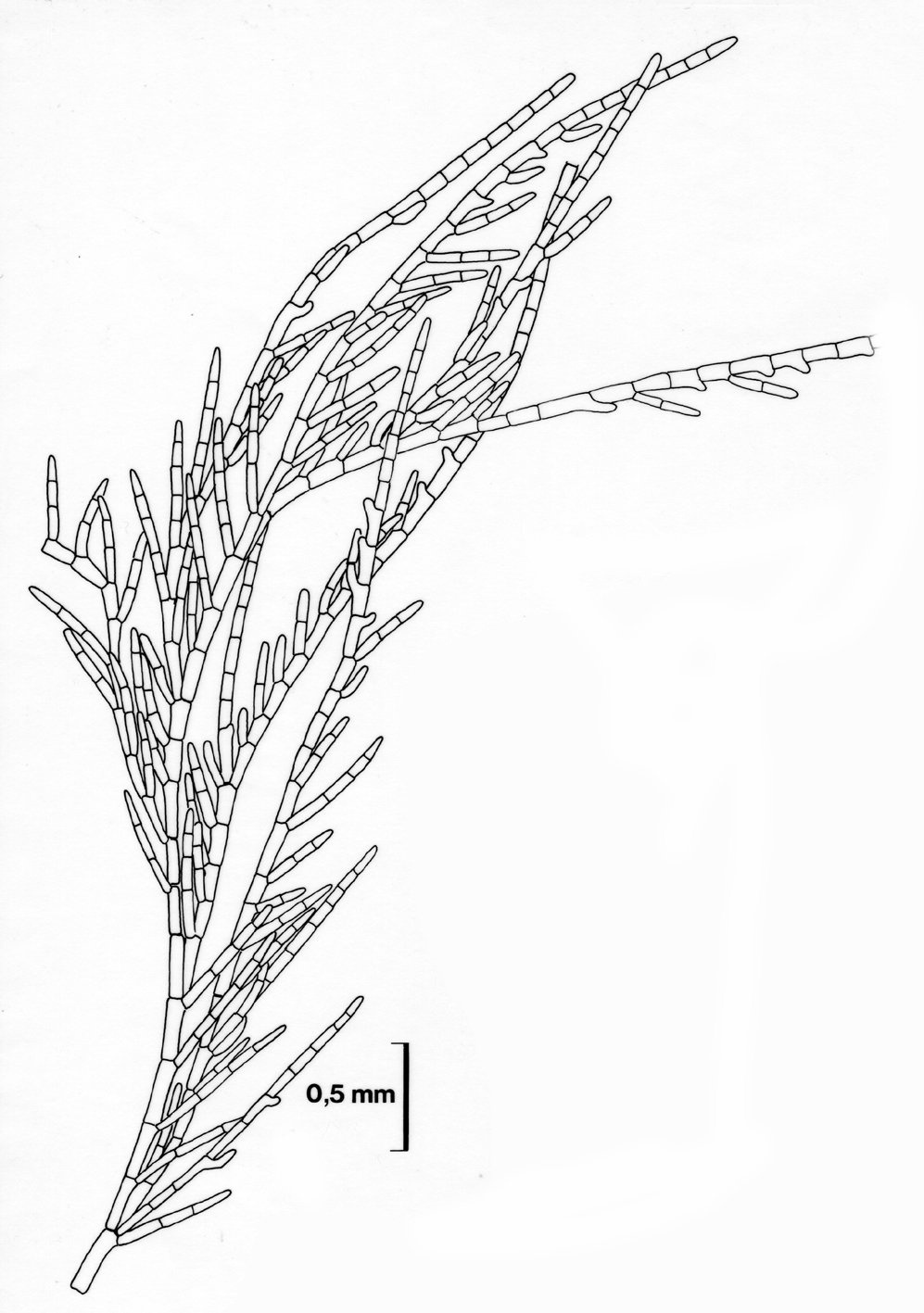 Cladophora sericea, thallus apex. Drawing reproduced from Stegenga et al. (1997).
References Cladophora sericea:
Guiry, M.D. & Guiry, G.M. 2012. AlgaeBase. World-wide electronic publication, National University of Ireland, Galway. http://www.algaebase.org; searched July 2012.
Kützing, F.T. (1843). Phycologia generalis oder Anatomie, Physiologie und Systemkunde der Tange... Mit 80 farbig gedruckten Tafeln, gezeichnet und gravirt vom Verfasser. pp. [part 1]: [i]-xxxii, [1]-142, [part 2:] 143-458, 1, err.], pls 1-80. Leipzig: F.A. Brockhaus.
Leliaert, F. and E.Coppejans. 2003. The marine species of Cladophora (Chlorophyta) from the South African east coast. Nova Hedwigia 76: 48-52.
Stegenga, H., Bolton, J.J. and R. J. Anderson. 1997. Seaweeds of the South African west coast. Contributions from the Bolus Herbarium 18: 655 pp.
Cite this record as:
Anderson RJ, Stegenga H, Bolton JJ. 2016. Seaweeds of the South African South Coast.
World Wide Web electronic publication, University of Cape Town, http://southafrseaweeds.uct.ac.za; Accessed on 25 September 2023.