Order Bryopsidales
Family Codiaceae
Codium isaacii P. C. Silva 1959: 151.
Thallus dark green, erect, up to 20 cm tall, dichotomously branched up to 8 times, branches terete, 3-6 mm in diameter. Utricles single, stout, subcylindrical to club-shaped, 500-900 (-1050) µm long, 185-400 (-590) µm in diameter, apices rounded to truncate. Hairs or hair scars not seen. Gametangia stoutly spindle-shaped or lanceolate-ovoid, 260-365 µm long, several per utricle, on pedicels, borne at or just below middle of utricle.
Collections, ecology and regional distribution
A cool-water species, found from the Orange River to Stilbaai area (1-25), from the lower eulittoral into the sublittoral.
World distribution: A southern African endemic, also in Namibia (Guiry & Guiry 2014).
Type locality: Lectotype specimen from Melkbosch, Western Cape (Silva et al. 1996).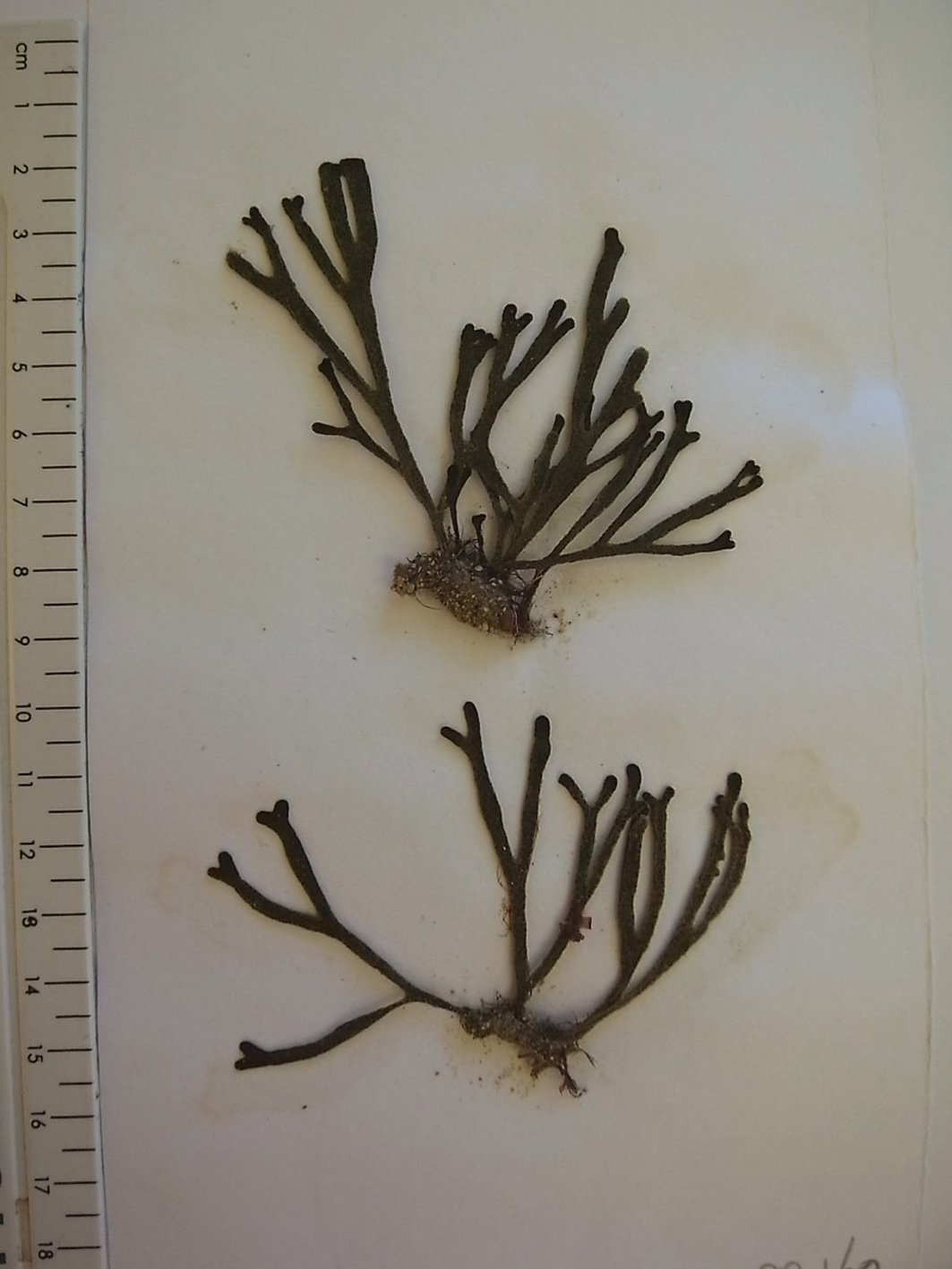 Codium isaacii, herbarium specimens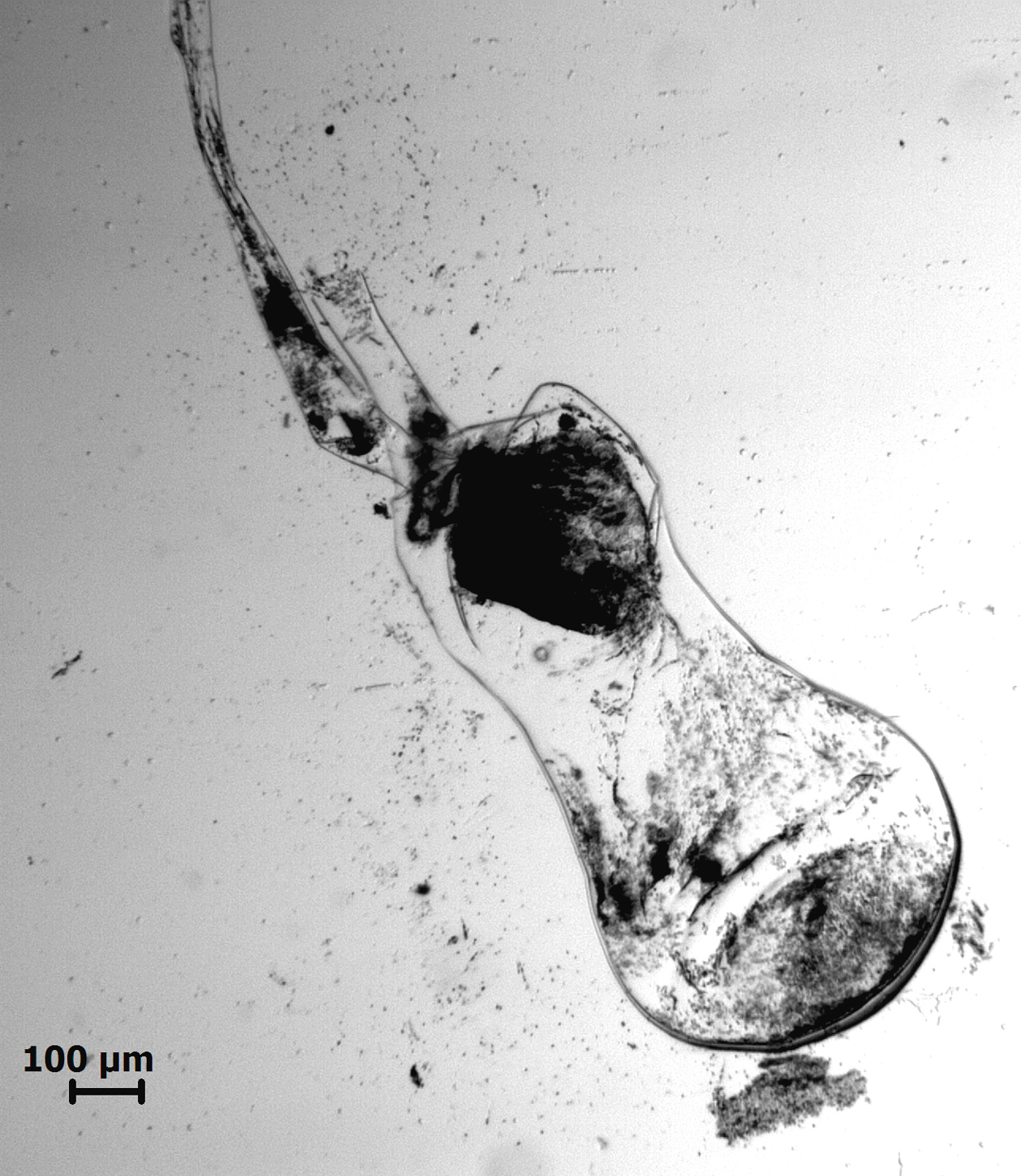 Codium isaacii, utricle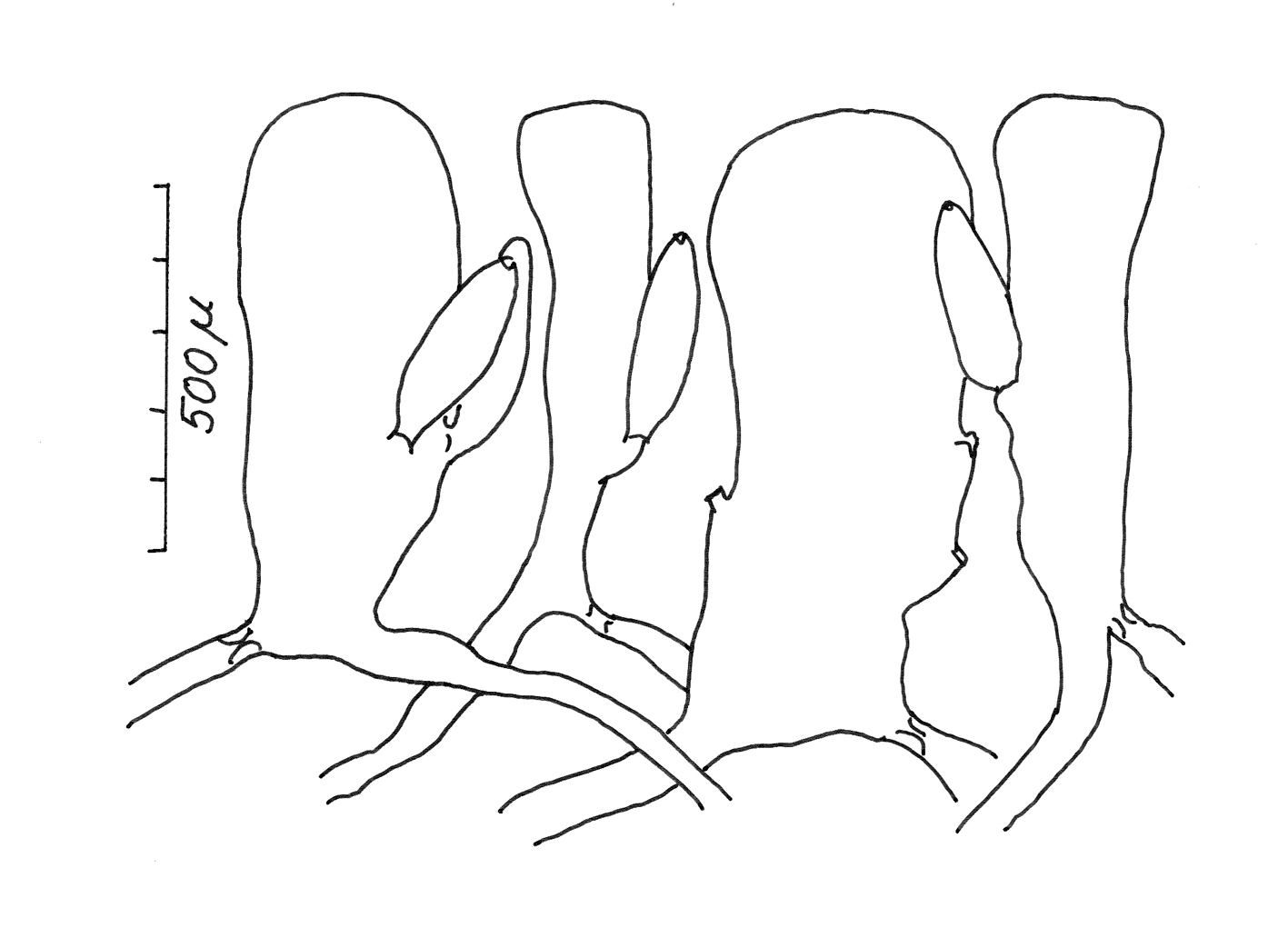 Codium isaacii, utricles (re-drawn from Silva (1959).
References
Guiry, M.D. & Guiry, G.M. 2014. AlgaeBase. World-wide electronic publication, National University of Ireland, Galway. http://www.algaebase.org; searched on 02 July 2014.
Silva, P.C. (1959). The genus Codium (Chlorophyta) in South Africa. Journal of South African Botany 25: 101-165, 22 figs, Plates II-XVI.
Silva, P.C., Basson, P.W. & Moe, R.L. (1996). Catalogue of the benthic marine algae of the Indian Ocean. University of California Publications in Botany 79: 1-1259.
Cite this record as:
Anderson RJ, Stegenga H, Bolton JJ. 2016. Seaweeds of the South African South Coast.
World Wide Web electronic publication, University of Cape Town, http://southafrseaweeds.uct.ac.za; Accessed on 25 September 2023.