Order Bryopsidales
Family Codiaceae
Codium lucasii subsp. capense P.C. Silva 1959: 111-115.
Thallus very dark green, firm, slippery, applanate, irregularly lobed, 2.5-5 mm thick and up to several cm in diameter, adhering tightly to substratum. Utricles in large clusters, 500-800 (-1100) µm long, 60-105 (125) µm in diameter, cylindrical, slightly to markedly constricted below the apex, apices truncate or rounded. Hairs or hair-scars common on older parts, in band somewhat below apex. Gametangia lanceolate-ovoid to fusiform, 215-370 µm long, 1-2 per utricle, on pedicels below apex.
Collections, ecology and regional distribution
Recoded from Strand (False Bay) to northern KwaZulu-Natal (18-58), in rock pools and the lower eulittoral zone.
World distribution: Also recorded from Mozambique, Kenya, Australia and New Zealand (Guiry & Guiry 2014). However, Coppejans et al. (2005), citing Van den Heede & Coppejans 1996, do not recognize subspecific taxa in C. lucasii because of a "continuum of utricle sizes along the east African coast".
Type locality: Shaka's Rock, KZN, South Africa (Silva et al. 1996).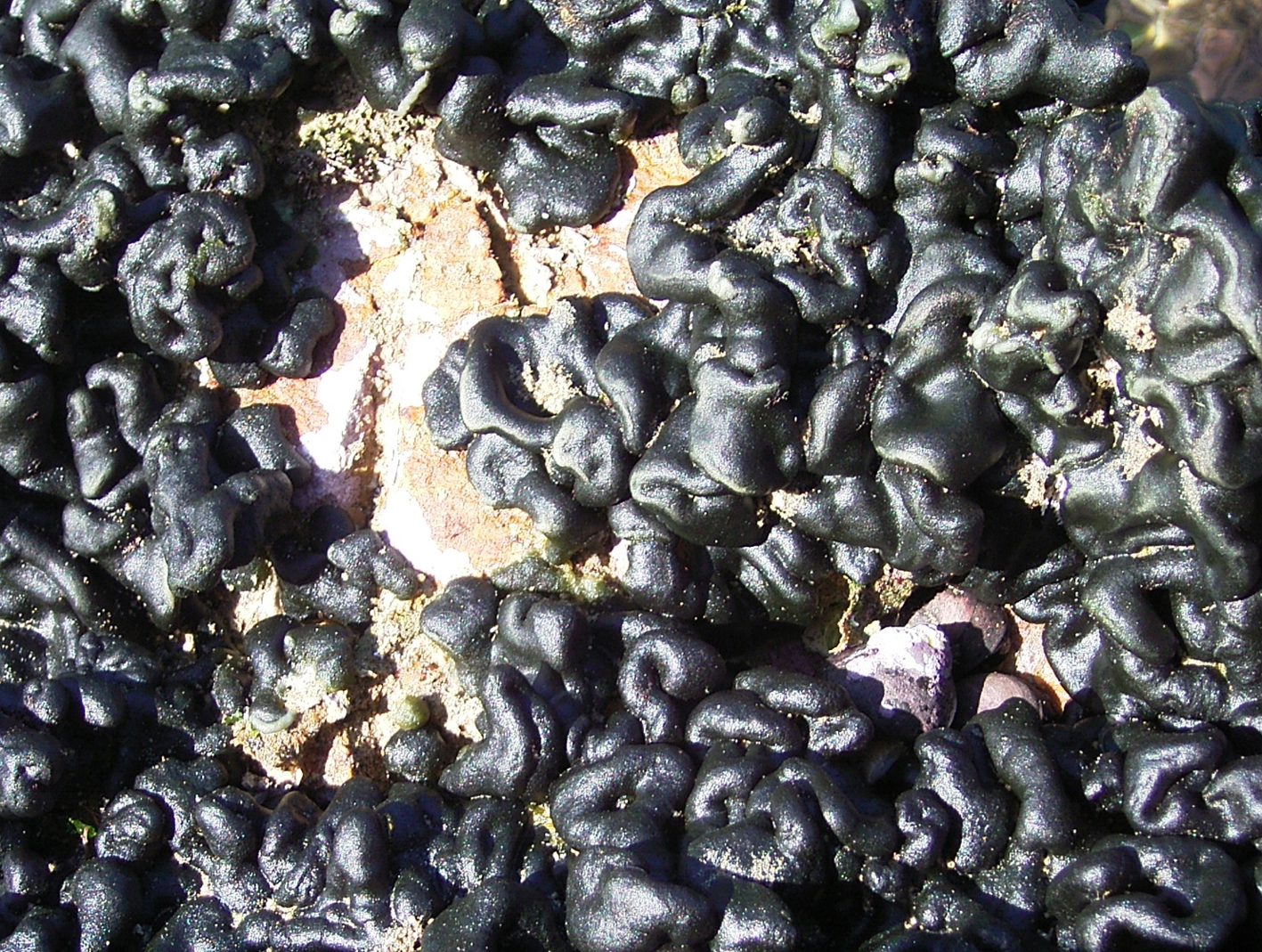 Codium lucasii, habit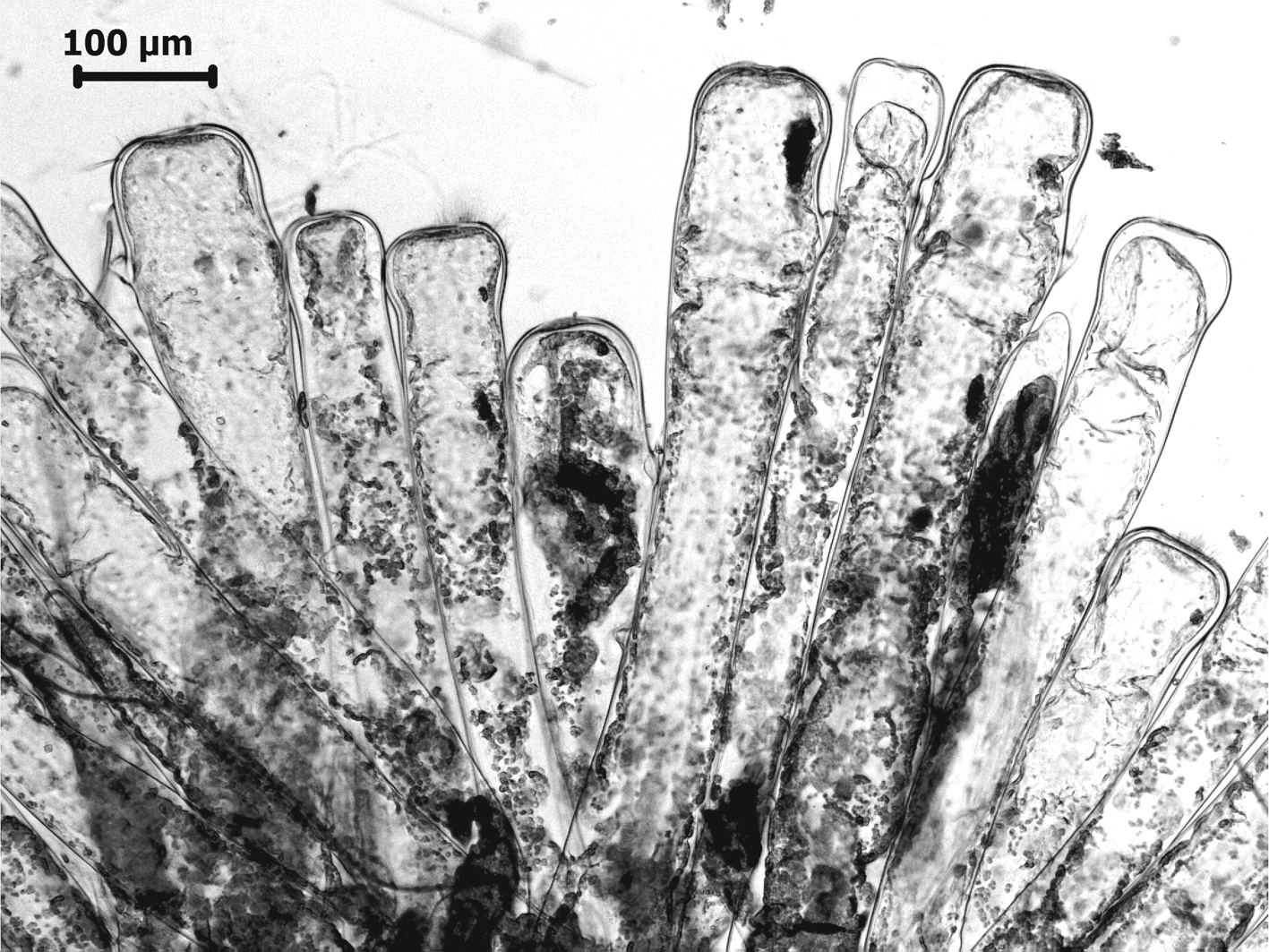 Codium lucasii, utricles – note slight constrictions below apices
References
Coppejans, E., Leliaert, F., Verbruggen, H. 2005. Green Algae. In De Clerck, O., J.J.Bolton, R. J. Anderson and E. Coppejans, 2005. Guide to the Seaweeds of Kwazulu-Natal. National Botanic Garden of Belgium, Brussels (Scripta Botanica Belgica), pp 40-93.
Guiry, M.D. & Guiry, G.M. 2014. AlgaeBase. World-wide electronic publication, National University of Ireland, Galway. http://www.algaebase.org; searched on 02 July 2014.
Silva, P.C. (1959). The genus Codium (Chlorophyta) in South Africa. Journal of South African Botany 25: 101-165, 22 figs, Plates II-XVI.
Silva, P.C., Basson, P.W. & Moe, R.L. (1996). Catalogue of the benthic marine algae of the Indian Ocean. University of California Publications in Botany 79: 1-1259.
Stegenga, H., Bolton, J.J. and R. J. Anderson. 1997. Seaweeds of the South African west coast. Contributions from the Bolus Herbarium 18: 655 pp.
Van den Heede C. & Coppejans E. 1996. The genus Codium (Chlorophyta, Codiales) from Kenya, Zanzibar and the Seychelles. Nova Hedwigia 62: 389-417.
Cite this record as:
Anderson RJ, Stegenga H, Bolton JJ. 2016. Seaweeds of the South African South Coast.
World Wide Web electronic publication, University of Cape Town, http://southafrseaweeds.uct.ac.za; Accessed on 25 September 2023.