Order Bryopsidales
Family Codiaceae
Codium megalophysum P.C. Silva 1959: 125-127
Thallus shiny light green, hemispherical or globose, to 10 cm diameter, loosely attached to rock by tuft of rhizoids; old thalli with central depression or hole. Utricles visible to naked eye, cub-shaped, with knobby outgrowths in upper half, 5-12 mm long, 1-3.5 mm in diameter. Hairs or hair-scars absent. Gametangia ellipsoid, ovoid or flask-shaped, 540-1030 µm long, on short pedicels, several per utricle, borne below apex.
Collections, ecology and regional distribution
Port Elizabeth to northern KZN (36-58). Common in the sublittoral fringe; recorded down to 40m depth in KZN (Coppejans et al. 2005).
World distribution: South African endemic (Guiry & Guiry 2014).
Type locality: Port St Johns, Eastern Cape (Silva et al. 1996).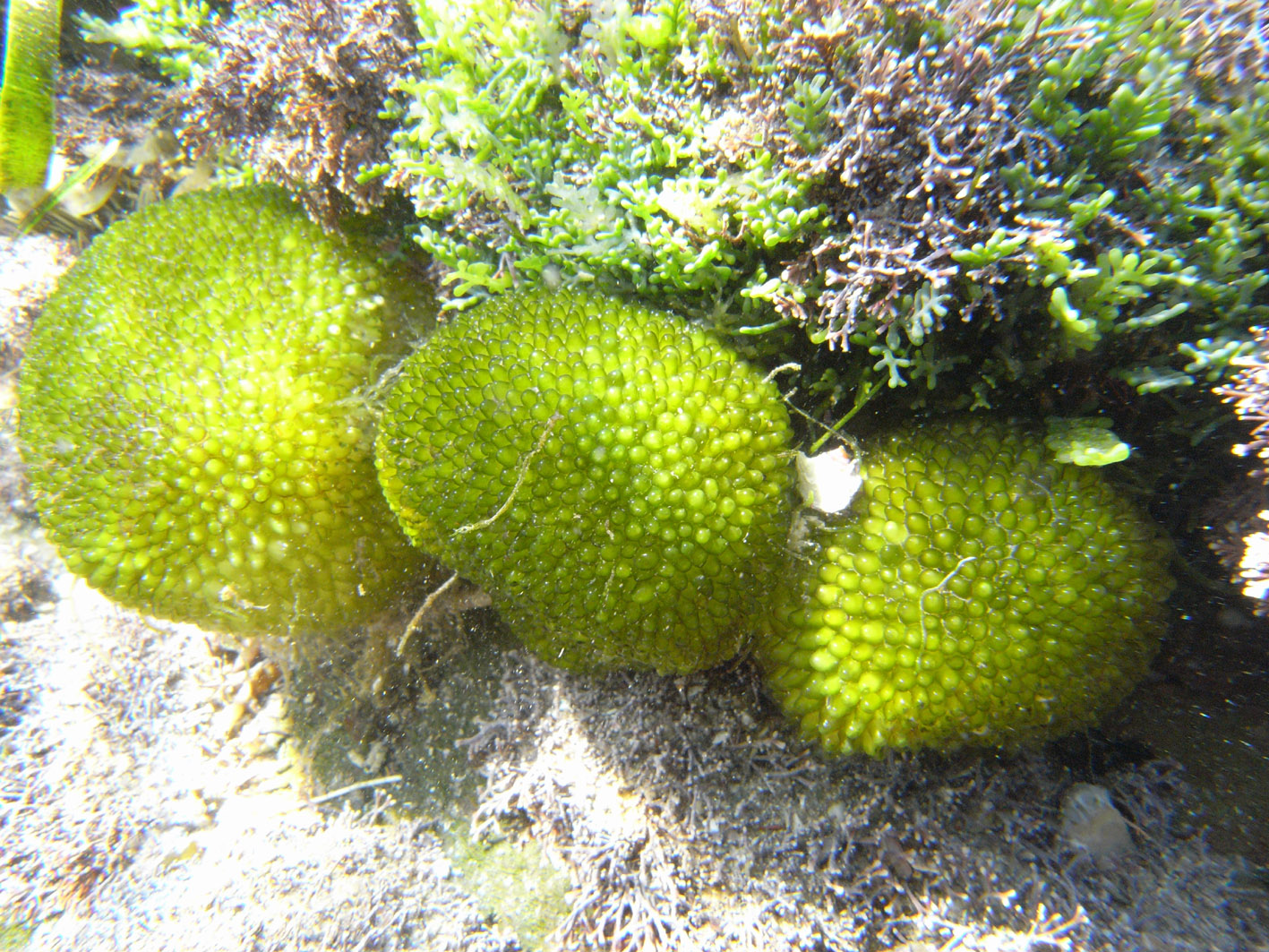 Codium megalophysum, habit
References
Coppejans, E., Leliaert, F., Verbruggen, H. 2005. Green Algae. In De Clerck, O., J.J.Bolton, R. J. Anderson and E. Coppejans, 2005. Guide to the Seaweeds of Kwazulu-Natal. National Botanic Garden of Belgium, Brussels (Scripta Botanica Belgica), pp 40-93.
Guiry M.D. in Guiry, M.D. & Guiry, G.M. 2014. AlgaeBase. World-wide electronic publication, National University of Ireland, Galway. http://www.algaebase.org; searched on 02 July 2014.
Silva, P.C. (1959). The genus Codium (Chlorophyta) in South Africa. Journal of South African Botany 25: 101-165, 22 figs, Plates II-XVI.
Silva, P.C., Basson, P.W. & Moe, R.L. (1996). Catalogue of the benthic marine algae of the Indian Ocean. University of California Publications in Botany 79: 1-1259.
Cite this record as:
Anderson RJ, Stegenga H, Bolton JJ. 2016. Seaweeds of the South African South Coast.
World Wide Web electronic publication, University of Cape Town, http://southafrseaweeds.uct.ac.za; Accessed on 25 September 2023.