Order Bryopsidales
Family Derbesiaceae
Derbesia marina (Lyngbye) Solier 1846: 453
Plants caespitose, with an irregularly branched rhizoidal basal system, and with many erect filaments up to 10 mm high, infrequently branched . Filaments 40-60 µm in diameter. Chloroplasts rounded to ellipsoid, 2-5 µm long. Sporangia formed laterally on the erect filaments, simple or stalked, or formed consecutively in small sympodial clusters: sporangia ovoid to ellipsoidal, 100-150 x 60-100 µm ; individual spores about 20 µm in diameter.
Collections, ecology and regional distribution
Recorded from Muizenberg (drift attached to Ecklonia – Stegenga et al. 1997) to Hluleka (18-45). Found in lower eulittoral rock pools.
World distribution: widespread in temperate and tropical waters (Guiry & Guiry 2012).
Type locality: Faeroe Islands (Silva et al. 1996).
Note: Our records of D. marina include those previously reported as Derbesia ryukyuensis Yamada & Tanaka (Bolton & Stegenga 1987; Anderson & Stegenga 1989). Derbesia ryukyuensis is now assigned to the genus Pedobesia MacRaild & Womersley, and has a calcified, discoid basal system, which we have not seen in South African material. See also note in Stegenga et al. (1997).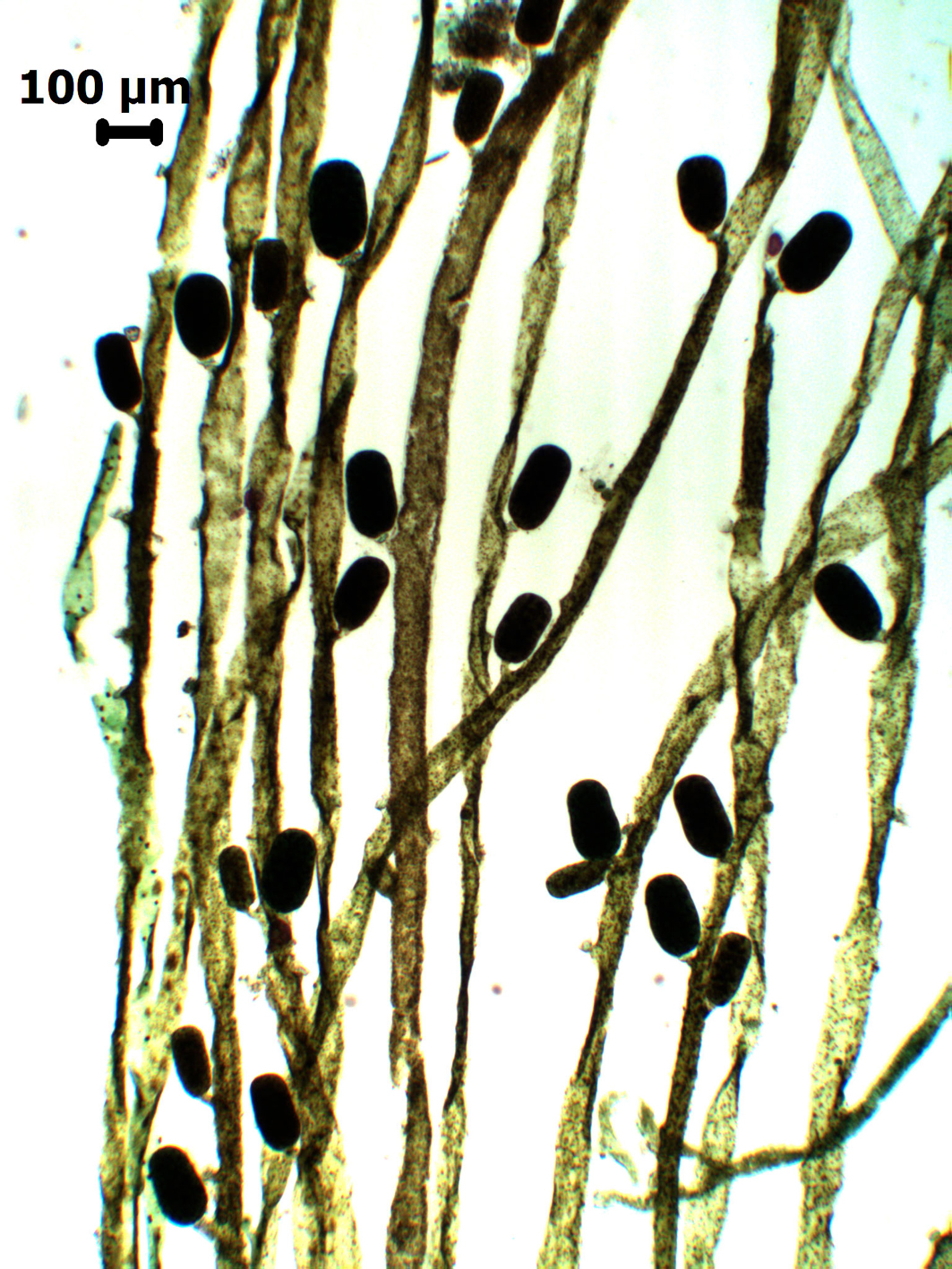 Derbesia marina, Bird Island (slide material)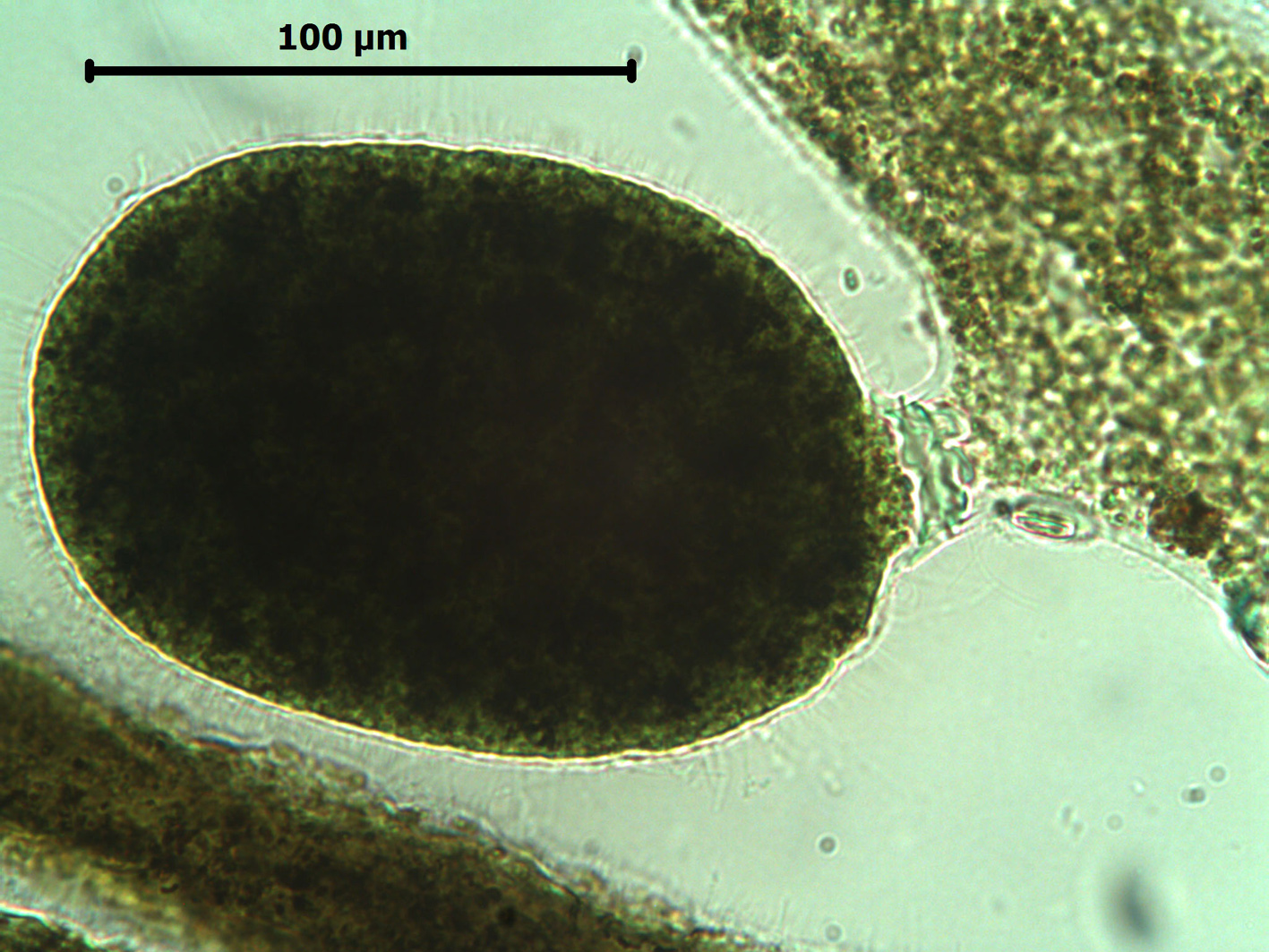 Derbesia marina, Bird Island (slide material), detail of sporangium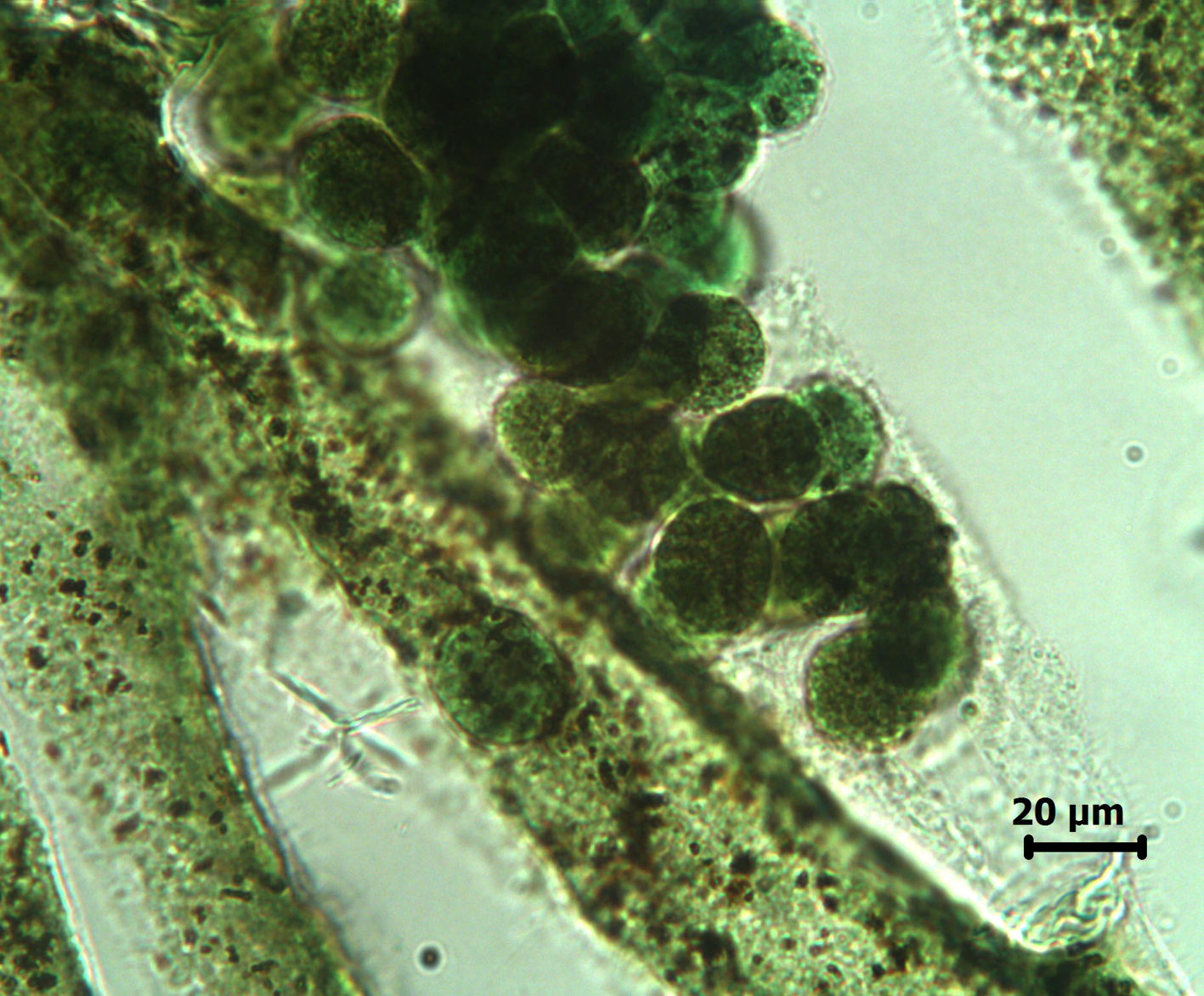 Derbesia marina, ruptured sporangium wall and spores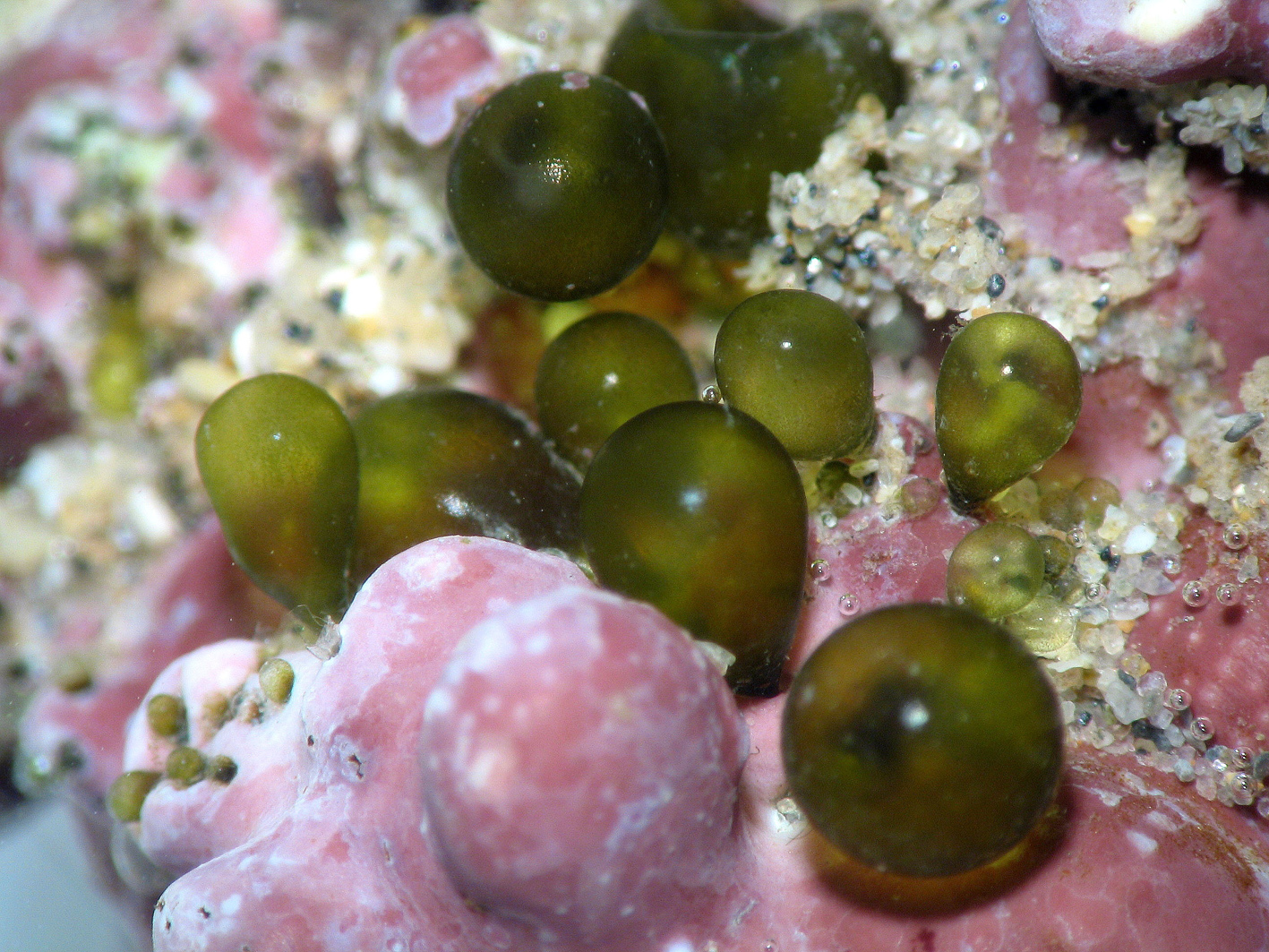 Halicystis phase of a Derbesia sp. (Glen Muir: vesicles about 7 mm in diameter).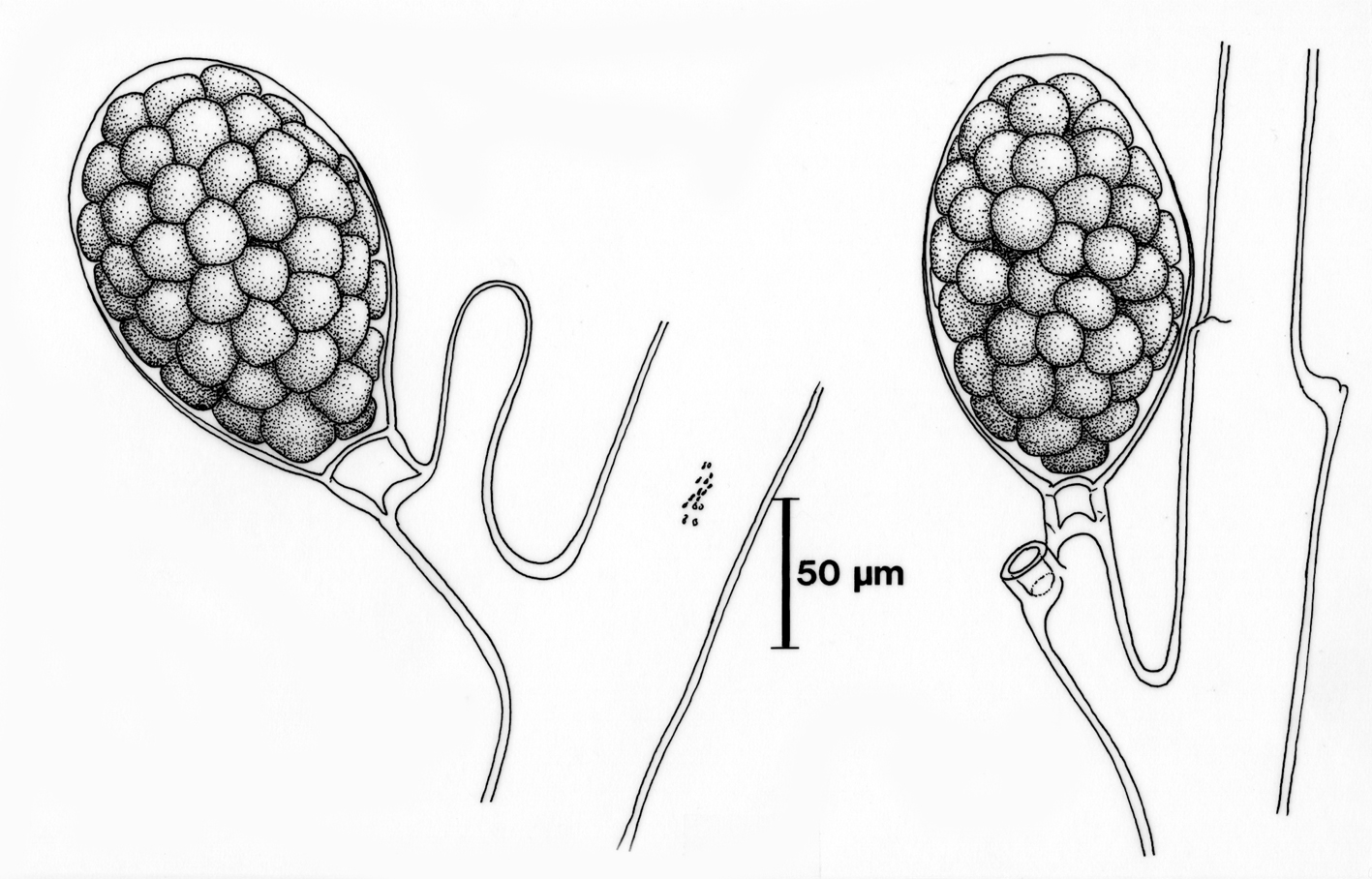 Derbesia marina, zoosporangia (reproduced from Stegenga et al. 1997).
References Derbesia marina
Anderson, R.J. & H. Stegenga (1989). Subtidal algal communities at Bird Island, Eastern Cape, South Africa. Bot. mar. 32: 299-311.
Bolton. J. J. & H. Stegenga (1987). The marine algae of Hluleka (Transkei) and the warm temperate/sub-tropical transition on the east coast of southern Africa. Helgoländer Meeresuntersuchungen 41: 165-183.
Guiry, M.D. & Guiry, G.M. 2012. AlgaeBase. World-wide electronic publication, National University of Ireland, Galway. http://www.algaebase.org; searched August 2012.
Silva, P.C., Basson, P.W. & Moe, R.L. (1996). Catalogue of the benthic marine algae of the Indian Ocean. University of California Publications in Botany 79: 1-1259.
Solier, A.J.J. (1846). Sur deux algues zoosporées formant le nouveau genre Derbesia. Revue Botanique, Duchartre 1: 452-454.
Stegenga, H., Bolton, J.J. and R. J. Anderson. 1997. Seaweeds of the South African west coast. Contributions from the Bolus Herbarium 18: 655 pp.
Taylor, W.R. (1945). Pacific marine algae of the Allan Hancock Expeditions to the Galapagos Islands. Allan Hancock Pacific Expeditions 12: i-iv, 1-528, 3 figs, 100 pls
Cite this record as:
Anderson RJ, Stegenga H, Bolton JJ. 2016. Seaweeds of the South African South Coast.
World Wide Web electronic publication, University of Cape Town, http://southafrseaweeds.uct.ac.za; Accessed on 21 September 2023.