Order Cladophorales
Family Cladophoraceae
Rhizoclonium riparium (Roth) Harvey 1849: pl. CCXXXVIII
Plants yellowish to dark green, filaments unbranched or with lateral rhizoids; rhizoids continuous with normal vegetative cells, only occasionally developing into a multicellular structure. Growth via intercalary cell division. Cells cylindrical, 20-35 µm in diameter. (0.5-) 1-2 (-5) times as long as broad. Chloroplast parietal, reticulate, with few to several pyrenoids.
Collections, ecology and regional distribution
Recorded from Langebaan Lagoon to the Cape Vidal Area (13-56). Found in the upper eulittoral, on shaded rock walls, often entangled with Bostrychia; also recorded from estuaries, where it forms loose mats or grows attached to floating structures (e.g. Knysna Lagoon).
World distribution: Cosmopolitan, in marine, brackish and some freshwater habitats (Guiry & Guiry 2012).
Type locality: East Frisian Islands, Germany (Silva, et al., 1996).
Note: the distinction between this genus and Chaetomorpha is uncertain, and appears to be based mainly on the larger diameter of the latter (see Stegenga et al. 1997).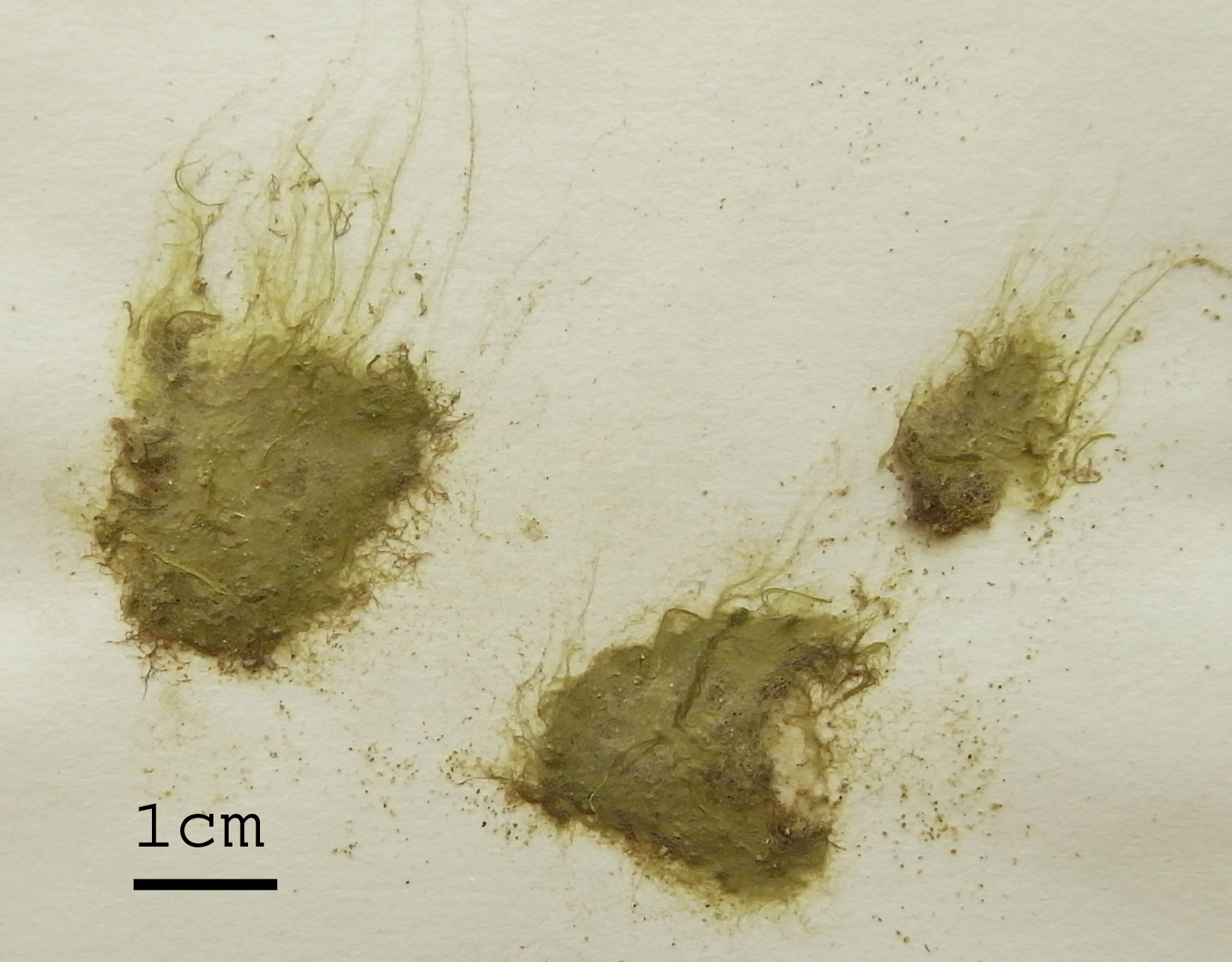 Rhizoclonium riparium, filaments embedded in sand, Goukamma oyster beds (habit, herbarium sheet).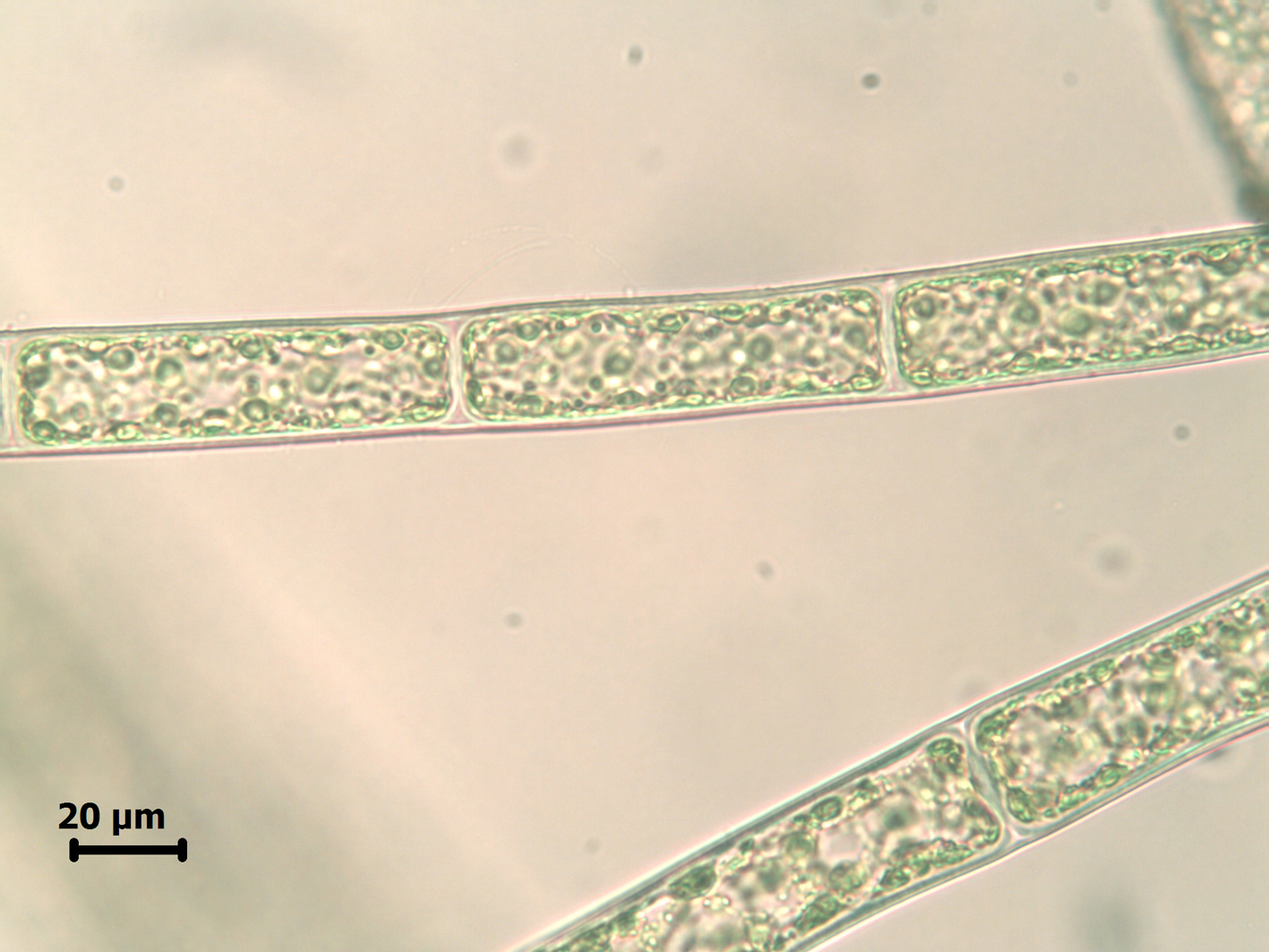 Rhizoclonium riparium, Knysna estuary.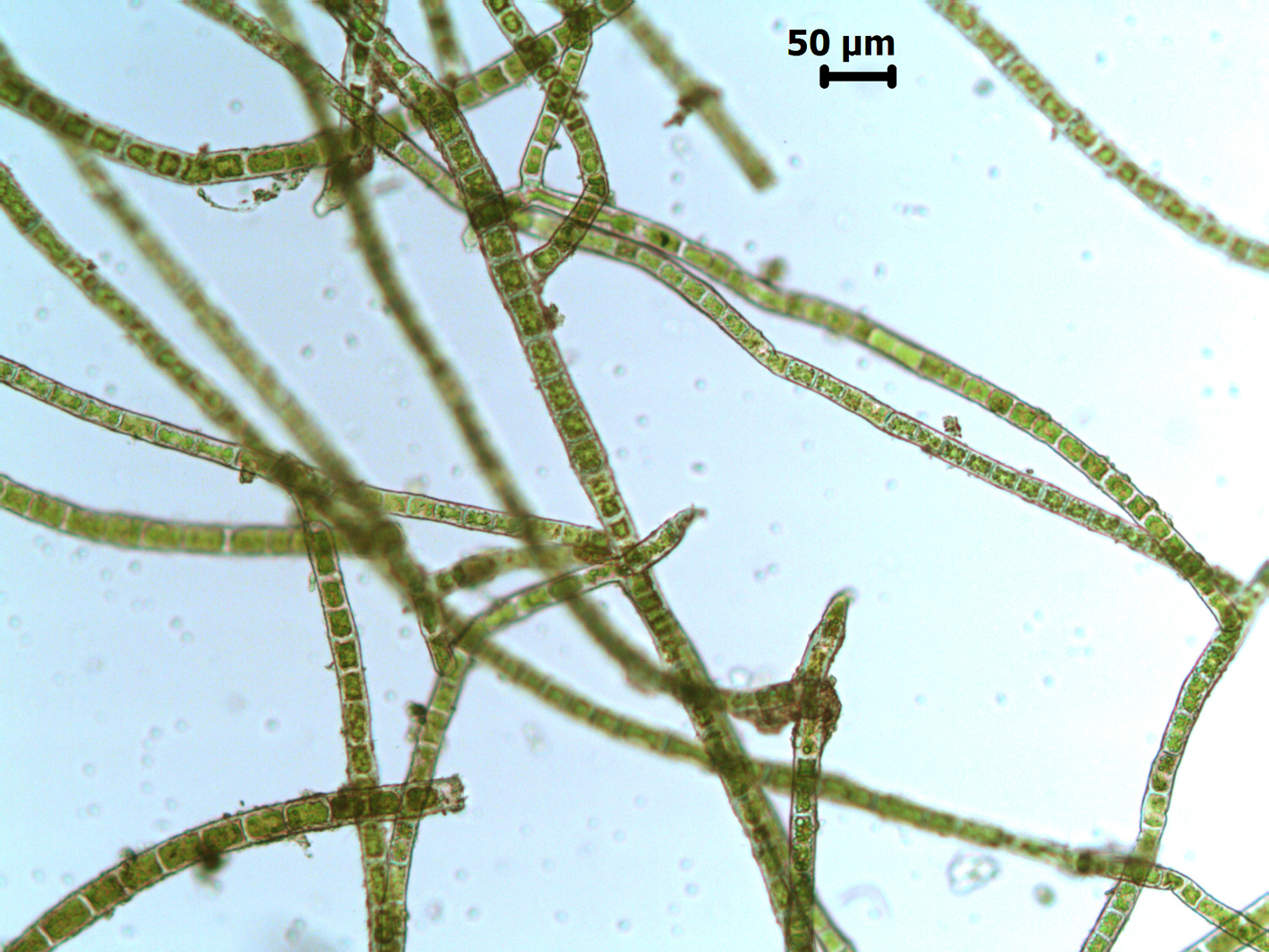 Rhizoclonium riparium, detail of cells.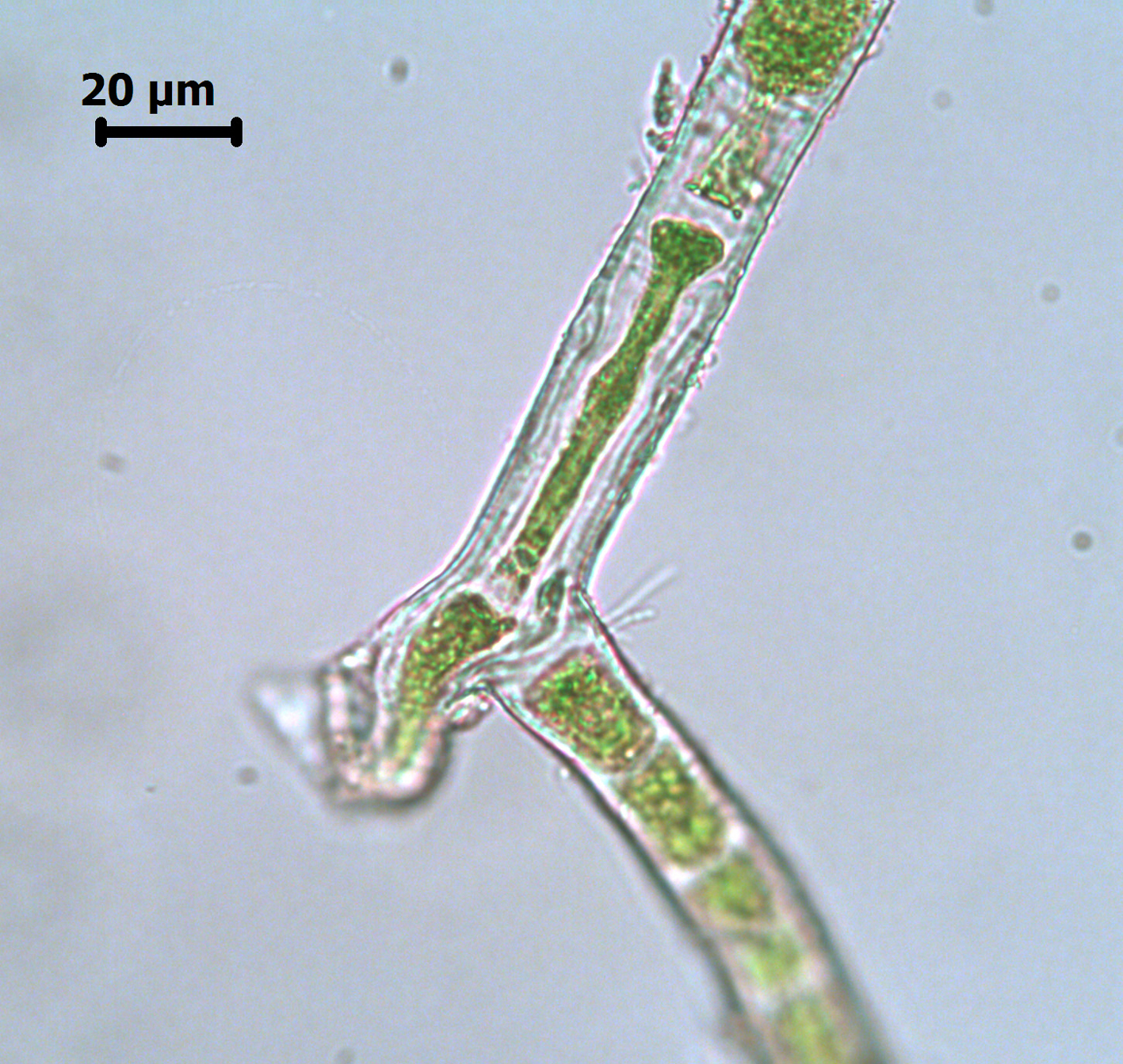 Rhizoclonium riparium, filament with lateral rhizoid.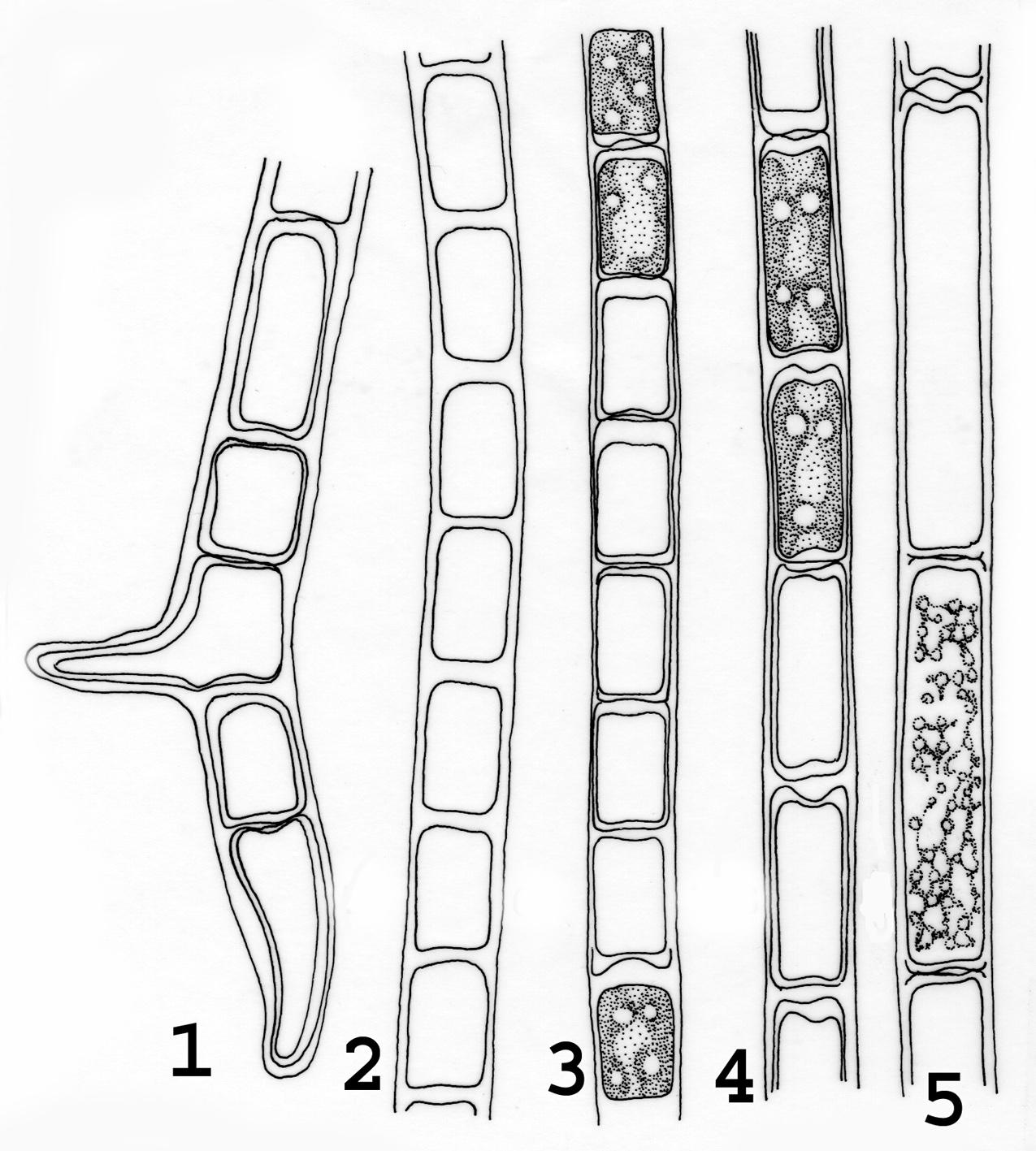 Rhizoclonium riparium, 1-5: details of filaments in various stages of development. Drawings reproduced from Stegenga et al. (1997).
References Rhizoclonium riparium
Guiry, M.D. & Guiry, G.M. 2012. AlgaeBase. World-wide electronic publication, National University of Ireland, Galway. http://www.algaebase.org; searched August 2012.
Harvey, W.H. (1849). Phycologia britannica, or, a history of British sea-weeds: containing coloured figures, generic and specific characters, synonymes, and descriptions of all the species of algae inhabiting the shores of the British Islands. pp. text with plates, pls CCXVII-CCLXX [217-270]. London: Reeve & Benham.
Silva, P.C., Basson, P.W. & Moe, R.L. (1996). Catalogue of the benthic marine algae of the Indian Ocean. University of California Publications in Botany 79: 1-1259.
Stegenga, H., Bolton, J.J. and R. J. Anderson. 1997. Seaweeds of the South African west coast. Contributions from the Bolus Herbarium 18: 655 pp.
Cite this record as:
Anderson RJ, Stegenga H, Bolton JJ. 2016. Seaweeds of the South African South Coast.
World Wide Web electronic publication, University of Cape Town, http://southafrseaweeds.uct.ac.za; Accessed on 25 September 2023.