Order Ulvales
Family Ulvaceae
Ulva compressa Linnaeus 1753: 1163
Plats grass green to dark green, with a tubular or (usually apically) compressed main axis, up to ca. 20 cm long, narrow below, gradually expanding upwards to a maximum width of 10 mm, sometimes with a few constrictions. Laterals narrower than main axis, in part filiform, inserted on the lower half of the main axis but often reaching the same length. Cells in surface view in no definite arrangement, rounded, 5-10 µm in diameter, with a chloroplast located against the distal radial cell wall, with one pyrenoid. Thallus membrane (one cell layer) varying in thickness from 20 µm in young proliferations to 40 µm in the main axis: cells 15-30 µm high, 2-4 times longer than broad. Rhizoidal cells darker and slightly larger than normal vegetative cells; in the upper basal part the two cell types mixed. (Description from Stegenga et al. 1997).
Collections, ecology and regional distribution
Recorded from False Bay to Durban (17-52). Found in upper eulittoral and supralittoral rock pools.
World distribution: virtually cosmopolitan (Guiry & Guiry, 2012).
Type locality: Probably Bognor, Sussex, England (Hayden et al. 2003: 289)
Note: previously known as Enteromropha compressa (l.) Greville.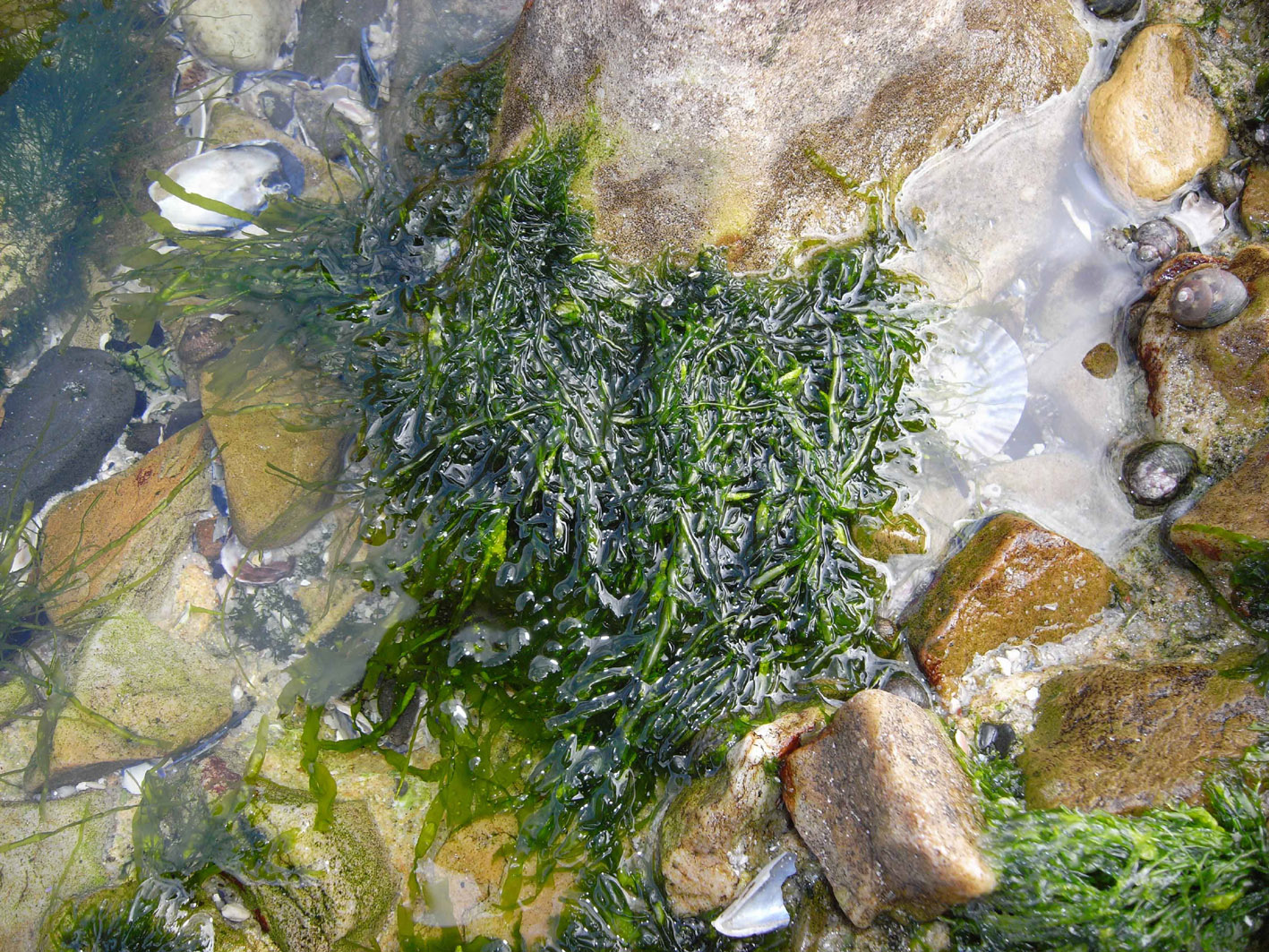 Ulva compressa, Glencairn, False Bay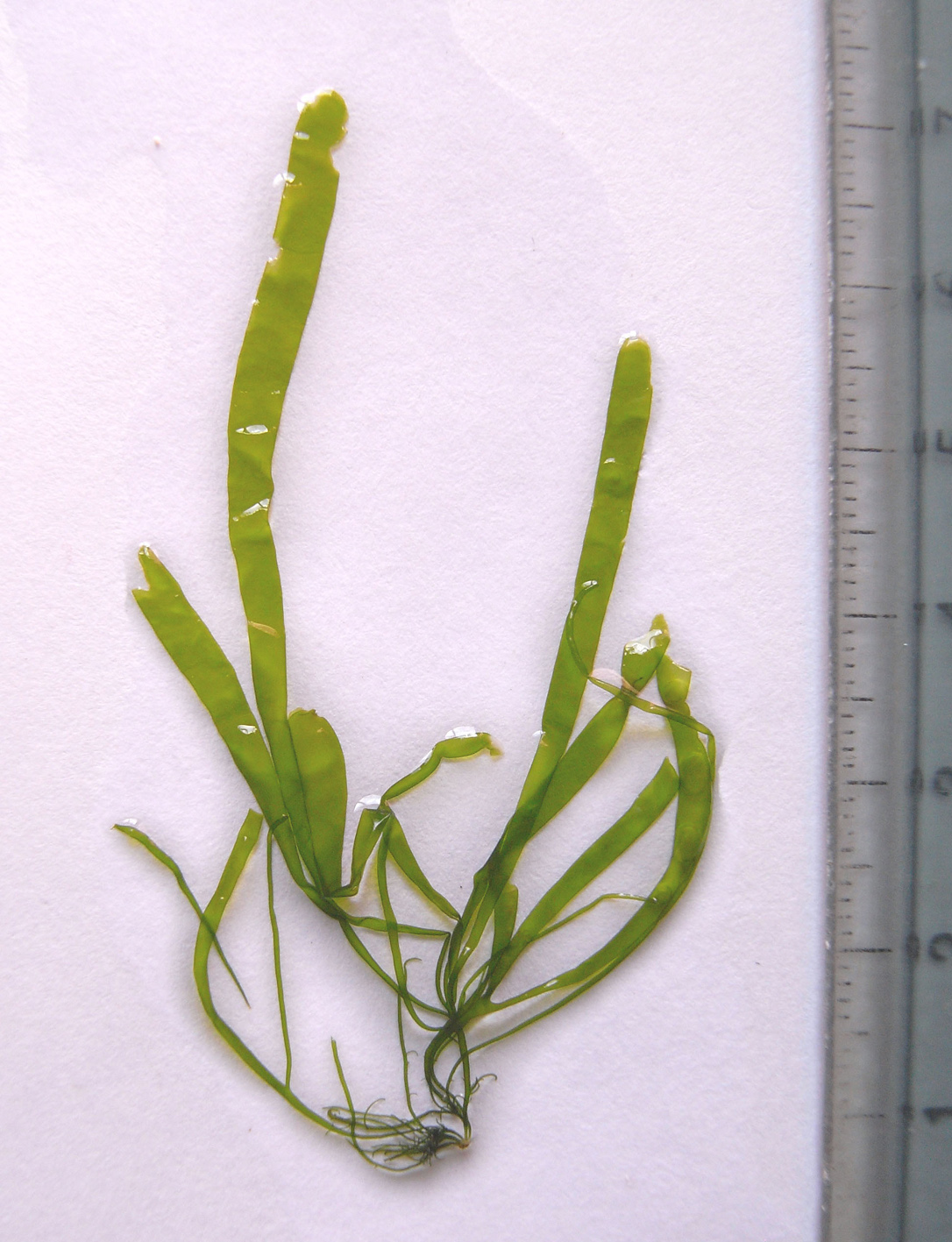 Ulva compressa, from Glencairn, False Bay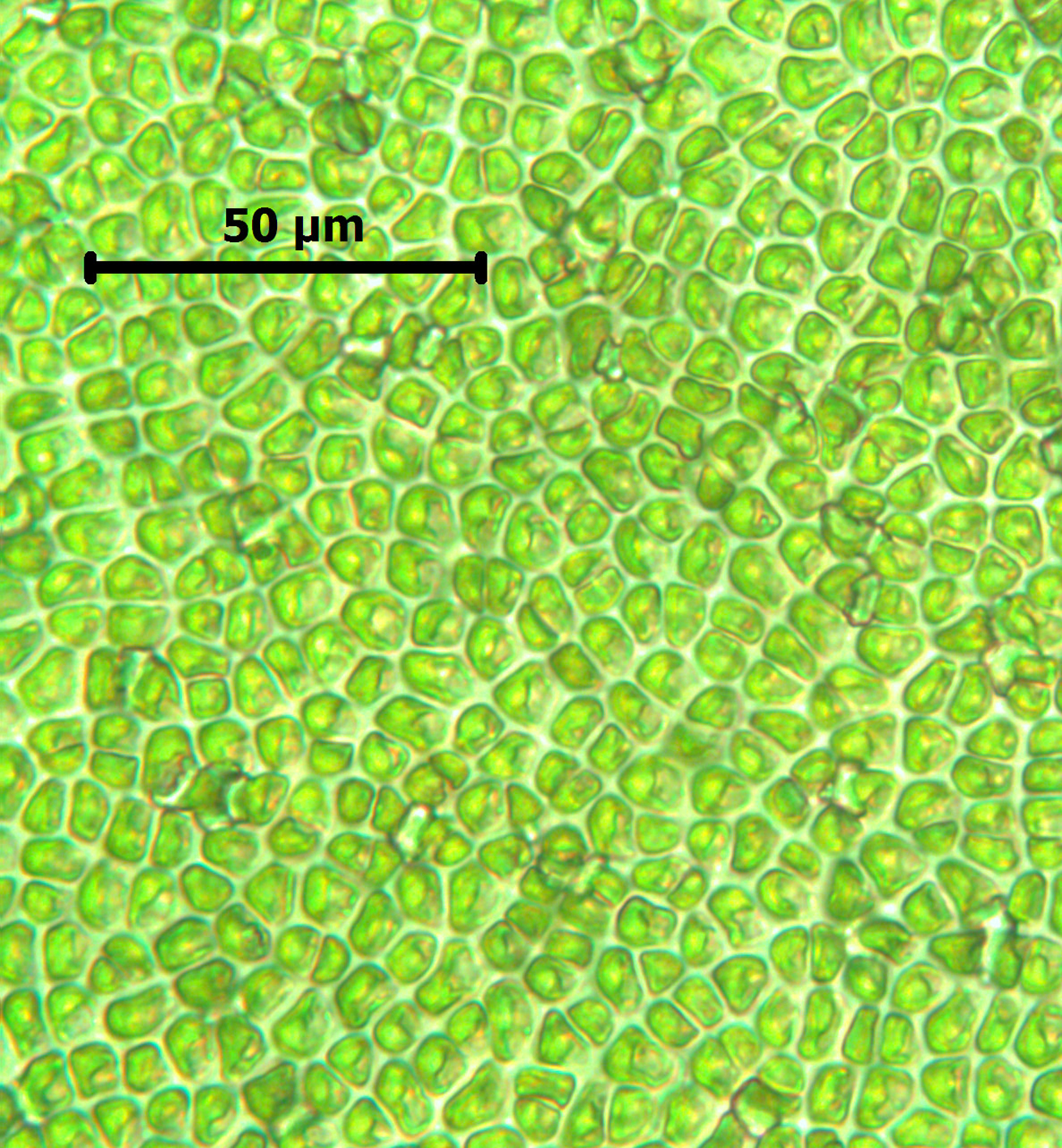 Ulva compressa, surface view of cells (Glencairn, False Bay specimen)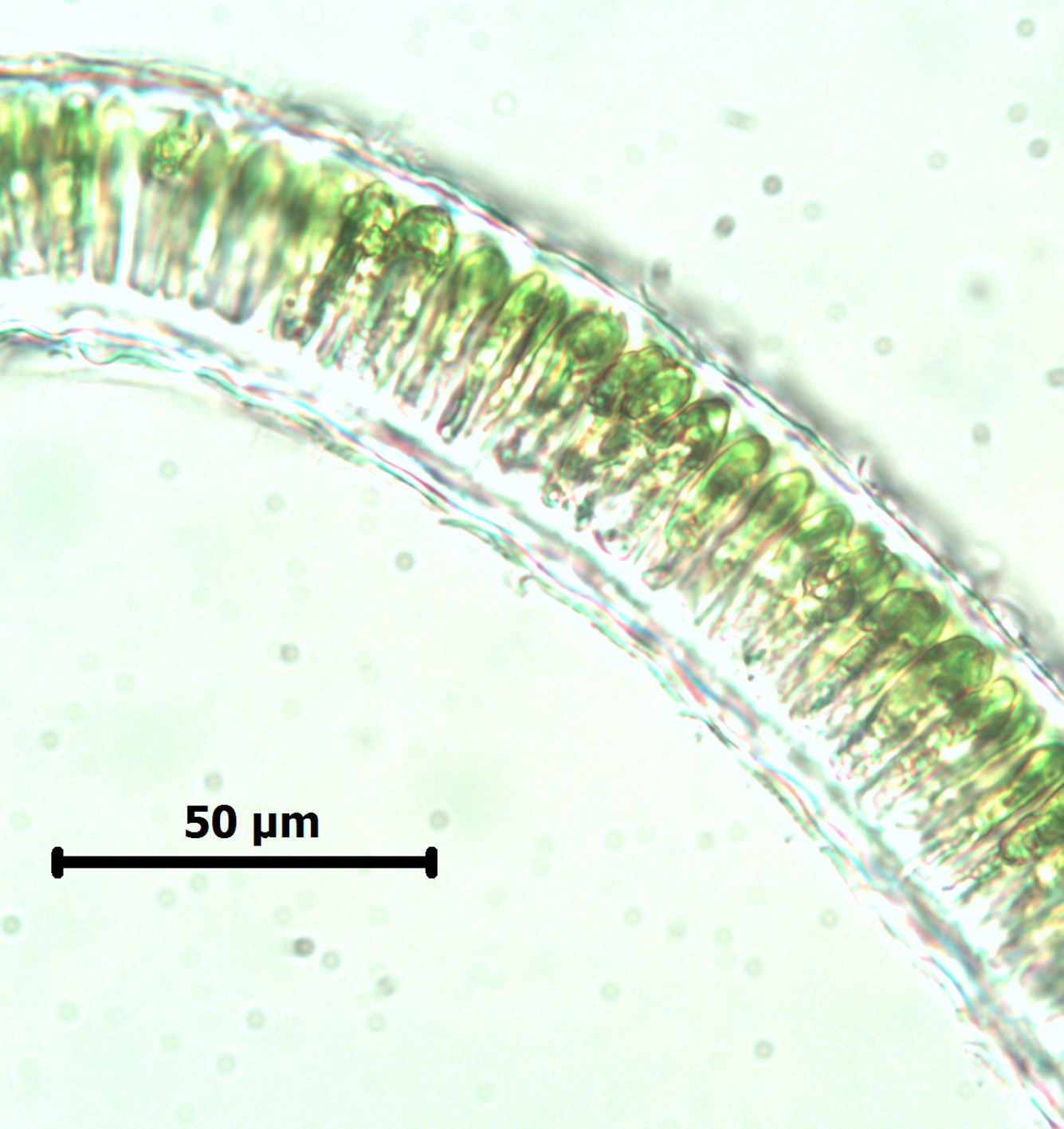 Ulva compressa, XS to show cell shape & size (Glencairn, False Bay, fresh material)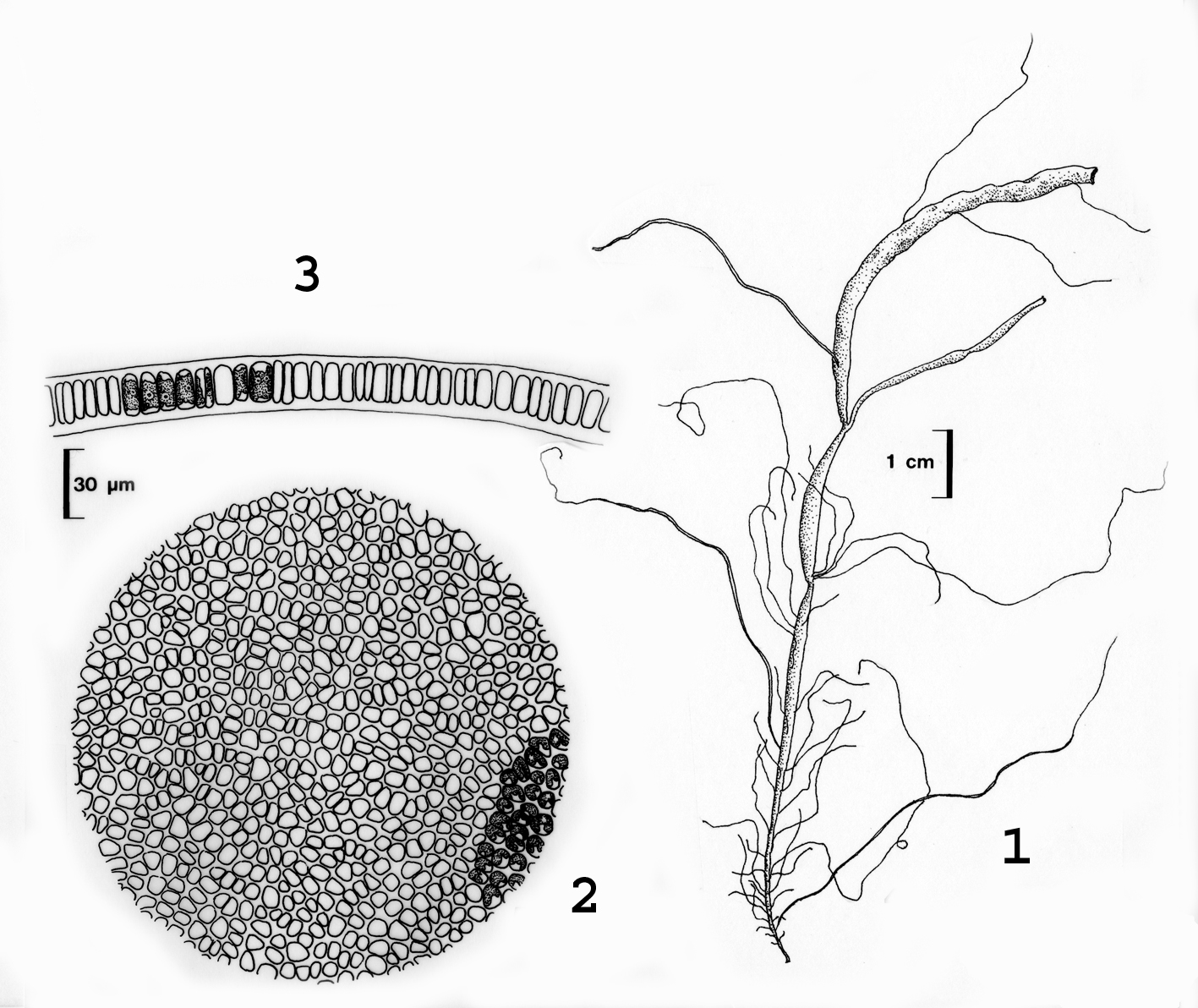 Ulva compressa. 1, Habit. 2, Surface view showing cell arrangement. 3, Cross section. Reproduced from Stegenga et al. 1997.
References Ulva compressa
Guiry, M.D. & Guiry, G.M. 2012. AlgaeBase. World-wide electronic publication, National University of Ireland, Galway. http://www.algaebase.org; searched September 2012.
Hayden, H.S., Blomster, J., Maggs, C.A., Silva, P.C., Stanhope, M.J. & Waaland, J.R. (2003). Linnaeus was right all along: Ulva and Enteromorpha are not distinct genera. European Journal of Phycology 38: 277-294.
Linnaeus, C. (1753). Species plantarum, exhibentes plantas rite cognitas, ad genera relatas, cum differentiis specificis, nominibus trivialibus, synonymis selectis, locis natalibus, secundum systema sexuale digestas. Vol. 2 pp. [i], 561-1200, [1-30, index], [i, err.]. Holmiae [Stockholm]: Impensis Laurentii Salvii.
Stegenga, H., Bolton, J.J. and R. J. Anderson. 1997. Seaweeds of the South African west coast. Contributions from the Bolus Herbarium 18: 655 pp.
Cite this record as:
Anderson RJ, Stegenga H, Bolton JJ. 2016. Seaweeds of the South African South Coast.
World Wide Web electronic publication, University of Cape Town, http://southafrseaweeds.uct.ac.za; Accessed on 25 September 2023.