Order Ulvales
Family Ulvaceae
Ulva flexuosa Wulfen 1803: xxii, 1
Plants yellowish green, a few cm high. Main axis tubular in the proximal part and provided with many laterals reaching the same length as main axis; distal part of main axis and laterals narrow, ribbon-shaped, compressed and truncated. Cells in surface view in regular longitudinal rows, squarish or rectangular, 10-15 (-30) µm in largest diameter. Chloroplast situated against the outer peripheral cell wall, or against a radial wall but not consistently to one side, with 2 (-3) pyrenoids. Thallus membrane (1 cell layer) 15-20 µm thick; cells dome-shaped, 10-12 µm high, 0.5-1 times higher than broad. Rhizoidal cells elongate, up to 30 µm long in surface view (rhizoidal portion excluded), otherwise not different from normal vegetative cells; rhizoidal and other vegetative cells in general not mixed.
Description from Stegenga et al. (1997).
Collections, ecology and regional distribution
Recorded from False Bay to Mkambati (17-47). Found on wave-exposed supralittoral ledges as well as in estuaries.
World distribution: cosmopolitan (Guiry & Guiry, 2012).
Type locality: Italy, Adriatic Coast (Guiry & Guiry, 2012).
Note: the description above "covers only part of the variation usually recognized" in Ulva flexuosa (Stegenga et al., 1997. This species was previously known as Enteromorpha flexuosa).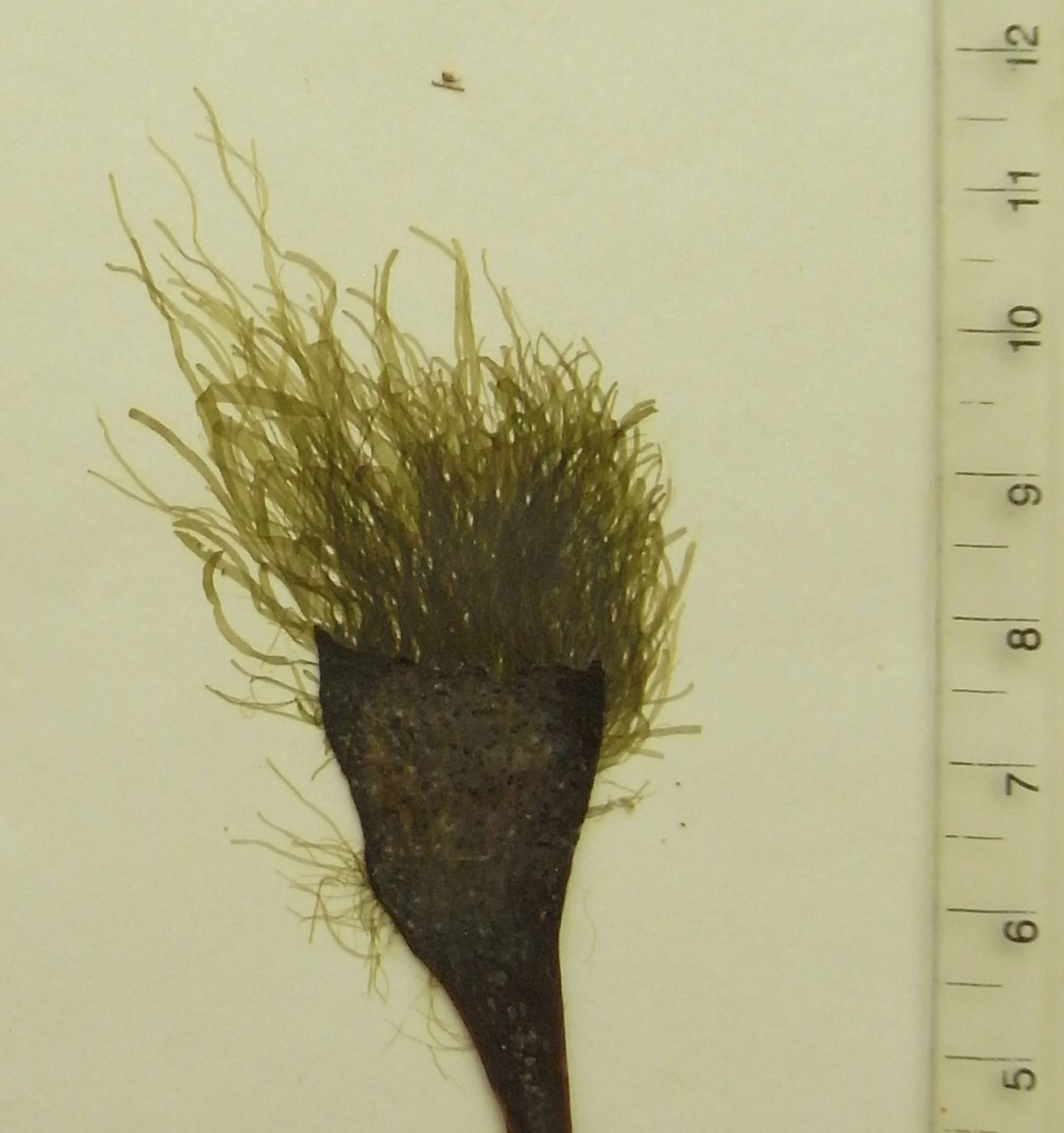 Ulva flexuosa BOL 147374 (Tsitisikamma, on Gigartina paxillata)

Ulva flexuosa showing branching near base (stained slide material).

Ulva flexuosa showing arrangement of cells in surface view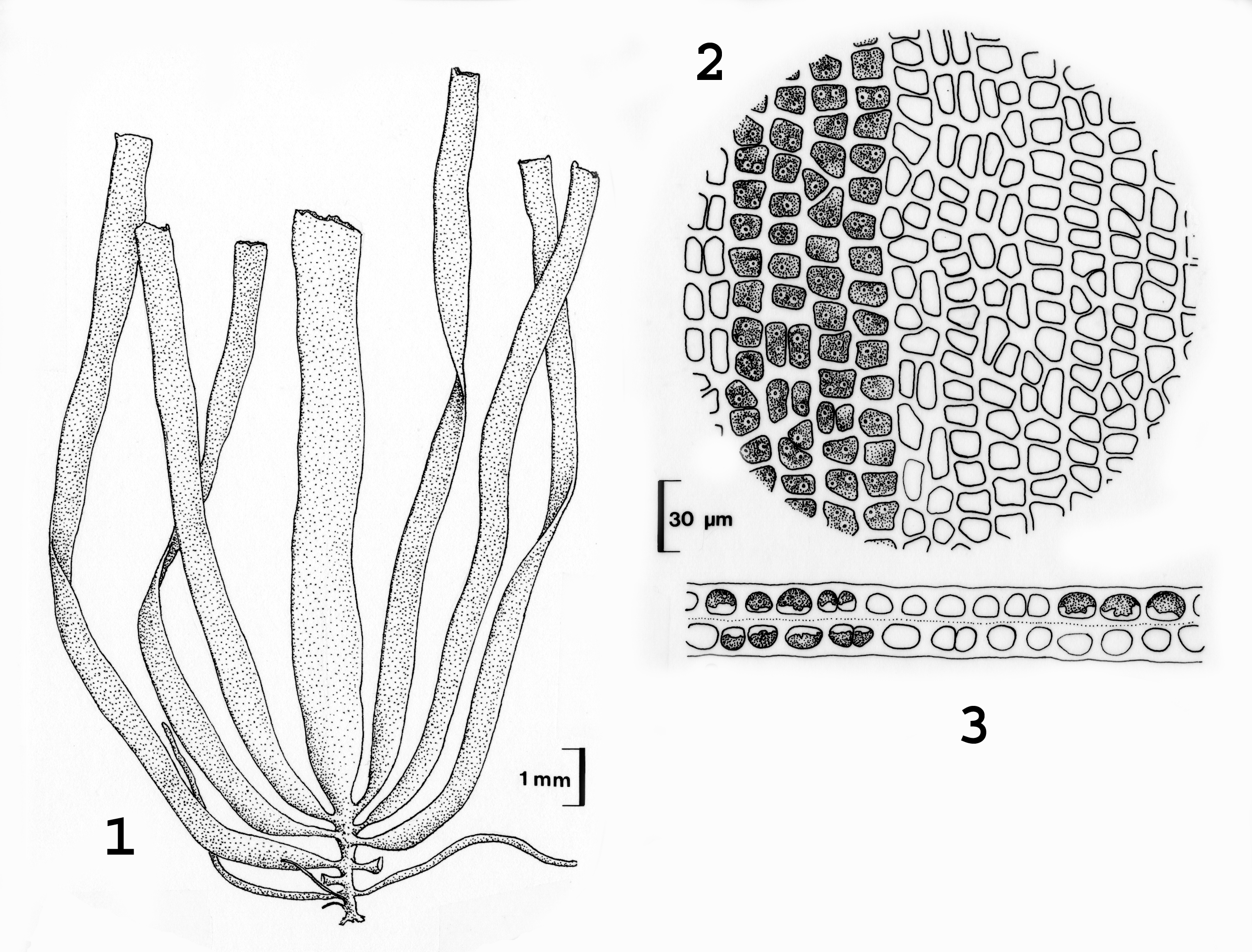 Ulva flexuosa. 1, Habit of small plant. 2, Surface view showing longitudinal cell rows. 3, Cross section of upper thallus. Drawings from Stegenga et al. 1997.
References Ulva flexuosa
Guiry, M.D. & Guiry, G.M. 2012. AlgaeBase. World-wide electronic publication, National University of Ireland, Galway. http://www.algaebase.org; searched September 2012.
Stegenga, H., Bolton, J.J. and R. J. Anderson. 1997. Seaweeds of the South African west coast. Contributions from the Bolus Herbarium 18: 655 pp.
Wulfen, F.X. (1803). Cryptogama aquatica. Archives de Botanique 3: 1-64, pl. 1.
Cite this record as:
Anderson RJ, Stegenga H, Bolton JJ. 2016. Seaweeds of the South African South Coast.
World Wide Web electronic publication, University of Cape Town, http://southafrseaweeds.uct.ac.za; Accessed on 01 October 2023.