Order Ulvales
Family Ulvaceae
Ulva tanneri H.S.Hayden & J.R.Waaland in Hayden et al., 2003: 285
Plants yellowish-green, developing though stages from uniseriate filamentous to vesicular, finally opening apically to form a cup-shaped to peltate mature thallus, ca. 10 mm high, with lacerated thallus rim. Holdfast developing from rhizoidal extensions of many proximal cells; several erect thalli arising from a common holdfast. Thallus membrane at first (vesicular stage) monostromatic, becoming distromatic apically via periclinal division of the cells. Cells in surface view unordered or (especially basally) in roughly transverse rows. Cells 5-10 µm in diameter; chloroplast single, parietal, with one pyrenoid. Rhizoidal cells scattered throughout basal portion of the thallus, slightly larger and darker than normal vegetative cells. Thallus membrane in young vesicular plants 10-20 µm thick, cells about as high as broad; in mature thalli both monostromatic (lower) and distromatic (upper) parts reaching thickness of ca. 55 µm . Cells in basal part up to 20 µm high, 2-4 times as long as broad. Reproductive cells developing in the marginal parts of the mature thallus. (Description from Stegenga et al., 1997).
Collections, ecology and regional distribution
Recorded (as Chloropelta caespitosa) from a few localities on the west coast (Kalk Bay, Hangklip), as an epiphyte or in turfs (Stegenga et al. 1997), and from Three Sisters on the south coast.
World distribution: also known from Panama, Mexico, California, Hawaii, Japan, and Queensland (Guiry & Guiry April 2012).
Type locality: San Pedro, California (Tanner 1980).
Note: formerly known as Chloropelta caespitosa Tanner, Stegenga et al. (1997) expressed some doubt that the South African material is the same as type material.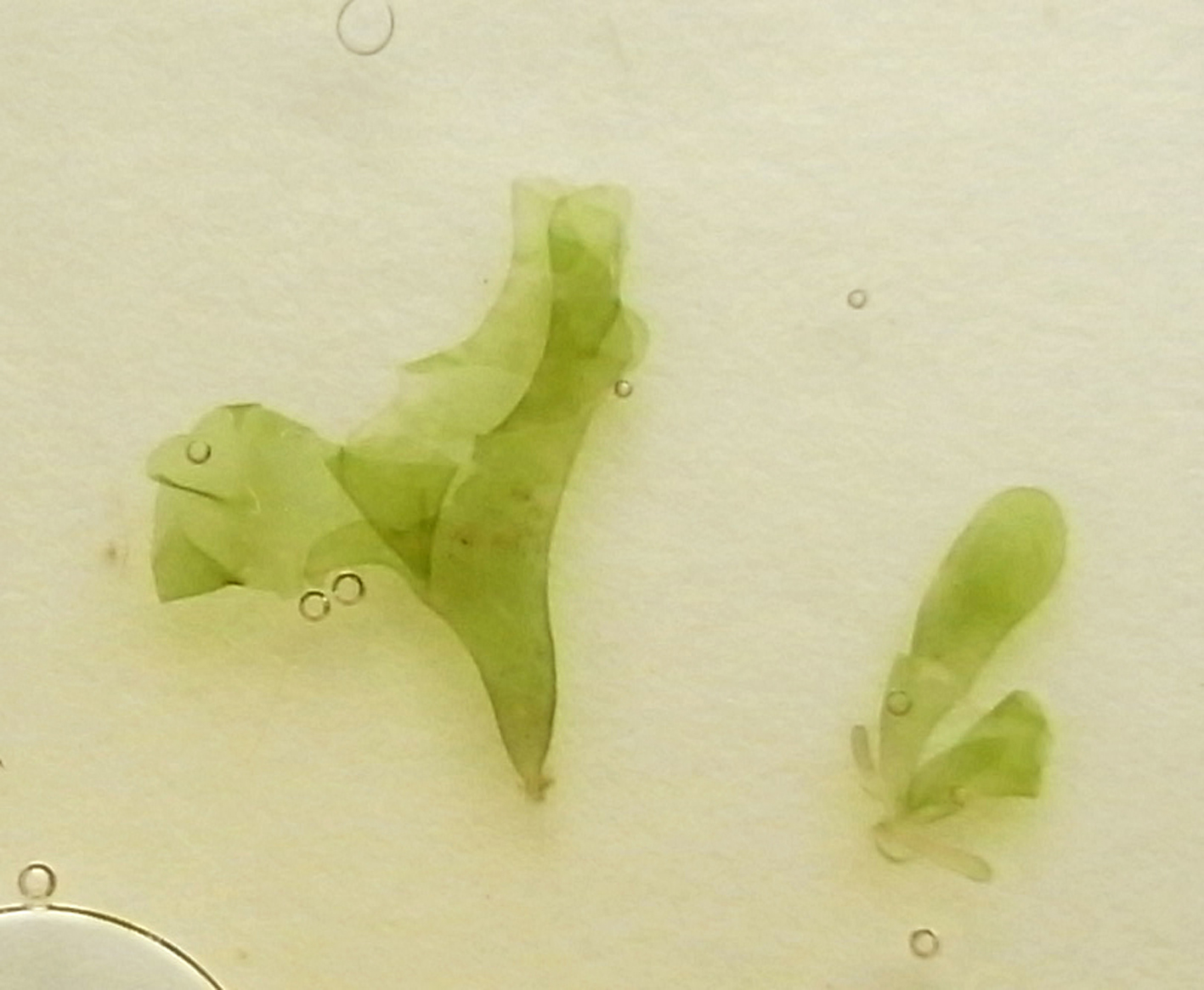 Ulva tanneri, slide material of whole thalli, BOL. Largest specimen ca 11 mm tall.

Ulva tanneri, slide material showing details of base and rhizoidal tuft (attachment)

Ulva tanneri, slide material showing descending rhizoids near base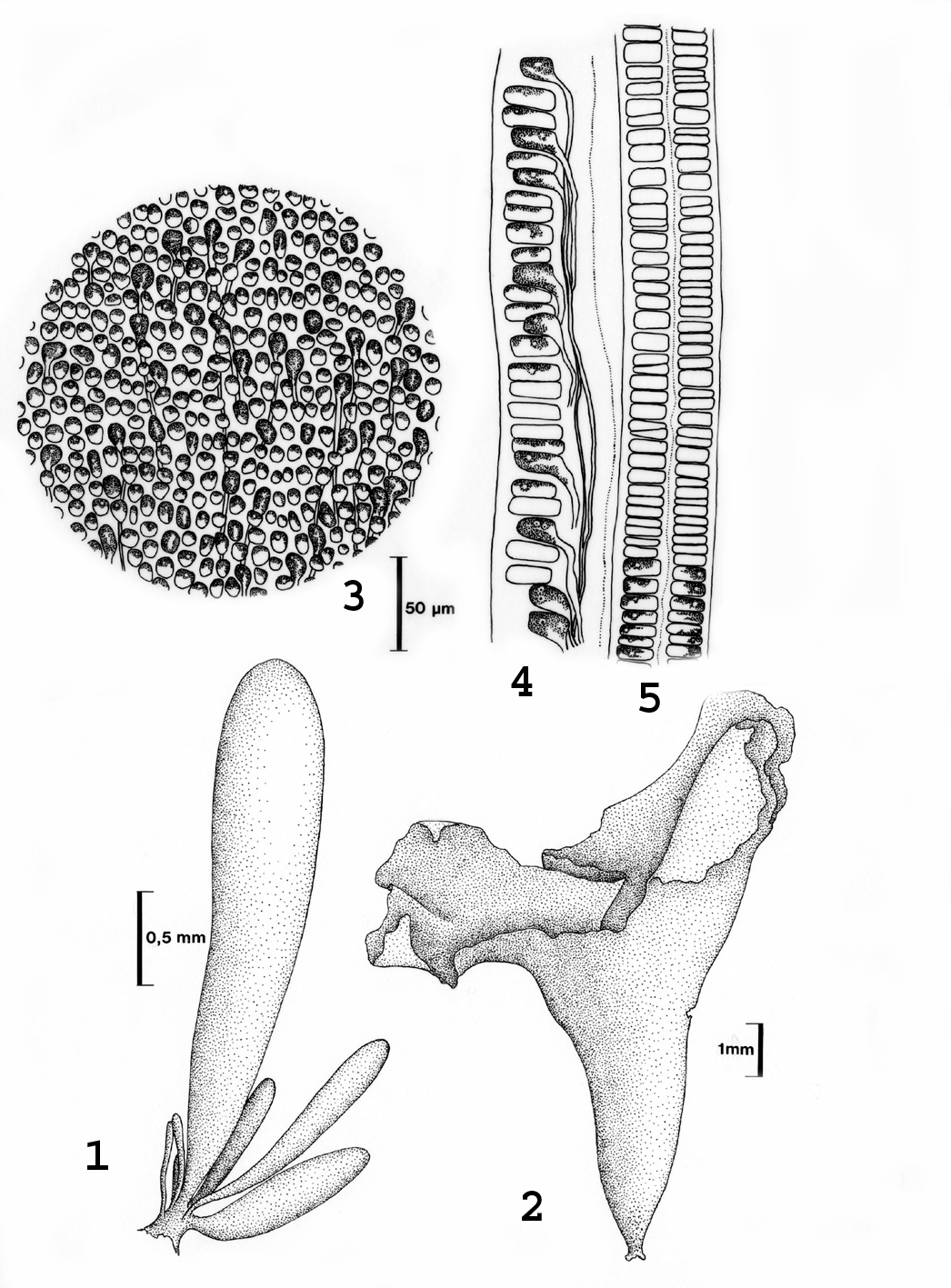 Ulva tanneri. 1, Juvenile habit. 2, Mature habit. 3, Surface view, upper basal region. 4, Longitudinal section, upper basal region. 5, Section of distromatic thallus. Reproduced from Stegenga et al. (1997).
References Ulva tanneri
Guiry, M.D. & Guiry, G.M. 2012. AlgaeBase. World-wide electronic publication, National University of Ireland, Galway. http://www.algaebase.org; searched April 2012.
Hayden, H.S., Blomster, J., Maggs, C.A., Silva, P.C., Stanhope, M.J. & Waaland, J.R. (2003). Linnaeus was right all along: Ulva and Enteromorpha are not distinct genera. European Journal of Phycology 38: 277-294.
Stegenga, H., Bolton, J.J. and R. J. Anderson. 1997. Seaweeds of the South African west coast. Contributions from the Bolus Herbarium 18: 655 pp.
Tanner, C.E. 1980. Chloropelta Gen. Nov., an Ulvaceaous green alga with a different type of development. Journal of Phycology 16: 128-137.
Cite this record as:
Anderson RJ, Stegenga H, Bolton JJ. 2016. Seaweeds of the South African South Coast.
World Wide Web electronic publication, University of Cape Town, http://southafrseaweeds.uct.ac.za; Accessed on 21 September 2023.