Order Ulvales
Family Ulvaceae
Ulva torta (Mertens) Trevisan 1841: 480
Plants green, filamentous, up to 50 cm long, thin, unbranched, (usually) unattached and occurring in strings or mats. Thallus comprising 3 -12 longitudinal rows of cells arranged in a tube surrounding a small central hollow. Thallus ca. 45 µm in diameter; cells square to rectangular, 12-28 µm in largest dimension. Chloroplasts parietal, usually with one pyrenoid.
Collections, ecology and regional distribution
Recorded from Table Bay to Mtakatye Estuary, Hluleka (on mangrove roots) (15-45). Found in protected localities such as harbours, lagoons and estuaries, usually entangled with other filamentous algae.
World distribution: widely distributed in temperate seas (Guiry & Guiry 2012).
Type locality: Frisian Islands, Germany (Silva et al., 1996).

Ulva torta, part of whole thalli (stained slide material, Hluleka, Transkei)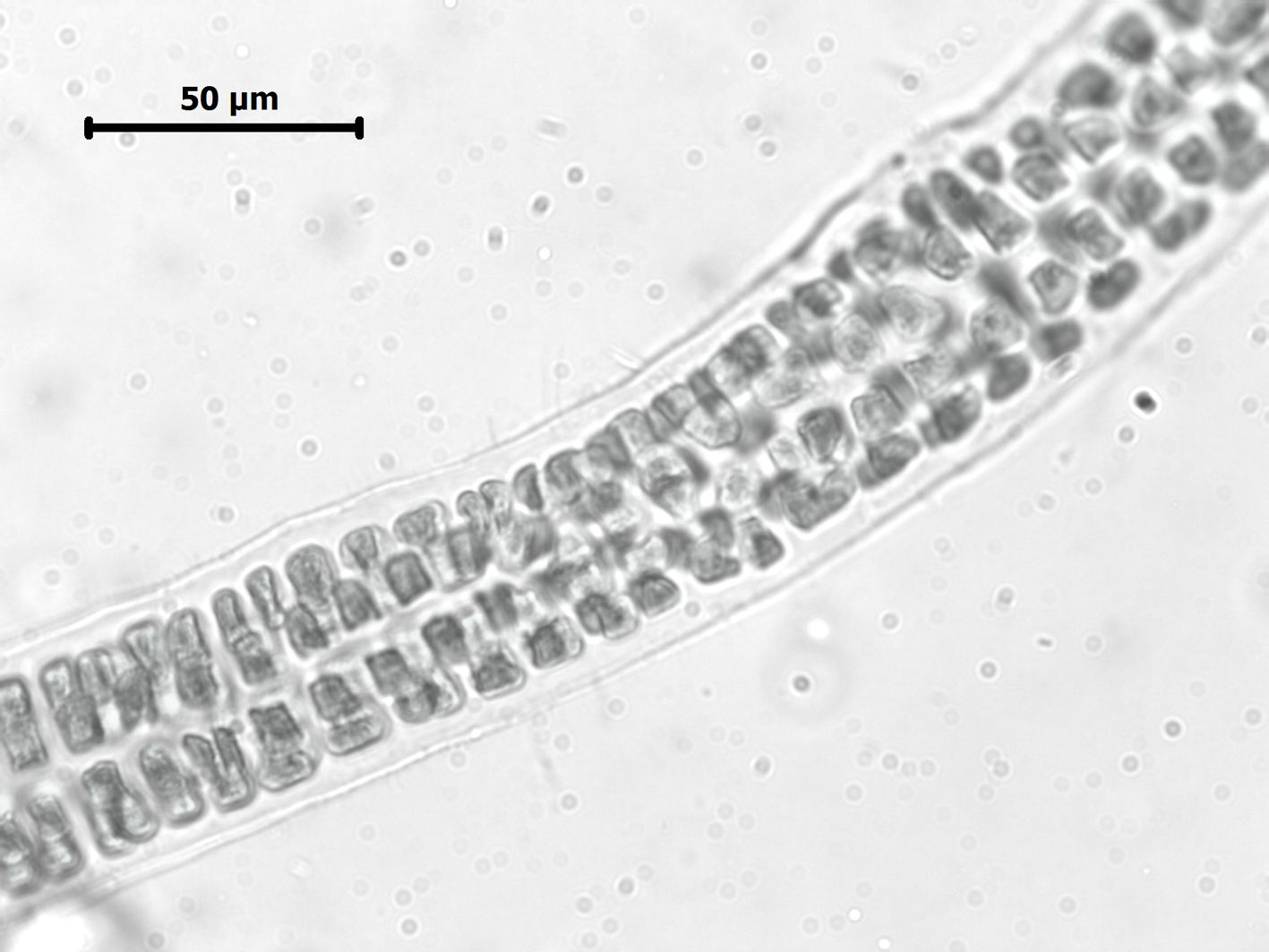 Ulva torta, detail of part of thallus (stained slide material, Hluleka, Transkei)
References Ulva torta
Guiry, M.D. & Guiry, G.M. 2012. AlgaeBase. World-wide electronic publication, National University of Ireland, Galway. http://www.algaebase.org; searched April 2013
Silva, P.C., Basson, P.W. & Moe, R.L. (1996). Catalogue of the benthic marine algae of the Indian Ocean. University of California Publications in Botany 79: 1-1259.
Trevisan, V.B.A. (1842 '1841'). Sul geuere Bangia. Atti della Terza Riunione degli Scienziati italiani 1841: 478-481.
Cite this record as:
Anderson RJ, Stegenga H, Bolton JJ. 2016. Seaweeds of the South African South Coast.
World Wide Web electronic publication, University of Cape Town, http://southafrseaweeds.uct.ac.za; Accessed on 18 September 2021.