Order Ulvales
Family Ulvaceae
Ulva uncialis (Kützing) Montagne 1850: 248
Plants bright green, up to a few cm tall, irregularly lobed, with undulate margins. Thallus near apex ca. 35-40 µm thick, cells 1.5 as high as broad, with rounded corners. Thallus near base ca. 100 µm thick: cells rectangular, interspersed with rhizoidal cells; rhizoids extending between layers of cells to form thick interstitial layer.
Description based on Joska's (1992) report on the lectotype specimen.
Collections, ecology and regional distribution
Recorded from Stilbaai to Mkambati (26-47). Found in the eulittoral zone and rock pools .
World distribution: Also recorded from Namibia, Mozambique, and Reunion (Guiry & Guiry 2012).
Type locality: "ad oras capenses" (South Africa) (Silva et al. 1996).
Note: Stegenga et al. (1997) followed Joska (1992) in regarding this species as a small form of U. rigida. However, recent molecular work indicates that these South African entities are different (L. Kandjengo, pers. comm.).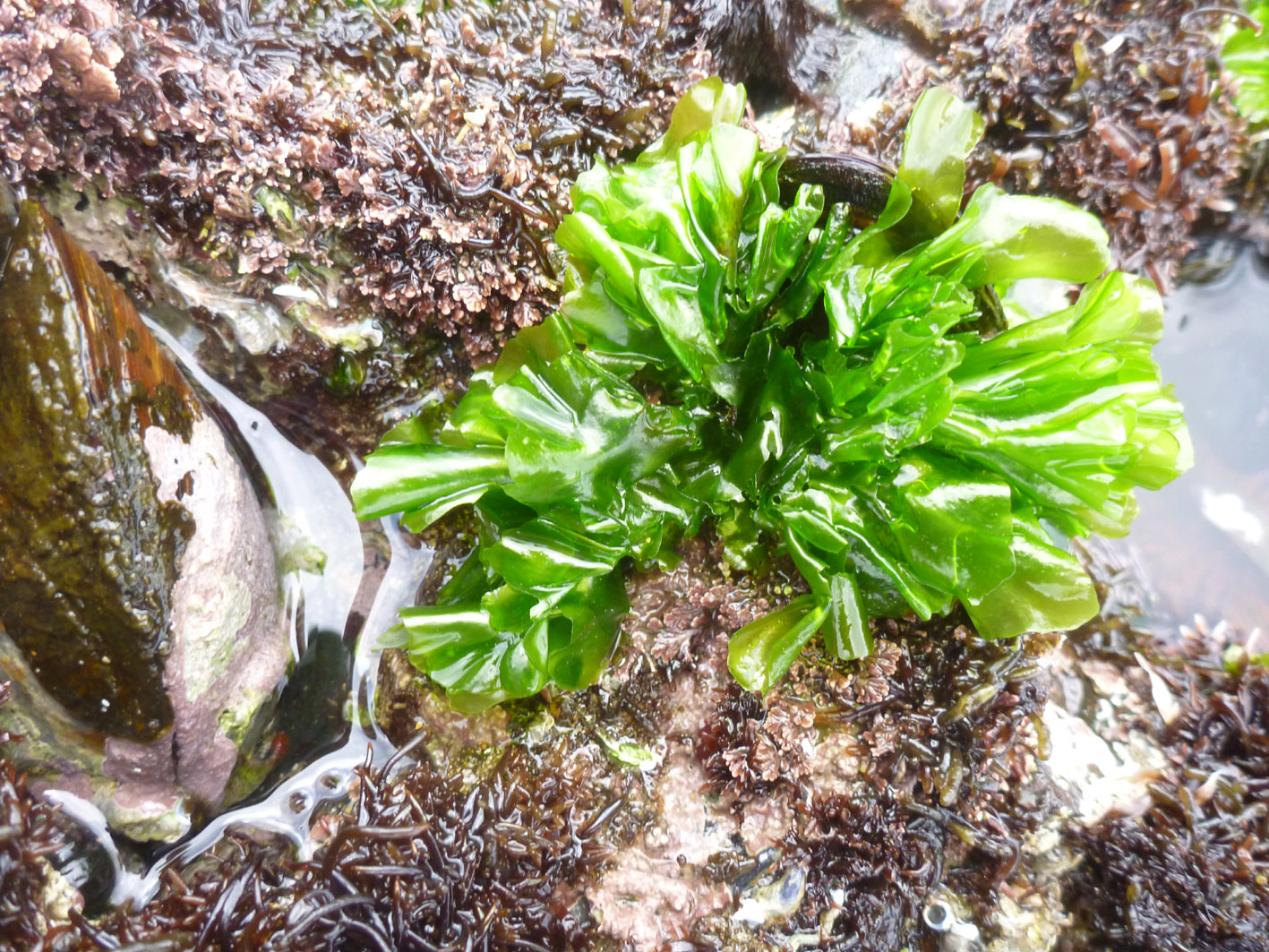 Ulva uncialis, Natures Valley.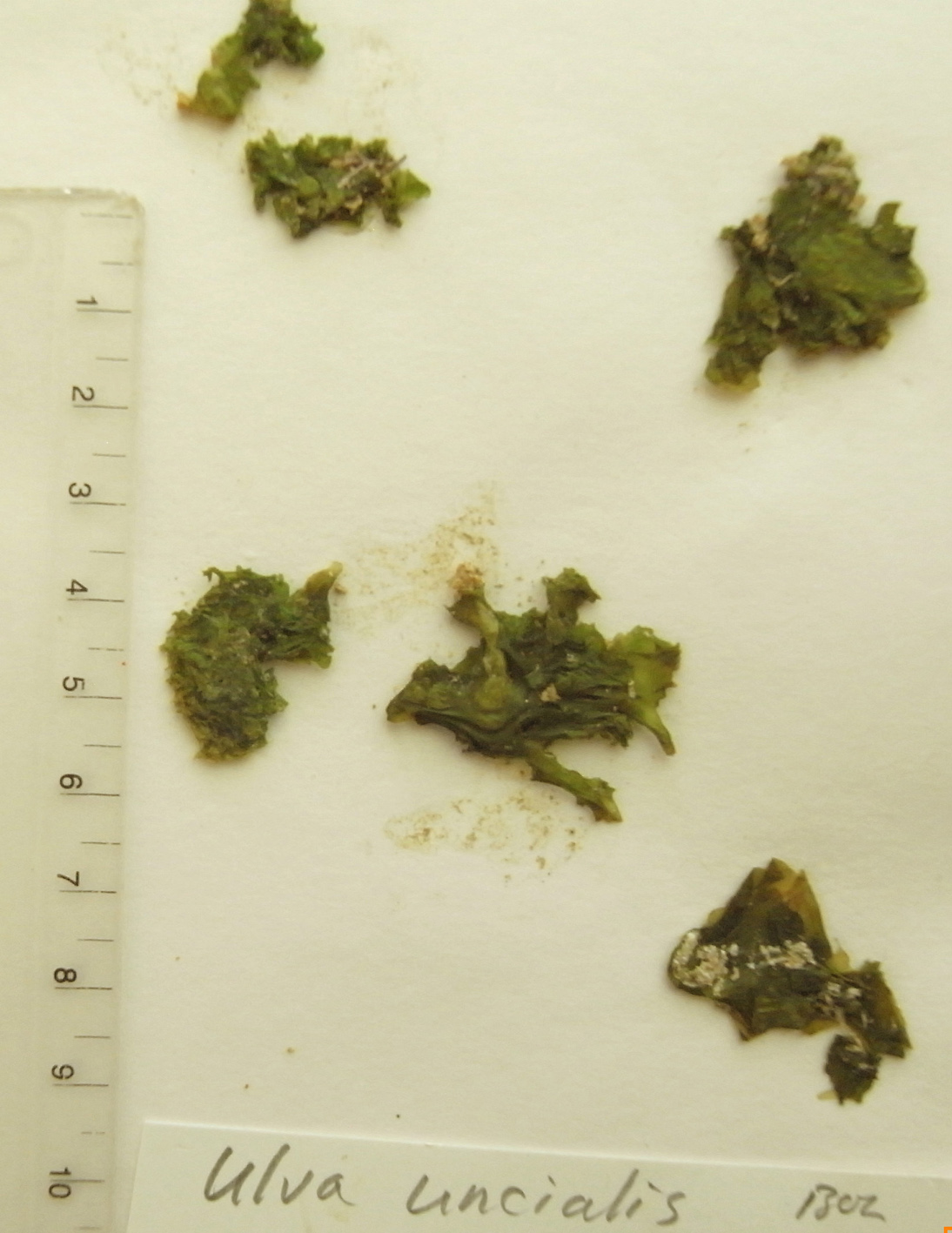 Ulva uncialis, BOL 147727 small. These Woody Cape specimens are named U. rigida but annotated "uncialis form" by H. Stegenga (see note above).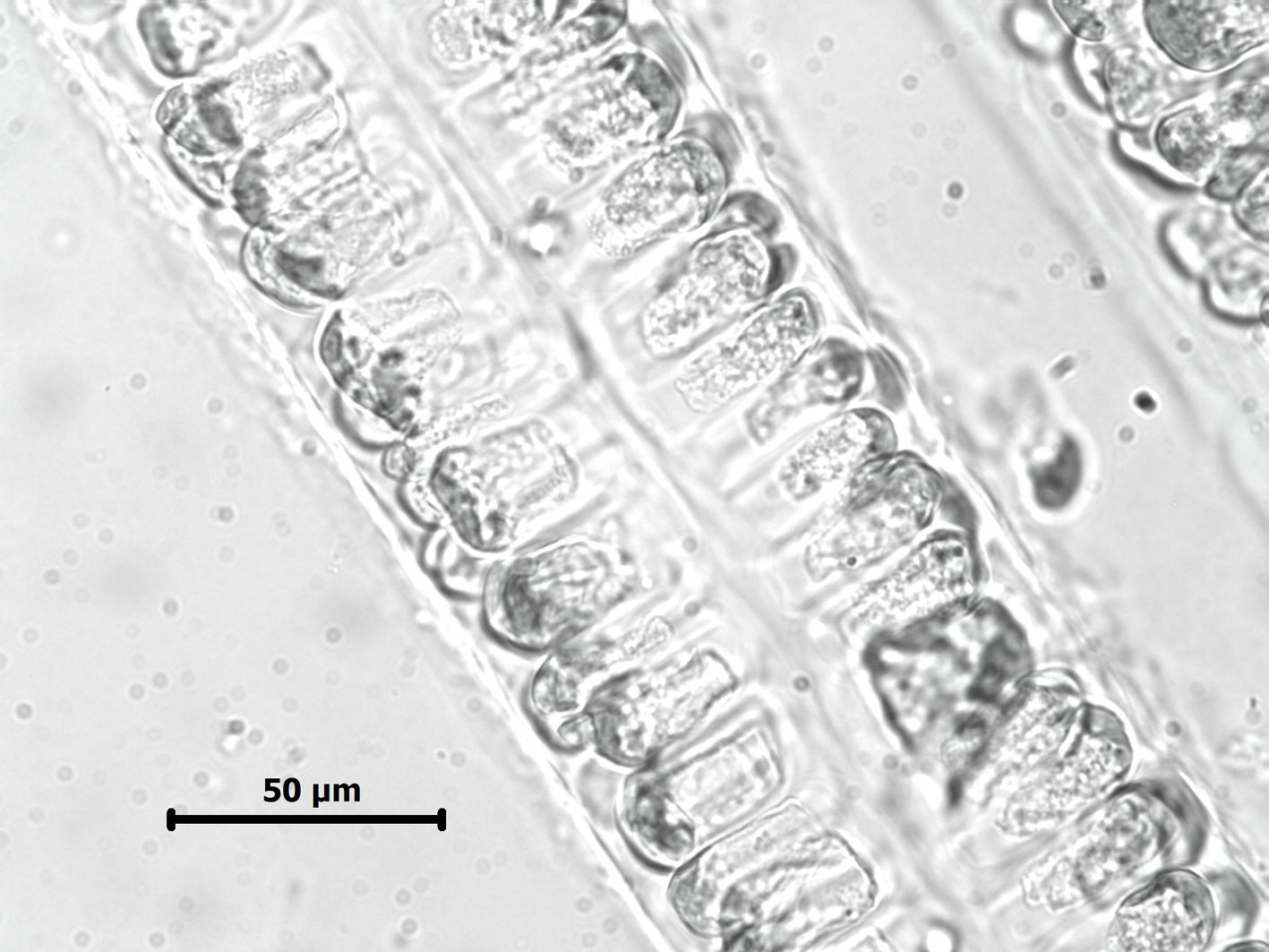 Ulva uncialis, XS of blade, specimen from Three Sisters (stained slide material).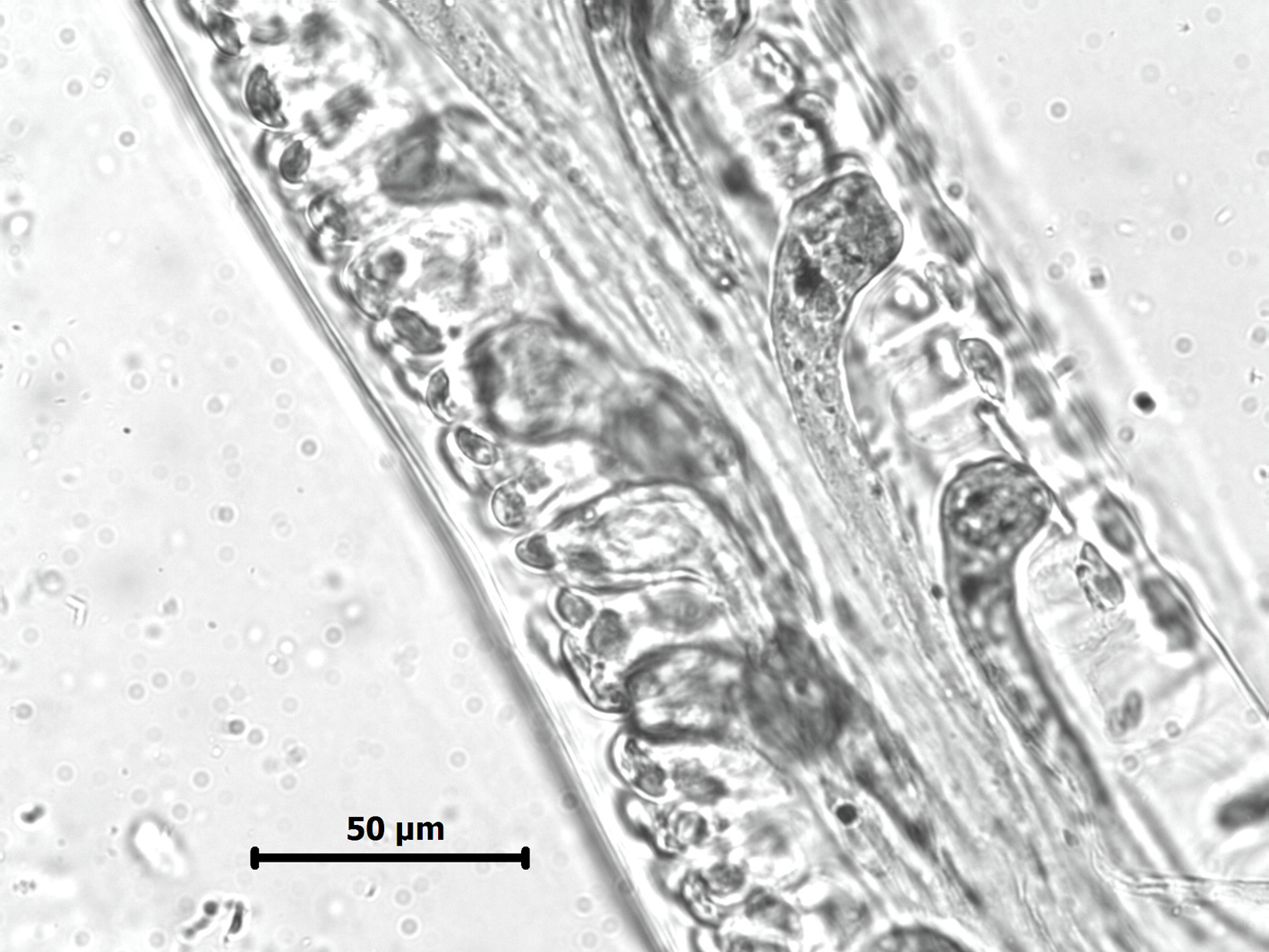 Ulva uncialis, XS of basal part of specimen from Three Sisters (stained slide material). Note down-growing central rhizoidal cells.
References Ulva uncialis
Guiry, M.D. & Guiry, G.M. 2012. AlgaeBase. World-wide electronic publication, National University of Ireland, Galway. http://www.algaebase.org; searched September 2012.
Joska, M.A.P. (1992). Taxonomy of Ulva species (Chlorophyta) in the South Western Cape, South Africa. MSc Thesis, University of Cape Town, 95 pp. + appendices.
Montagne, C. (1850). Pugillus algarum yemensium, quas collegerunt annis 1847-1849, clarr. Arnaud et Vaysière. Annales des Sciences Naturelles, Botanique, Troisième série 13: 236-248.
Silva, P.C., Basson, P.W. & Moe, R.L. (1996). Catalogue of the benthic marine algae of the Indian Ocean. University of California Publications in Botany 79: 1-1259.
Stegenga, H., Bolton, J.J. and R. J. Anderson. 1997. Seaweeds of the South African west coast. Contributions from the Bolus Herbarium 18: 655 pp.
Cite this record as:
Anderson RJ, Stegenga H, Bolton JJ. 2016. Seaweeds of the South African South Coast.
World Wide Web electronic publication, University of Cape Town, http://southafrseaweeds.uct.ac.za; Accessed on 01 October 2023.