Order Siphonocladales
Family Valoniaceae
Valonia aegagropila C.Agardh 1823: 429-430
Plants light green, comprising cushions up to 10 cm or more in diameter, of tightly-packed bladder-like cells. Cells 1-3 mm in diameter, up to 20 mm long, straight or clavate; branching from swollen distal ends of parent cells or rarely lateral on parent cell.
Collections, ecology and regional distribution
Recorded from East London to northern Kwazulu-Natal (41-58). Found in the sublittoral fringe and shallow sublittoral zone.
World distribution: cosmopolitan in tropical regions (Guiry & Guiry 2012).
Type locality: Venice, Italy (Silva et al. 1996).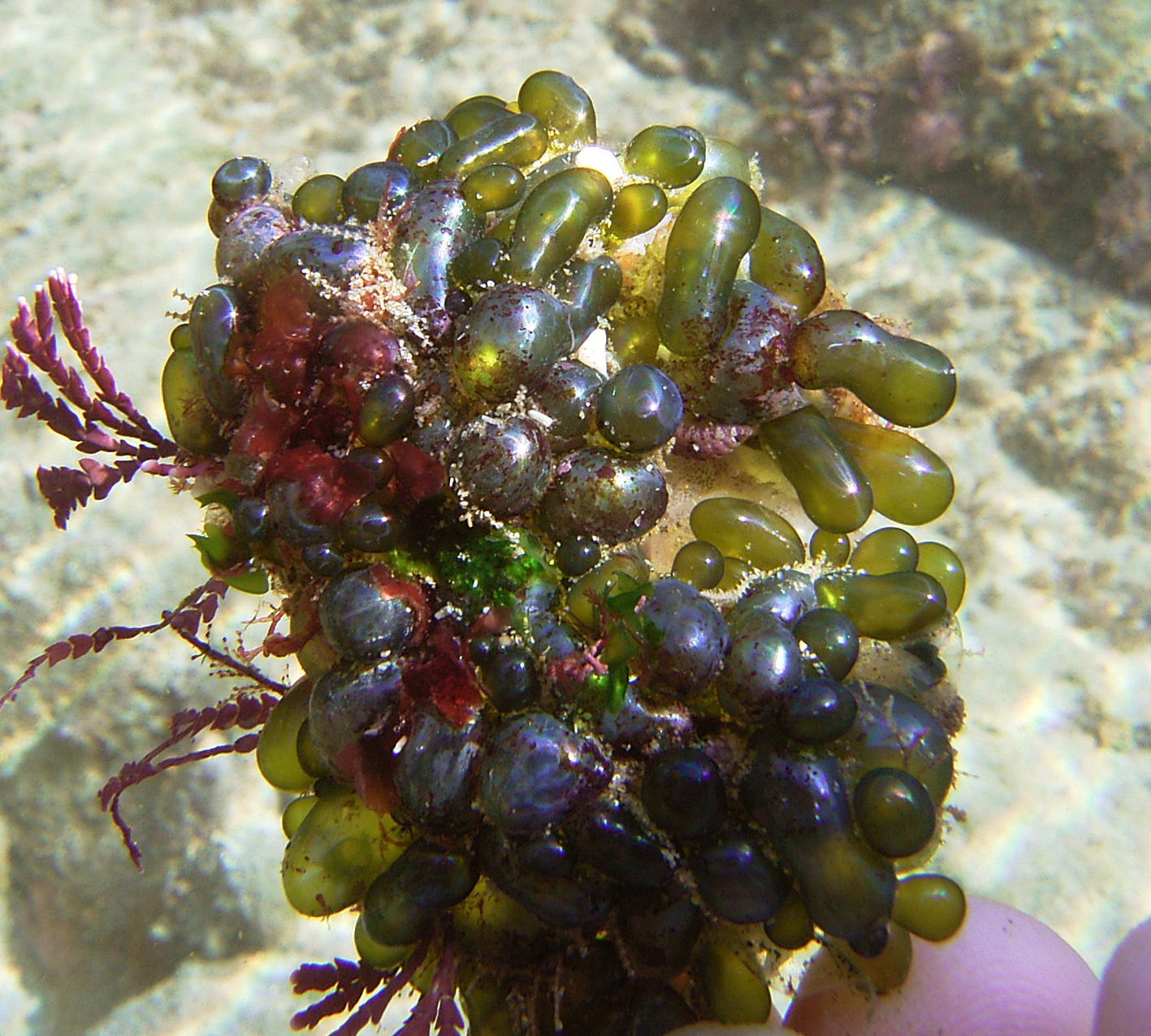 Valonia aegagropila, Presley Bay (fingertips for scale)
References Valonia aegagropila
Agardh, C.A. (1823). Species algarum rite cognitae, cum synonymis, differentiis specificis et descriptionibus succinctis. Volumen primum pars posterior. pp. [vii-viii], [399]-531. Lundae [Lund]: ex officina Berlingiana.
Guiry, M.D. & Guiry, G.M. 2012. AlgaeBase. World-wide electronic publication, National University of Ireland, Galway. http://www.algaebase.org; searched August 2012.
Silva, P.C., Basson, P.W. & Moe, R.L. (1996). Catalogue of the benthic marine algae of the Indian Ocean. University of California Publications in Botany 79: 1-1259.
Cite this record as:
Anderson RJ, Stegenga H, Bolton JJ. 2016. Seaweeds of the South African South Coast.
World Wide Web electronic publication, University of Cape Town, http://southafrseaweeds.uct.ac.za; Accessed on 21 September 2023.