Order Acrochaetiales
Family Acrochaetiaceae
Acrochaetium tenuissimum (F.S.Collins) Papenfuss 1945: 319
Plants epiphytic, with a fairly compact discoid multicellular base developing from a septately germinated spore; septation pattern typically three-celled. Erect filaments up to 0.5 mm tall, sparingly branched, 8-10 µm in diameter, the cells 12-20 µm long. Monosporangia sessile or pedicellate, lateral on the main axes, 19-22 x 10-13 µm.
Collections, ecology and regional distribution
Recorded from a few estuaries: Berg River on the west coast, Kowie at Port Alfred, and Mtakatye near Hlulkeka (11-45). It is epiphytic on the seagrass Zostera.
World distribution: According to Stegenga (1985) this species is found on seagrasses in various tropical to temperate localities around the world.
Type locality: San Pedro, California, U.S.A. (Silva et al. 1996).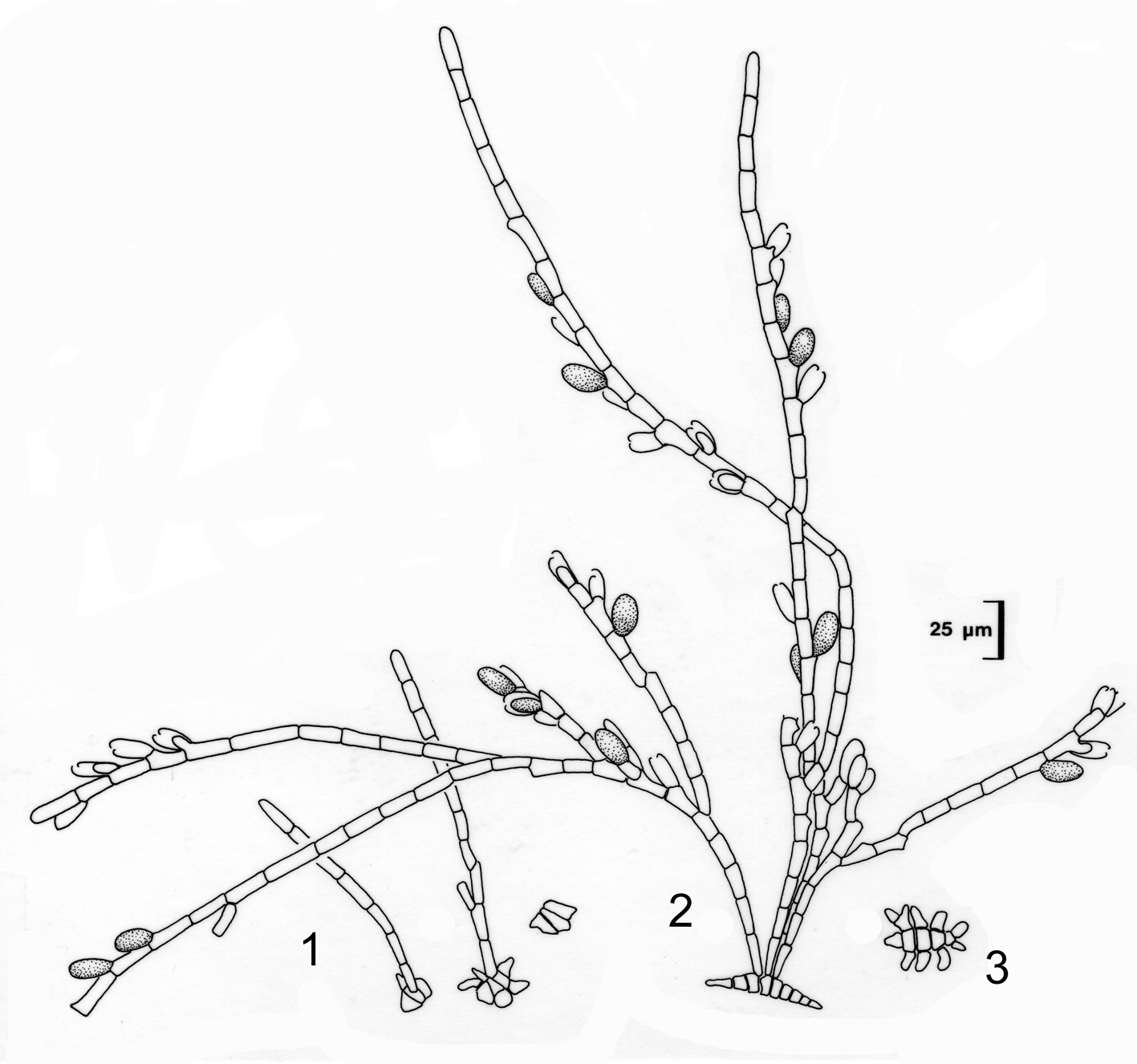 Acrochaetium tenuissimum. 1. Germlings. 2. Habit of monosporangial plants. 3 Basal system of mature plant. (Illustrations reproduced from Stegenga et al. 1997).
References Acrochaetium tenuissimum
Papenfuss, G.F. (1945). Review of the Acrochaetium-Rhodochorton complex of the red algae. University of California Publications in Botany 18: 229-334.
Silva, P.C., Basson, P.W. & Moe, R.L. (1996). Catalogue of the benthic marine algae of the Indian Ocean. University of California Publications in Botany 79: 1-1259.
Stegenga, H. (1985). The marine Acrochaetiaceae (Rhodophyta) of southern Africa. South African Journal of Botany 51: 291-330, 25 figs, 1 table.
Stegenga, H., Bolton, J.J. and R. J. Anderson. 1997. Seaweeds of the South African west coast. Contributions from the Bolus Herbarium 18: 655 pp.
Cite this record as:
Anderson RJ, Stegenga H, Bolton JJ. 2016. Seaweeds of the South African South Coast.
World Wide Web electronic publication, University of Cape Town, http://southafrseaweeds.uct.ac.za; Accessed on 01 October 2023.