Order Cermiales
Family Ceramiaceae
Acrothamnion preissii (Sonder) E.M. Wollaston 1968: 323, fig. 24
Plants differentiated into creeping axes of indeterminate nature and determinate axes lying more or less flat against the substratum. Main axis 50-75 µm in diameter, the cells 2.5-3 times as long as broad, ecorticate, as a rule with four determinate branches: two forming branched multicellular attachment filaments, 0-2 forming determinate branches up to 2.5 mm long, the remaining branches considerably shorter and similar to the branchlets of the longer determinate branches. Central axis of determinate branches in diameter differing little from the main axis, with two regular, opposite branchlets per segment (the basal cell with one branchlet), all branchlets perfectly in one plane. The latter up to ca. 200 µm long, consisting of several (5-10) pairs of opposite ramuli (the basal cell without ramification) and a conspicuous terminal gland cell ca. 25 µm in diameter. In some segments of the determinate branches a third, smaller branchlet present, with or without a terminal gland cell. Reproductive structures not seen in our material.
Collections, ecology and regional distribution
In our area only found at Mkambati, growing epiphytically on Spyridia cupressina and Inkyuleea beckeri (47).
World distribution: fairly widespread in tropical and warm temperate localities (Guiry & Guiry 2015).
Type locality: Rottnest Island, Western Australia (Silva et al. 1996).
Note: Our material seems to differ from the Australian type in the (relative) size of the central axis of determinate branches, being bigger to almost undistinguishable from the indeterminate main axis (cf. Womersley, 1998).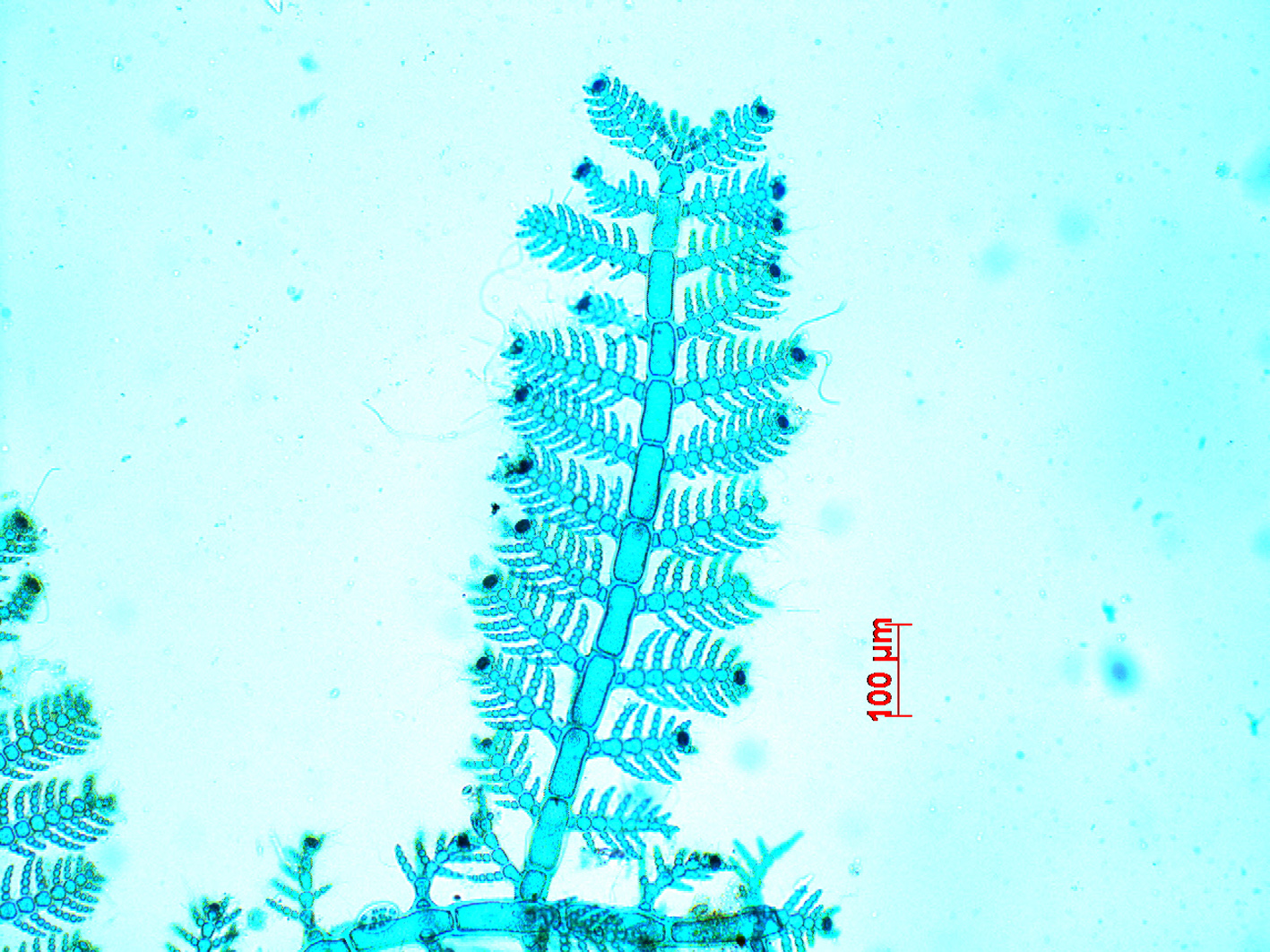 Acrothamnion preissii. Note terminal gland cells (dark dots). Stained slide material.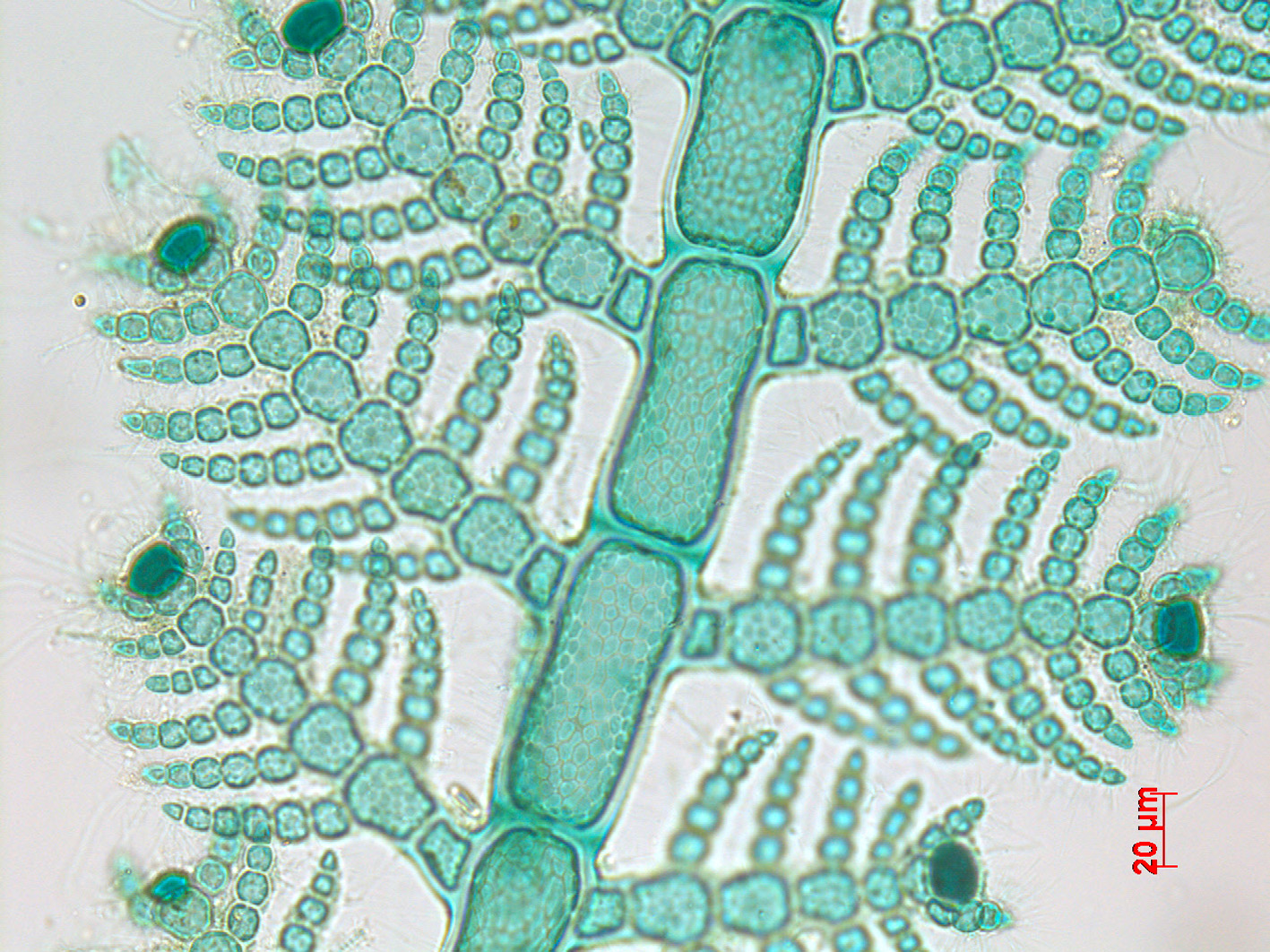 Acrothamnion preissii. Detail showing structure and terminal gland cells (dark). Stained slide material.
References Acrothamnion preissii
M.D. Guiry in Guiry, M.D. & Guiry, G.M. 2015. AlgaeBase. World-wide electronic publication, National University of Ireland, Galway. http://www.algaebase.org; searched on 07 September 2015.
Wollaston, E.M. 1968. Morphology and taxonomy of Southern Australian genera of Crouanieae Schmitz (Ceramiaceae, Rhodophyta). Australian Journal of Botany 16: 217-417, 42 figs, 1 table, 10 plates.
Womersley, H.B.S. 1998. The marine benthic flora of southern Australia - Part IIIC. Ceramiales - Ceramiaceae, Dasyaceae. pp. 535. Canberra & Adelaide: Australian Biological Resources Study & State Herbarium of South Australia.
Cite this record as:
Anderson RJ, Stegenga H, Bolton JJ. 2016. Seaweeds of the South African South Coast.
World Wide Web electronic publication, University of Cape Town, http://southafrseaweeds.uct.ac.za; Accessed on 01 October 2023.