Order Ceramiales
Family Rhodomelaceae
Aiolocolax pulchellus M.A.Pocock 1956: 22-31, figs. 3, 4, pls. 2-4
Plants minute, parasitic, comprising a vegetative filamentous part within thallus of host (Polysiphonia scopulorum) and colourless reproductive portions protruding beyond the surface of the host. Vegetative filaments monosiphonous, creeping between central and pericentral cells of host. Reproductive structures ovate, up to 200 µm tall, borne on single stalk cell, perpendicular to creeping filaments, comprising central axis and more than one periaxial cell per segment. In sporangial plants the periaxial cells bearing a globose polysporangium adaxially, with single cover cell on periphery; polysporangia up to 50 µm in diameter, dividing into ca 64 spores. In male reproductive bodies entire surface becoming spermatogenous tissue. Carposporophytes immersed in female fruiting bodies.
Collections, ecology and regional distribution
A parasite of Polysiphonia scopulorum, recorded from Blaauwberg on the west coast to Cape Vidal in northen KwaZulu-Natal (15-56).
World distribution: also found in Portugal, Spain, the Canary Islands and Namibia (Guiry & Guiry November 2010).
Type locality: Muizenberg, False Bay, Cape Province, South Africa (Silva et al. 1996).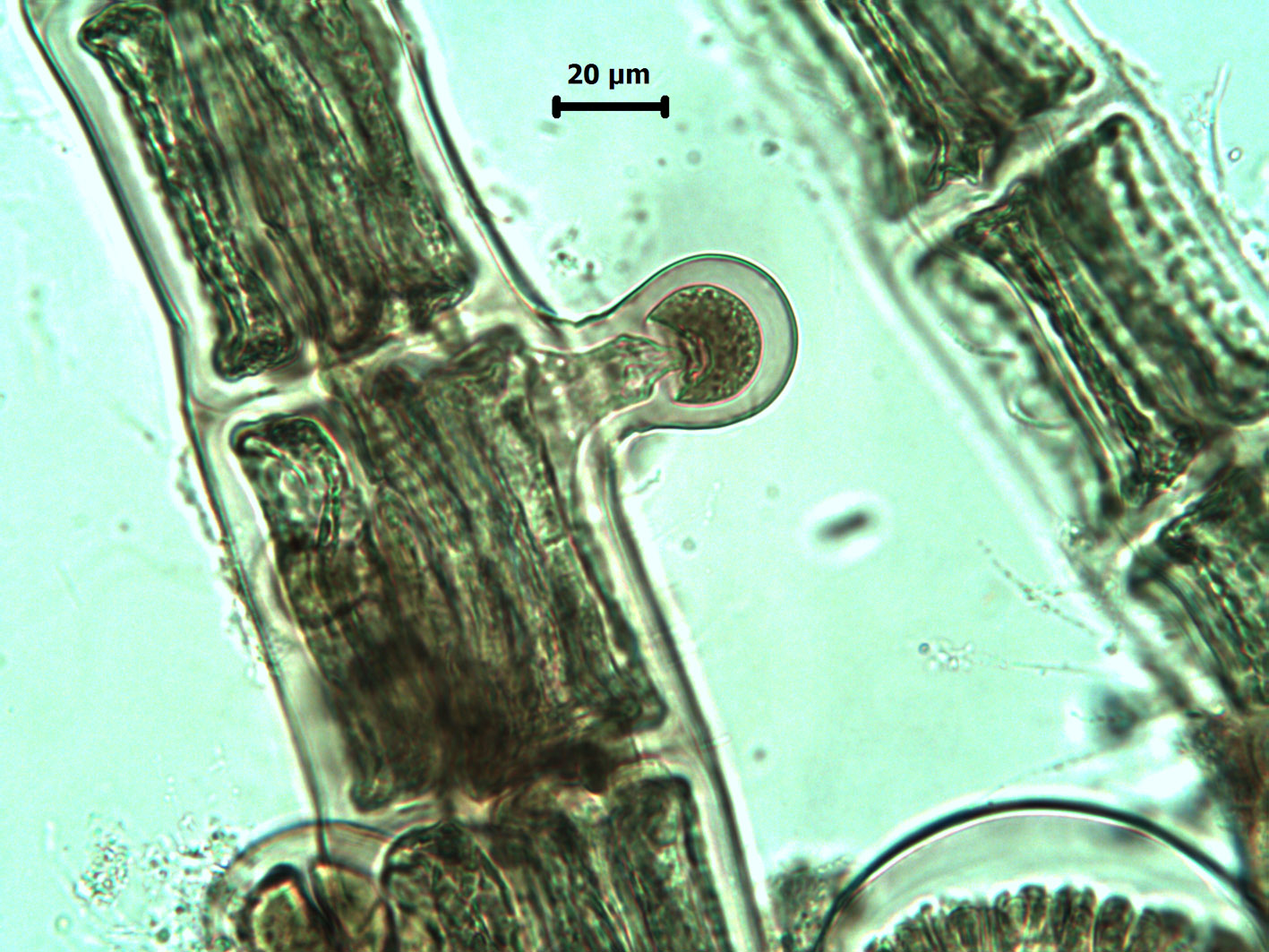 Ailocolax pulchellus, early stage of polysporangium development: apical cell of fertile axis emerging from P. scopulorum axis.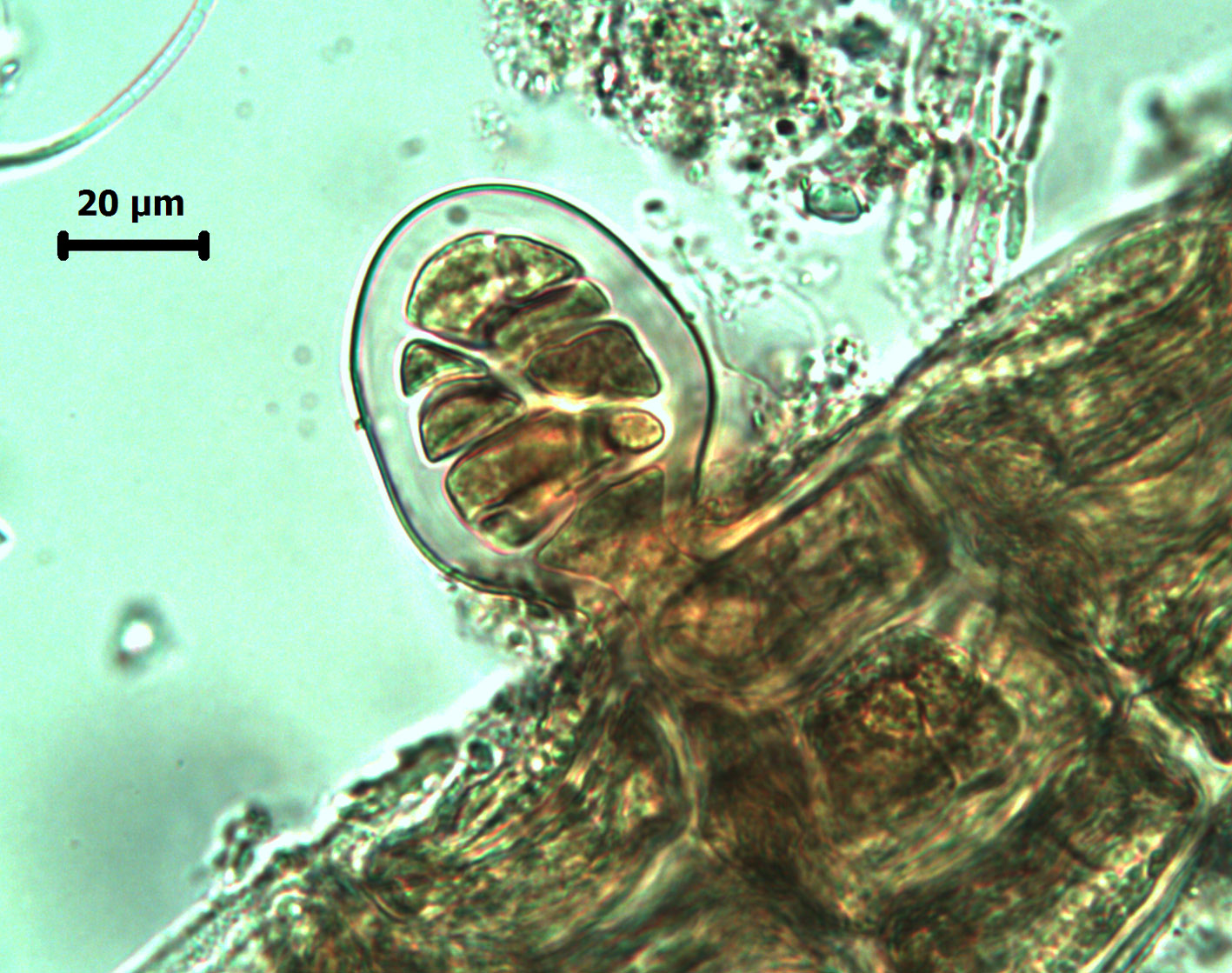 Ailocolax pulchellus, developing polysporangium (stained slide).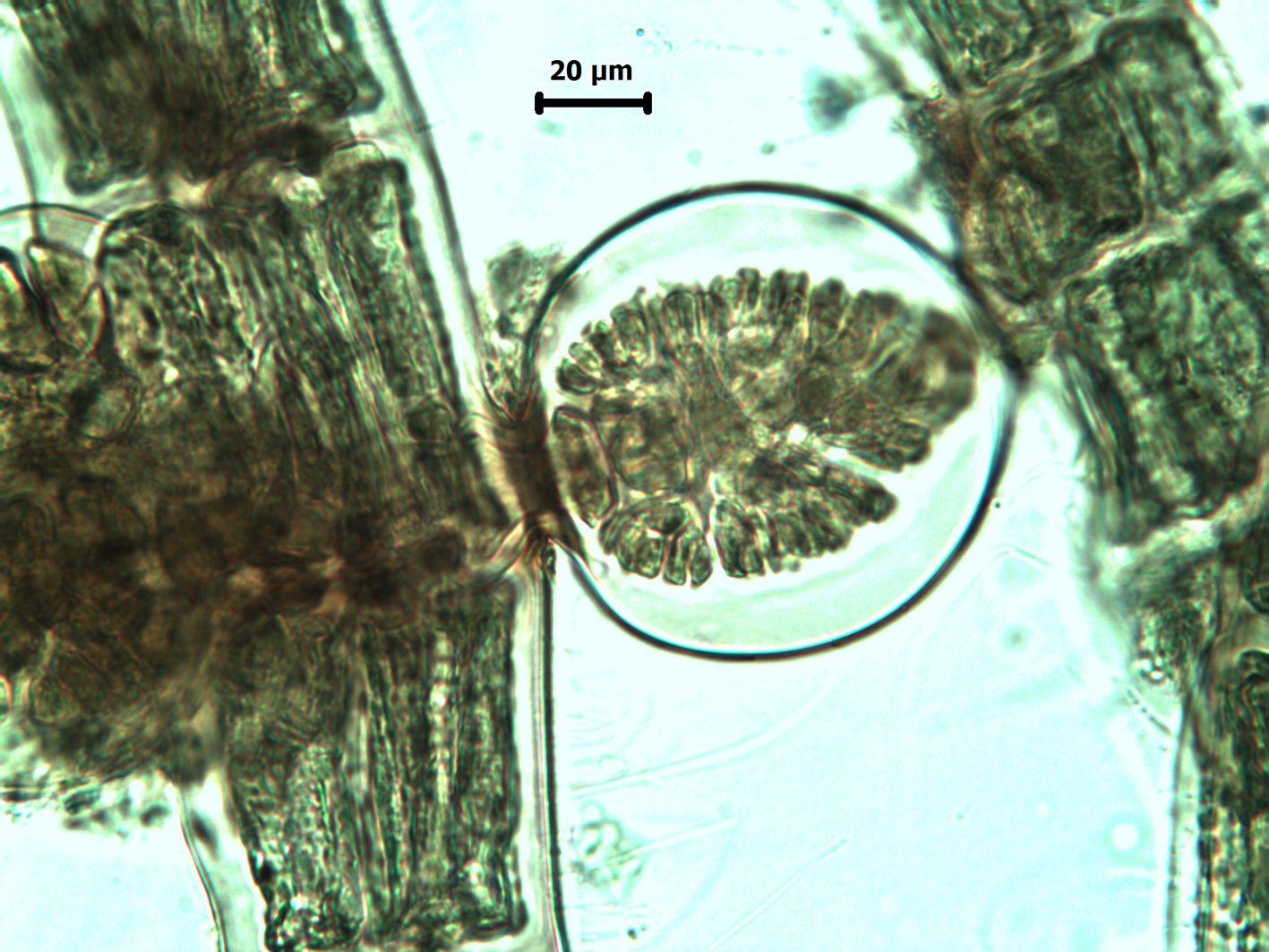 Ailocolax pulchellus, later stage of developing polysporangium (stained slide).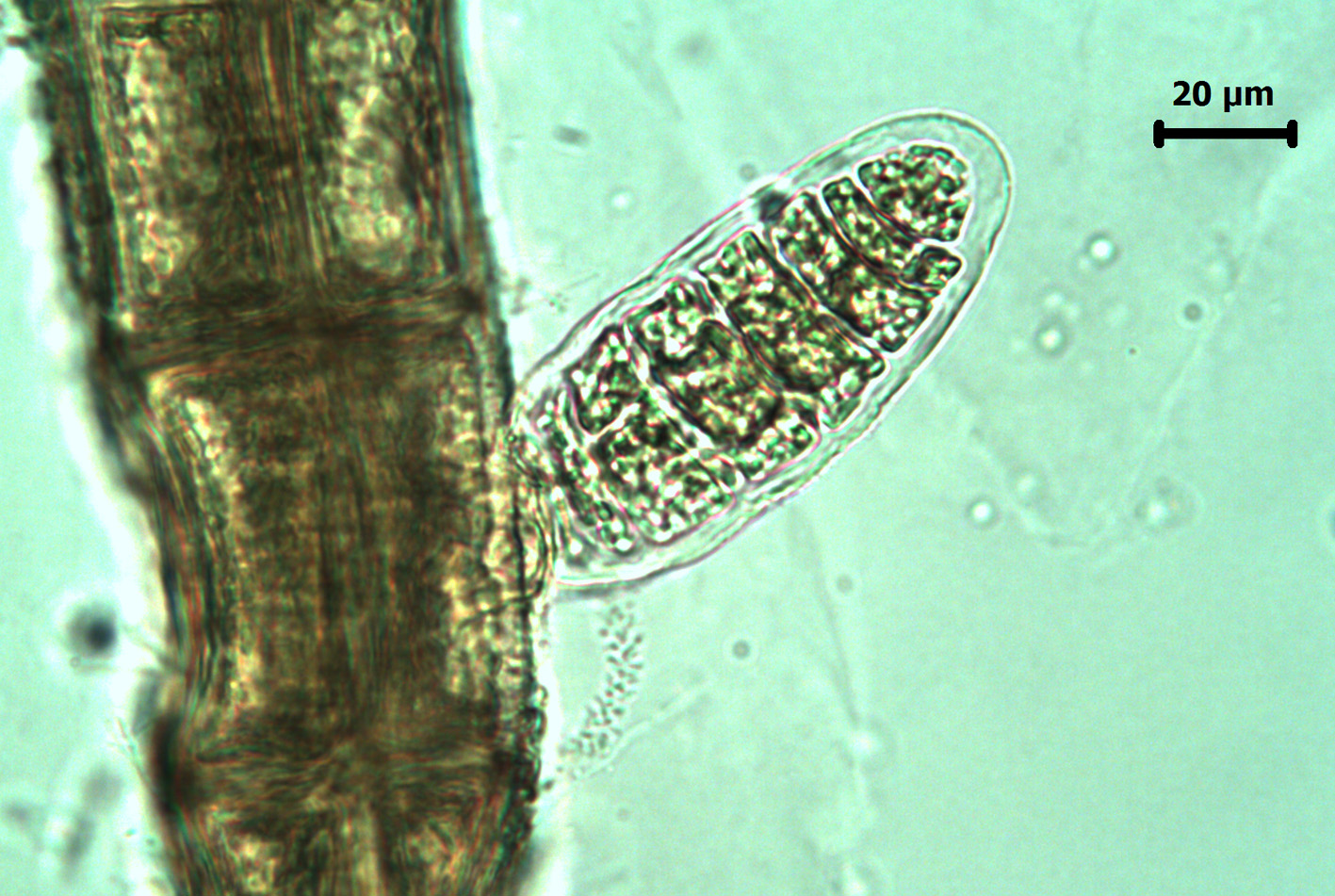 Ailocolax pulchellus, maturing polysporangium (stained slide).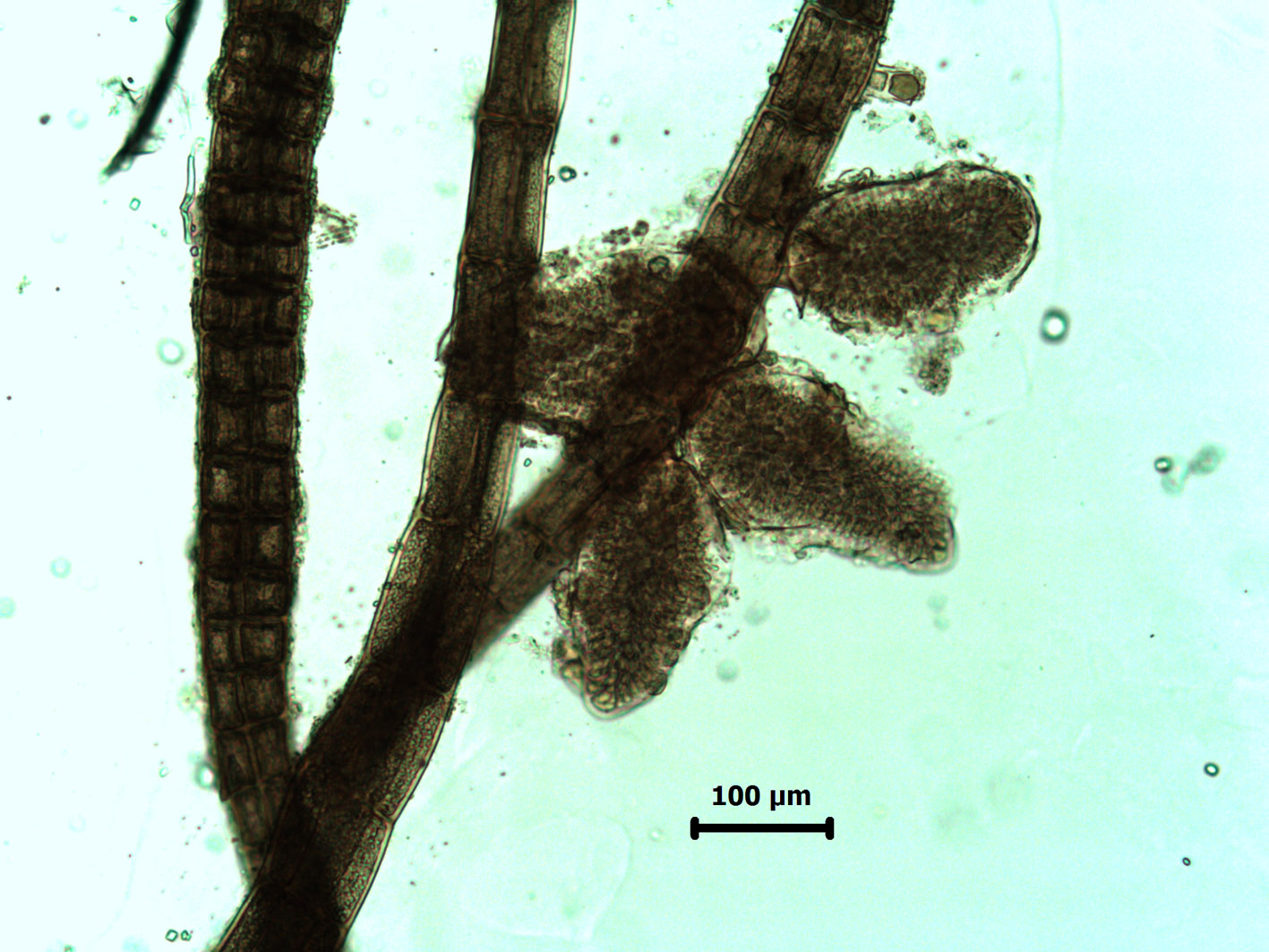 Ailocolax pulchellus, mature antheridia (stained slide).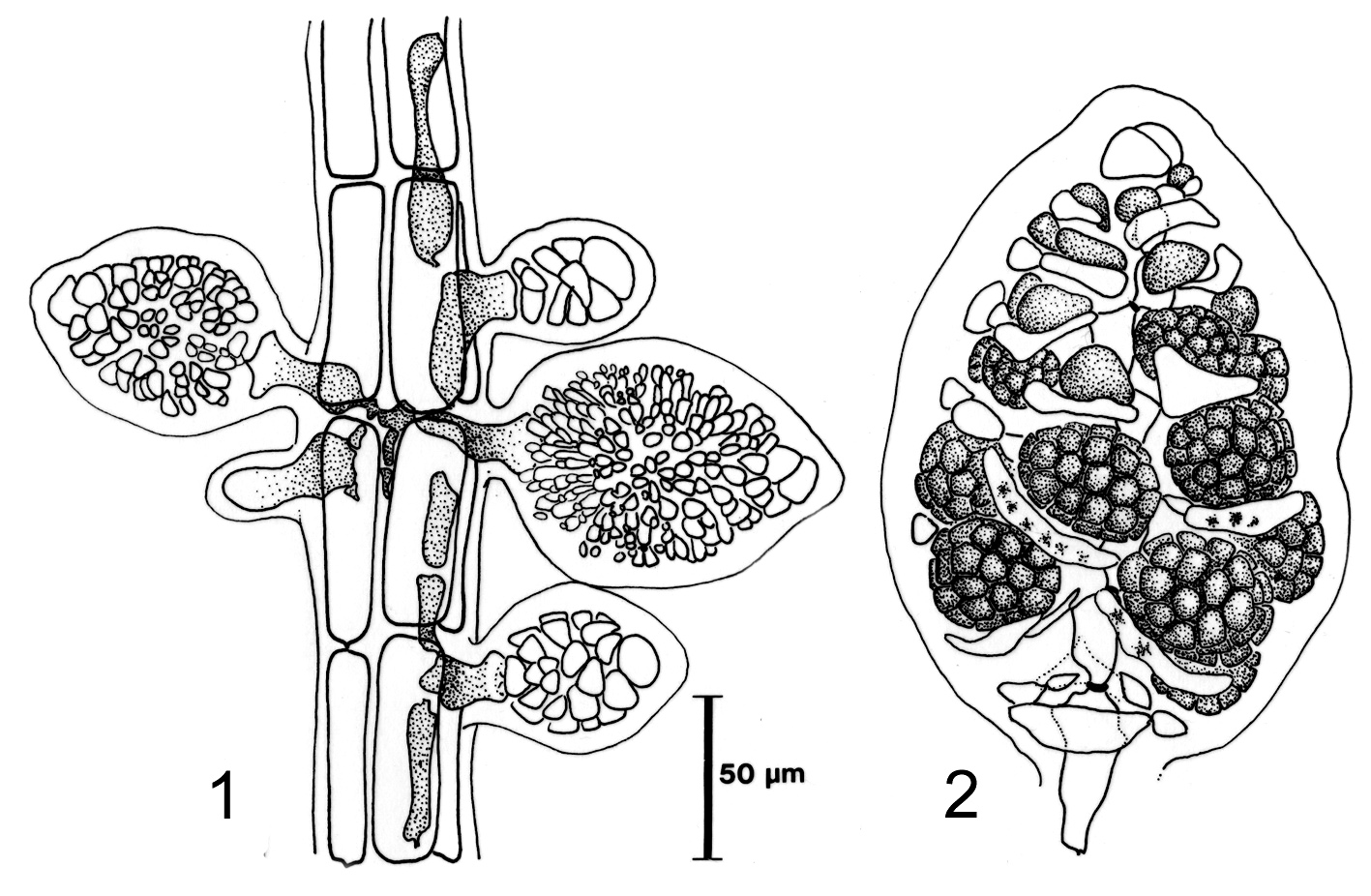 Ailocolax pulchellus. 1. Microscopic habit of fertile male plant. 2. Emergent part of sporophyte, with polysporangia. Reproduced from Stegenga et al. (1997).
References Aiolocolax
Guiry, M.D. & Guiry, G.M. 2010. AlgaeBase. World-wide electronic publication, National University of Ireland, Galway. http://www.algaebase.org; searched November 2010.
Pocock, M.A. 1956. South African parasitic Florideae and their hosts. 3. Four minute parasitic Florideae. Proceedings of the Linnean Society of London 167: 11-41, 6 figs, 6 plates.
Silva, P.C., Basson, P.W. & Moe, R.L. 1996. Catalogue of the benthic marine algae of the Indian Ocean. University of California Publications in Botany 79: 1-1259.
Stegenga, H., Bolton, J.J. & R. J. Anderson. 1997. Seaweeds of the South African west coast. Contributions from the Bolus Herbarium 18: 655 pp.
Cite this record as:
Anderson RJ, Stegenga H, Bolton JJ. 2016. Seaweeds of the South African South Coast.
World Wide Web electronic publication, University of Cape Town, http://southafrseaweeds.uct.ac.za; Accessed on 01 October 2023.