Order Corallinales
Family Corallinaceae
Sub-family Corallinoideae
Amphiroa anceps (Lamarck) Decaisne 1842: 125
Plants up to 7 (-10) cm tall, forming loose tufts, pink to grayish, with crustose holdfast bearing erect axes. Axes complanate, branching dichotomous to sometimes trichotomous. Genicula purple-black, fairly conspicuous but partly obscured by edges of intergenicula above, so that they are seldom visible as bands, but rather as dark oblongs. Intergenicula flattened, elongated rectangular, of fairly uniform width but very variable in size, 3-10 (-15) mm long and 0.5 – 3 (-4) mm wide, almost cylindrical basally becoming flattened distally, with sharp margins, apices of terminal segments often pale to white. Surfaces of axes smooth or with finely warty texture when fertile (then usually on one side of intergenicula). Branching from distal ends of most intergenicula, seldom from margins: distal shoulders of intergenicula seldom extending beyond genicula.
Collections, ecology and regional distribution
Growing on rock from lower eulittoral (often hanging on sides of gulleys) to at least 30 m depth. Found from Stilbaai to northern KwaZulu-Natal (26-58).
World distribution: Recorded from tropical and warm temperate localities in western Pacific, Indian Ocean, western Atlantic and Australia (Guiry & Guiry 2014).
Type locality: Norfolk Island, Pacific.
Note: In the DNA barcoding study of Kogame et al. (2017), the three South African specimens identified morphologically as A. anceps formed a clear clade.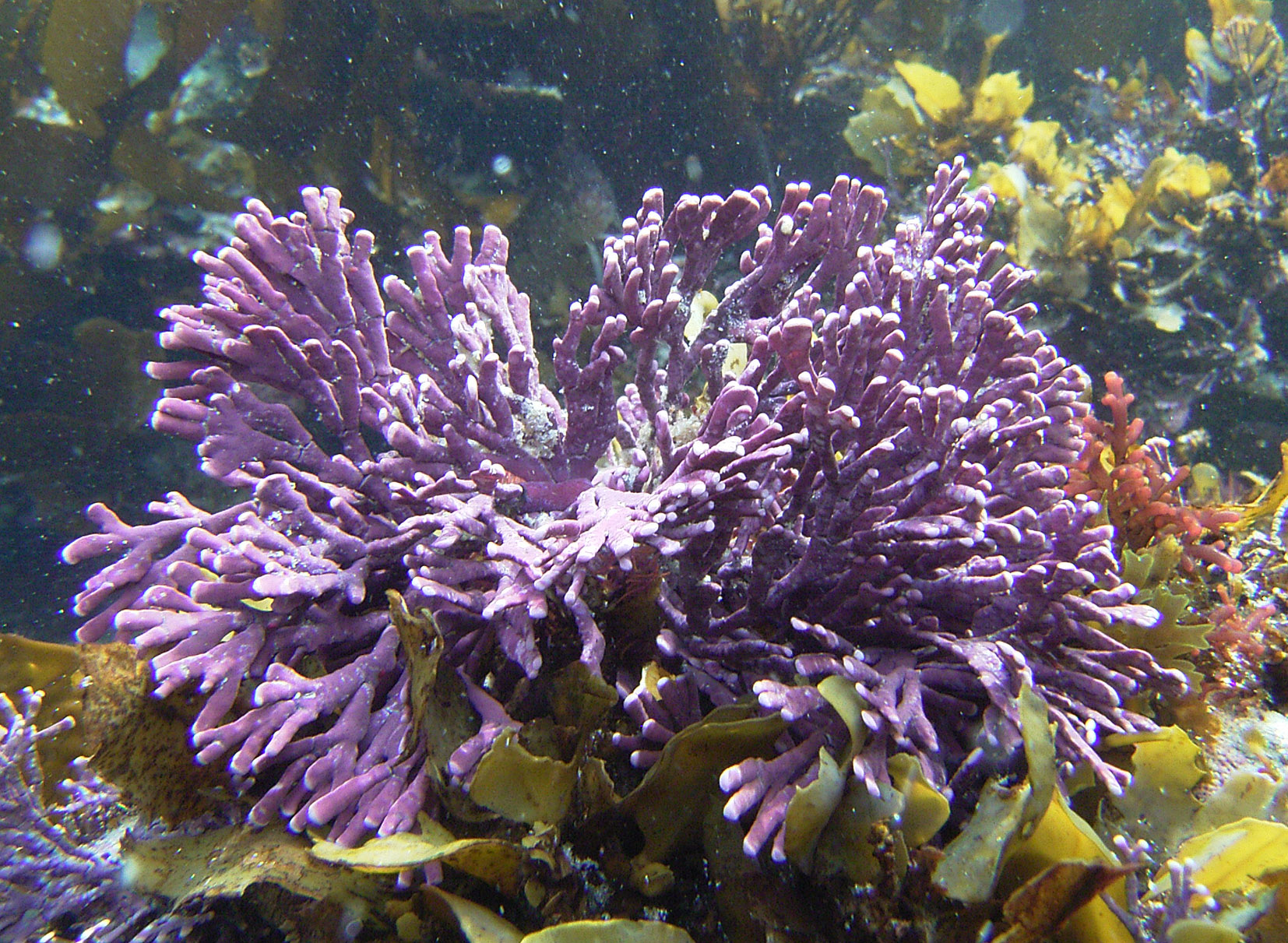 Amphiroa anceps, De Hoop.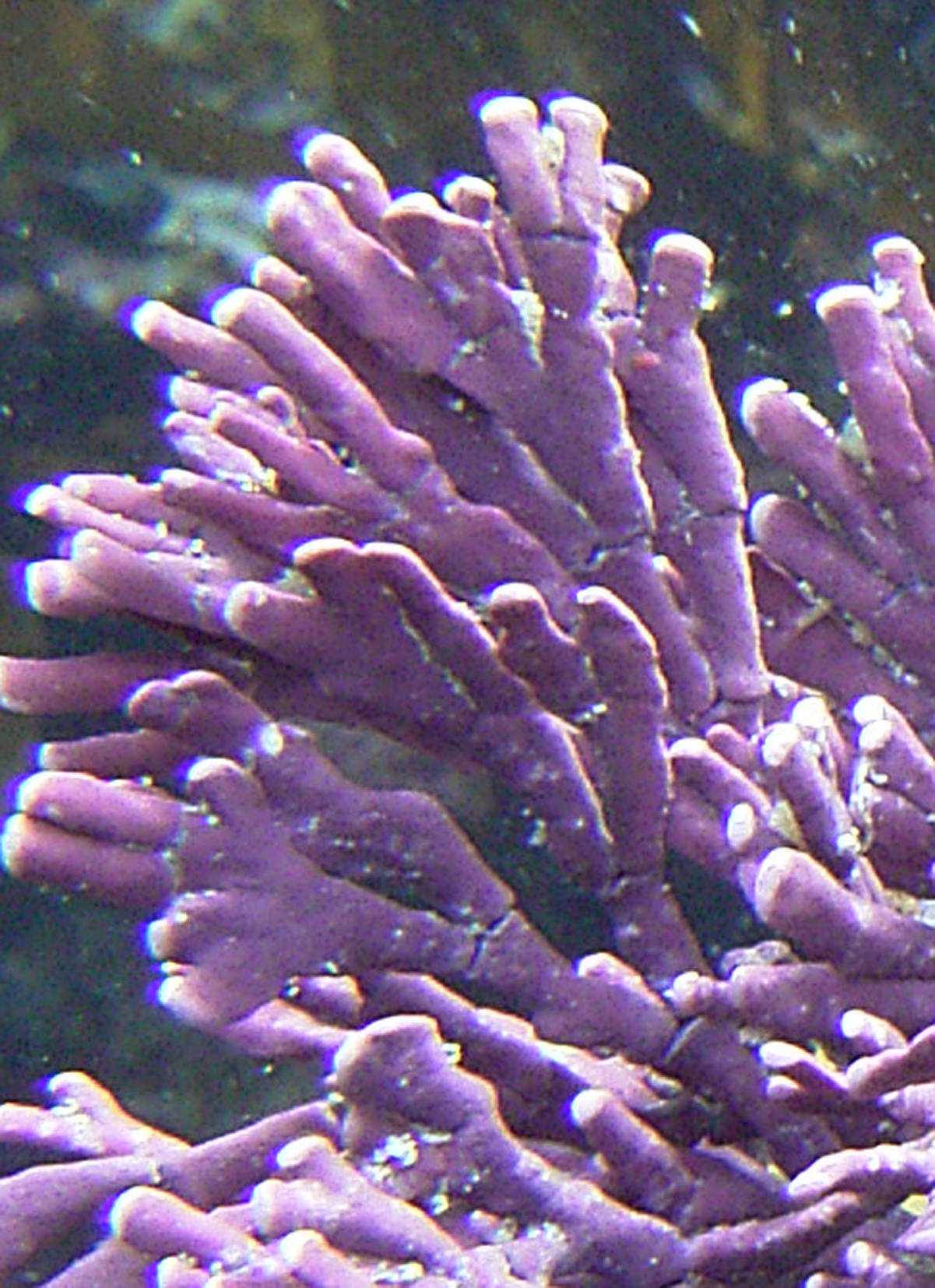 Amphiroa anceps, detail of shape.
References Amphiroa anceps
Decaisne, J. 1842. Mémoires sur les corallines ou polypiers calcifères. Annales des Sciences Naturelles, Botanique, Série 2 16: 85-120.
Guiry, M.D. & Guiry, G.M. 2014. AlgaeBase. World-wide electronic publication, National University of Ireland, Galway. http://www.algaebase.org; searched May 2014.
Kogame, K., Uwai, S., Anderson, R.J., Choi, H-G & J.J. Bolton. 2017. DNA barcoding of South African geniculate coralline red algae (Corallinales, Rhodophyta). South African Journal of Botany 108: 337-341.
Cite this record as:
Anderson RJ, Stegenga H, Bolton JJ. 2016. Seaweeds of the South African South Coast.
World Wide Web electronic publication, University of Cape Town, http://southafrseaweeds.uct.ac.za; Accessed on 25 September 2023.