Order Corallinales
Family Corallinaceae
Sub-family Corallinoideae
Amphiroa ephedraea (Lamarck) Decaisne 1842: 124
Plants pink to grayish-pink, forming large bushes up to 30 cm tall attached by crustose holdfast. Genicula very prominent, up to 2 mm long, visible as purple to black bands. Intergenicula cylindrical to slightly flattened, fairly uniform in width, up to 7 mm long and 0.5 – 2 (-3) mm in diameter. Branching regular, dichotomous to (rarely) trichotomous from ends of intergenicula or sometimes from margins. Reproductive structures in hemispherical conceptacles (about 0.5 mm diameter) on surfaces of intergenicula, imparting warty appearance.
Collections, ecology and regional distribution
Common and often abundant on the south coast. Occurs from Cape Hangklip to Mozambique (De Clerck et al. 2005) (19-58). Epilithic from subtidal fringe to at least 34 m depth, also in rock pools where there is much water movement.
World distribution: Also recorded from Madagascar, Tanzania, and several tropical Indo-Pacific locations (Guiry & Guiry 2014) as well as Gambia in West Africa (Price, John and Lawson 1986).
Type locality: Australia: "les mers Australes ou de la Nouv. Holl." (Silva et al. 1996).
Notes: 1. Details of the reproductive structure are described by Johansen (1986).
2. This was among the South African species examined in the DNA barcoding study of Kogame et al. (2017), and formed a distinct clade.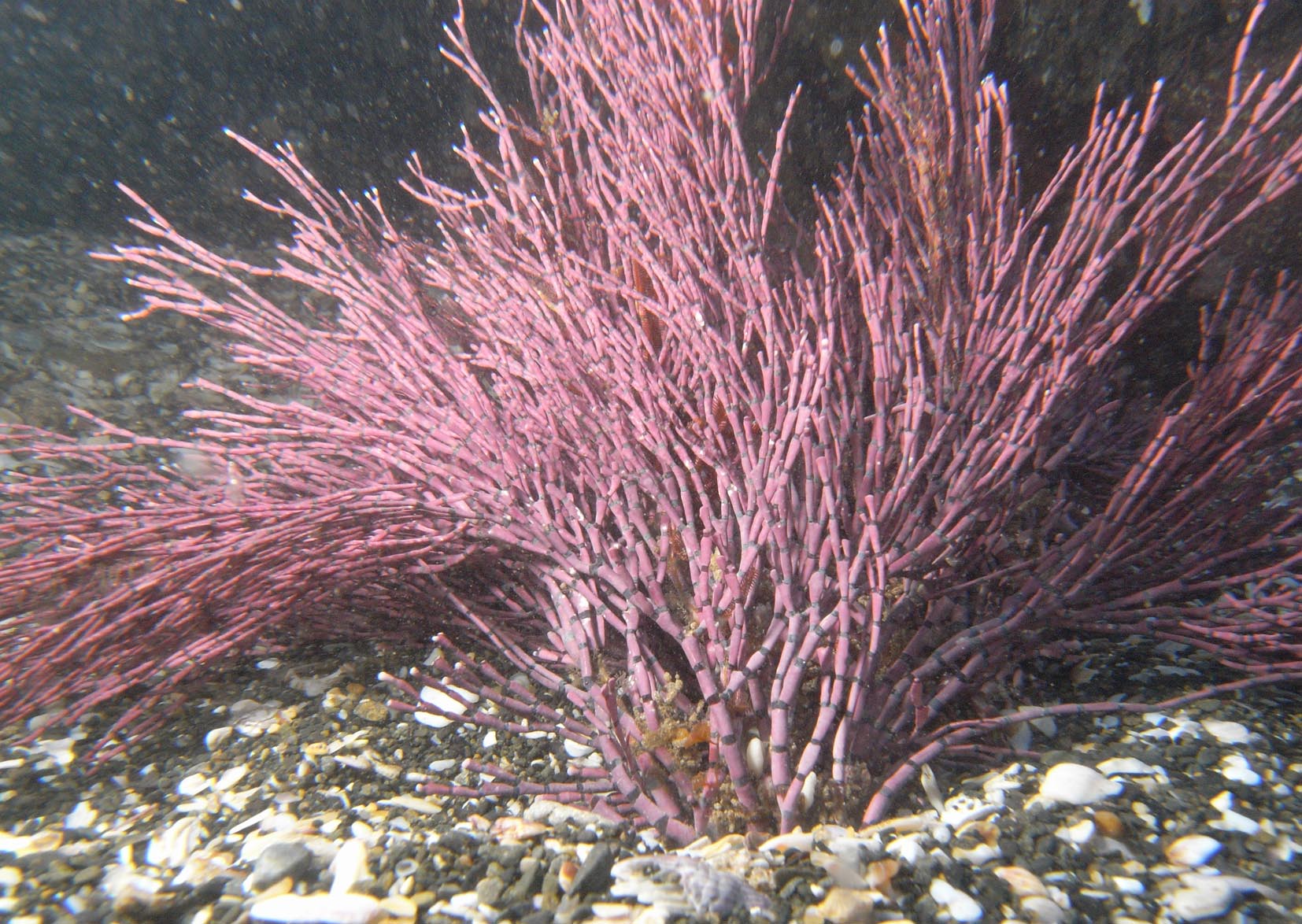 Amphiroa ephedraea, Qologha.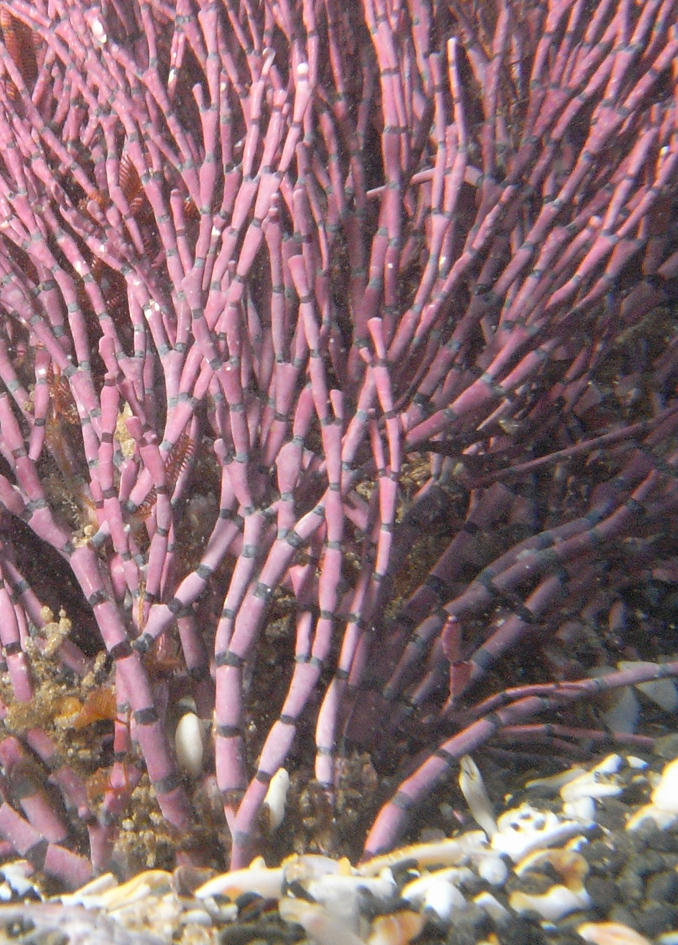 Amphiroa ephedraea, showing distinct genicula.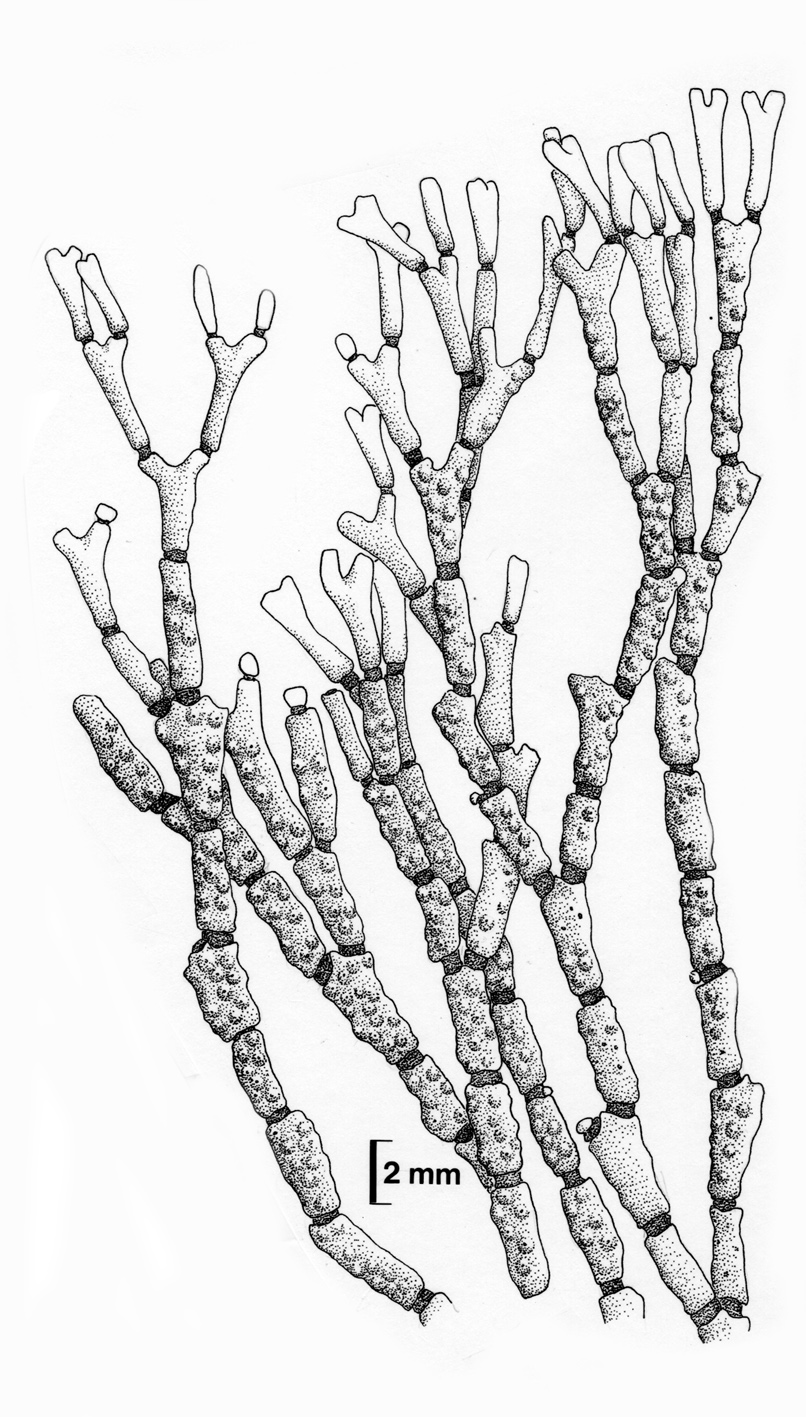 Amphiroa ephedraea. Reproduced from Stegenga et al. (1997).
References Amphiroa ephedraea
Decaisne, J. (1842). Mémoires sur les corallines ou polypiers calcifères. Annales des Sciences Naturelles, Botanique, Série 2 16: 85-120.
De Clerck, O, Tronchin, E. M., Schils, T. 2005. Red algae. In: De Clerck, O., J.J. Bolton, R. J. Anderson and E. Coppejans, 2005. Guide to the Seaweeds of Kwazulu-Natal. National Botanic Garden of Belgium, Brussels (Scripta Botanica Belgica), pp. 130-269.
Guiry, M.D. & Guiry, G.M. 2014. AlgaeBase. World-wide electronic publication, National University of Ireland, Galway. http://www.algaebase.org; searched May 2014.
Johansen, H.W. (1968). Reproduction of the articulated coralline Amphiroa ephedraea. Journal of Phycology 4: 319-328, 26 figs.
Kogame, K., Uwai, S., Anderson, R.J., Choi, H-G. & J.J. Bolton. 2017. DNA barcoding of South African geniculate coralline red algae (Corallinales, Rhodophyta). South African Journal of Botany 108: 337-341.
Price, J.H., John, D.M. & Lawson, G.W. 1986. Seaweeds of the western coast of tropical Africa and adjacent islands: a critical assessment. IV. Rhodophyta (Florideae). 1. Genera A-F. Bulletin of the British Museum (Natural History) Botany 15: 1-122, 1 fig.
Silva, P.C., Basson, P.W. & Moe, R.L. 1996. Catalogue of the benthic marine algae of the Indian Ocean. University of California Publications in Botany 79: 1-1259.
Stegenga, H., Bolton, J.J. and R. J. Anderson. 1997. Seaweeds of the South African west coast. Contributions from the Bolus Herbarium 18: 655 pp.
Cite this record as:
Anderson RJ, Stegenga H, Bolton JJ. 2016. Seaweeds of the South African South Coast.
World Wide Web electronic publication, University of Cape Town, http://southafrseaweeds.uct.ac.za; Accessed on 01 October 2023.