Order Ceramiales
Family Ceramiaceae
Antithamnion hubbsii E.Y. Dawson 1962: 16, pl. 5: fig. 2; pl. 6: fig. 3
Plants differentiated into creeping filaments and erect filaments up to 6 mm high, little differing in cell size. Creeping filaments attached by multicellular rhizoids arising from the basal cell of laterals. Erect axes with pairs of branches, neatly in one plane, consisting of a main axis, the basal cell of which remains short and undivided, the next 6-8 segments with two opposite ramuli (often rebranched), the next 1-4 segments with a single abaxial branchlet, the top segments unbranched. Branchlets of limited growth to ca. 500 µm long, about 150 µm wide. Gland cells absent. Tetrasporangia implanted on the basal cell of some second-order ramuli, measuring ca. 75 x 50 µm, as a rule cruciately divided. Other reproductive structures not observed in South Africa.
Collections, ecology and regional distribution
On the African south coast known only from a single collection at the Xora River mouth, Transkei (collected by RJQ Tarr, May 1999).
World distribution: scattered temperate and tropical localities around the world (Guiry & Guiry 2015).
Type locality: Baja California, Mexico (Silva et al. 1996).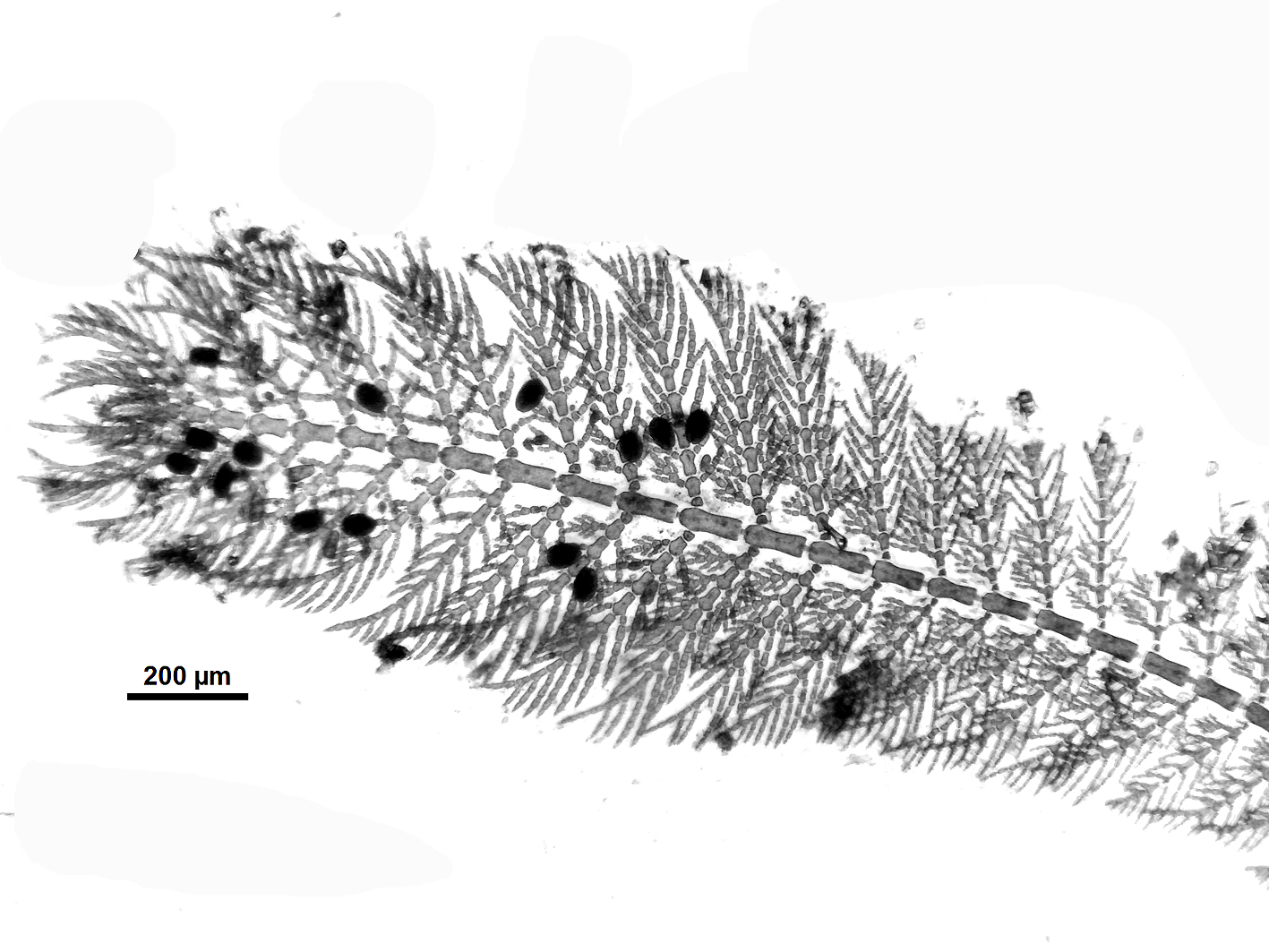 Antithamnion hubbsii, single erect axis of stained specimen. Dark ovoid shapes are tetrasporangia.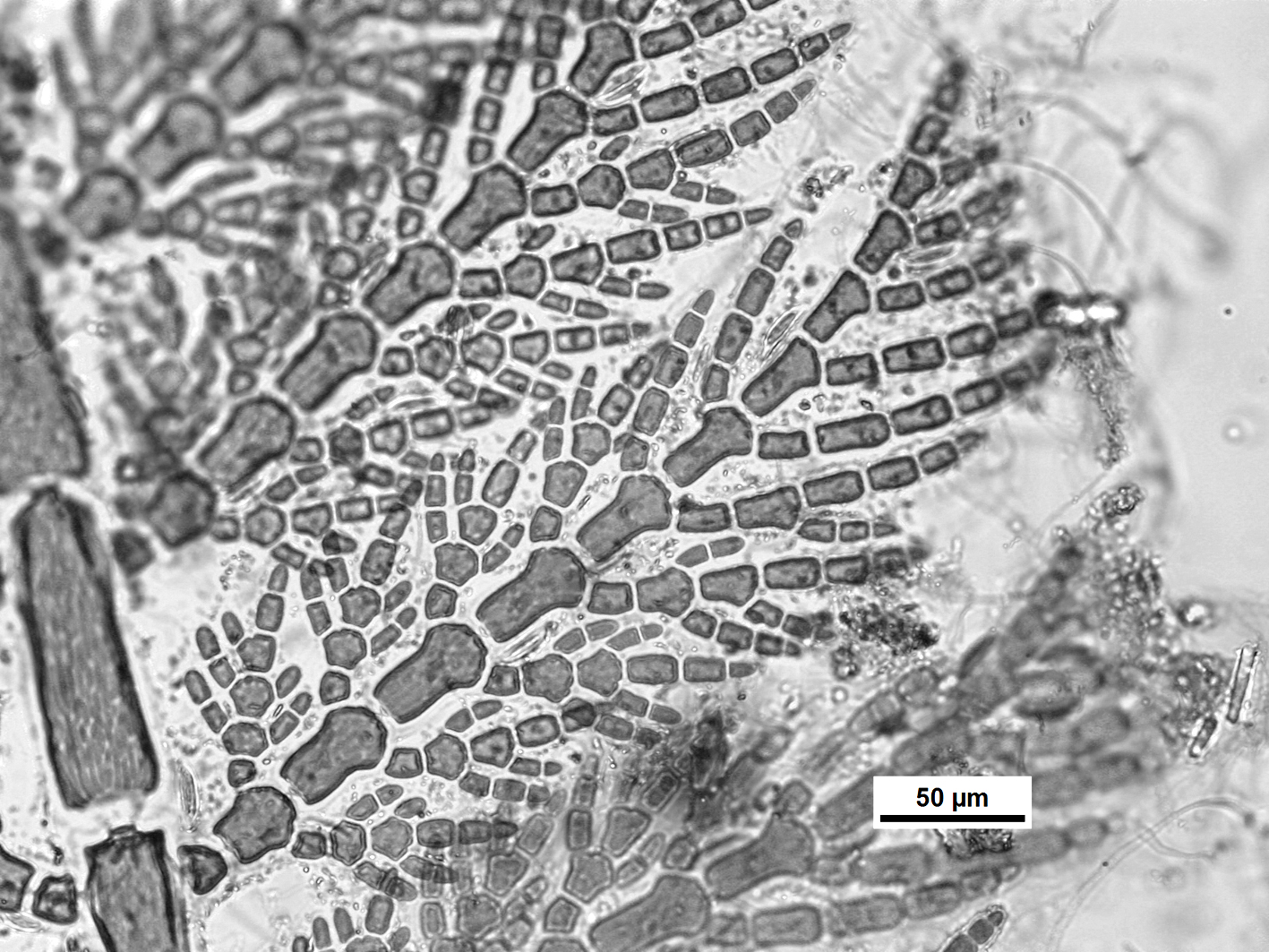 Antithamnion hubbsii, branches arising from main axis, stained specimen.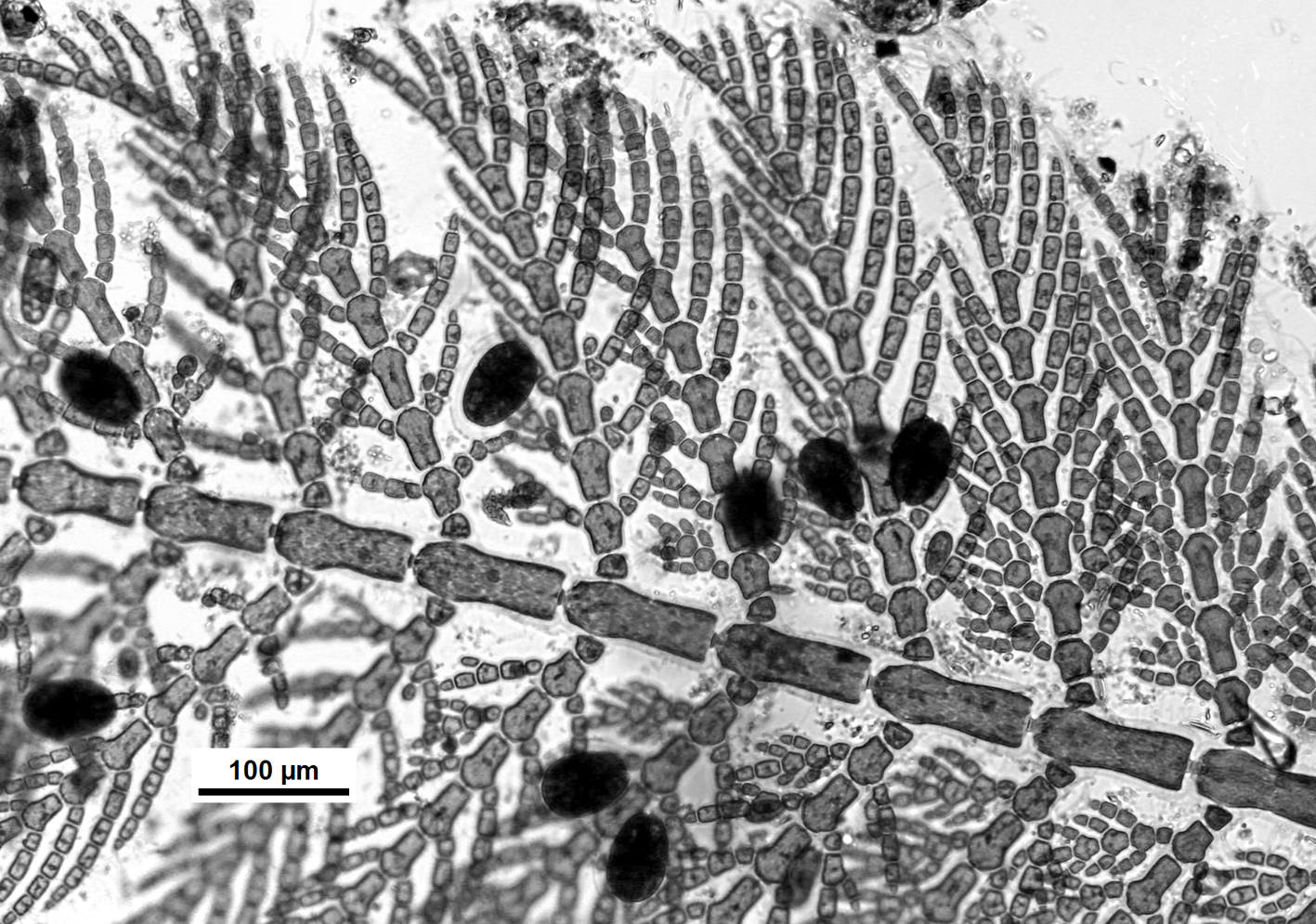 Antithamnion hubbsii, part of single erect axis, with tetrasporangia, stained specimen.
References Antithamnion hubbsii
Dawson, E.Y. 1962. Marine red algae of Pacific Mexico. Part 7. Ceramiales: Ceramiaceae, Delesseriaceae. Allan Hancock Pacific Expeditions 26: 1-207, 50 plates.
Guiry, M.D. & Guiry, G.M. 2015. AlgaeBase. World-wide electronic publication, National University of Ireland, Galway. http://www.algaebase.org; searched on 15 September 2015.
Silva, P.C., Basson, P.W. & Moe, R.L. 1996. Catalogue of the benthic marine algae of the Indian Ocean. University of California Publications in Botany 79: 1-1259.
Cite this record as:
Anderson RJ, Stegenga H, Bolton JJ. 2016. Seaweeds of the South African South Coast.
World Wide Web electronic publication, University of Cape Town, http://southafrseaweeds.uct.ac.za; Accessed on 21 September 2023.