Order Ceramiales
Family Ceramiaceae
Antithamnionella spirographidis (Schiffner) E.M. Wollaston 1968: 345, fig. 29
Plants with a faint difference between prostrate and erect parts, the latter up to ca. 1 cm high. Basal axes to ca. 75 µm in diameter, the cells to ca. 250 µm long. Majority of the cells with two opposite (sometimes three) branchlets, the latter usually unbranched and up to 15 cells long. Basal cell of the branchlets not significantly shorter than the other cells. Older branchlets often remarkably incurved. Frequently branched axes with alternating indeterminate branches every third segment. Gland cells more of less frequent, usually on the second – sometimes third - cell of the branchlets, ca. 15 µm in largest diameter.
Tetrasporangia singly on the first (and second) cell(s) of the determinate branchlets – occasionally further segments with sporangia, at maturity ca. 60 x 37 µm, tetrahedrally divided. Male stands on a number of consecutive cells of the determinate branchlets, one or two stands per cell, consisting of a central axis of about 3 cells, each bearing a few spermatangia. Female fertile axis two-celled, the carposporophyte developing on the basal cell; although the branch that develops the female structure seems to continue growing, most growth occurs in the indeterminate branch from the segment below. About three gonimolobes of different ages are visible at any time, each with simultaneous ripening of the carpospores. Ripe gonimolobes ca. 200 µm in diameter, carpospores ca. 30 µm in largest diameter.
Collections, ecology and regional distribution
A plant only found: on the south coast in the Kowie estuary, on the west coast at Kraalbaai (Langebaan Lagoon), implying a distribution between these sites (13-39?). In Europe this species is regarded as an (Australian) introduction, and it may have the same status in South Africa.
World distribution: widespread in temperate seas (Guiry & Guiry 2015).
Type locality: Type locality: Trieste, Italy (Womersley 1998).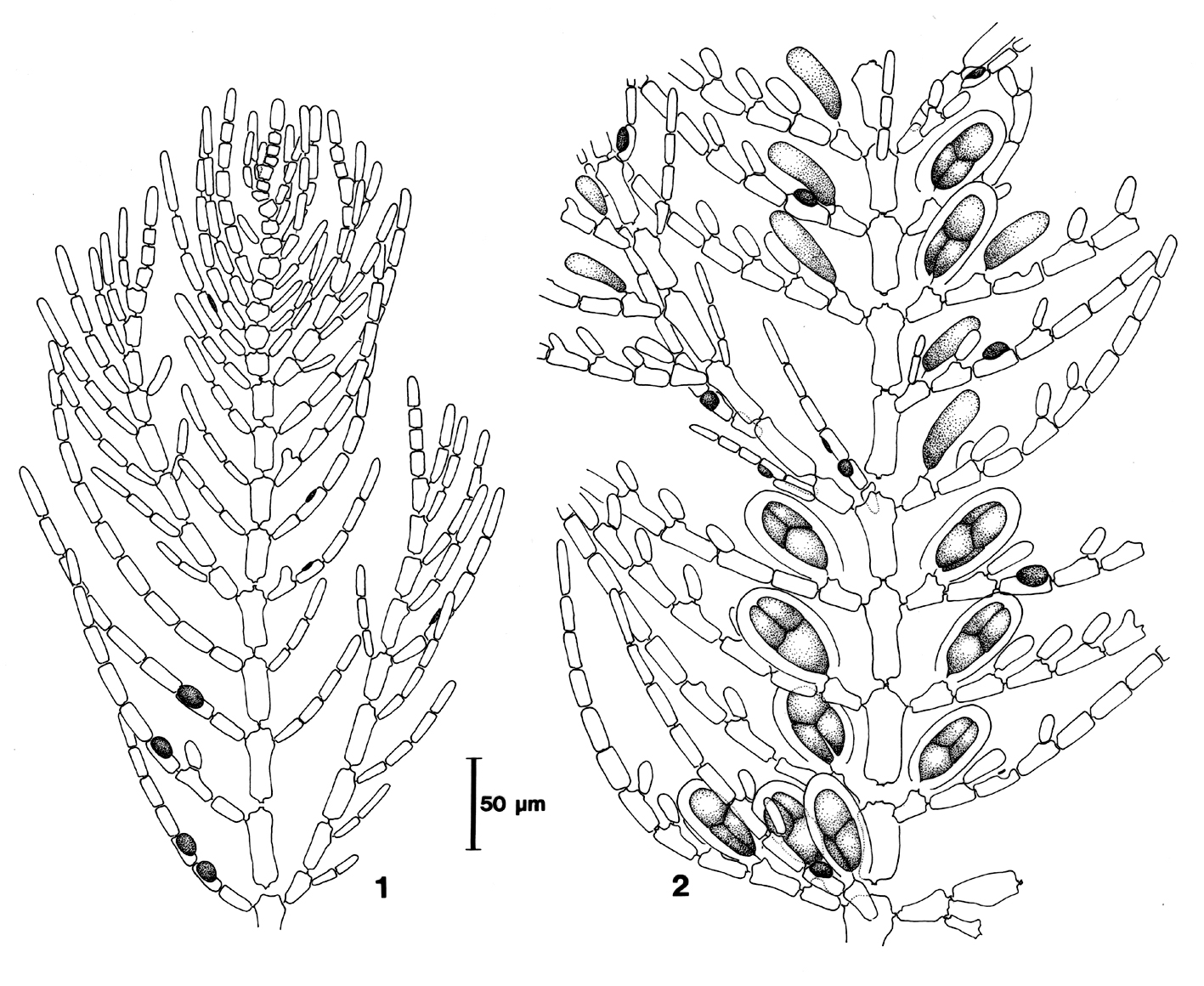 Antithamnionella spirographidis. 1. Thallus apex. 2. Detail with tetrasporangia. Reproduced from Stegenga et al. (1997).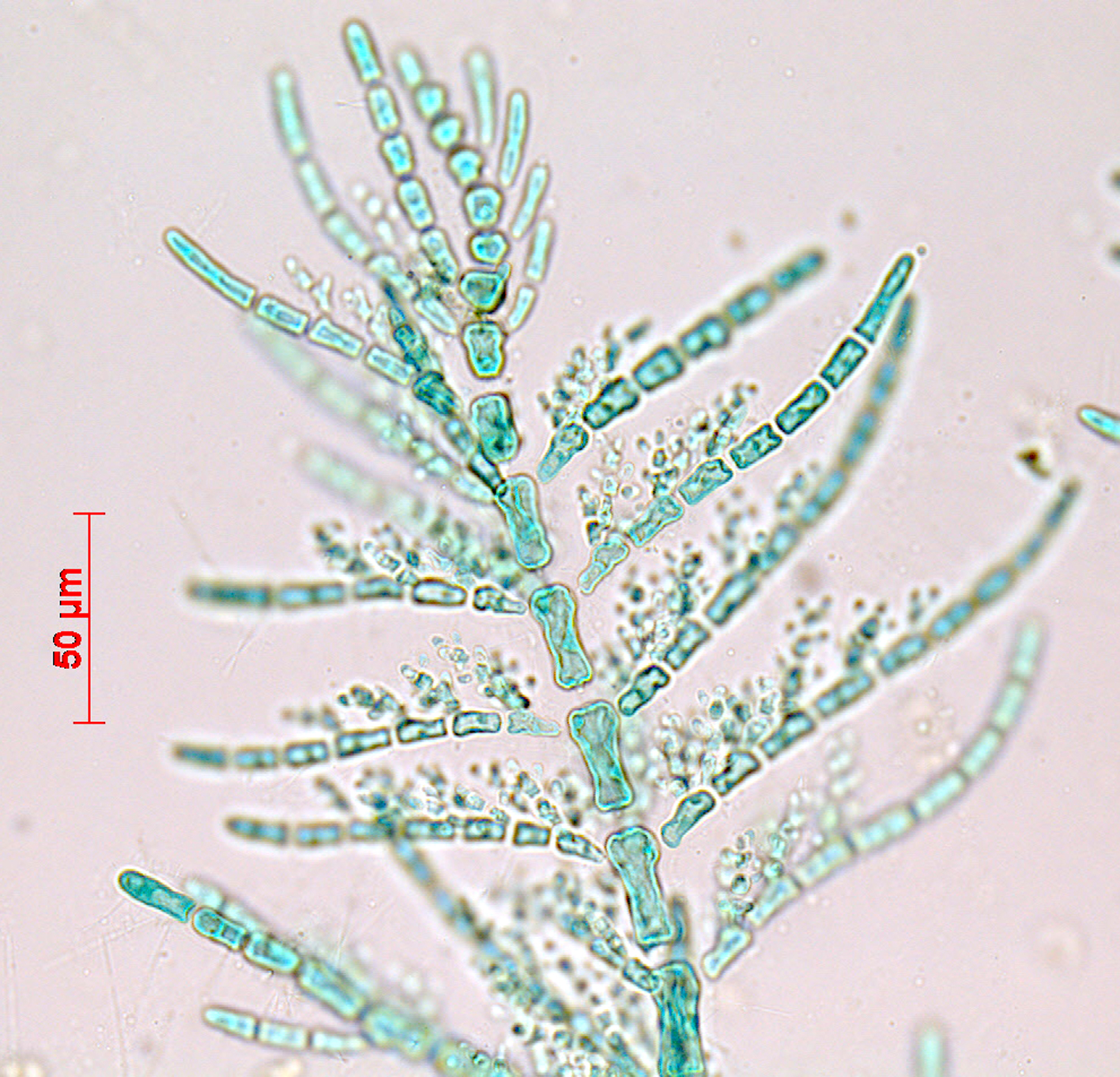 Antithamnionella spirographidis. Male plant, Kowie (stained slide).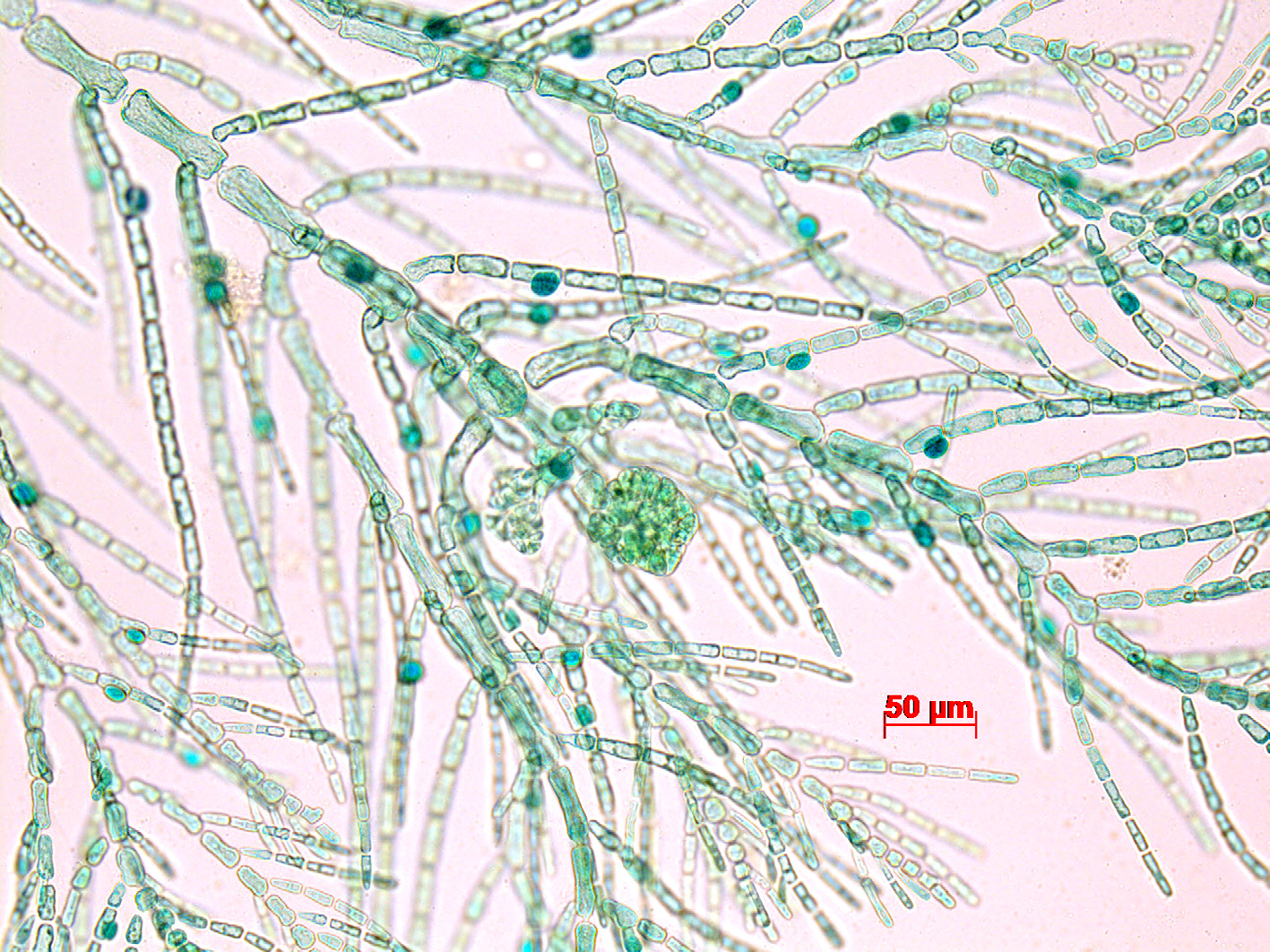 Antithamnionella spirographidis. Female with young carposporophyte, Kowie (stained slide).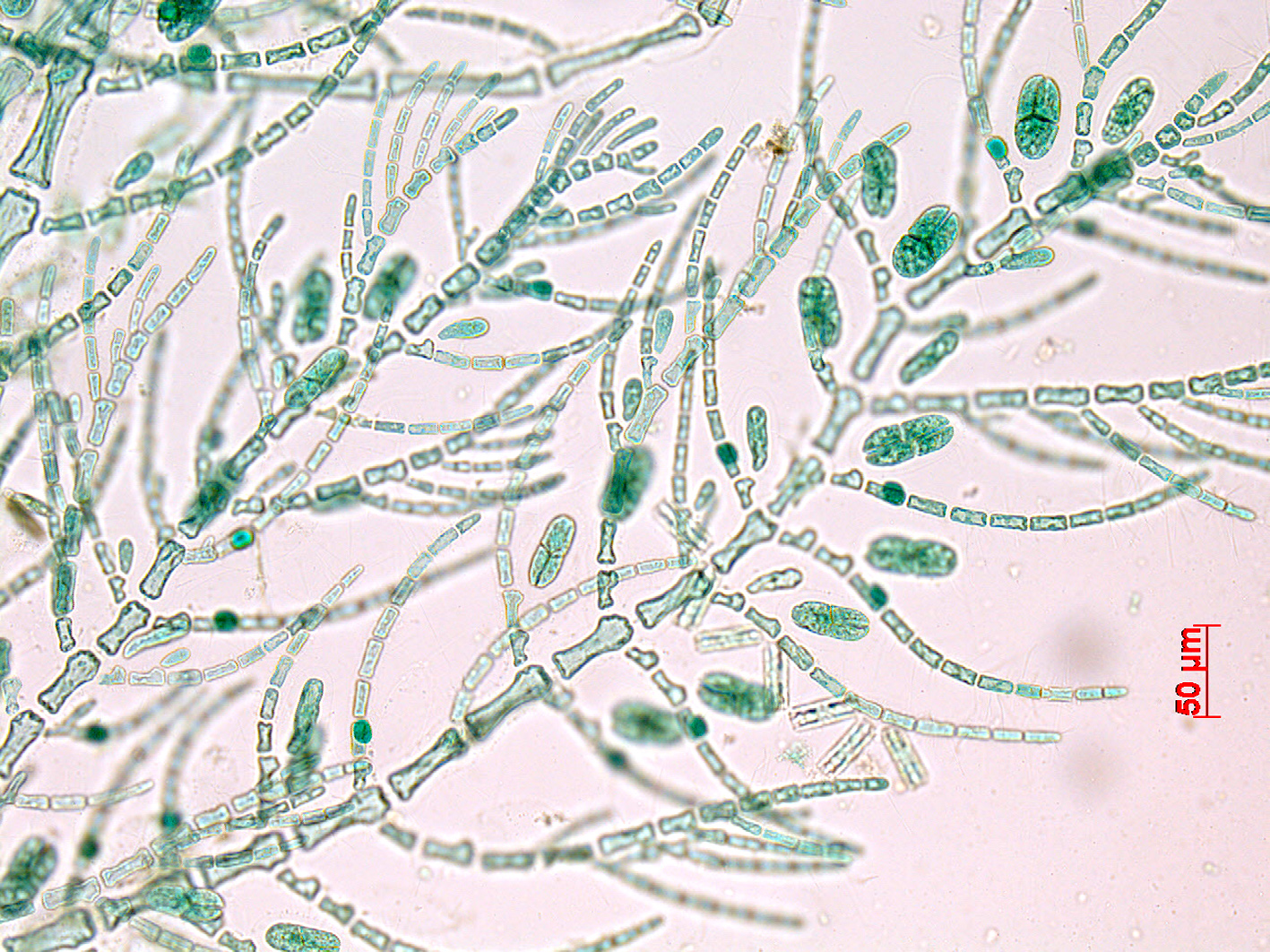 Antithamnionella spirographidis. Tetrasporangial plant, Kowie (stained slide).
References Antithamnionella spirographidis
Guiry, M.D. & Guiry, G.M. 2015. AlgaeBase. World-wide electronic publication, National University of Ireland, Galway. http://www.algaebase.org; searched on 16 September 2015.
Stegenga, H., Bolton, J.J. & R. J. Anderson. 1997. Seaweeds of the South African west coast. Contributions from the Bolus Herbarium 18: 655 pp.
Wollaston, E.M. 1968. Morphology and taxonomy of Southern Australian genera of Crouanieae Schmitz (Ceramiaceae, Rhodophyta). Australian Journal of Botany 16: 217-417, 42 figs, 1 table, 10 plates.
Womersley, H.B.S. 1998. The marine benthic flora of southern Australia - Part IIIC. Ceramiales - Ceramiaceae, Dasyaceae. pp. 535. Canberra & Adelaide: Australian Biological Resources Study & State Herbarium of South Australia.
Cite this record as:
Anderson RJ, Stegenga H, Bolton JJ. 2016. Seaweeds of the South African South Coast.
World Wide Web electronic publication, University of Cape Town, http://southafrseaweeds.uct.ac.za; Accessed on 25 September 2023.