Order Ceramiales
Family Ceramiaceae
Antithamnionella ternifolia (J.D.Hooker & Harvey) Lyle 1922: 350
Plants with creeping axes and erect apices up to 1.5 mm long (apparently longer in the Western Cape). Each cell of the main axis with 3 (or 4) laterals, the latter usually unbranched and up to ca. 12 cells long, often with a gland cell on the third to fifth cell, the latter ca. 15 µm in largest diameter and strongly flattened (occasionally, laterals have one to three adaxial branches). Indeterminate branches replacing one of the determinate branches, given off every third segment. Cells ca. 40 µm in maximum diameter, 2-3 times as long as broad. Rhizoids present on the basal cell of older branchlets, up to three per segment. The material from the south coast is smaller than reported from the west coast (as A. tasmanica –see Stegenga et al. 1997).
Tetrasporangia on the first (or first two) cells of the determinate branchlets, measuring 40x35 µm, tetrahedrally divided. Male stands not seen in south coast material although Stegenga et al. (1997) state that the species is monoecious (as A. tasmanica). Carposporophytes with up to 4 gonimolobes, at maturity ca. 100 µm in diameter, per lobe ripening simultaneously: carpospores up to 30 µm in diameter.
Collections, ecology and regional distribution
Recorded from False Bay to Port Alfred (17-39). Rare, epilithic or epiphytic/epizoic; most records from material washed ashore on mussel shells, Pyura tests, etc.).
World distribution: Widespread in temperate and tropical waters (Guiry & Guiry 2015).
Type locality: St Martin's Cove, Cape Horn, Chile (Ricker 1987).
Note: We have included in A. ternifolia the entity previously referred to A. tasmanica.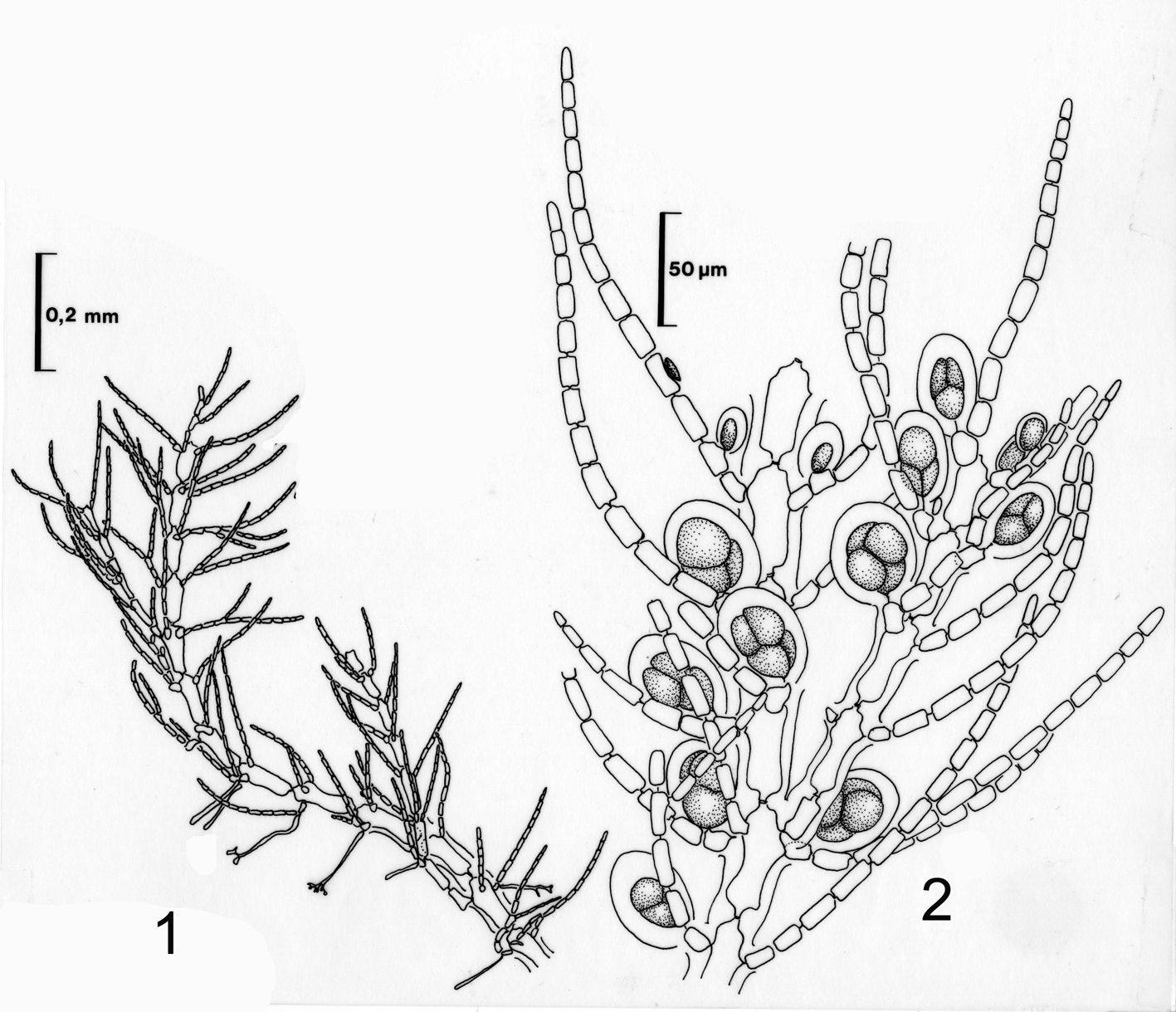 Antithamnionella ternifolia. 1. Detail of main axis and whorl branches. 2. Tetrasporangia. Reproduced from Stegenga et al. (1997).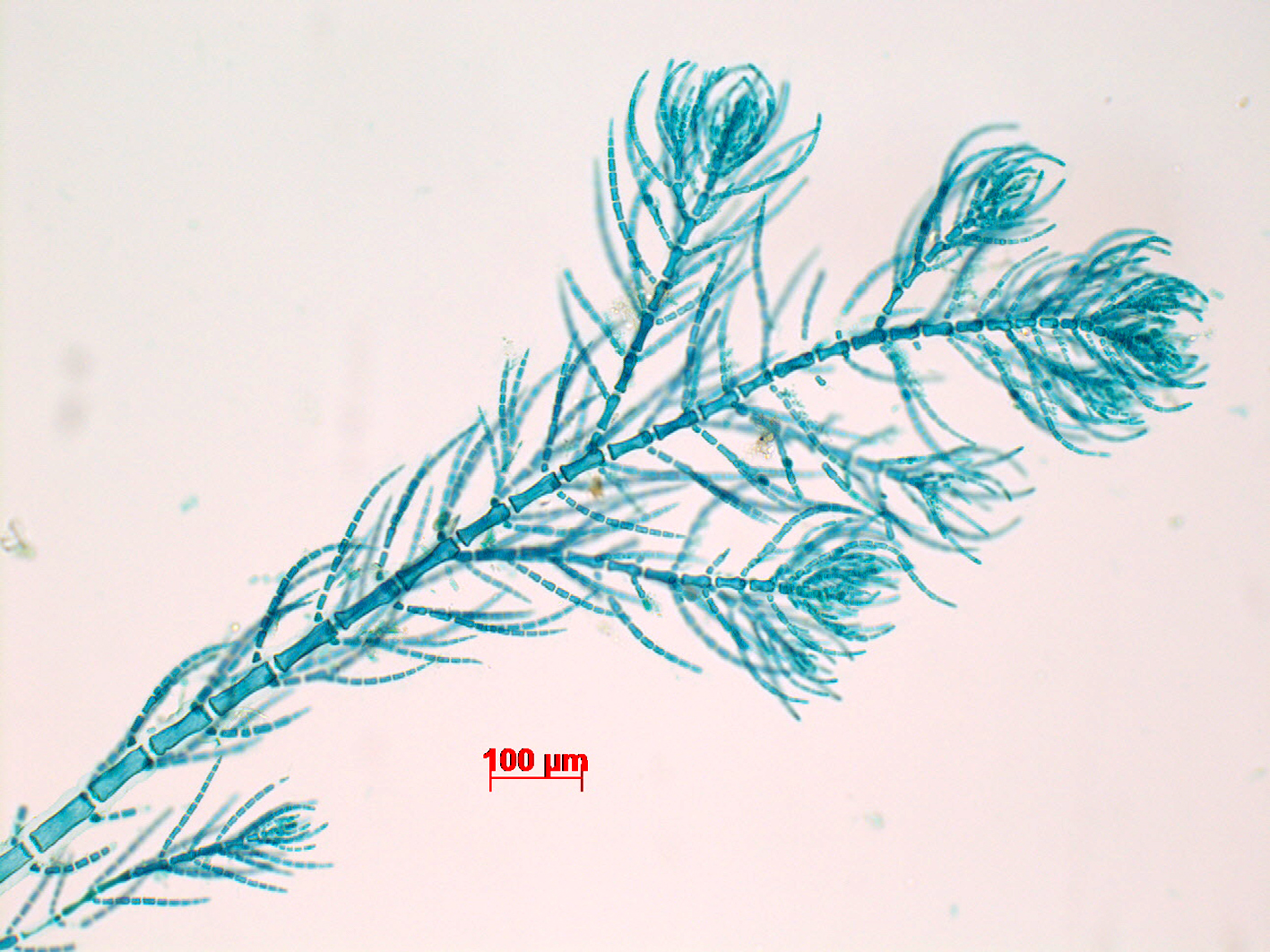 Antithamnionella ternifolia. Sterile thallus, Stilbaai. Stained slide.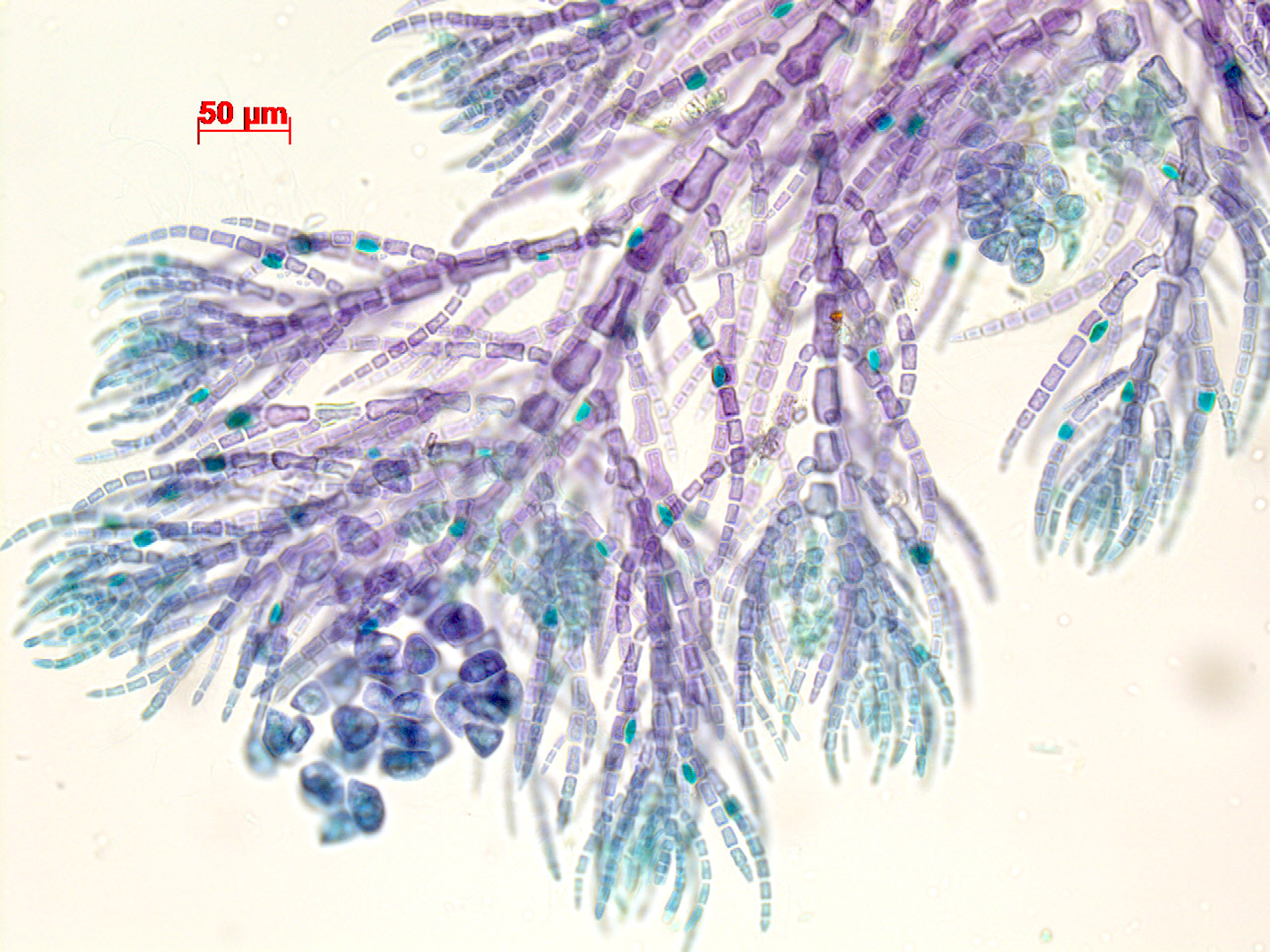 Antithamnionella ternifolia. Carposporophyte, from subtidal zone, Tsitsikamma. Stained slide.
References Antithamnionella ternifolia
Guiry, M.D. & Guiry, G.M. 2015. AlgaeBase. World-wide electronic publication, National University of Ireland, Galway. http://www.algaebase.org; searched on 16 September 2015.
Lyle, L. 1922. Antithamnionella, a new genus of algae. J. Bot. 60: 346-350, 6 figs.
Ricker, R.W. 1987. Taxonomy and biogeography of Macquarie Island seaweeds. pp. [i]-vi, [2], 1-344. London: British Museum (Natural History).
Stegenga, H., Bolton, J.J. & R. J. Anderson. 1997. Seaweeds of the South African west coast. Contributions from the Bolus Herbarium 18: 655 pp.
Cite this record as:
Anderson RJ, Stegenga H, Bolton JJ. 2016. Seaweeds of the South African South Coast.
World Wide Web electronic publication, University of Cape Town, http://southafrseaweeds.uct.ac.za; Accessed on 01 October 2023.