Order Ceramiales
Family Delesseriaceae
Apoglossum ruscifolium (Turner) J. Agardh 1898: 194
Plants bright red, to 4 cm tall, comprising several membranous, ovate-lanceolate blades with short stipes arising from a discoid holdfast. Blades up to 3 cm long and 5 mm wide with slightly wavy margins, rounded to slightly depressed apices, prominent midrib and numerous microscopic lateral veins; branching from midrib. Growth from single apical cell; primary cell row and four pericentral cells without intercalary cell divisions; subsequent orders of cell rows arising from lateral pericentral cells; not all tertiary cell rows reaching thallus margin. In cross-section, blades mostly monostromatic, midrib polystromatic; midrib shows single layer of large primary cells with small cortical cells restricted to dorsal and ventral surfaces. Tetrasporangia in linear sori on each side of midrib. Cystocarps on midrib, globose. Spermatangial sori in series of narrow strips running from midrib towards both blade margins.
Collections, ecology and regional distribution
Recorded from the west coast of the southern Cape Peninsula to the Port Shepstone area in southern Kwazulu-Natal (16-49). Found in the sublittoral fringe and below.
World Distribution: Widespread in the eastern North Atlantic and in the Mediterranean; also recorded from North Carolina to the Caribbean, Atlantic North Africa, St Paul Island in the Indian Ocean (Guiry & Guiry 2013, Silva et al. 1996).
Type locality: Norfolk, England (Guiry & Guiry 2013).
Note. See Wynne (1984) for a discussion of this species and A. spathulatum.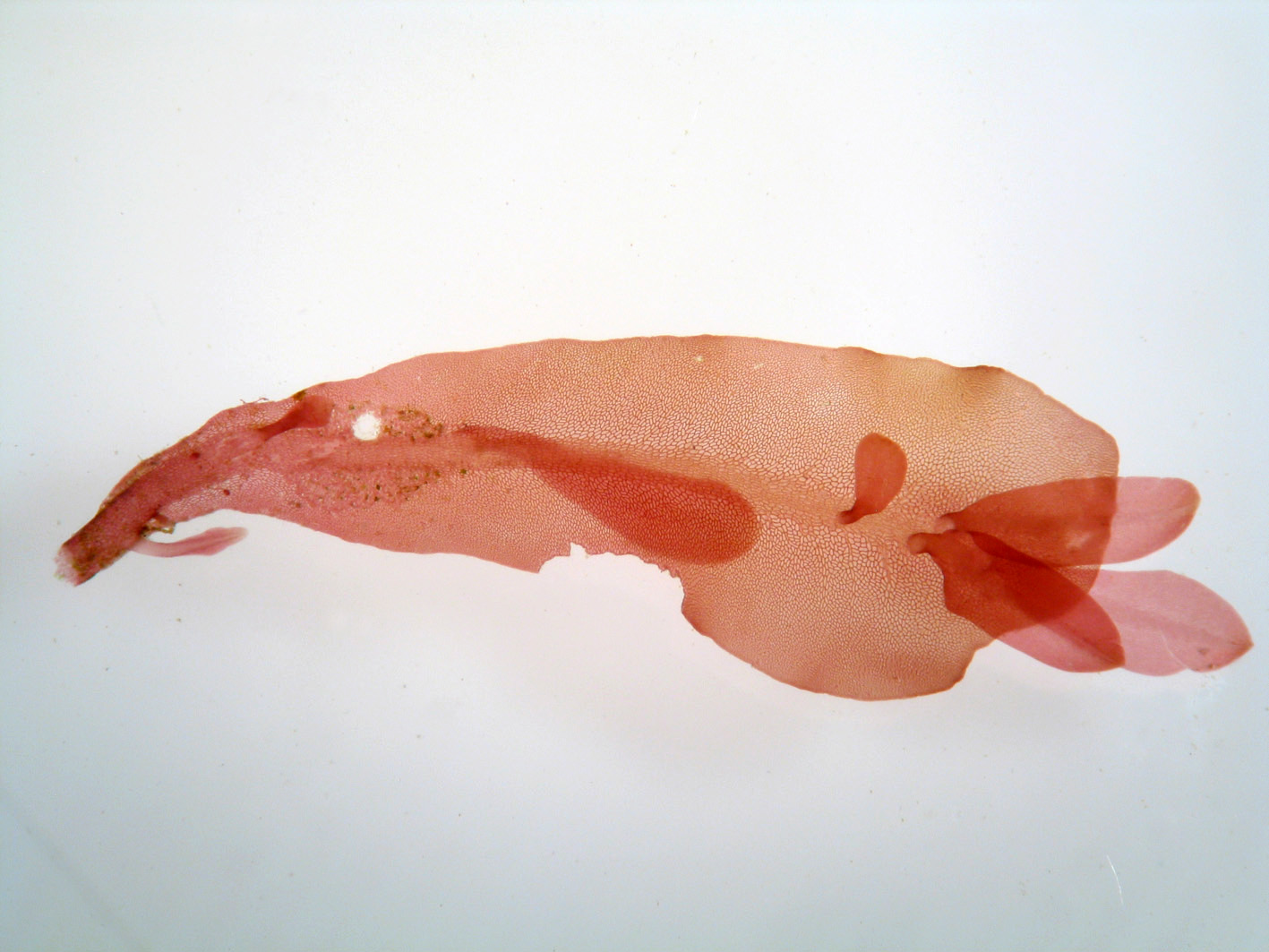 Apoglossum ruscifolium (length ca 30 mm).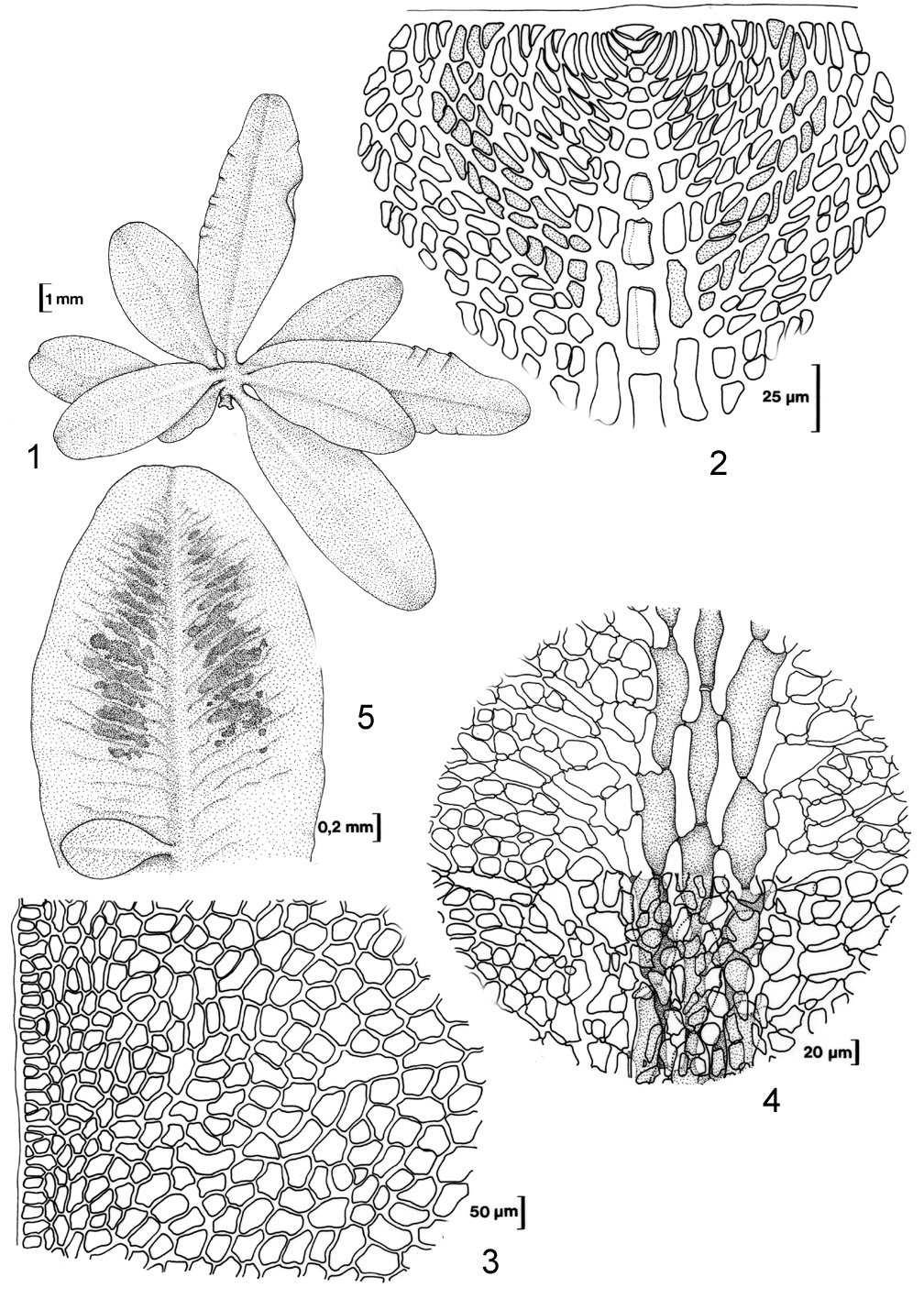 Apoglossum ruscifolium. 1. Habit. 2. Thallus apex. 3. Cell arrangement at edge of mature blade. 4 Anatomy of midrib and adjacent area, in upper half superficial cell layers left out (central pericentral cells and lateral pericentral cells dotted). 5. Blade with spermatangial sori. Reproduced from Stegenga et al. (1997).
Referencess Apoglossum ruscifolium
Agardh, J. 1898. Species genera et ordines algarum 3 (3). Lund, 1-239.
Guiry, M.D. & Guiry, G.M. 2013. AlgaeBase. World-wide electronic publication, National University of Ireland, Galway. http://www.algaebase.org; searched September 2013.
Silva, P.C., Basson, P.W. & Moe, R.L. 1996. Catalogue of the benthic marine algae of the Indian Ocean. University of California Publications in Botany 79: 1-1259.
Stegenga, H., Bolton, J.J. & R. J. Anderson. 1997. Seaweeds of the South African west coast. Contributions from the Bolus Herbarium 18: 655 pp.
Wynne, M.J. 1984. The occurrence of Apoglossum and Delesseria (Ceramiales, Rhodophyta) in South Africa. South African Journal of Botany 3: 137-145.
Cite this record as:
Anderson RJ, Stegenga H, Bolton JJ. 2016. Seaweeds of the South African South Coast.
World Wide Web electronic publication, University of Cape Town, http://southafrseaweeds.uct.ac.za; Accessed on 25 September 2023.