Order Ceramiales
Family Delesseriaceae
Apoglossum spathulatum (Sonder) Womersley and Shepley 1982: 329
Plants red, small (to 12 mm tall). Blades membranous, 5-11 mm long and 1.1-1.8 mm wide, linear-spatulate, substipitate, apices rounded to slightly obtuse, margins entire, microscopic veins present; branching from midrib, usually alternately from either side of the blade, rarely from margin; blades capable of secondary (rhizoidal) attachment to substratum. Growth from single apical cell; blade monostromatic except in midrib. Tetrasporangial sori discrete, circular to oval, near distal ends of blades, mature tetrasporangia 24-28 µm in diameter; cystocarps formed on most orders of branches, singly or in a pair on the midrib of each branch. Male thalli not observed.
Collections, ecology and regional distribution
Found from Wilderness to just north of Durban (29-51).
World distribution: fairly widespread in tropical and warm temperate water (Guiry & Guiry 2013).
Type locality: Western Australia (Silva et al. 1996)
Note: Wynne (1984) describes this species in detail.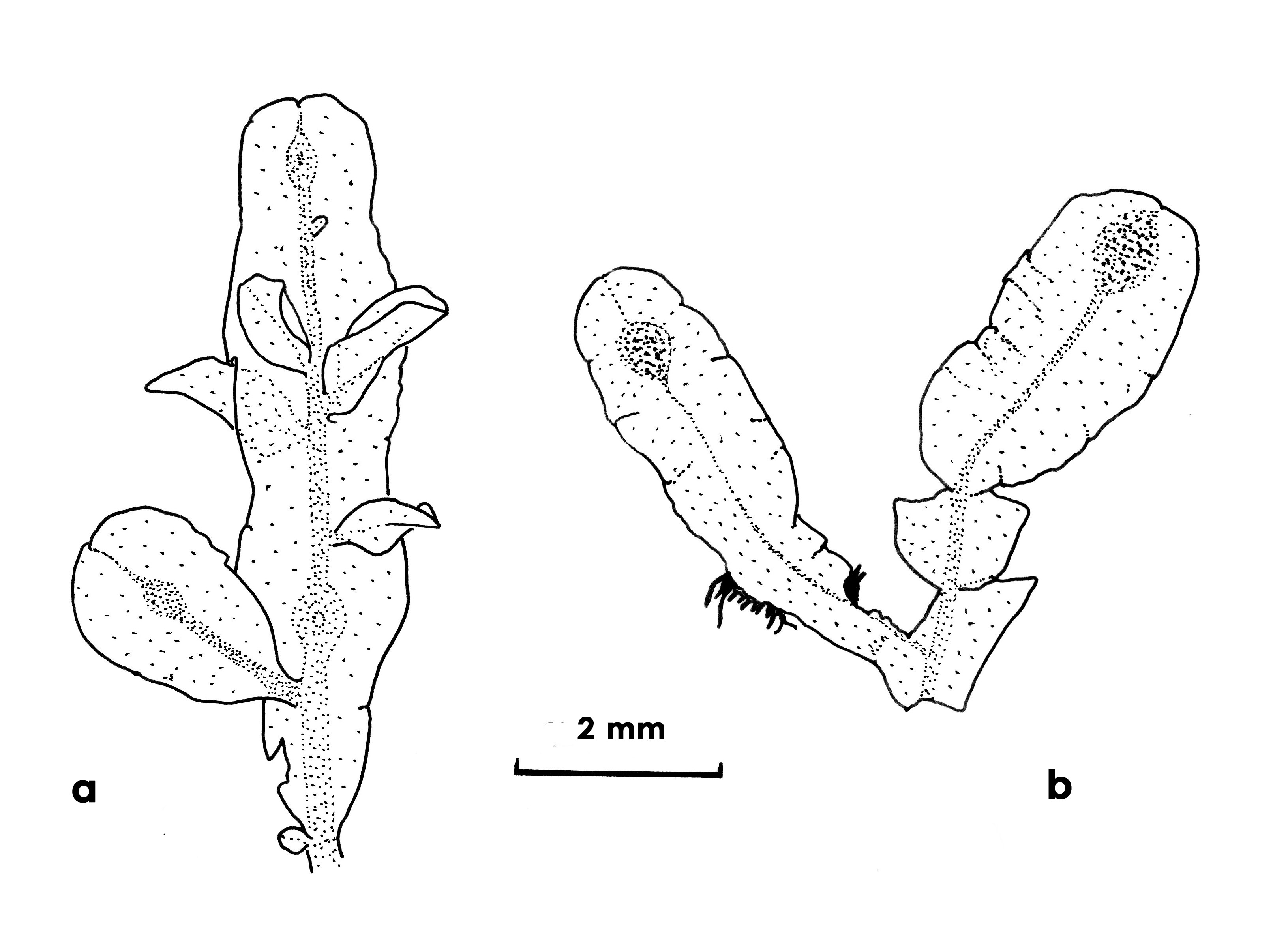 Apoglossum spathulatum, re-drawn from Wynne (1984). A- cystocarpic plant, B – tetrasporic plant.
Referencess Apoglossum spathulatum
Guiry, M.D. & Guiry, G.M. 2013. AlgaeBase. World-wide electronic publication, National University of Ireland, Galway. http://www.algaebase.org; searched September 2013.
Silva, P.C., Basson, P.W. & Moe, R.L. 1996. Catalogue of the benthic marine algae of the Indian Ocean. University of California Publications in Botany 79: 1-1259.
Womersley, H.B.S. & Shepley, E.A. 1982. Southern Australian species of Hypoglossum (Delesseriaceae, Rhodophyta). Australian Journal of Botany 30: 321-346, 9 figs.
Wynne, M.J. 1984. The occurrence of Apoglossum and Delesseria (Ceramiales, Rhodophyta) in South Africa. South African Journal of Botany 3: 137-145.
Cite this record as:
Anderson RJ, Stegenga H, Bolton JJ. 2016. Seaweeds of the South African South Coast.
World Wide Web electronic publication, University of Cape Town, http://southafrseaweeds.uct.ac.za; Accessed on 21 September 2023.