Order Corallinales
Family Corallinaceae
Sub-Family Corallinoideae
Arthrocardia carinata (Kützing) Johansen 1984: 2, 5
Plants pink to chalky pink, bushy, up to 8 cm tall, erect axes complanate, holdfast crustose; erect axes pinnately branched, branching more frequent distally, branches arising from axils or tips of lobes of segments, lobe angle 20-30o, adventitious branching rare. Genicula inconspicuous. Intergenicula in proximal parts of plants terete to subterete, 0.5-1.0 mm diameter, in distal parts flattened, often wedge-shaped, 1.5 – 3.0 mm long, 0.5- 5 mm wide distally (but see note). Conceptacles rarely seen, axial, terminal, with single terminal ostiole; in terminal branchlets.
Collections, ecology and regional distribution
Epilithic, recorded from tide pools to 28m depth. Common along south and east coasts of South Africa from Stilbaai to Cape Vidal (26-56). Recorded in Namibia (Rull Lluch 2002), but not from SA west coast.
World distribution: Also found at St Helena and in Mozambique (Guiry & Guiry 2014).
Note: In a recent DNA barcoding study, Kogame et al. (2017) reported an Arthrocardia species (as Arthrocardia sp. 2) that is similar to A. carinata but has narrower intergenicula (up to 2.5 mm wide). So far Arthrocardia sp. 2 is known only from KwaZulu-Natal (Trafalgar Beach to Mission Rocks).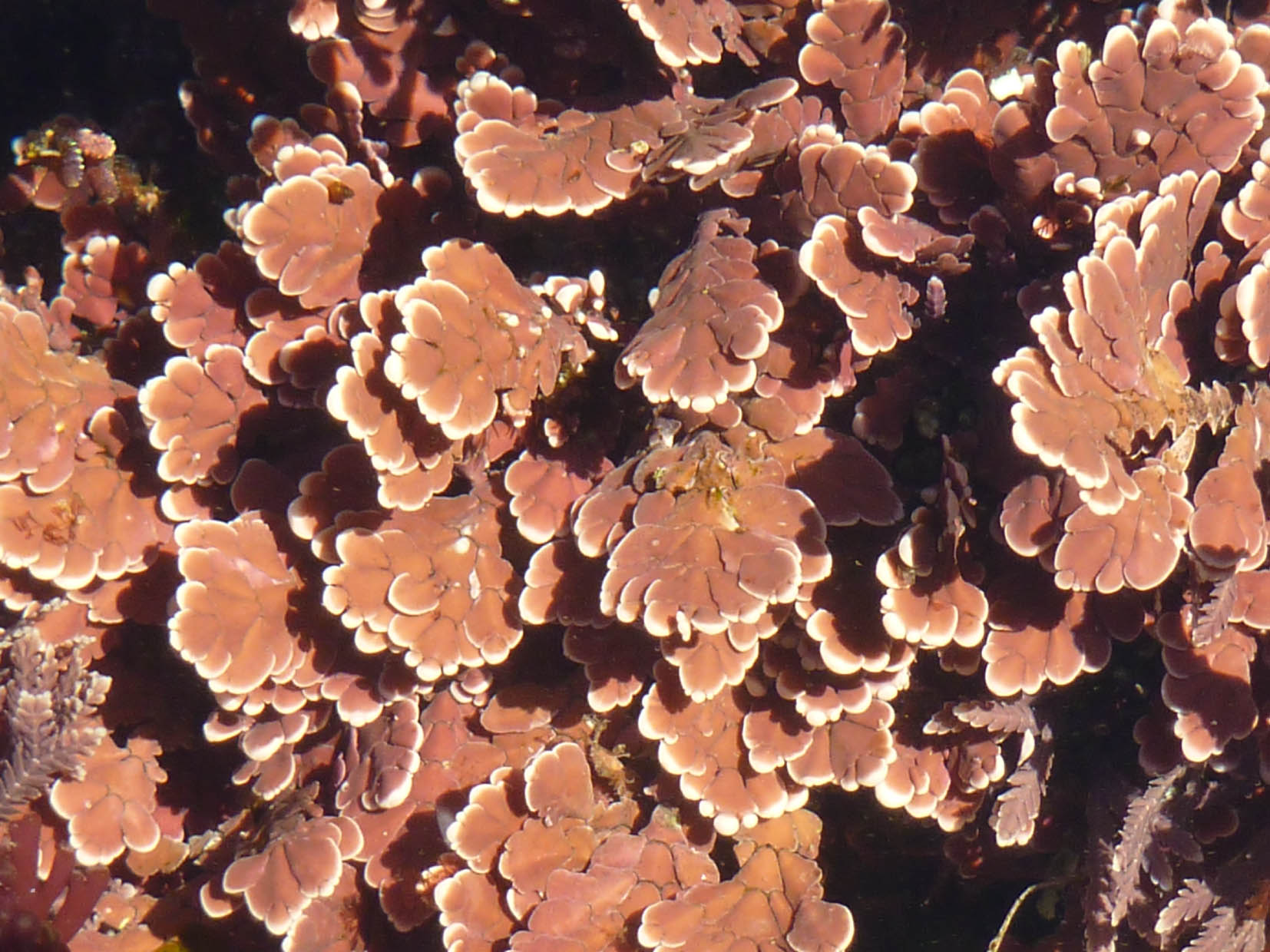 Arthrocardia carinata.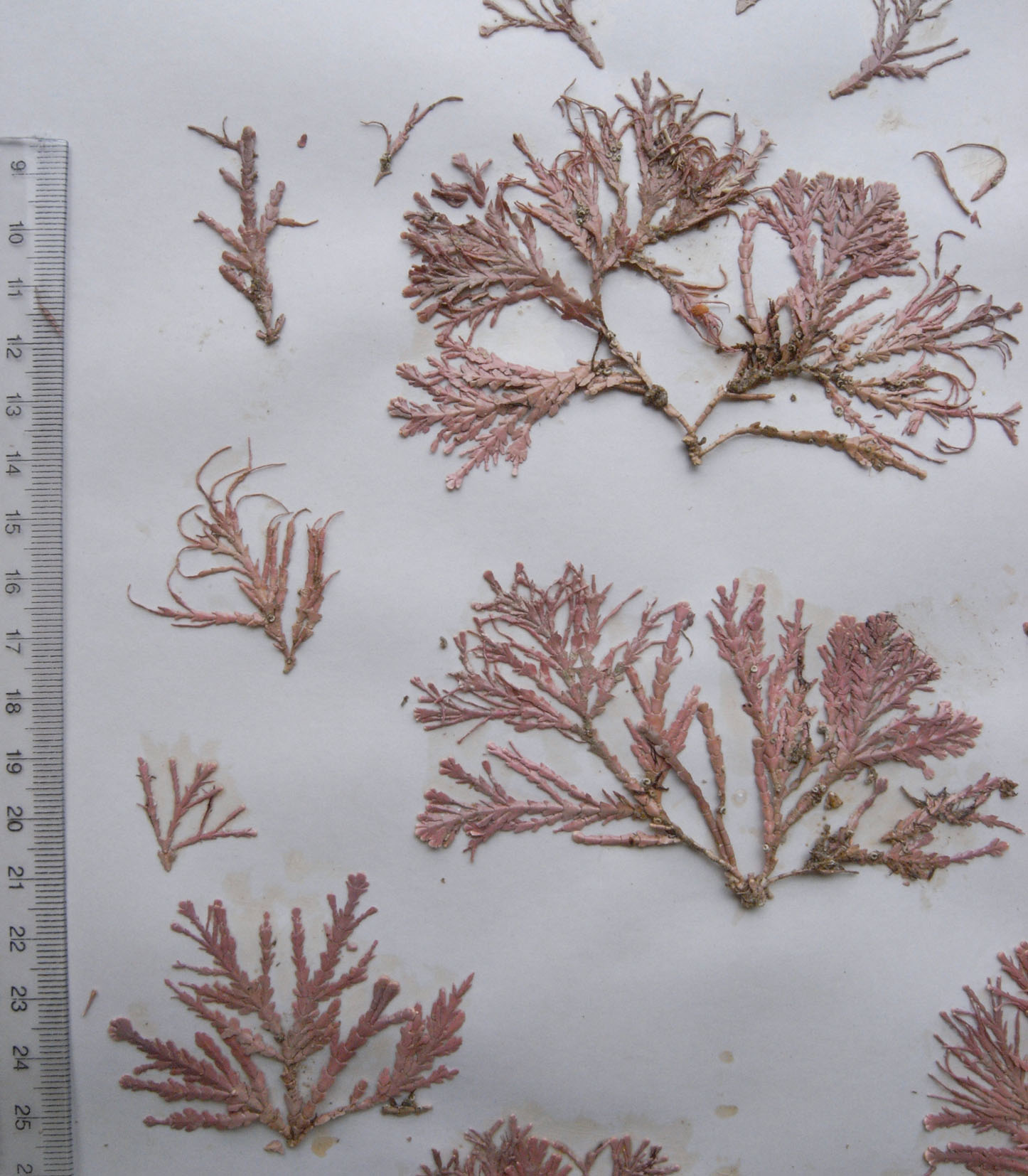 Arthrocardia carinata, herbarium specimen in Pocock collection (GRA).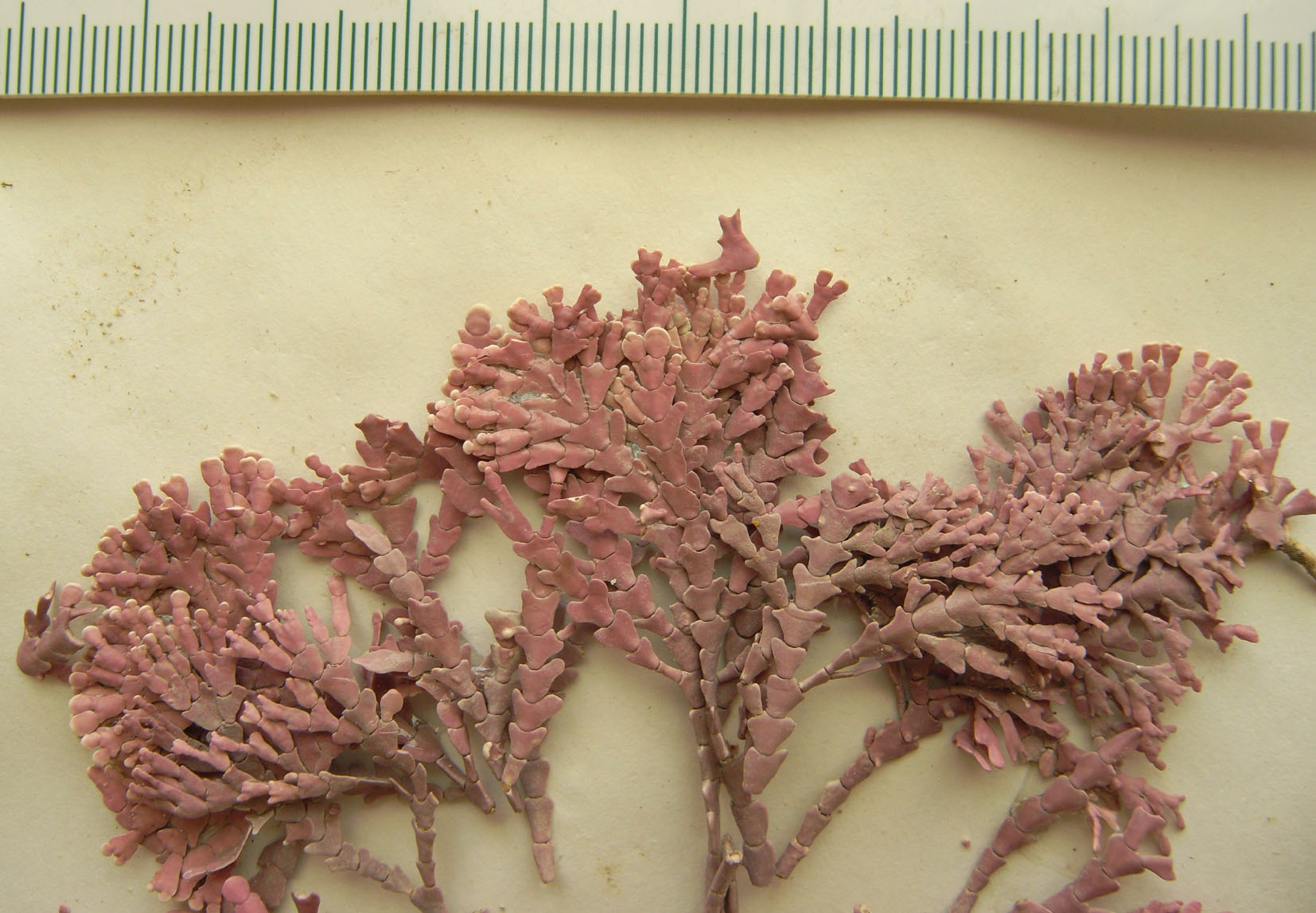 Arthrocardia carinata, herbarium specimen (BOL).
References Arthrocardia carinata
M.D. Guiry in Guiry, M.D. & Guiry, G.M. 2014. AlgaeBase. World-wide electronic publication, National University of Ireland, Galway. http://www.algaebase.org; searched on 14 March 2014.
Johansen, HW 1984 The articulated coralline genus Arthrocardia in the southern hemisphere. British Phycological Journal 19: 195 (abstract).
Kogame, K., Uwai, S., Anderson, RJ., Choi, H-G & JJ Bolton. 2017. DNA barcoding of South African geniculate coralline red algae (Corallinales, Rhodophyta). South African Journal of Botany 108: 337-341.
Rull Lluch, J. (2002). Marine benthic algae of Namibia. Scientia Marina 66 (Supplement 3): 258 pp.
Cite this record as:
Anderson RJ, Stegenga H, Bolton JJ. 2016. Seaweeds of the South African South Coast.
World Wide Web electronic publication, University of Cape Town, http://southafrseaweeds.uct.ac.za; Accessed on 25 September 2023.