Order Corallinales
Family Corallinaceae
Sub-Family Corallinoideae
Arthrocardia corymbosa (Lamarck) Decaisne 1842a: 380
Plants up to 10 cm high, pink, forming loose bushes; branching mainly dichotomous, occasionally pinnate or irregular; intergenicula terete or slightly flattened, up to 5 mm long, 0.5-1.0 mm wide; holdfast crustose. Genicula inconspicuous. Fertile intergenicula wedge-shaped with inconspicuous conceptacles with terminal ostiole.
Collections, ecology and regional distribution
Occurs from sublittoral fringe to at 12 m depth in exposed to semi-exposed locations, from False Bay to Mbotyi, Transkei (17-45).
World distribution: Also recorded from New Zealand (Adams 1994).
Type locality: Thought to be "Cape of Good Hope" (Silva et al 1996).
Note: In a DNA barcoding study by Kogame et al (2017), a single specimen from Bordjiesrif in False Bay (Western Cape) identified as this species, was confirmed as distinct from other South African Arthrocardia entities.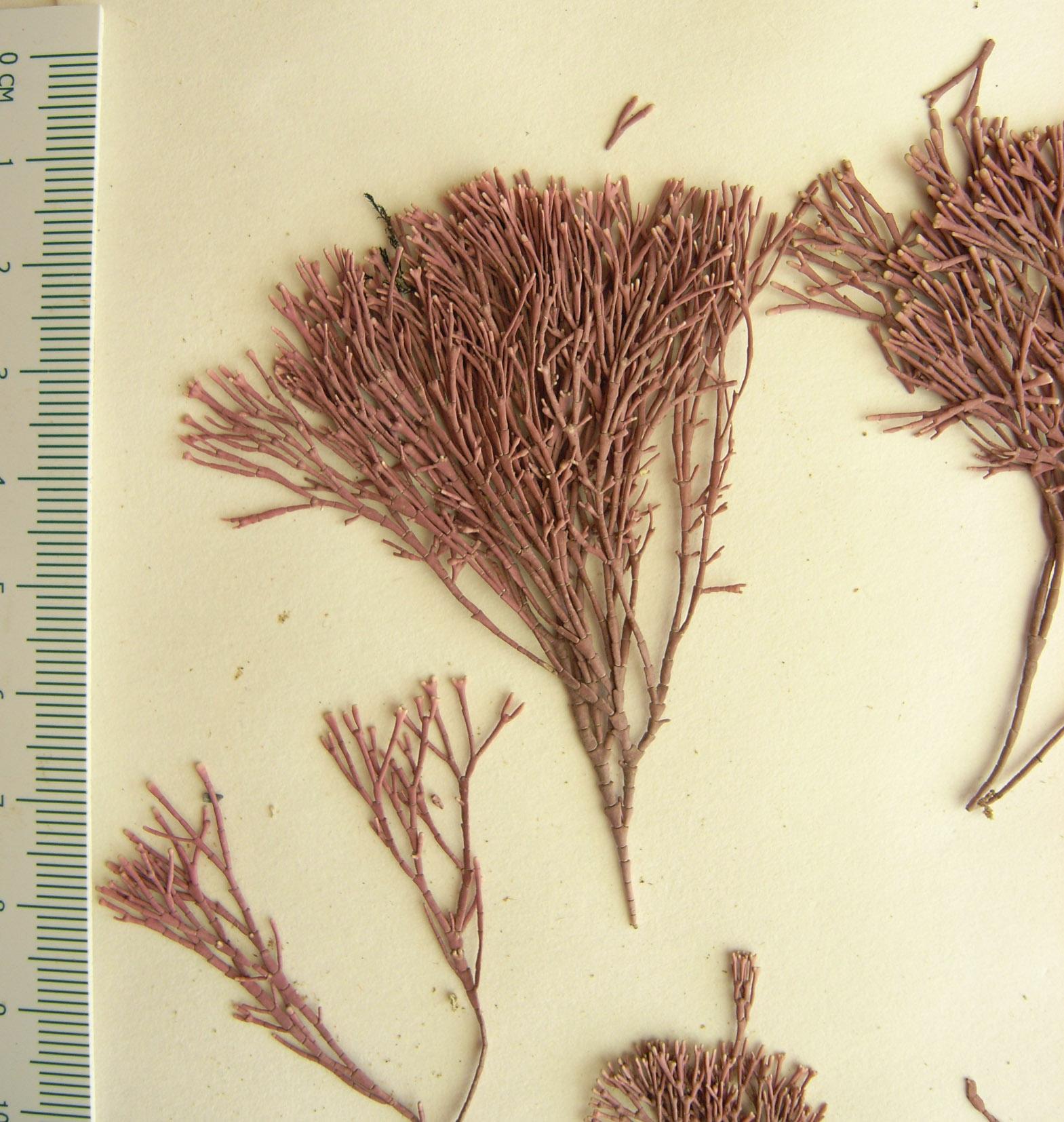 Arthrocardia corymbosa, herbarium specimen (BOL).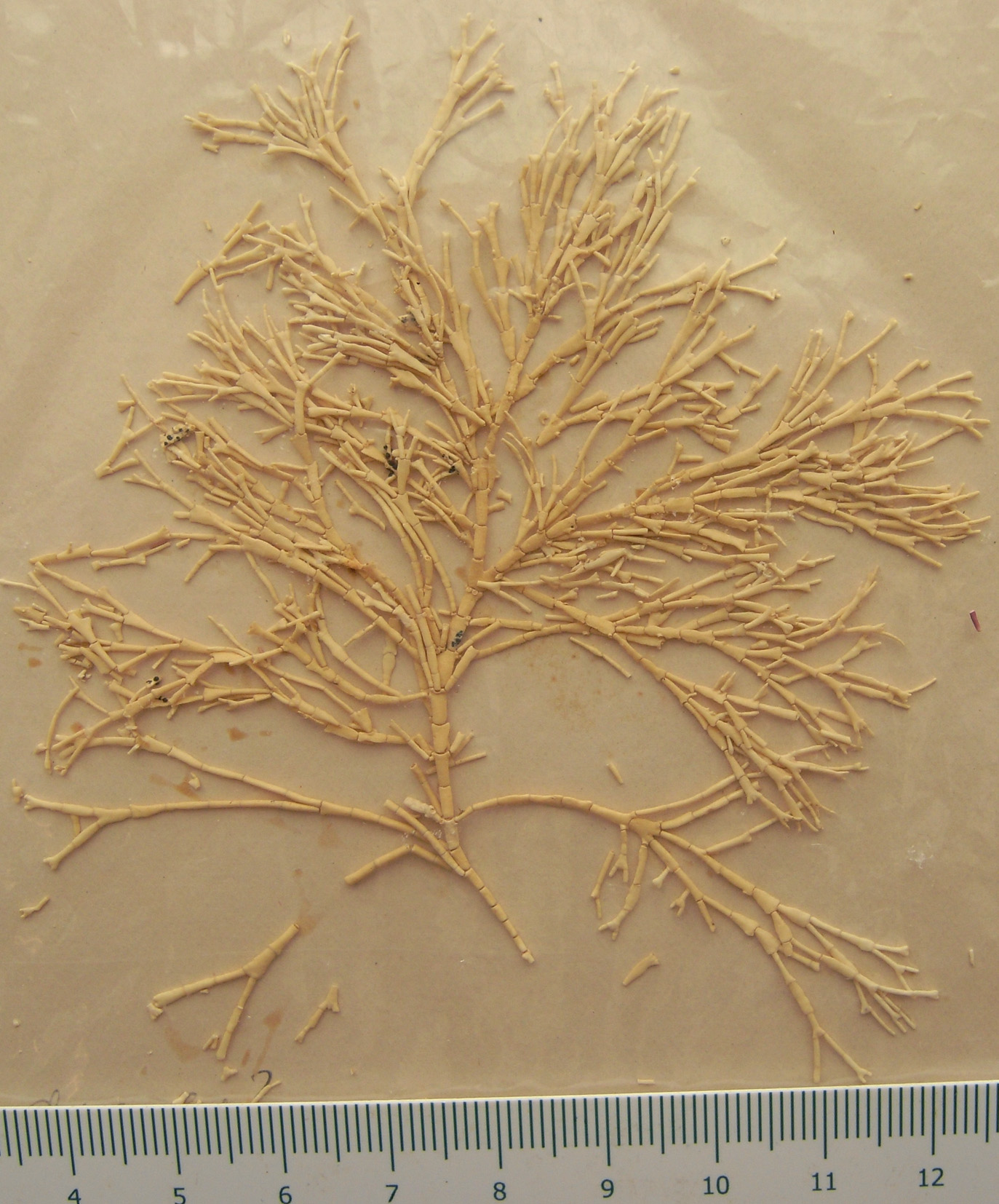 Arthrocardia corymbosa, herbarium specimen annotated and identified by HW Johansen (BOL).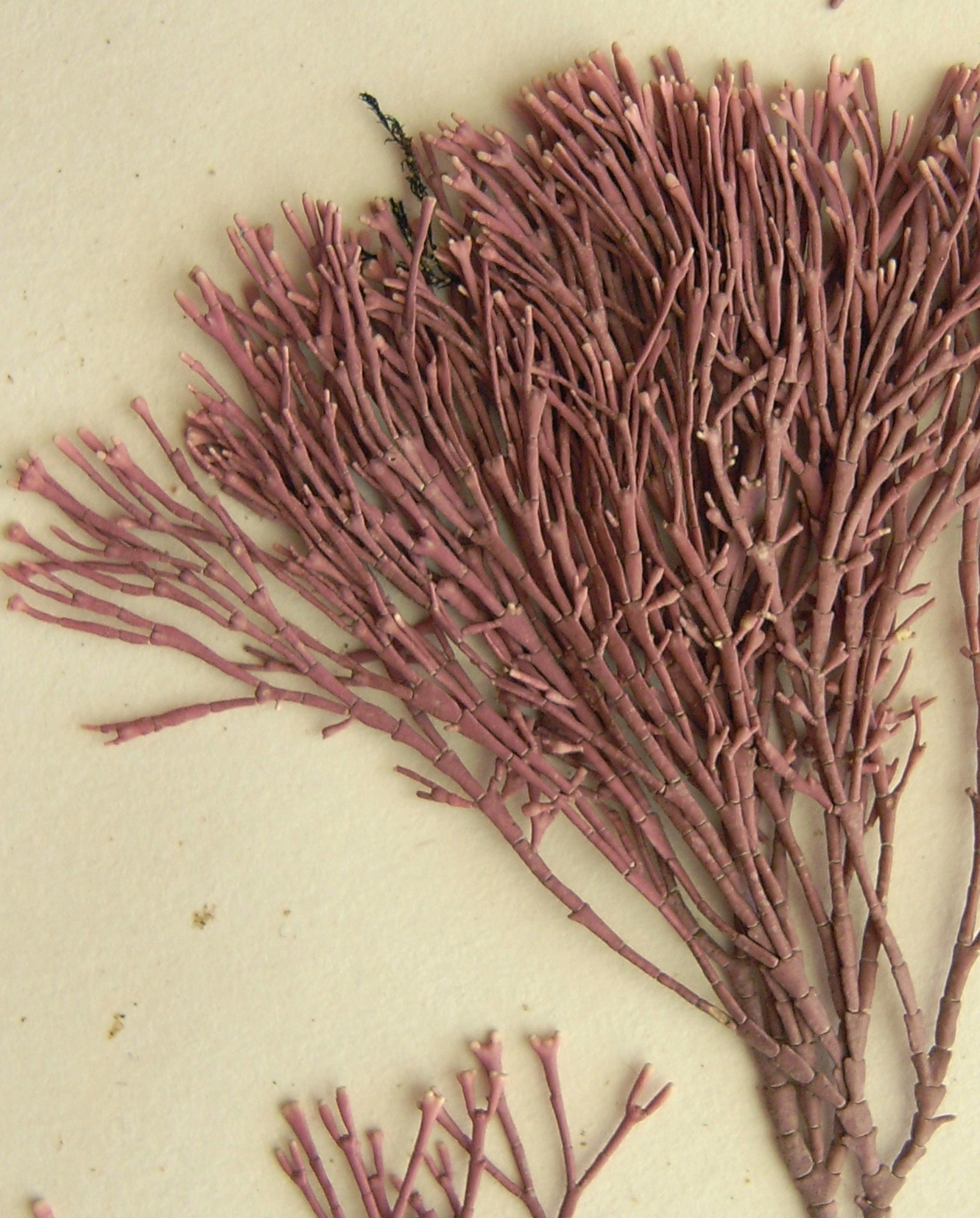 Arthrocardia corymbosa, detail, herbarium specimen (BOL).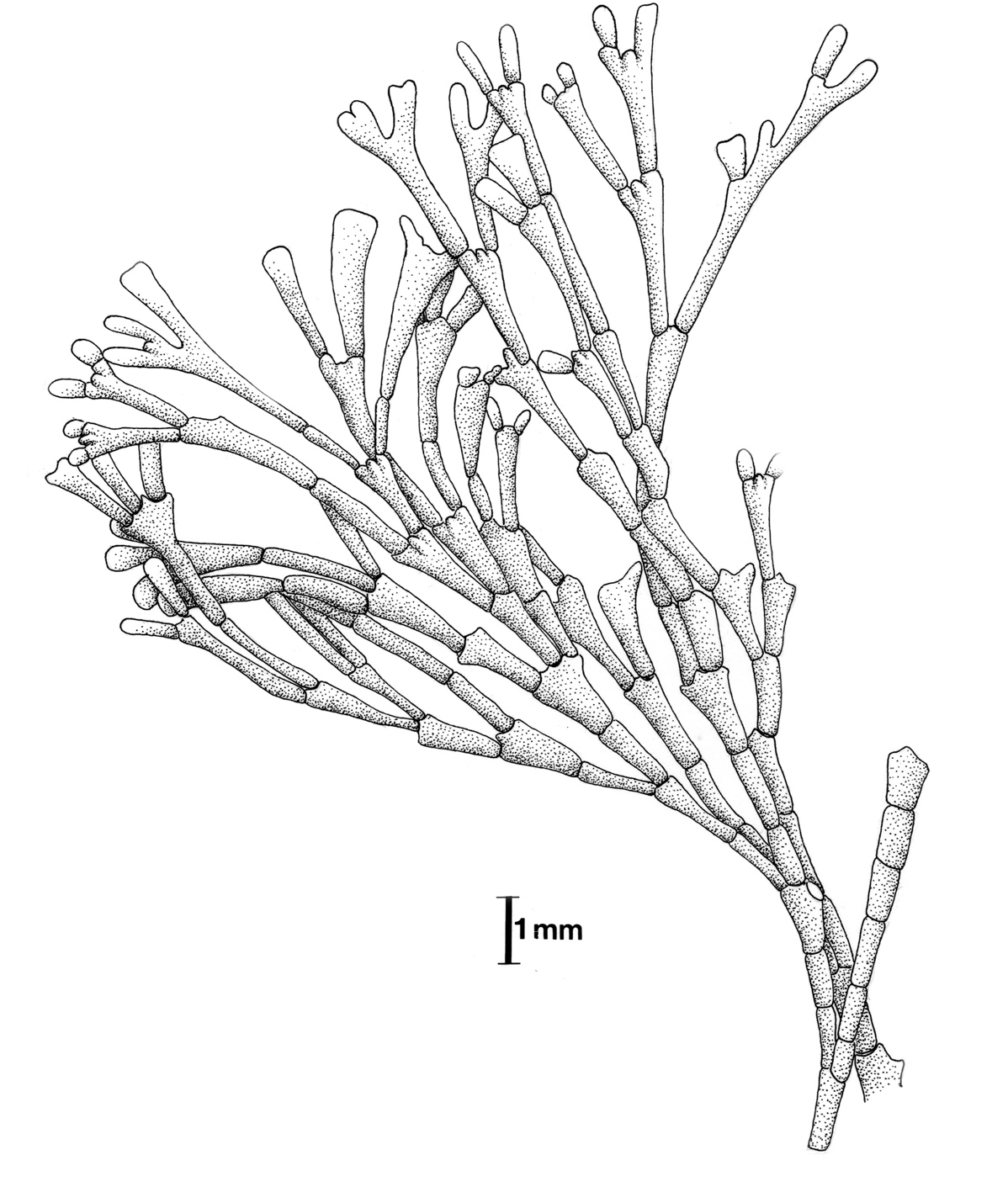 Arthrocardia corymbosa, fertile. Reproduced from Stegenga et al. (1997).
References Arthrocardia corymosa
Adams, N. M. 1994. Seaweeds of New Zealand. An Illustrated Guide. Christchurch, Canterbury University Press.
Decaisne, J. 1842. Essais sur une classification des algues et des polypieres calcifères de Lamouroux. Mémoire sur les corallines ou polypiers calcifères. Annales des Sciences Naturelles. Botanique, sér 2, 18: 96-128.
Kogame, K., Uwai, S., Anderson, RJ., Choi, H-G & JJ Bolton. 2017. DNA barcoding of South African geniculate coralline red algae (Corallinales, Rhodophyta). South African Journal of Botany 108: 337-341.
Silva, P.C., Basson, P.W. & Moe, R.L. (1996). Catalogue of the benthic marine algae of the Indian Ocean. University of California Publications in Botany 79: 1-1259.
Stegenga, H., Bolton, J.J. and R. J. Anderson. 1997. Seaweeds of the South African west coast. Contributions from the Bolus Herbarium 18: 655 pp.
Cite this record as:
Anderson RJ, Stegenga H, Bolton JJ. 2016. Seaweeds of the South African South Coast.
World Wide Web electronic publication, University of Cape Town, http://southafrseaweeds.uct.ac.za; Accessed on 25 September 2023.