Order Corallinales
Family Corallinaceae
Sub-Family Corallinoideae
Arthrocardia flabellata (Kutzing) Manza 1940: 286
Plants up to 10 cm tall, bushy, bright pink to grayish-pink, axes complanate, often fan-shaped (flabellate). Holdfast crustose. Branching irregularly pinnate below, dichotomous in fertile areas above, adventitious branching rare. Intergenicula cylindrical near base of plant (0.5 – 1 mm diameter), flattened and cuneate above with margins becoming linear in most proximal segments, 1-3 mm long and up to 2 (-3) mm wide. Ultimate intergenicula sometimes incised (branched without articulations), and up to 8 mm long. Genicula visible as narrow line. Conceptacles prominent, developing in each segment, ostioles terminal. Male conceptacles with prominent beak up to 1.5 mm long.
Collections, ecology and regional distribution
Recorded along the whole South African coast, but probably less common west of Cape Point (Stegenga et al. 1997)(1-58). On the south coast this species is common in rock pools and in the lower eulittoral.
World distribution: Also recorded from Australia (type), Brazil, Mauritius and Mozambique (Guiry & Guiry 2014).
Type locality: Nora Creina, South Australia (Womersley & Johansen 1996).
Note: A DNA barcoding study by Kogame et al. (2017) confirmed the existence of a distinct clade of South African entities that fit the description of this species.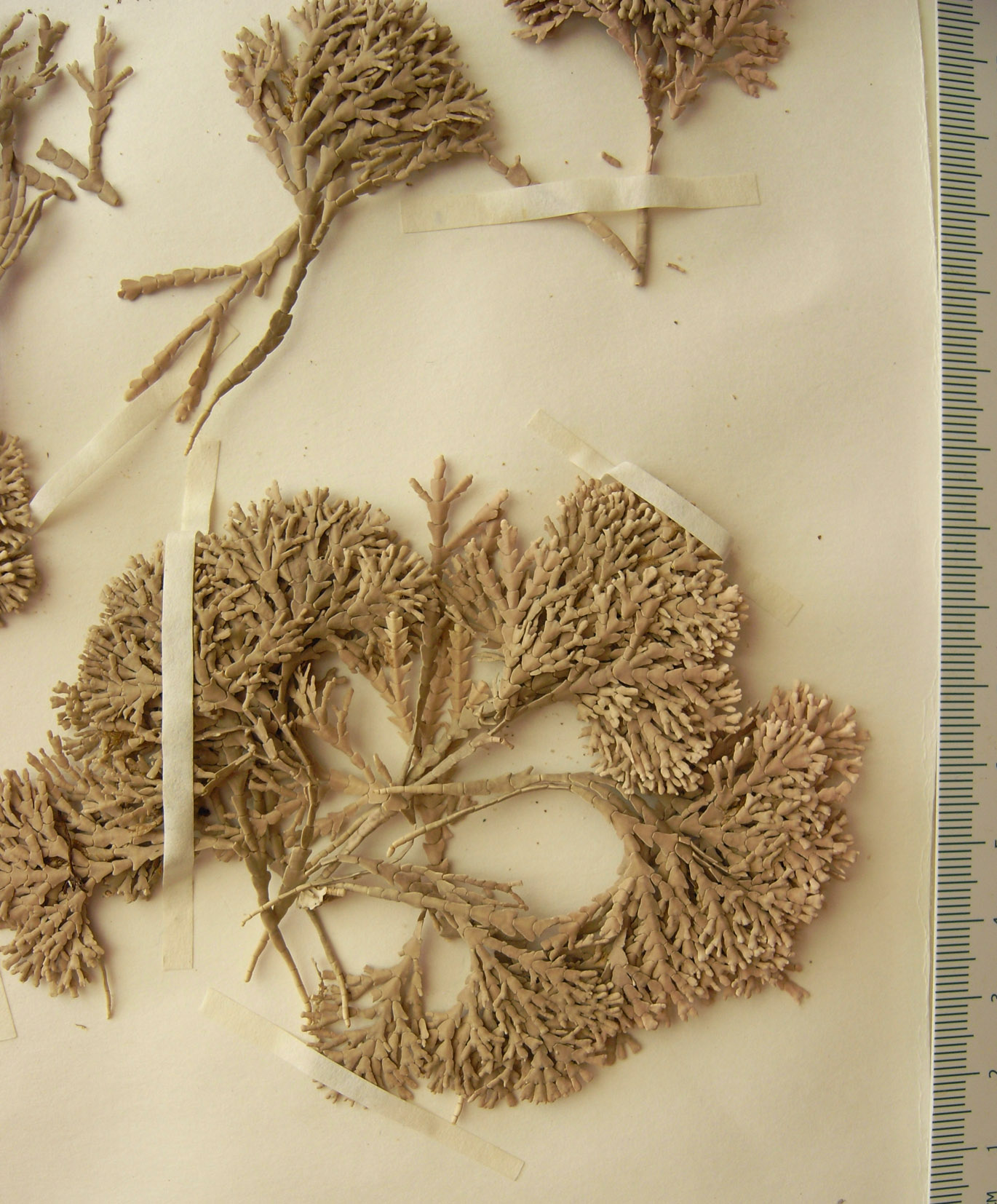 Arthrocardia flabellata, herbarium specimen (BOL).

Arthrocardia flabellata, detail of apices.

Arthrocardia flabellata, fertile branch system (reproduced from Stegenga et al. (1997).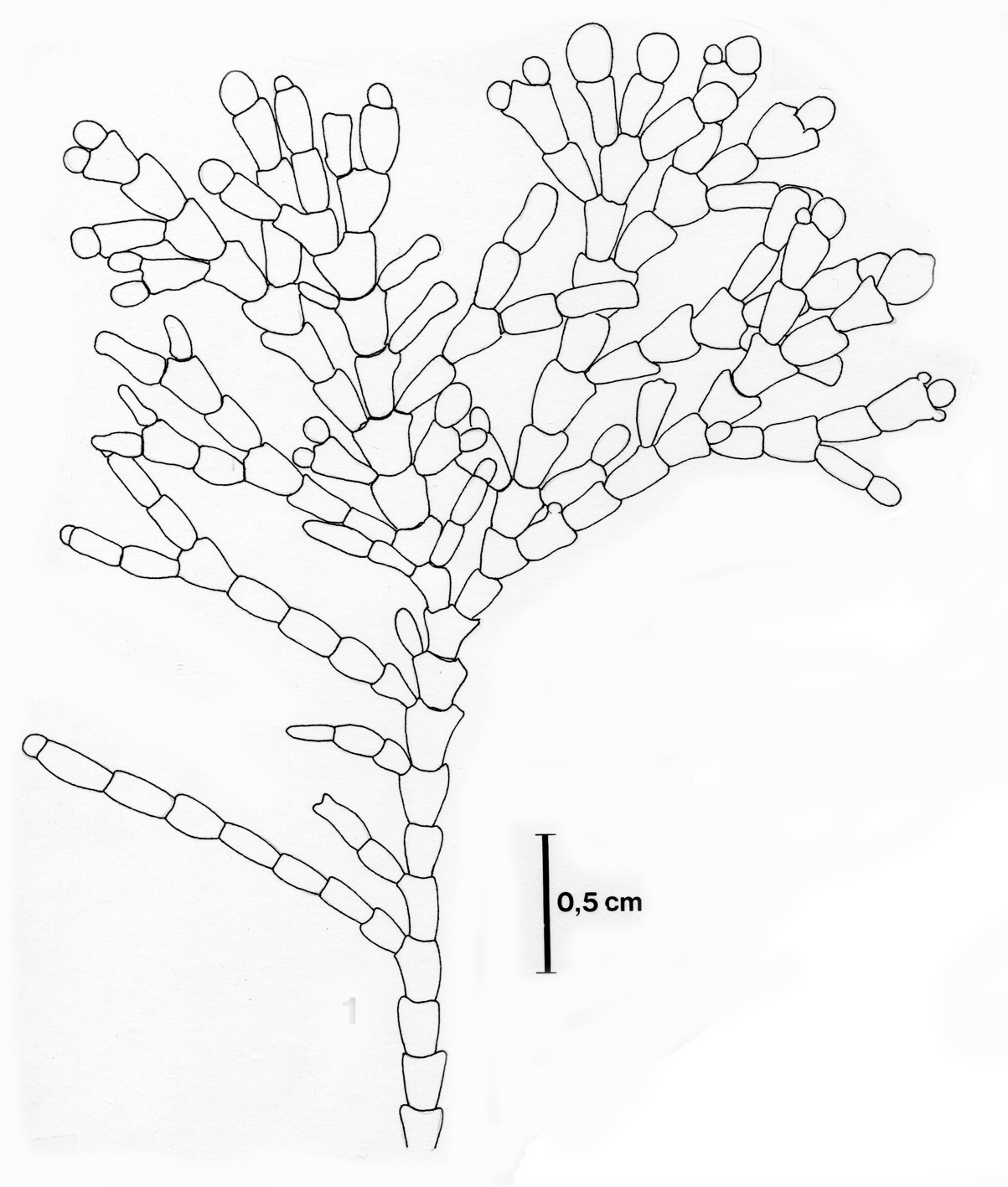 Arthrocardia flabellata, male plant, note beaked conceptacles. (Reproduced from Stegenga et al. (1997).

Arthrocardia flabellata, sterile erect thallus (reproduced from Stegenga et al. (1997).
References Arthrocardia flabellata
M.D. Guiry in Guiry, M.D. & Guiry, G.M. 2014. AlgaeBase. World-wide electronic publication, National University of Ireland, Galway. http://www.algaebase.org; searched on 14 March 2014.
Kogame, K., Uwai, S., Anderson, RJ., Choi, H-G & JJ Bolton. 2017. DNA barcoding of South African geniculate coralline red algae (Corallinales, Rhodophyta). South African Journal of Botany 108: 337-341.
Manza, A. V. 1940: A revision of the genera of articulated corallines. Philippine Journal of Science, 71: 239-316.
Stegenga, H., Bolton, J.J. and R. J. Anderson. 1997. Seaweeds of the South African west coast. Contributions from the Bolus Herbarium 18: 655 pp.
Womersley, H.B.S. & Johansen, H.W. (1996). Subfamily Corallinoidea (Areschoug) Foslie 1908: 19. In: The marine benthic flora of southern Australia - Part IIIB - Gracilariales, Rhodymeniales, Corallinales and Bonnemaisoniales. (Womersley, H.B.S. Eds), pp. 288-317. Adelaide & Canberra: Australian Biological Resources Study & the State Herbarium of South Australia
Cite this record as:
Anderson RJ, Stegenga H, Bolton JJ. 2016. Seaweeds of the South African South Coast.
World Wide Web electronic publication, University of Cape Town, http://southafrseaweeds.uct.ac.za; Accessed on 25 September 2023.