Order Rhodymeniales
Family Rhodymeniaceae
Botryocladia beckeriana (Holmes) Papenfuss 1958: 107
Plants up to 70 cm long or longer, comprising a thick, compressed axis (to 8 mm wide) bearing two opposite rows of small stalked vesicles; axis pseudodichotomously branched, tapering gradually, apex acute and terminating in two vesicles; vesicles stalked, 1-2 (-5) mm long, usually crowded but rarely sparse or absent. Axes in transverse section with medulla of round to ovate hyaline cells about 300-400 µm in diameter, interspersed with smaller cells and surrounded by cortex of small pigmented cells; vesicles hollow, wall comprising 3 (rarely to 5) layers of cells; inner medullar layer of round to elongated cells 50-70 µm in diameter, bearing groups of 2-3 secretory cells that protrude into central cavity; outer cortical cells about 8-10 µm in size. Tetrasporangia spheroidal, tetrahedrally divided, about 15 µm in diameter, in sori covering all but tips and bases of vesicles; cystocarps (up to 6 on same vesicle) immersed in vesicle wall, up to 700 µm in diameter. Male plants unknown.
Collections, ecology and regional distribution
Recorded from Port Alfred to northern Kwazulu-Natal (39-58). Found in the sublittoral fringe and deeper.
World distribution: South African endemic.
Type locality: Kowie (Port Alfred) (Silva et al. 1996).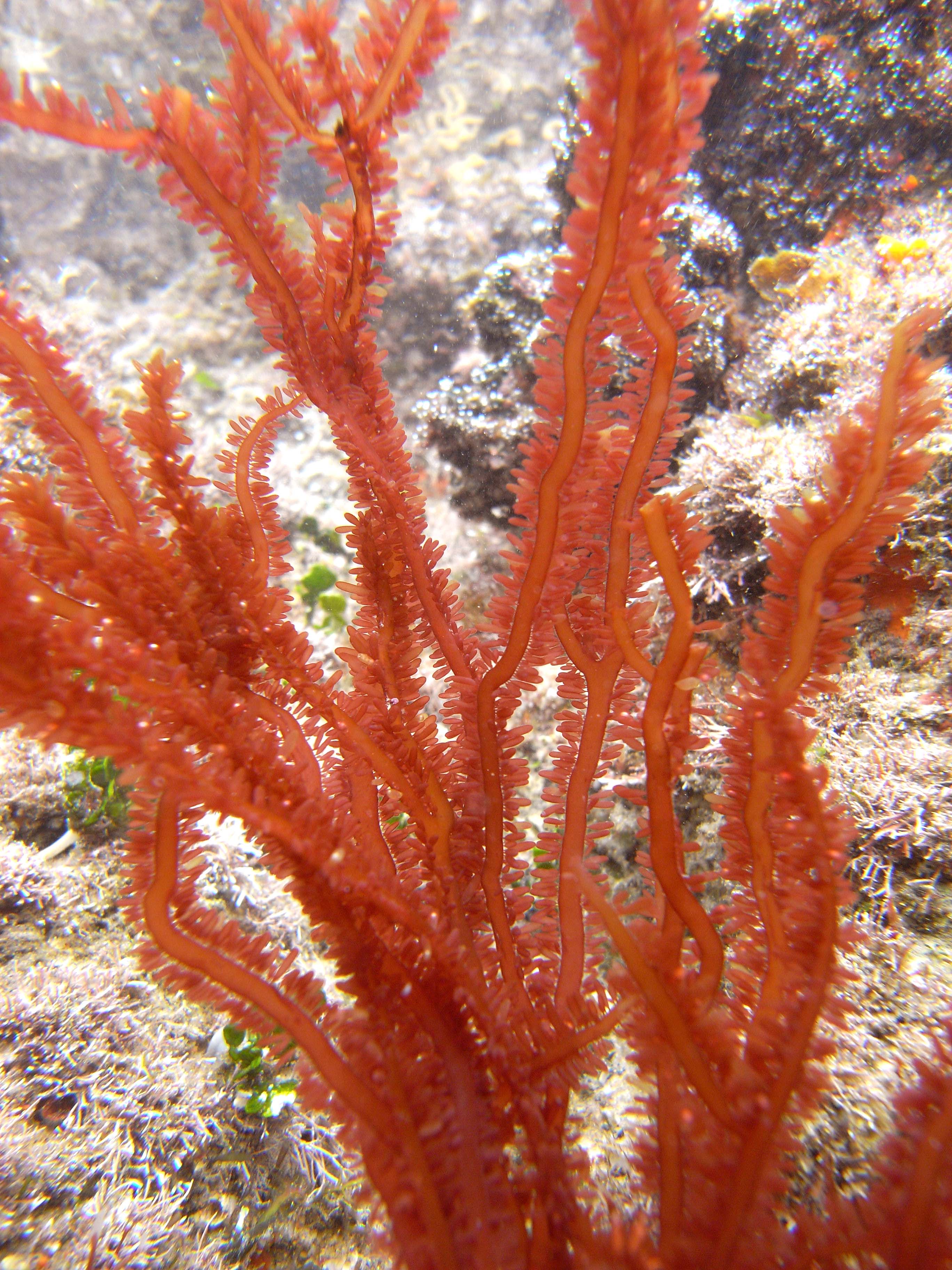 Botryocladia beckeriana, Cape Vidal.
References Botryocladia beckeriana
Papenfuss, G.F. 1958. Notes on algal nomenclature IV. Taxon 7: 104-109.
Silva, P.C., Basson, P.W. & Moe, R.L. 1996. Catalogue of the benthic marine algae of the Indian Ocean. University of California Publications in Botany 79: 1-1259.
Cite this record as:
Anderson RJ, Stegenga H, Bolton JJ. 2016. Seaweeds of the South African South Coast.
World Wide Web electronic publication, University of Cape Town, http://southafrseaweeds.uct.ac.za; Accessed on 01 October 2023.