Order Rhodymeniales
Family Rhodymeniaceae
Botryocladia madagascariensis G. Feldmann 1945: 57-59, figs 3-5
Plants erect, up to 6 cm tall, comprising irregularly branched solid axes bearing two rows of vesicles, marked with blue iridescence when fresh. Axes terete, 1-2 mm in diameter, stiffish; vesicles compressed, alternately distichously arranged, elliptical to obovate, 4-10 mm long and 3-5 mm wide, with short (to 1 mm) stalk. Axes in cross section with medulla of hyaline, roundish cells of various sizes (from about 10 to 60 µm diameter) and a small-celled outer cortex. Vesicles hollow, with wall of 4-6 cell layers; outer cortex of small spheroidal to ellipsoidal cells about 8 µm in diameter, grading into large (to 100 µm in diameter) inner medullary cells; secretory cells, sometimes in short chains, borne internally on medullary and special bearing cells. Tetrasporangia ellipsoidal, borne in irregular sori on vesicles, cruciately (rarely tetrahedrally) divided, about 40 x20 µm, immersed in outer cortex and surrounded by elongated sterile paraphyses; cystocarps up to 500 µm diameter, embedded in vesicles, 3-6 on the same vesicle, often in a centrally-placed ring; male plants with spermatangial sori near centre of vesicles.
Collections, ecology and regional distribution
Recorded from De Hoop to the Durban area (24-51). Found in the sublittoral fringe on wave-exposed shores, usually under ledges and in crevices.
World distribution: Mediterranean, Canary Islands, Madagascar (Guiry & Guiry 2009).
Type locality: Madagascar (Silva et al. 1996).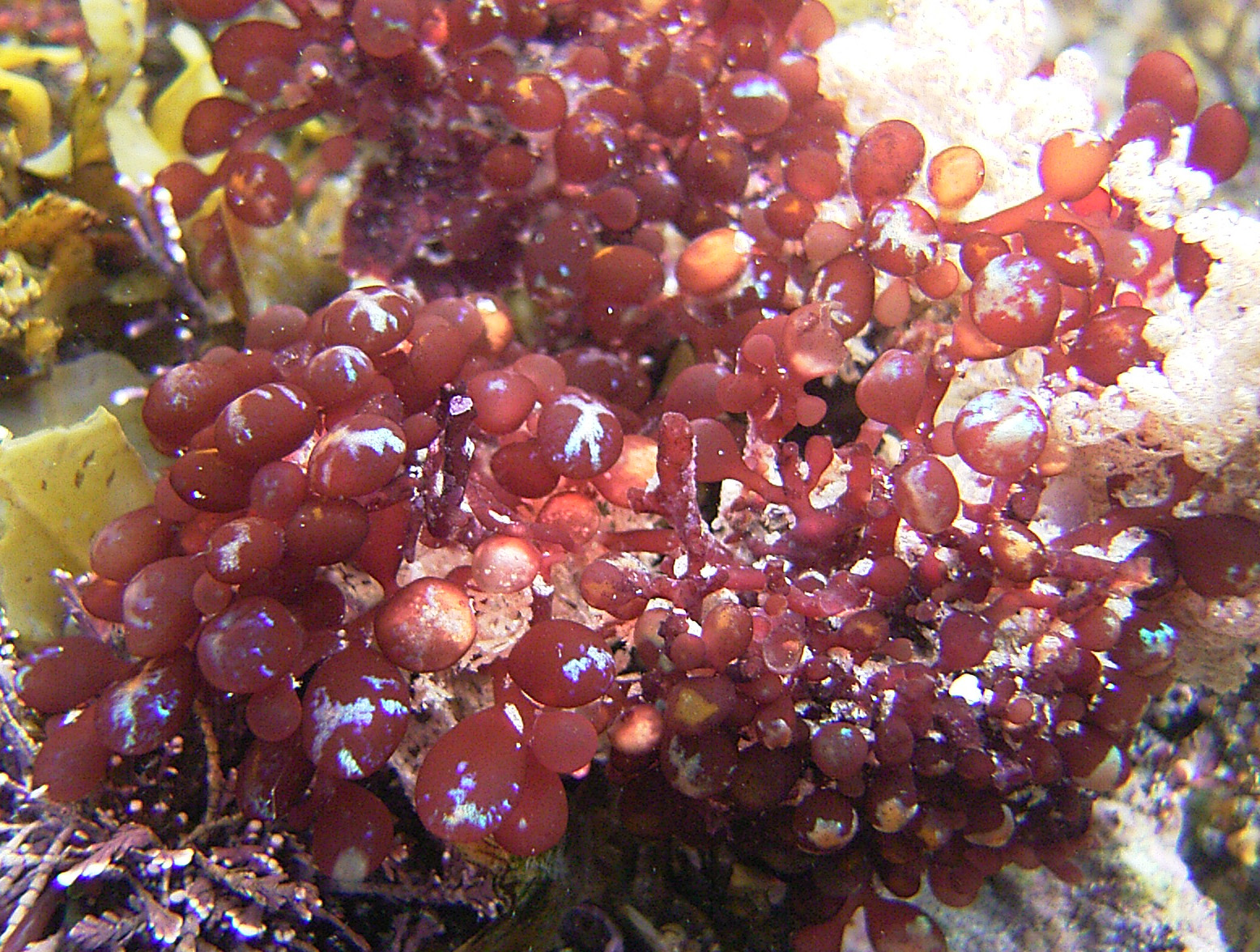 Botryocladia madagascariensis, De Hoop.
References Botryocladia madagascariensis
Feldmann, G. 1945. Revision du genre Botryocladia Kylin (Rhodophycees – Rhodymeniacees). Bull. Soc. Hist. Nat. Afr. Nord 35: 49-61.
Guiry, M.D. & Guiry, G.M. 2009. AlgaeBase. World-wide electronic publication, National University of Ireland, Galway. http://www.algaebase.org; searched in August 2009.
Silva, P.C., Basson, P.W. & Moe, R.L. 1996. Catalogue of the benthic marine algae of the Indian Ocean. University of California Publications in Botany 79: 1-1259.
Cite this record as:
Anderson RJ, Stegenga H, Bolton JJ. 2016. Seaweeds of the South African South Coast.
World Wide Web electronic publication, University of Cape Town, http://southafrseaweeds.uct.ac.za; Accessed on 01 October 2023.