Order Ceramiales
Family Callithamniaceae
Callithamnion stuposum Suhr 1840: 293
Plants dense, spongy, up to 10 cm tall, with green or sometimes blue sheen. Main axis visible in the basal part of the plant, up to 100 µm thick when uncorticated, becoming covered with cortical filaments and thus increasing the diameter. Cortical filaments covered with short adventitious branchlets. Segments 2-3 times longer than broad. Laterals polystichously arranged, branched from the first cell, branching to the fifth or sixth order, the ultimate apices more distichous and often provided apically with a few spine-like laterals. Apices of the plant crowded, the laterals curved inward and hiding the apical cell. Tetrasporangia in series on the adaxial face of the laterals, one per cell, almost globose, measuring ca. 55 µm in diameter, tetrahedrally divided. Male stands one per cell in ultimate branch systems, almost erect with a relatively large basal cell, a ca. six-celled axis and many spermatangia, measuring ca. 35 µm in height. We have not seen female specimens, but De Clerck et al. (2005) indicate records of female plants (from KwaZulu-Natal) with reproductive structures (with involucral branchlets!).
Collections, ecology and regional distribution
Recorded from Swartklip, False Bay to Mabibi in northern KwaZulu-Natal (18-48). A species of mid-tide level down, the dense thallus often collecting many pieces of shell. Mainly epilithic or on inanimate substrata.
World distribution: Previously thought to be a South African endemic, it is however, reported from Puerto Rico (Ballantine et al. 2011).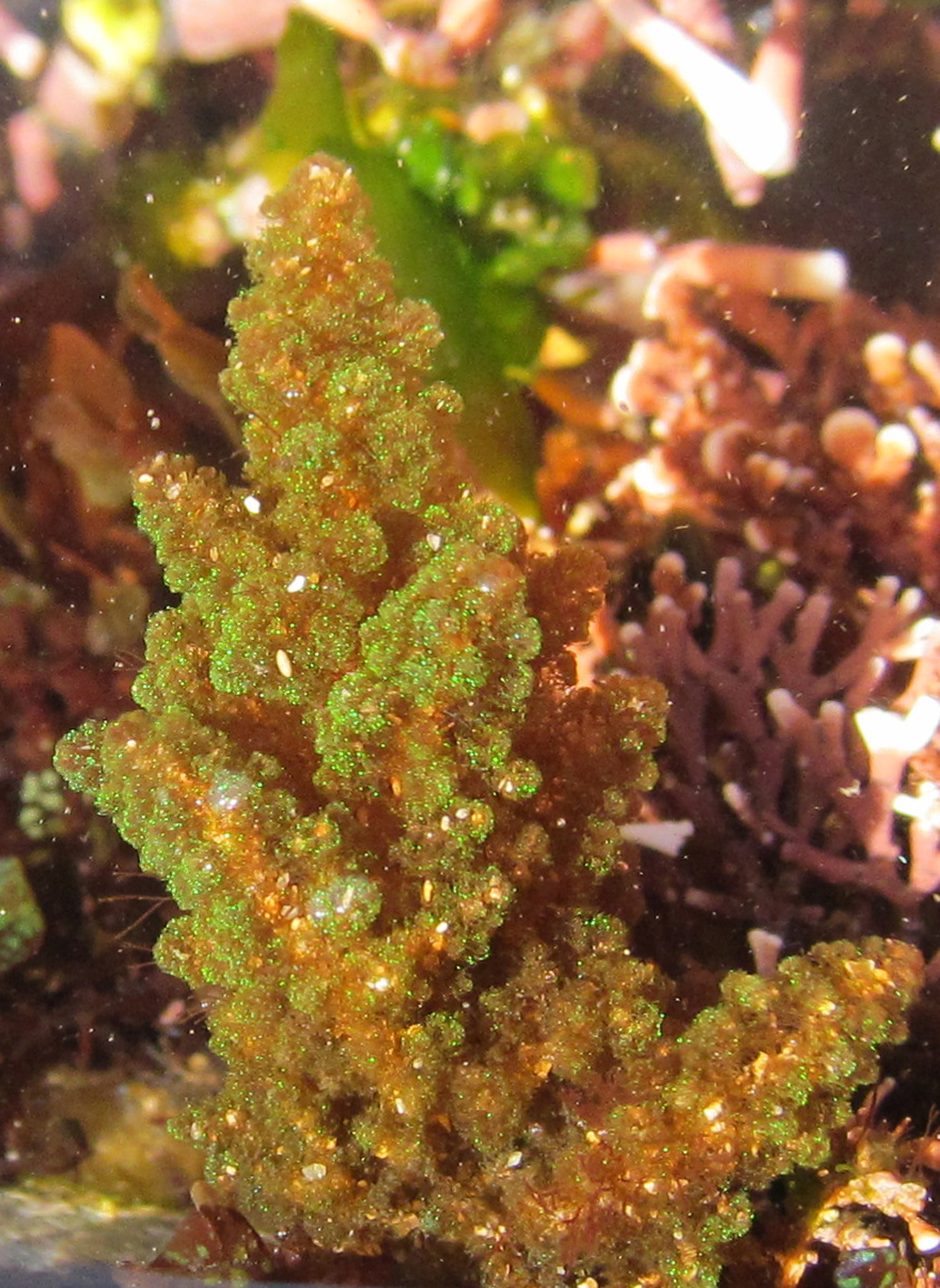 Callithamnion stuposum, showing green iridescence, Hluleka.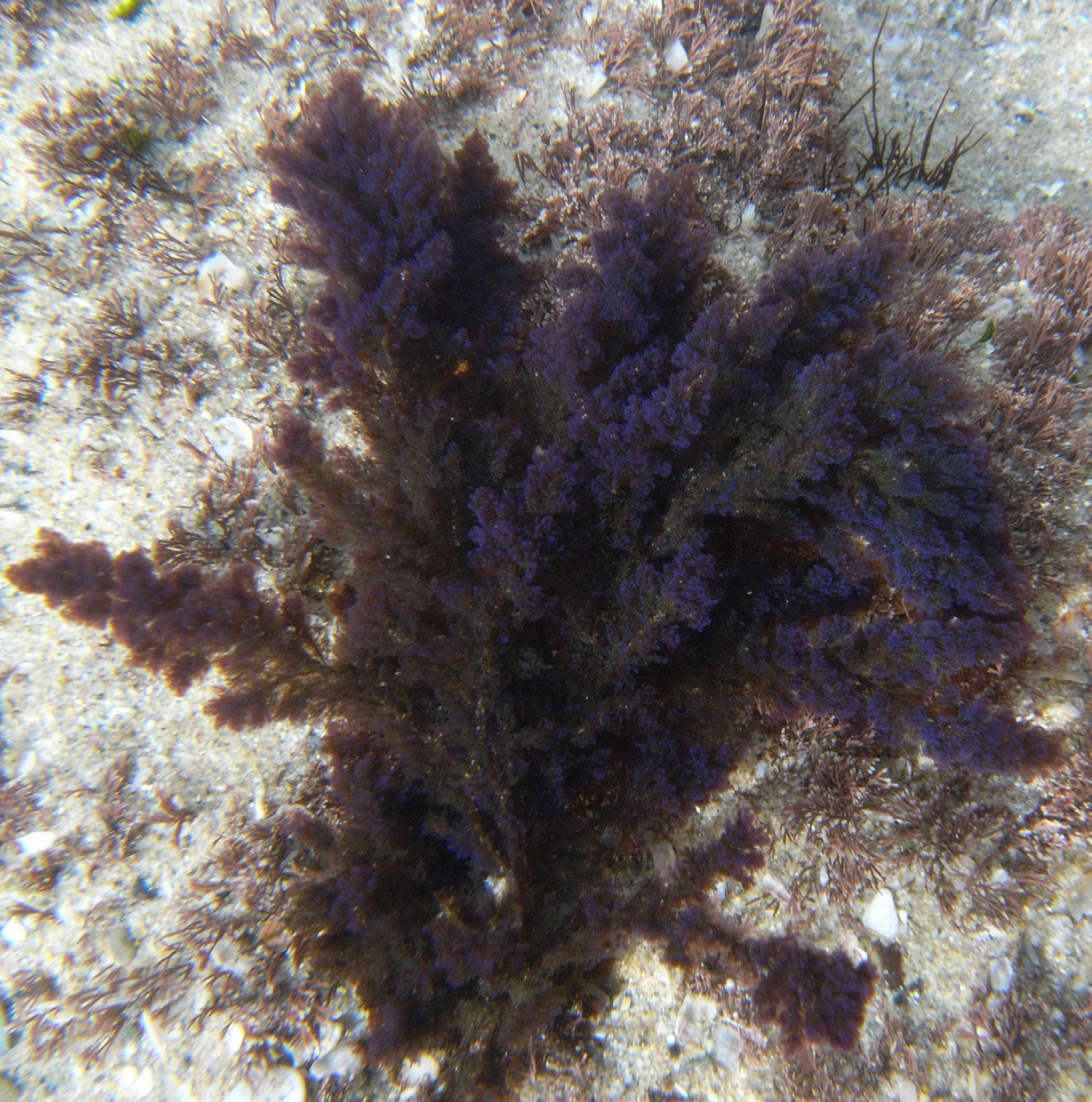 Callithamnion stuposum, blue iridescent form, (Morgan Bay).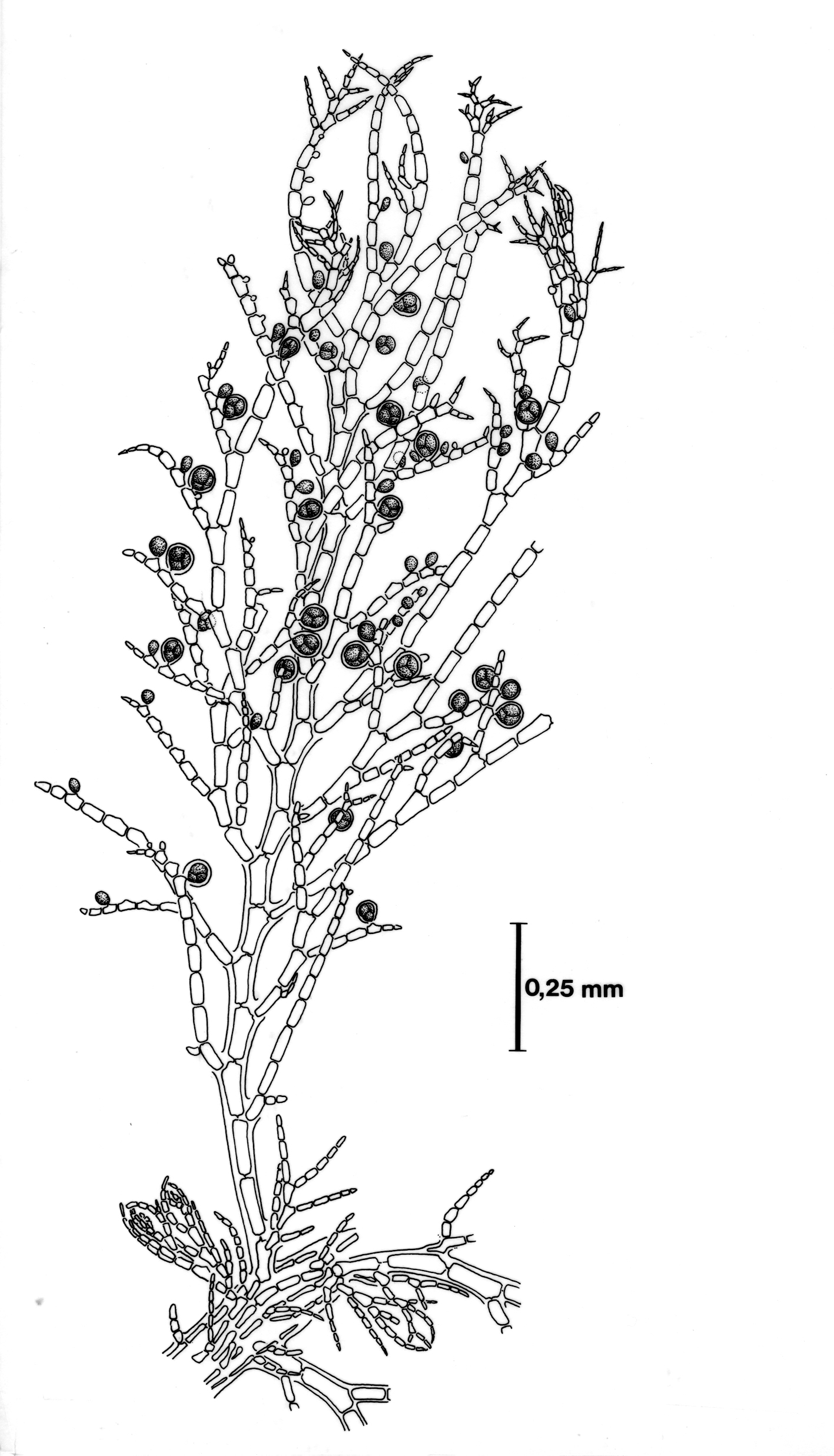 Callithamnion stuposum, lateral branch with tetrasporangia, reproduced from Stegenga et al. (1997).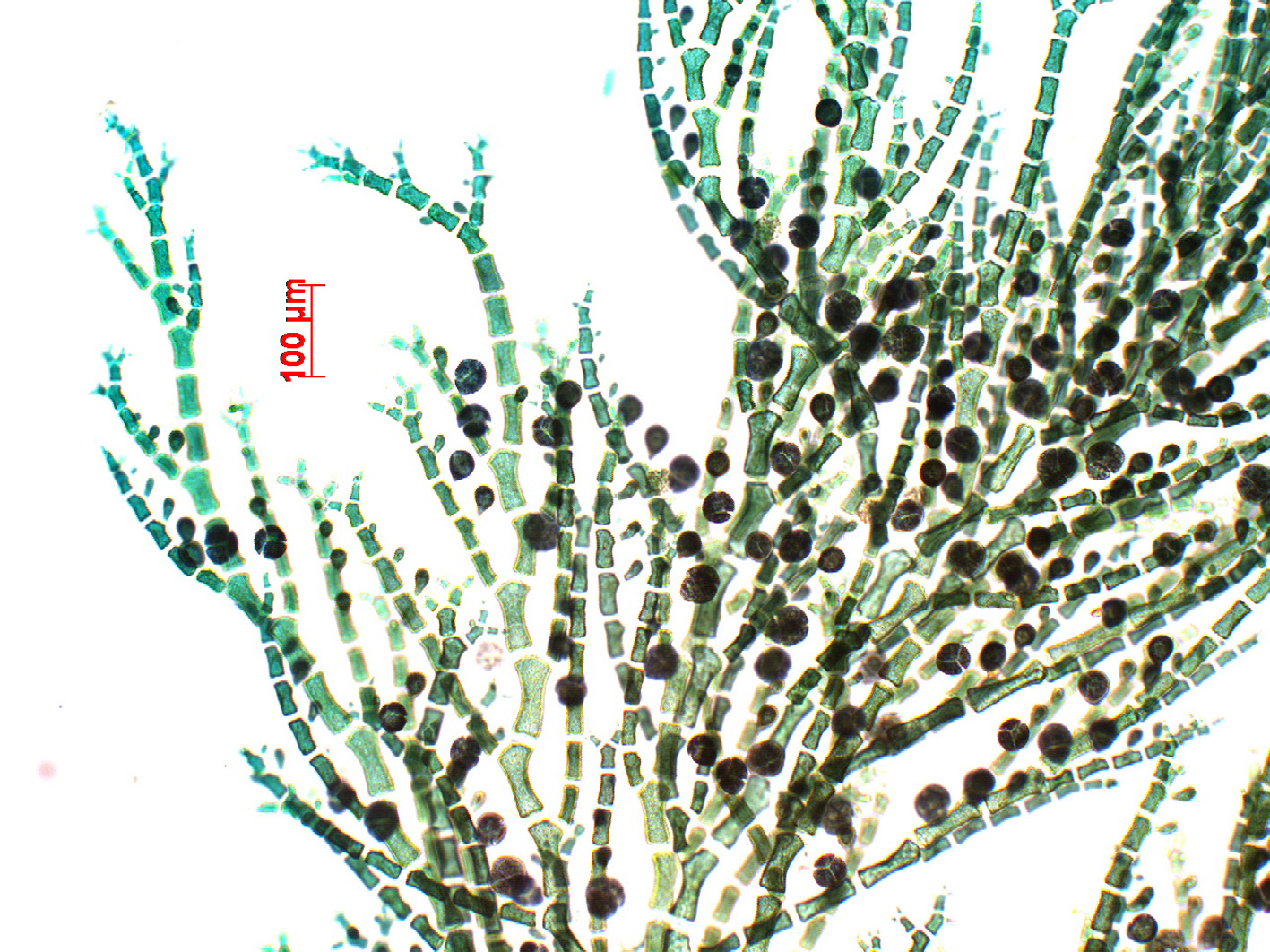 Callithamnion stuposum, tetrasporangial (Double Mouth, stained slide).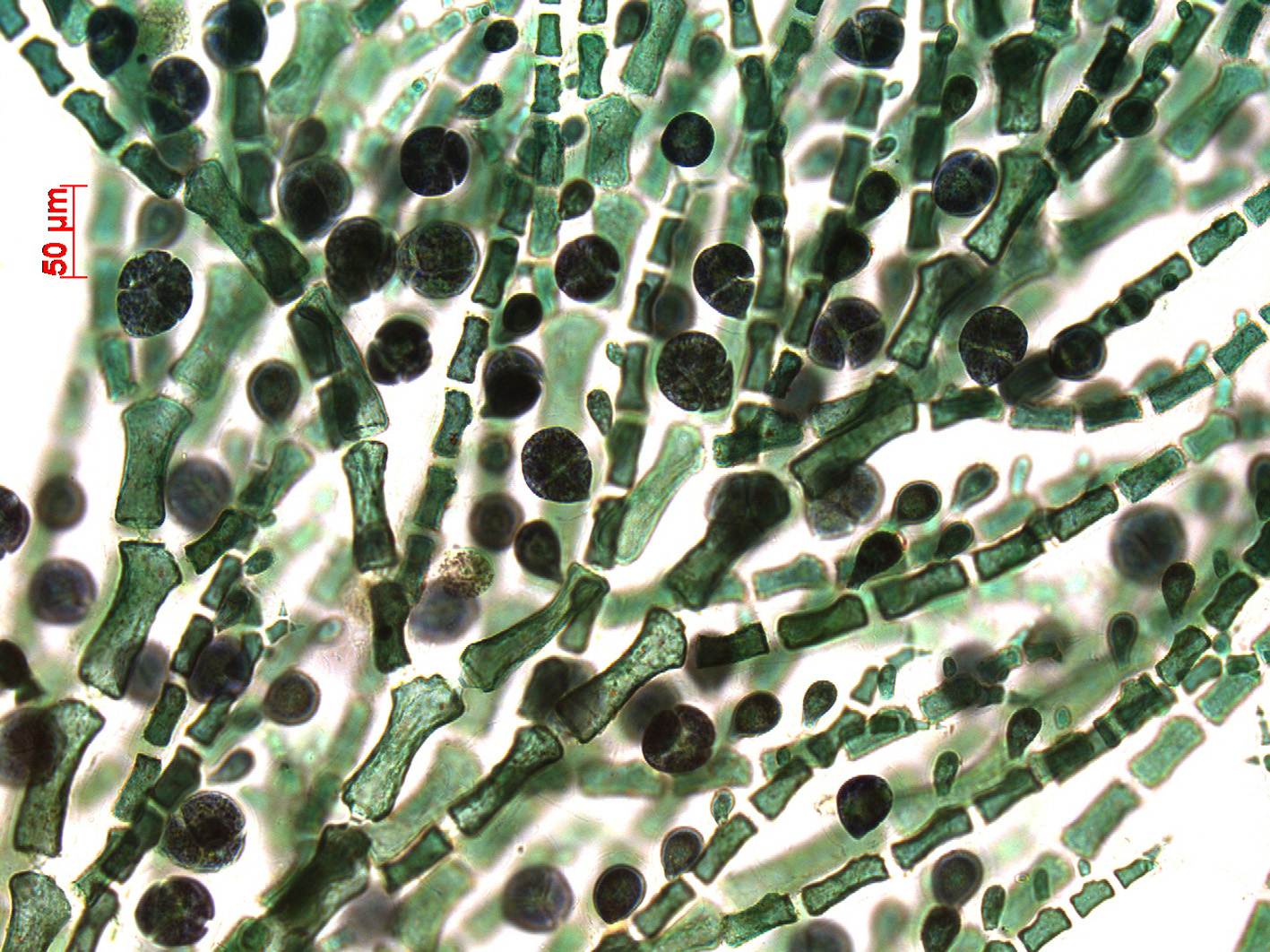 Callithamnion stuposum, tetrasporangial detail, stained slide.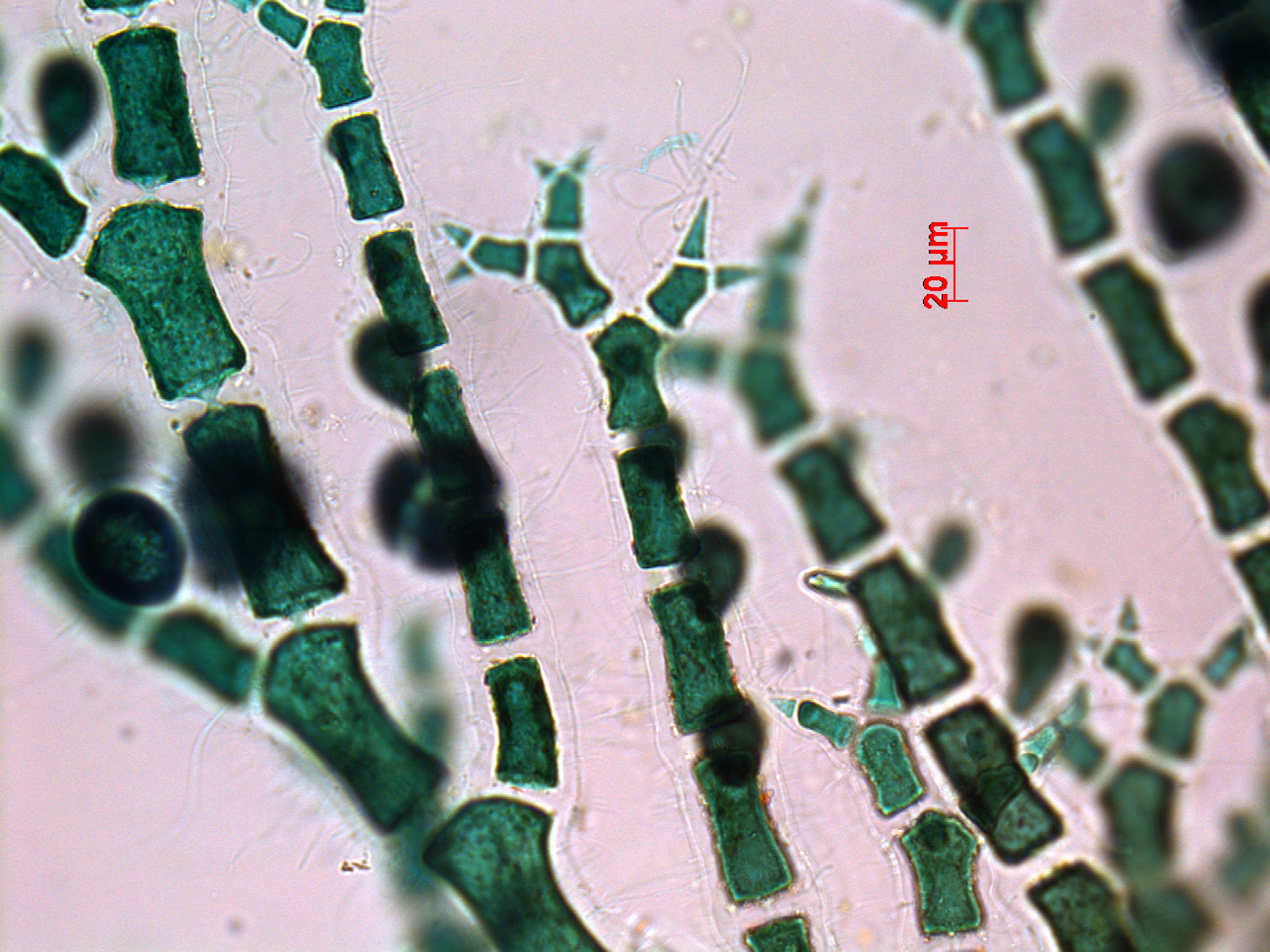 Callithamnion stuposum, terminal spinous branchlets, stained slide.
References Callithamnion stuposum
Ballantine, D.L., Athanasiadis, A. & Ruiz, H. 2011. Notes on the benthic marine algae of Puerto Rico. X. Additions to the flora. Botanica Marina 54(3): 293-302.
De Clerck, O, Tronchin, E. M., Schils, T. 2005. Red algae. In: De Clerck, O., J.J.Bolton, R. J. Anderson and E. Coppejans, 2005. Guide to the Seaweeds of Kwazulu-Natal. National Botanic Garden of Belgium, Brussels (Scripta Botanica Belgica), pp. 130-269.
Stegenga, H., Bolton, J.J. & R. J. Anderson. 1997. Seaweeds of the South African west coast. Contributions from the Bolus Herbarium 18: 655 pp.
Suhr, J.N. von 1840. Beiträge zur Algenkunde. Flora 23: 257-265, 273-282, 289-298.
Cite this record as:
Anderson RJ, Stegenga H, Bolton JJ. 2016. Seaweeds of the South African South Coast.
World Wide Web electronic publication, University of Cape Town, http://southafrseaweeds.uct.ac.za; Accessed on 25 September 2023.