Order Gigartinales
Family Solieriaceae
Callophycus densus (Sonder) Kraft 1984: 58
Thalli red (darkening on drying), about 5 – 20 (30) cm tall, compressed, pinnately branched, margins regularly serrated. Discoid holdfast gives rise to single main axis with prominent midrib. Axes narrow at base, increasing to 2-3 mm width, about 0.5 mm thick. Branching opposite, sub-opposite or alternate. Structure of thallus multiaxial. Medulla of two types of longitudinal filaments: most are thin with 2-3 µm diameter cell lumen, others with cell lumen of about 6 µm diameter and thick walls giving a total cell diameter of about 20 µm. Cortex pseudoparenchymatous, comprising two layers, the inner comprising two layers of large cells (up to 50 µm diameter), the outer a 2-3 layered outer cortex of palisade-like cells 3-5 µm in diameter. Cystocarps scattered singly or in small groups on all parts of thallus, visible as swellings, ostiolate. Tetrasporangia scattered irregularly over blades, immersed in outer cortex, zonately divided, 13-19 µm long, 5-12 µm wide.
Collections, ecology and regional distribution
Subtidal, from Olifantsbos (just west of Cape Point) in drift to southern KwaZulu-Natal (17-57).
World distribution: Also recorded from Australia and Fiji (Guiry & Guiry 2011).
Type locality: Cape York, Queensland, Australia (Kraft, 1984).
Note: Detailed descriptions of this species are provided by Hewitt (1960) and Kraft (1984).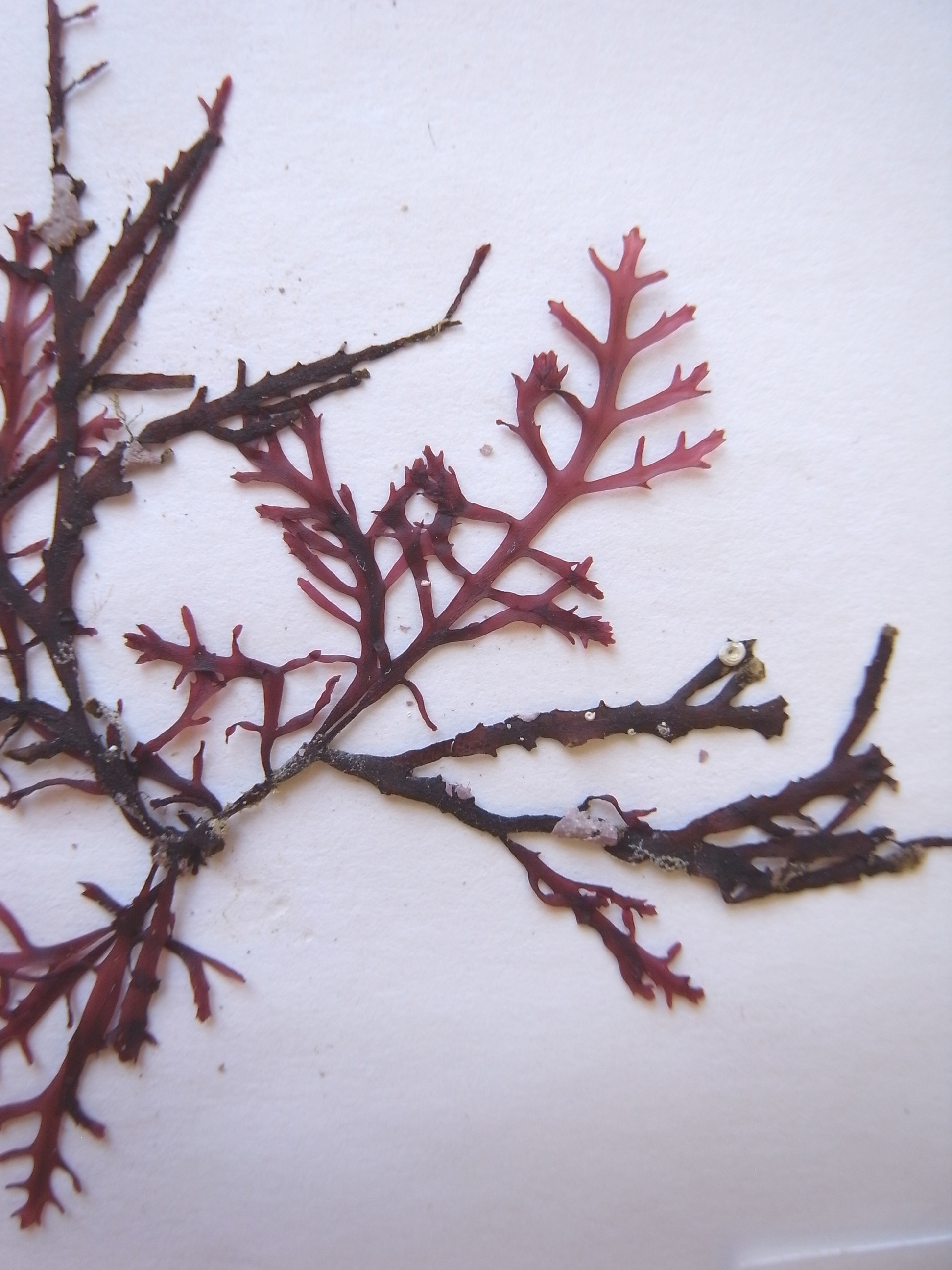 Callophycus densus, Kini Bay, near East London (BOL).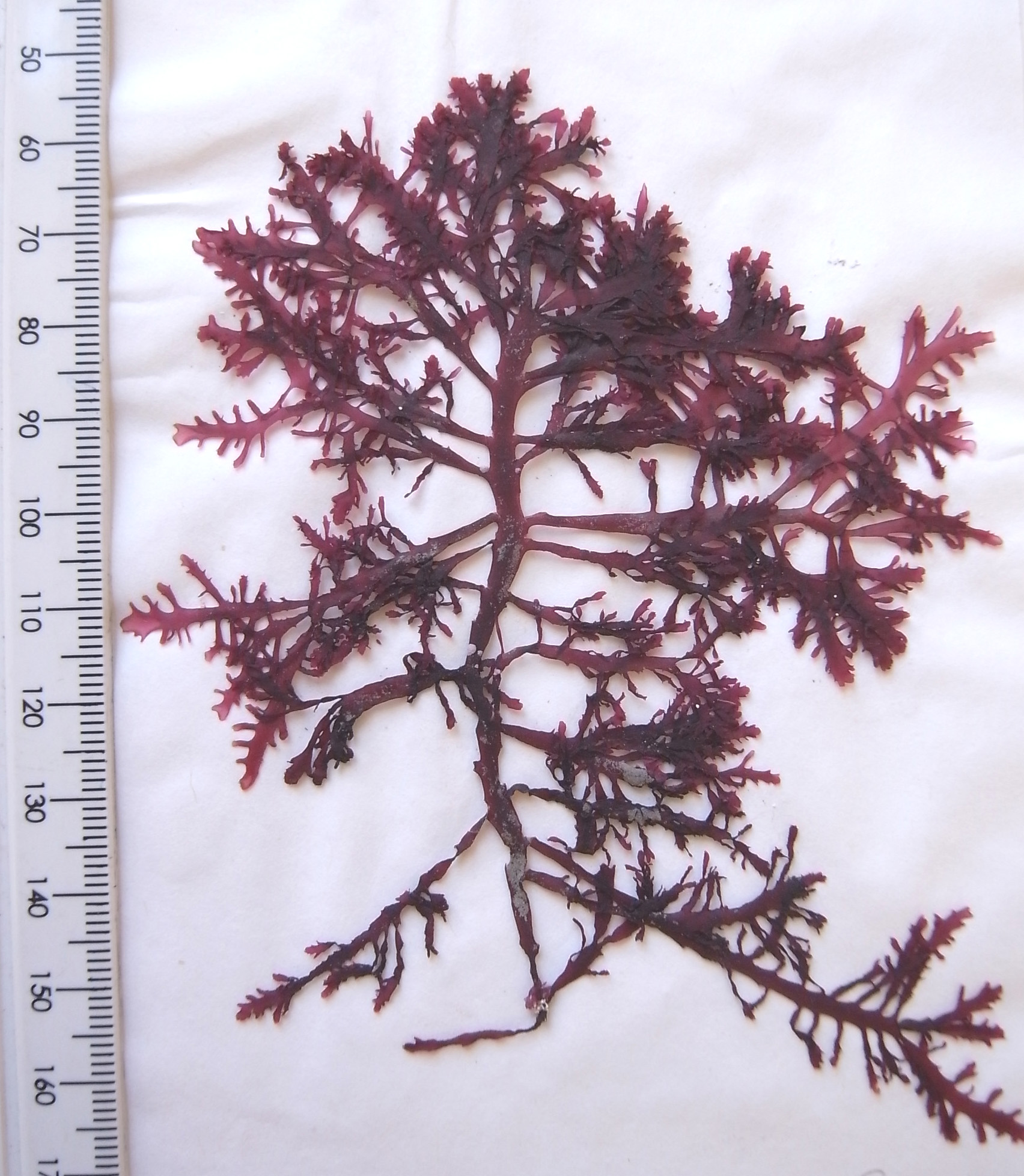 Callophycus densus, specimen from west coast of Cape Peninsula (BOL).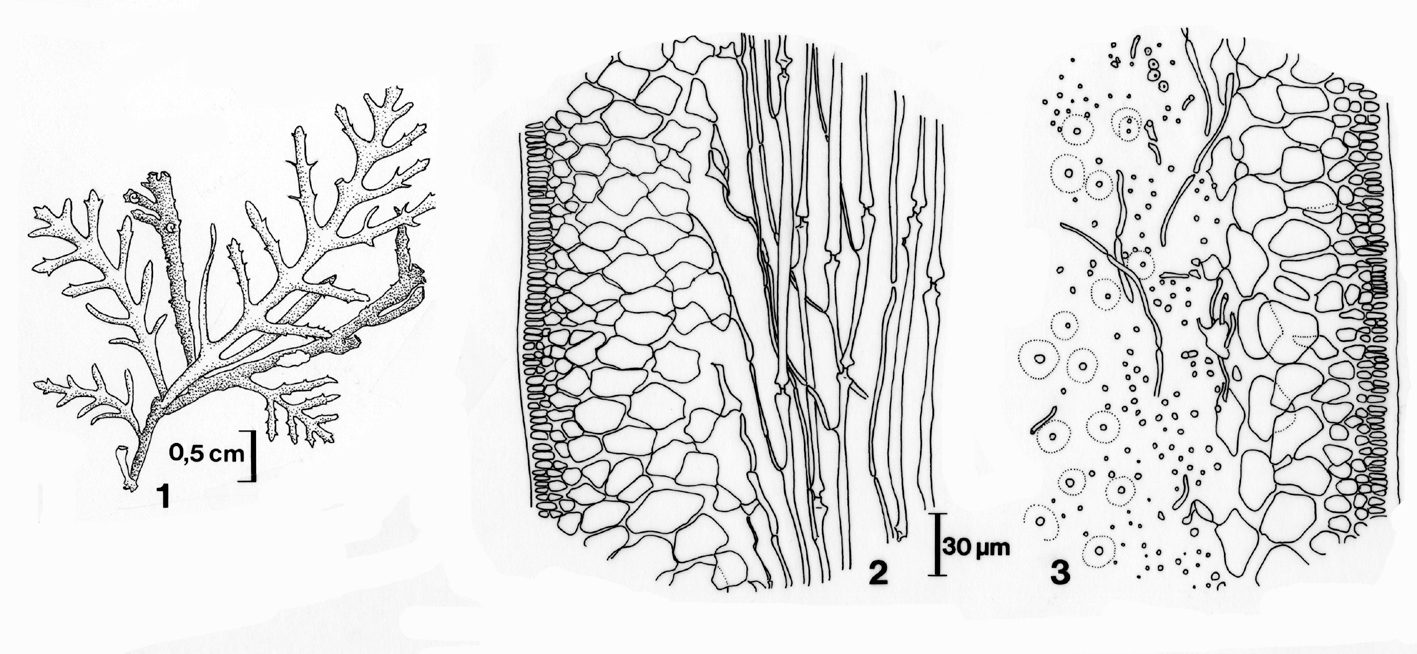 Callophycus densus. 1. Habit. 2. Longitudinal section. 3. Cross section. Reproduced from Stegenga et al. (1997).
References Callophycus densus
Guiry, M.D. & Guiry, G.M. 2011. AlgaeBase. World-wide electronic publication, National University of Ireland, Galway. http://www.algaebase.org; searched May 2011.
Hewitt FE 1960. A morphological study of three South African Gigartinales. University of California Publications in Botany, 32:195-233.
Kraft GT 1984. Taxonomic and morphological studies of tropical and subtropical species of Callophycus (Solieriaceae, Rhodophyta). Phycologia 23: 53-71.
Stegenga, H., Bolton, J.J. and R. J. Anderson. 1997. Seaweeds of the South African west coast. Contributions from the Bolus Herbarium 18: 655 pp.
Cite this record as:
Anderson RJ, Stegenga H, Bolton JJ. 2016. Seaweeds of the South African South Coast.
World Wide Web electronic publication, University of Cape Town, http://southafrseaweeds.uct.ac.za; Accessed on 25 September 2023.