Order Gigartinales
Family Caulacanthaceae
Catenella nipae Zanardini 1872: 143-145, pl. 6: A, figs 1-7
Thallus brown-red to maroon, up to 1 cm tall, growing in clumps. Branching di-or tri-chotomous, segments 2-4 mm long, swollen conspicuously and constricted at nodes. Branch segments arising from nodes. Holdfasts developing from nodes, cylindrical, with discoid attachments. Branches uniaxial, hollow, filled with mucilage; outer cortical cells elongate, pigmented; inner cortical cells larger, spherical; system of dichotomous filaments connecting inner cortical cells to laxly-arranged medullary filaments orientated transversely to main axial filament. No fertile plants noted in South African material by Lambert et al (1987), but reports from other areas describe swollen, stipitate cystocarps and immersed tetrasporangia scattered in cortical tissue.
Collections, ecology and regional distribution
Port St Johns area (Pondoland) – Mngazana and Mntafufu estuaries eastward to northern KZN (46-58). Found on mangrove substrata at or below water level (Lambert et al., 1987).
World distribution: Also recorded from Tanzania and many localities in the tropical Indo-Pacific, including India, Japan, Indonesia, Australia and New Zealand (Guiry & Guiry 2011).
Type locality: Sarawak, Indonesia (Lambert et al., 1987).
Note: see Lambert et al., 1987 for further details of South African material.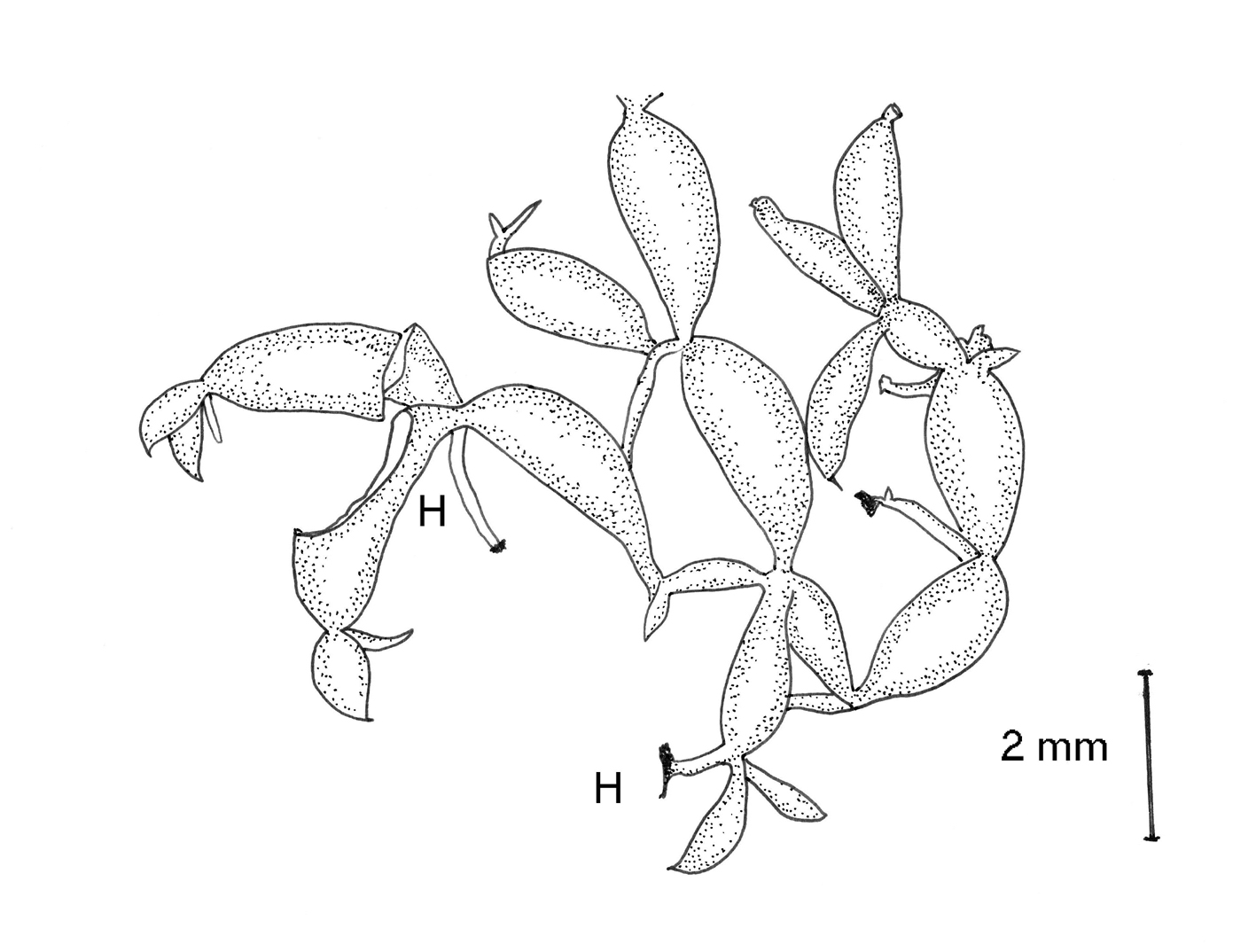 Catenella nipae, showing swollen vertical branches and holdfasts (H). Drawn from photograph in Lambert et al. (1987: Fig. 3 H).
References Catenella nipae
Guiry, M.D. & Guiry, G.M. 2011. AlgaeBase. World-wide electronic publication, National University of Ireland, Galway. http://www.algaebase.org; searched June 2011.
Lambert, G., Steinke T.D. & Y. Naidoo. 1987. Algae associated with mangroves in southern African estuaries. I. Rhodophyceae. South African Journal of Botany 53 (5): 349-361.
Zanardini, G. 1872. Phycearum indicarum pugillus. Mem R. Ist. Veneto Sci. Lett. Arti. 17: 129-170, plates 1-12.
Cite this record as:
Anderson RJ, Stegenga H, Bolton JJ. 2016. Seaweeds of the South African South Coast.
World Wide Web electronic publication, University of Cape Town, http://southafrseaweeds.uct.ac.za; Accessed on 25 September 2023.