Order Ceramiales
Family Ceramiaceae
Ceramium camoui Dawson E.Y.Dawson 1944: 319, 320, 400, 401,pl. 51: figs. 2, 3
Plants lax, creeping between other plants and inanimate substrata. Branching dichotomous at long intervals of up to 30 segments. Cortical bands distinct with straight upper and lower margins, the naked part of the central cells up to two and a half times as long as broad, in young parts often about as long as broad or slightly shorter. Plants may be attached by single rhizoids from almost any part of the plant except the very tips. Segments up to 120 µm in diameter. Apices moderately or only slightly incurved. Cortical bands with four to six or seven periaxial cells, each forming two acropetal and two basipetal cells and rarely a complete cortical tier on either side, the periaxial cells remaining visible. The west coast flora (Stegenga et al. 1997) mentions 4(-5) periaxial cells; the higher numbers were found in fertile material. In sterile specimens the diameter of the filaments often does not exceed 70 µm.
Reproductive structures seen rarely, in the present material only once (tetrasporangia). Tetrasporangia in whorls on a number of segments in rather short (adventitious) branches. Sporangia up to ca. 50x37 um, remaining inside the cortical band, causing considerable swelling of the band.
Collections, ecology and regional distribution
Occurs along the whole south coast from the Cape Peninsula to Transkei (17-47). Epilithic, epiphytic or epizoic.
World distribution: scattered warm temperate and tropical localities, including Kenya, Tanzania, Baja California, China, Queensland (Guiry & Guiry 2015).
Type locality: Isla Turners, Baja California, Mexico (Silva et al. 1996).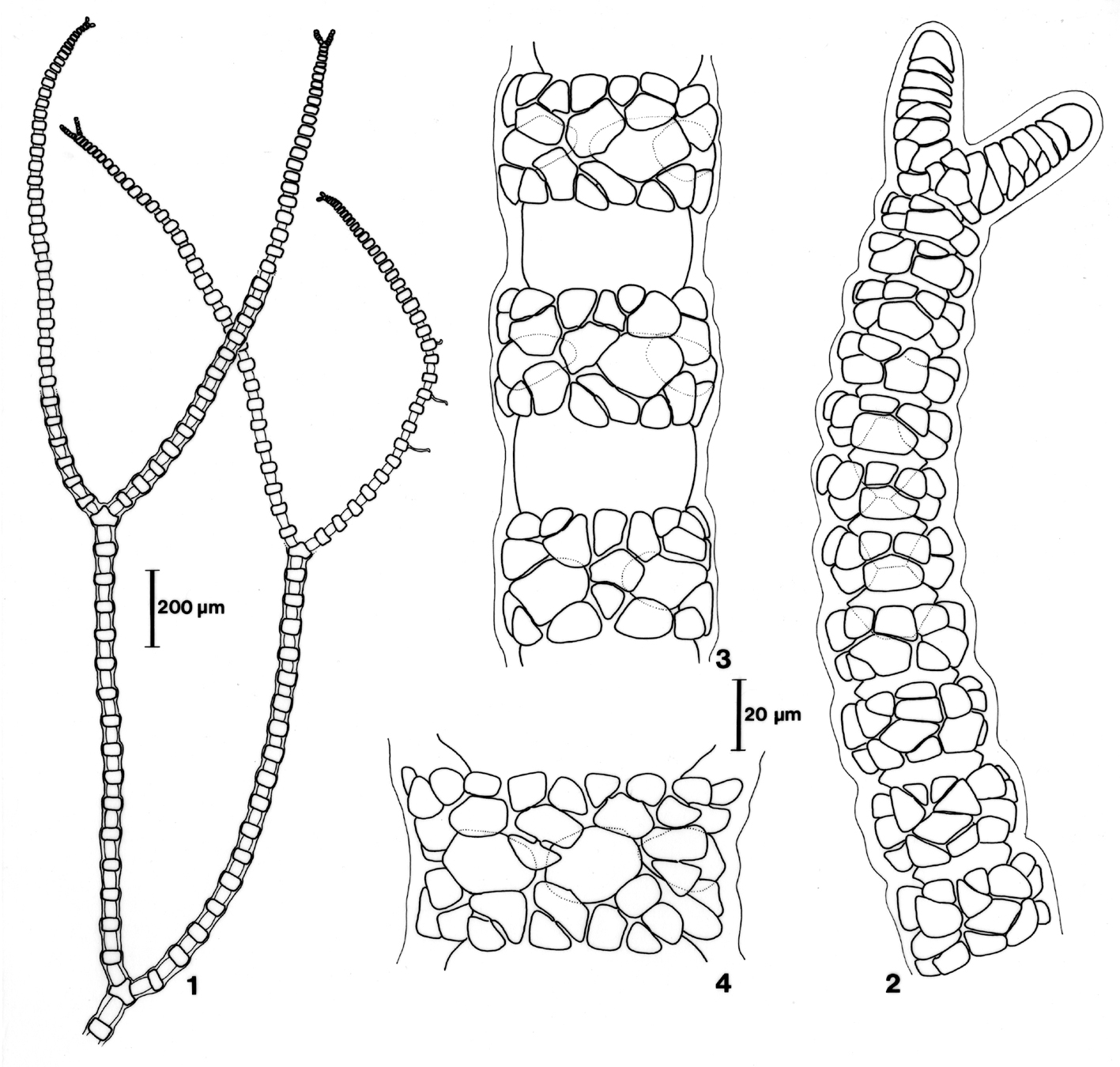 Ceramium camoui. 1-2 Thallus apex. 3-4 Cortication in older parts. Reproduced from Stegenga et al. (1997).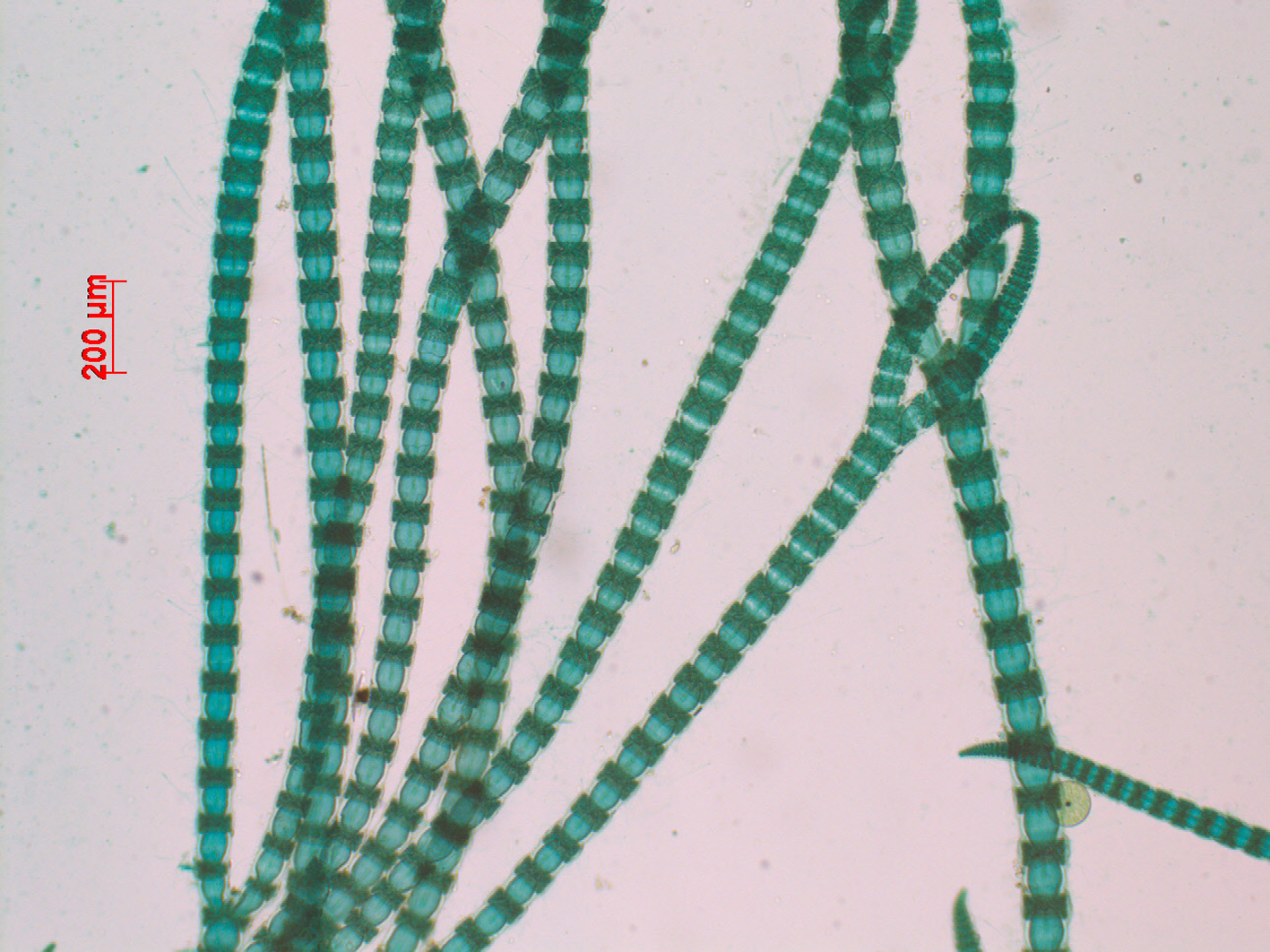 Ceramium camoui. Long sections without branching, stained slide, Mbotyi.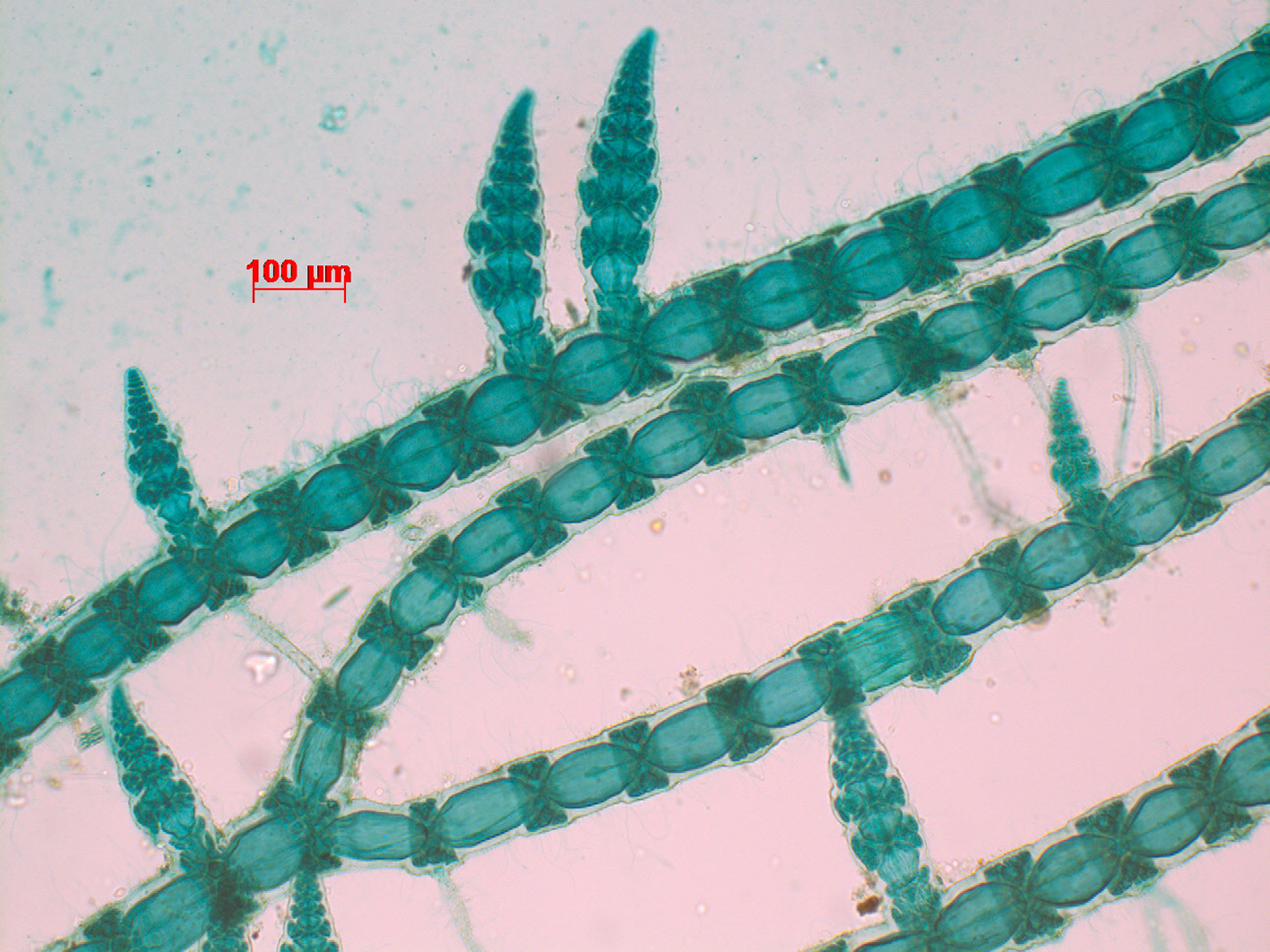 Ceramium camoui. Short laterals. Stained slide, Mbotyi.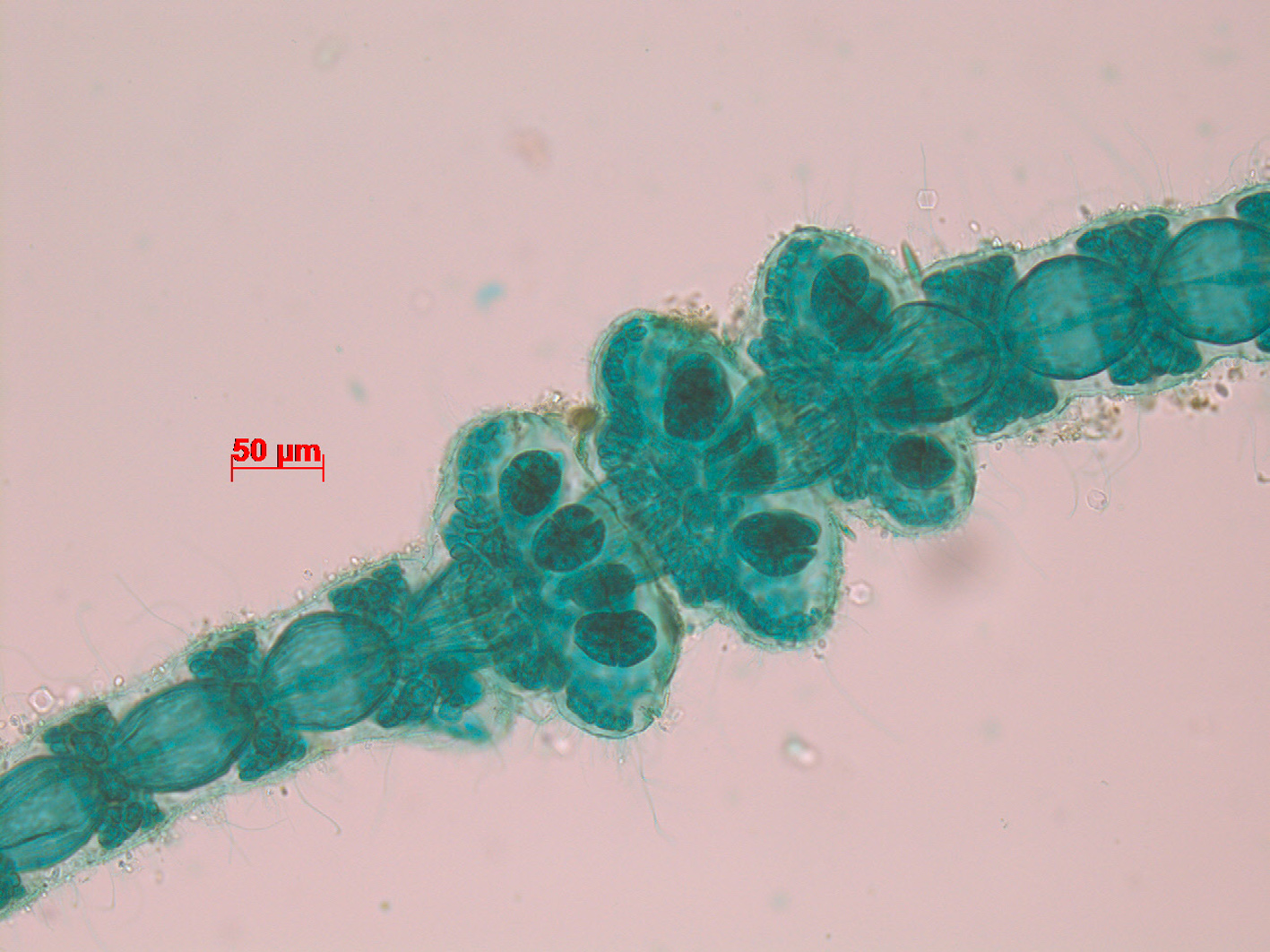 Ceramium camoui. Tetrasporangia. Stained slide, Mbotyi.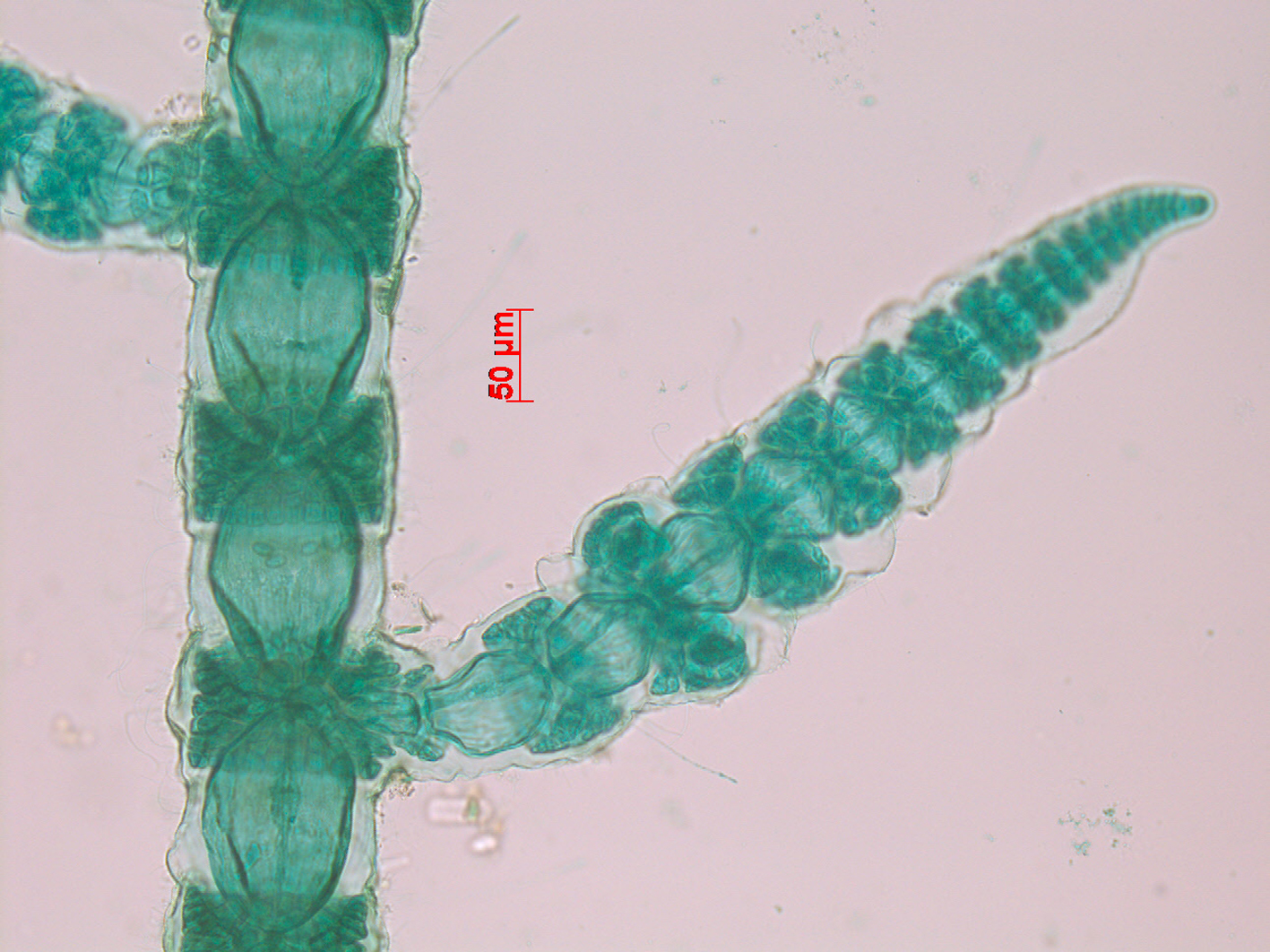 Ceramium camoui. Young tetrasporangial lateral. Stained slide, Mbotyi.
References Ceramium camoui
Dawson, E.Y. 1944. The marine algae of the Gulf of California. Allan Hancock Pacific Expeditions 3: i-v, 189-432, pls 31-77.
Guiry, M.D. & Guiry, G.M. 2015. AlgaeBase. World-wide electronic publication, National University of Ireland, Galway. http://www.algaebase.org; searched on 20 November 2015.
Silva, P.C., Basson, P.W. & Moe, R.L. 1996. Catalogue of the benthic marine algae of the Indian Ocean. University of California Publications in Botany 79: 1-1259.
Stegenga, H., Bolton, J.J. & R. J. Anderson. 1997. Seaweeds of the South African west coast. Contributions from the Bolus Herbarium 18: 655 pp.
Cite this record as:
Anderson RJ, Stegenga H, Bolton JJ. 2016. Seaweeds of the South African South Coast.
World Wide Web electronic publication, University of Cape Town, http://southafrseaweeds.uct.ac.za; Accessed on 21 September 2023.