Order Ceramiales
Family Ceramiaceae
Ceramium obsoletum C. Agardh 1828: 145
Plants on the south coast usually a few cm tall, on the west coast to 20 cm (Stegenga et al. 1997). Usually epiphytic, sometimes the base endophytic, but no creeping parts present. Thallus branched in one plane, number of segments between ramifications varying between 6 and 20, angle between ramifications apparently increasing with age, branches growing together for a segment (and a half). Apices tapering strongly, slightly or not incurved or even bent outward (tetrasporiferous branchlets). Axes up to 700 µm in diameter, the segments slightly shorter than broad. ca. 9 or 10 periaxial cells, producing a small-celled cortex; different cortical bands not discernable. Periaxials producing 2 acropetal and 3 basipetal corticating initials.
Reproductive structures of any kind often on numerous small (ramified) branchlets in unilateral series on the main axes. Fertile branchlets more frequently branched, often at intervals of 4 segments. Tetrasporangia in whorls on the small branchlets, remaining completely covered by the epidermis, up to 80 x 62 µm, sometimes in more elaborate branched systems near the apices of the plant, with the sporangia mainly in opposite positions in the plane of branching. Spermatangia covering all but the apical-most segments of small branchlets. Carposporophytes in low numbers on female branchlets, with ca. two or three gonimolobes and ca. seven involucral filaments; carpospores ca. 45 µm in cross section, in perfectly round carposporophyte of about 250 µm diameter.
Collections, ecology and regional distribution
Occurring over the whole south coast, although significantly smaller than on the west coast. Extending as far eastwards as the Durban area of KwaZulu-Natal (1-51).Usually epiphytic on larger seaweeds.
World distribution: also recorded from Namibia and Brazil (Guiry & Guiry 2015).
Type locality: Cape of Good Hope, South Africa (Silva et al 1996).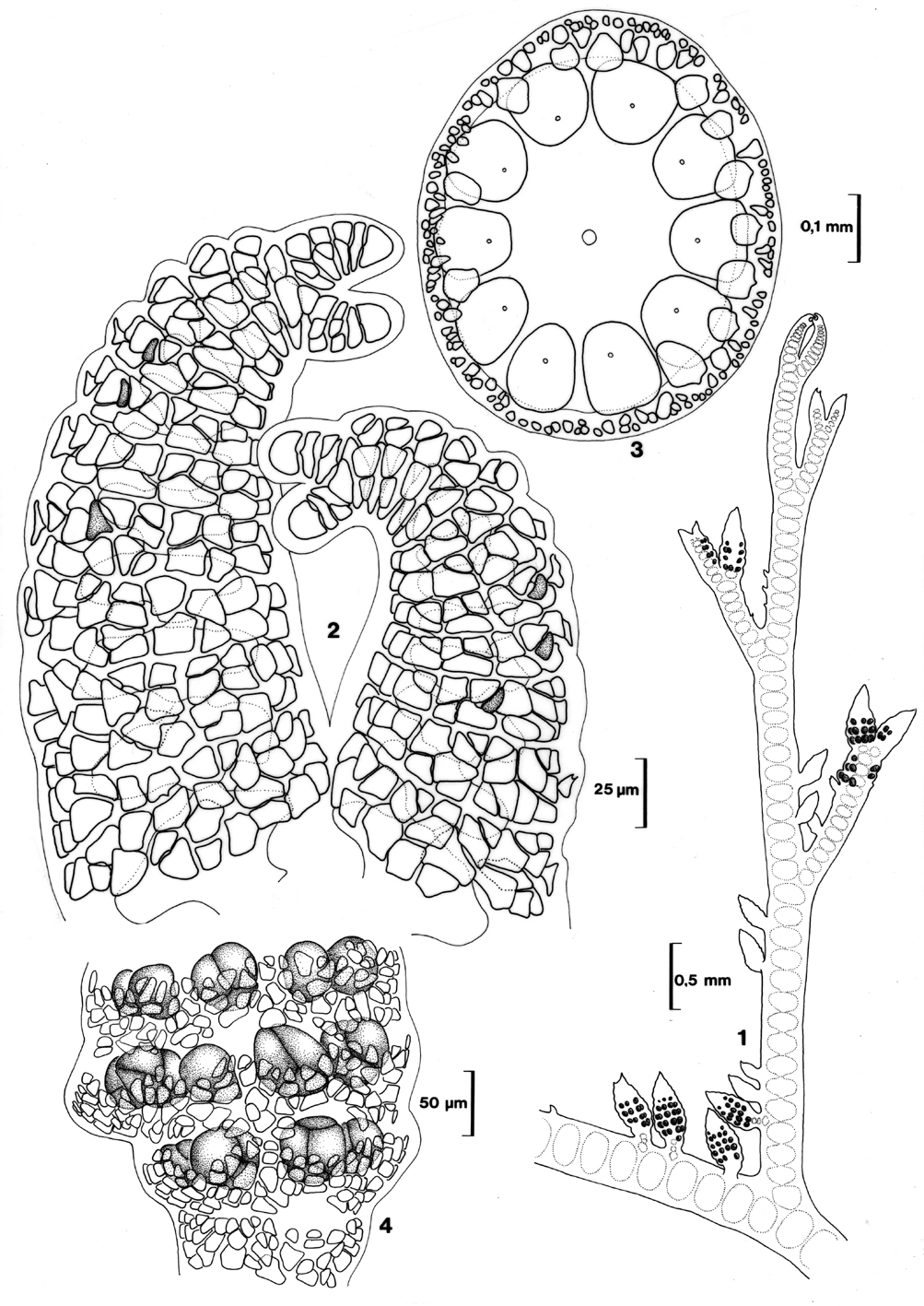 Ceramium obsoletum. 1 Thallus detail with tetrasporangial "stichidia". 2 Thallus apex. 3 Cross section of mature segment (through periaxial cells). 4 Tetrasporangia. Reproduced from Stegenga et al. (1997).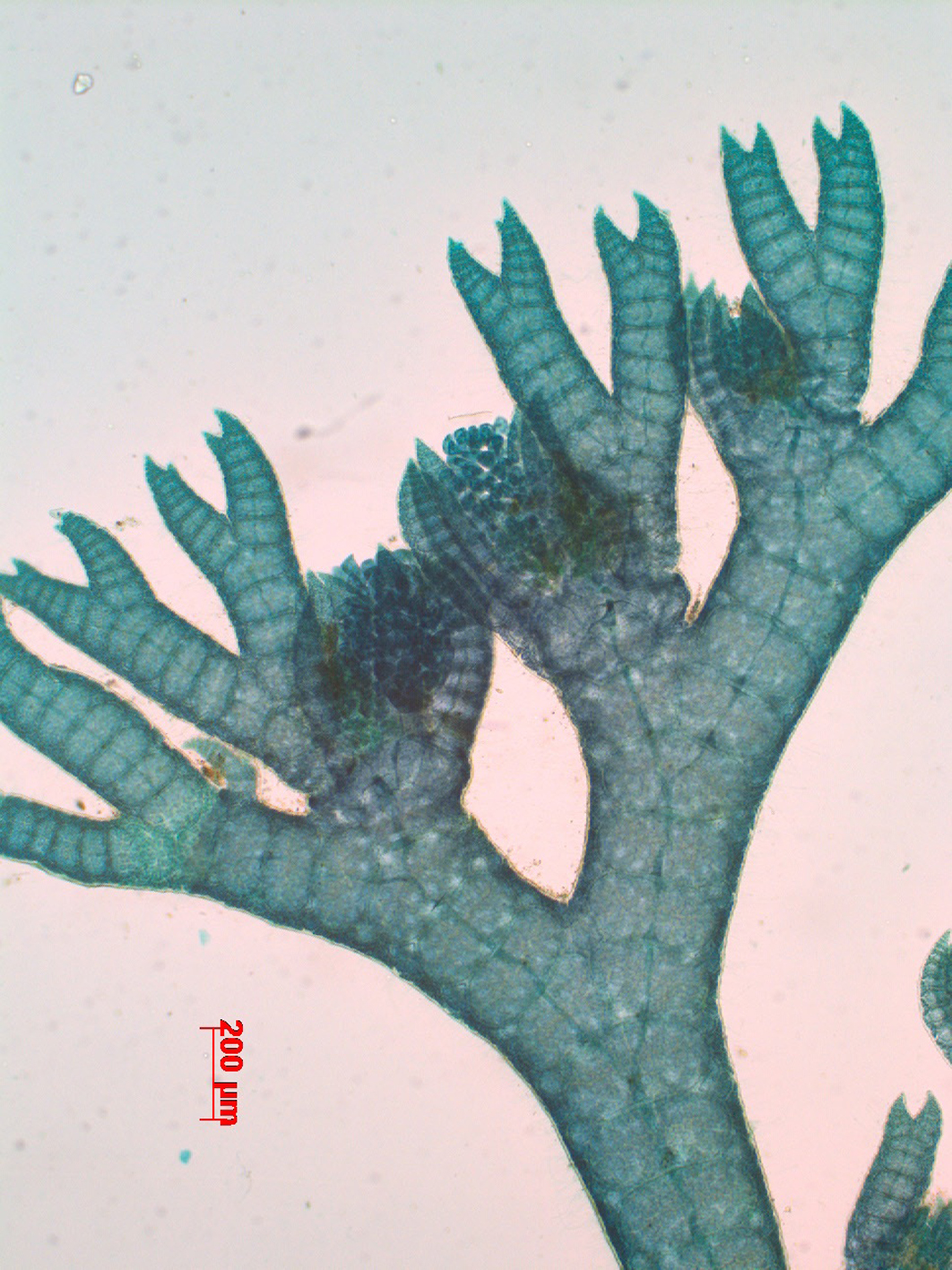 Ceramium obsoletum. Carposporophyte, stained slide material, Dome Bluff, Transkei.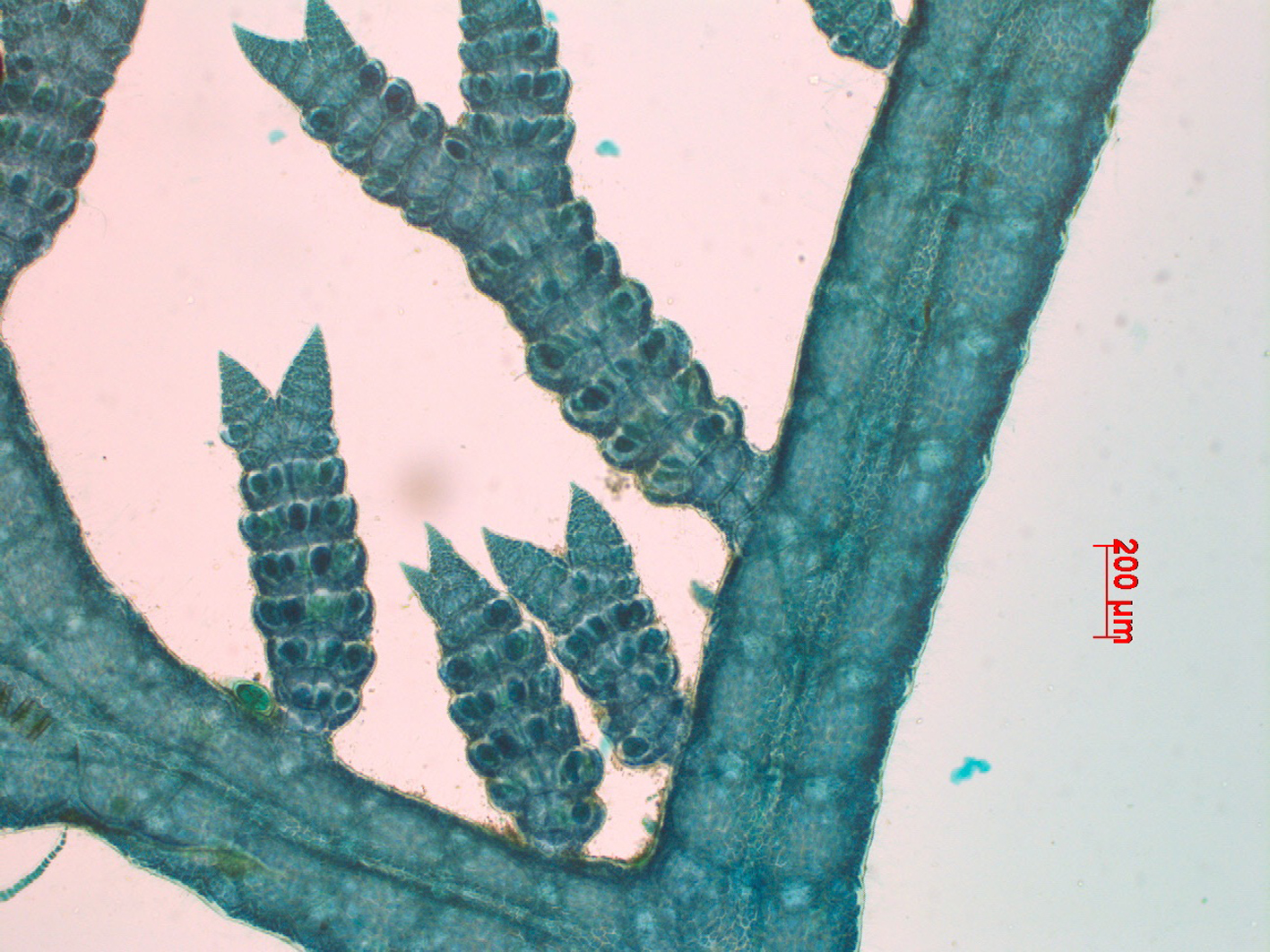 Ceramium obsoletum. Tetrasporophyte, stained slide material, Dome Bluff, Transkei.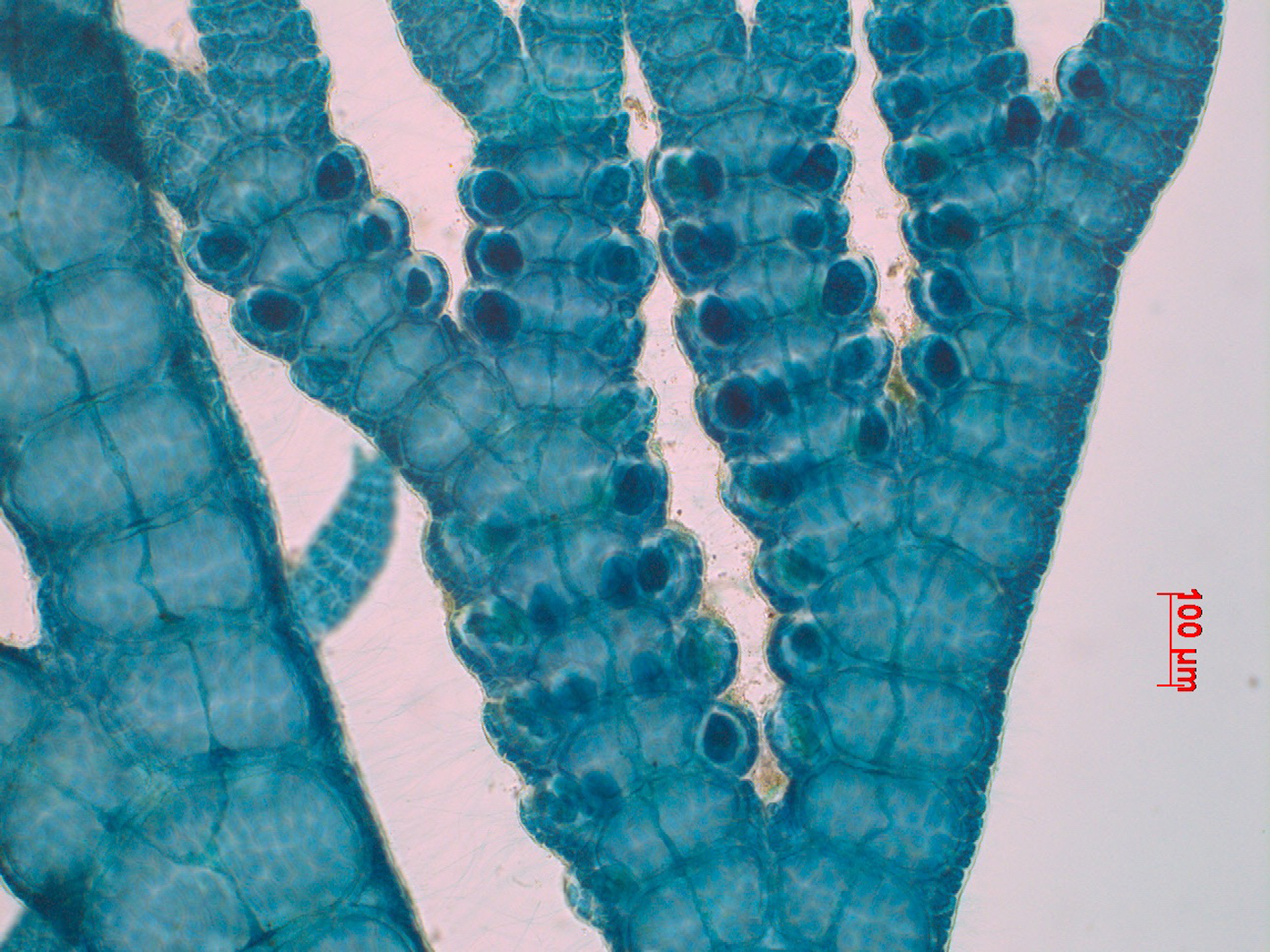 Ceramium obsoletum. Detail of tetrasporangia, stained slide material, Dome Bluff, Transkei.

Ceramium obsoletum. Fresh specimen, Tsitisikamma.
References Ceramium obsoletum
Agardh, C.A. 1828. Species algarum rite cognitae, cum synonymis, differentiis specificis et descriptionibus succinctis. Voluminis secundi. Sectio prior. pp. [i]-lxxvi, [i]-189. Gryphiae [Greifswald]: sumptibus Ernesti Mauriti [Ernst Mauritius].
M.D. Guiry in Guiry, M.D. & Guiry, G.M. 2015. AlgaeBase. World-wide electronic publication, National University of Ireland, Galway. http://www.algaebase.org; searched on 20 November 2015.
Silva, P.C., Basson, P.W. & Moe, R.L. 1996. Catalogue of the benthic marine algae of the Indian Ocean. University of California Publications in Botany 79: 1-1259.
Stegenga, H., Bolton, J.J. & R. J. Anderson. 1997. Seaweeds of the South African west coast. Contributions from the Bolus Herbarium 18: 655 pp.
Cite this record as:
Anderson RJ, Stegenga H, Bolton JJ. 2016. Seaweeds of the South African South Coast.
World Wide Web electronic publication, University of Cape Town, http://southafrseaweeds.uct.ac.za; Accessed on 21 September 2023.