Order Ceramiales
Family Ceramiaceae
Ceramium sp 1
Plants caespitose, the apices for 3-5 mm erect and free from the substrate. Filaments dichotomously branched ca. every 12-15 segments, the apices moderately incurved. Cortical bands with straight upper and lower margin, usually not wider than 5 cell rows. Inter-cortical spaces stretching to three times their diameter in the horizontal parts of the thallus. Filaments becoming 120 (-150) µm in diameter. Segments with 6-7 pericentral cells remaining largely exposed and cutting off two acropetal corticating initials and two basipetal ones. Several prominent gland cells in the acropetal cortex, measuring up to 20x12 µm. Rhizoids originating from the pericentral cells, becoming multicellular. Tetrasporangia completely exserted, mainly on the inside of forkings in the subapical regions, sporangia nearly globose, measuring ca. 50x45 µm at maturity, with a tetrahedral division.
This species seems to be related to C. glanduliferum, but is smaller, has fewer pericentral cells, more modest incurvature of the apices and less extensive development of cortex.
Collections, ecology and regional distribution
Only known from Mkambathi (47).
World distribution: unknown.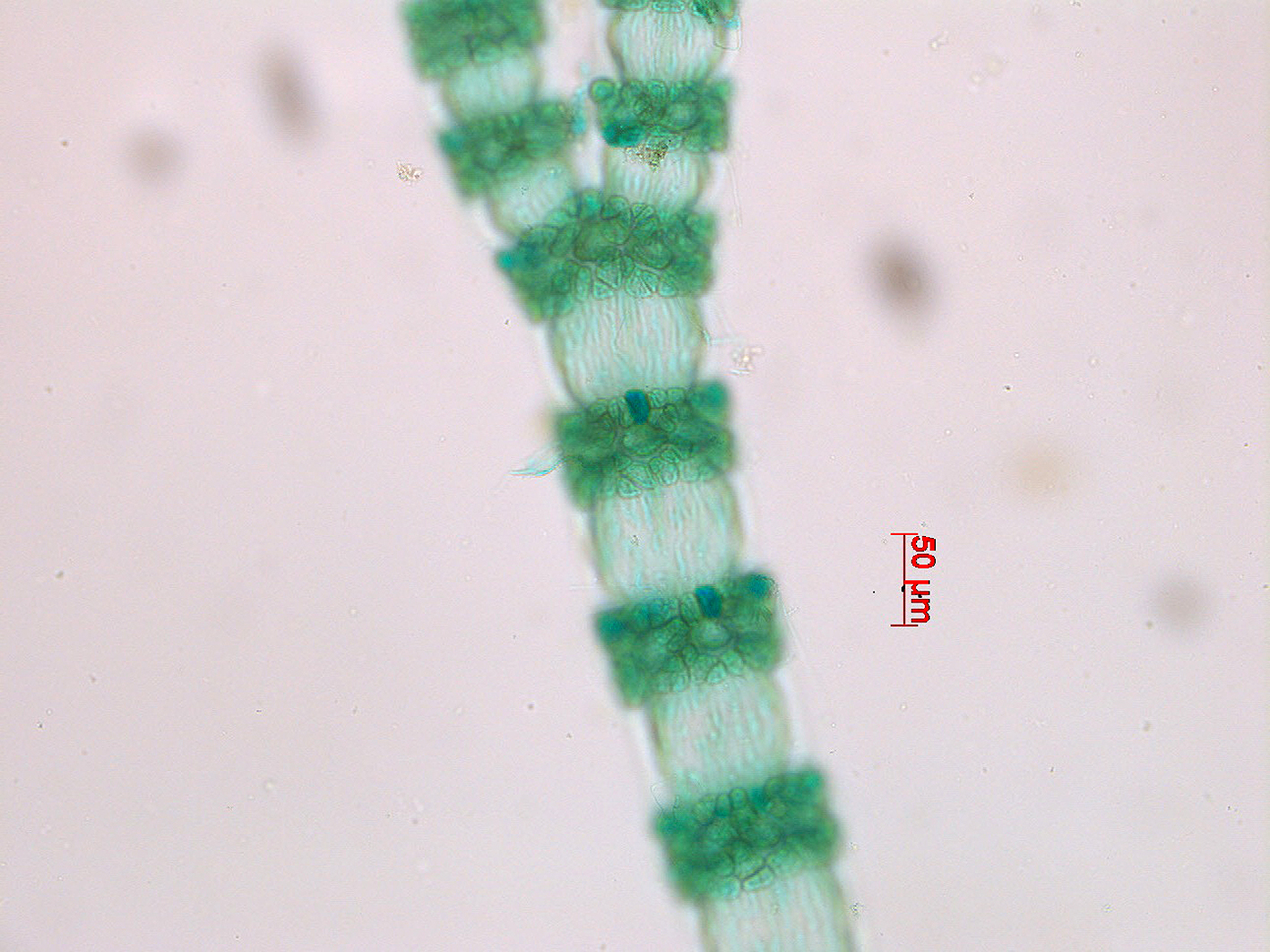 Ceramium sp. 1. Stained slide material.
Cite this record as:
Anderson RJ, Stegenga H, Bolton JJ. 2016. Seaweeds of the South African South Coast.
World Wide Web electronic publication, University of Cape Town, http://southafrseaweeds.uct.ac.za; Accessed on 25 September 2023.