Order Ceramiales
Family Rhodomelaceae
Chondria armata (Kützing) Okamura 1907: 69, pl. XVI: figs 9-19
Plants pale pink, usually forming dense cushions of erect axes 1-2 cm high; prostrate axes irregularly branched, erect axes radially branched, terete, ca. 1 mm diameter basally, narrowing distally; ultimate branchlets 2-4 mm long and ca 400 µm in diameter; apices acute, with prominent apical cell and no apical depression; trichoblasts detaching easily but present in distal thallus. Structure of axial filament surrounded by 5 pericentral cells that remain visible throughout; inner cortex (medulla?) of isodiametric cells decreasing in size towards the surface of the thallus, outer cortical cells ca 20 µm in diameter. Tetrasporangia developing in ultimate branchlets, about 100 µm in diameter, tetrahedrally divided. Sexual structures not observed.
Collections, ecology and regional distribution
A mainly tropical species that extends down the KwaZulu-Natal coast as far as Bird Island in Algoa Bay (Anderson & Stegenga 1989). Usually forming extensive cushions in the lower eulittoral zone, but sometimes present as solitary plants.
World distribution: Widespread in the Indian Ocean and western Pacific (Guiry & Guiry 2016).
Type locality: New Caledonia (Silva et al. 1996).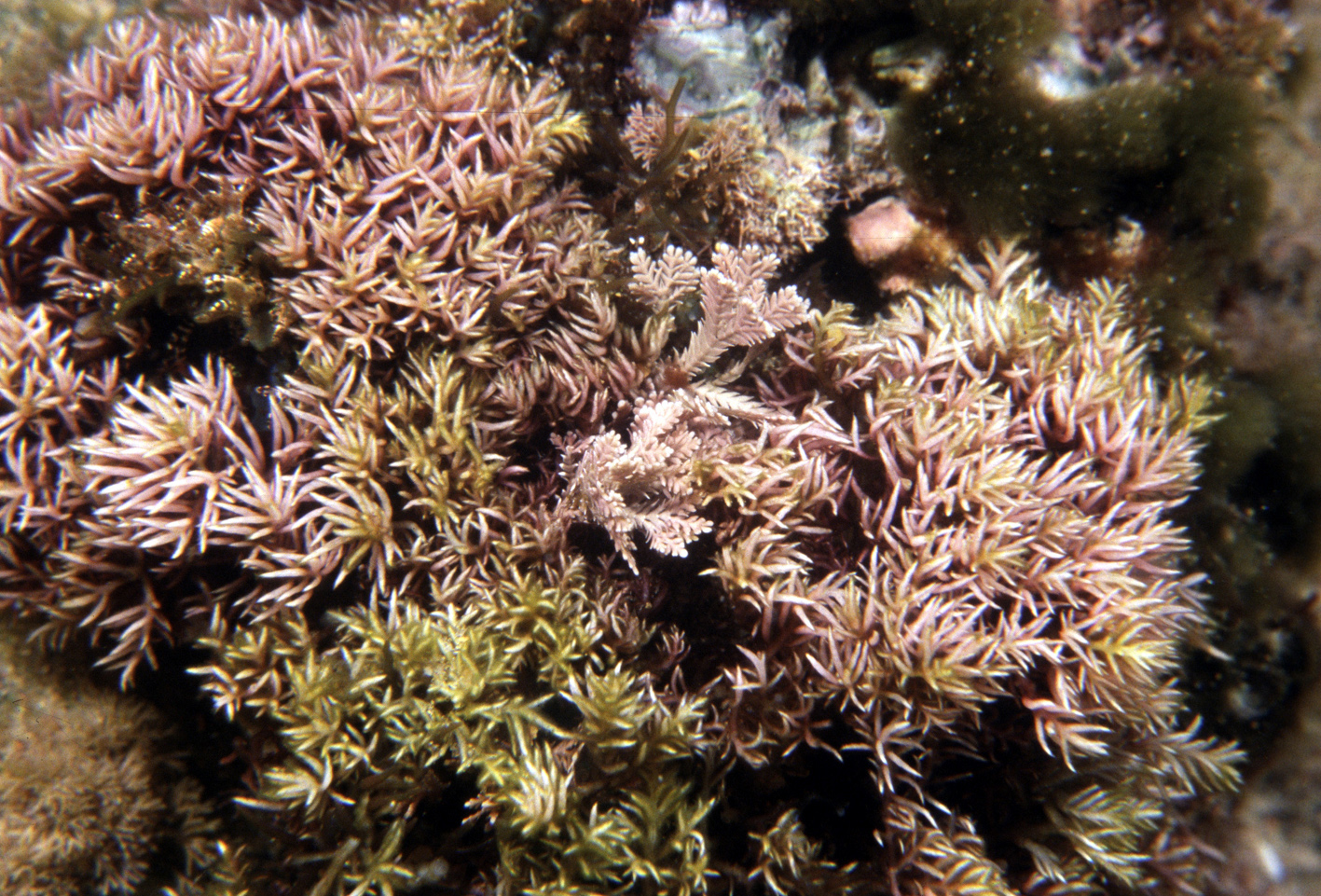 Chondria armata, typical pink turf.

Chondria armata, single upright showing pine-tree like shape.
References Chondria armata
Anderson, R.J. & H. Stegenga. 1989. Subtidal algal communities at Bird Island, Eastern Cape, South Africa. Botanica Marina 32: 299-311.
Guiry M.D. in Guiry, M.D. & Guiry, G.M. 2016. AlgaeBase. World-wide electronic publication, National University of Ireland, Galway. http://www.algaebase.org; searched on 31 May 2016.
Okamura, K. 1907. Icones of Japanese Algae. Vol. I pp. 65-92, pls XVI-XX. Tokyo: The Author.
Silva, P.C., Basson, P.W. & Moe, R.L. 1996. Catalogue of the benthic marine algae of the Indian Ocean. University of California Publications in Botany 79: 1-1259.
Cite this record as:
Anderson RJ, Stegenga H, Bolton JJ. 2016. Seaweeds of the South African South Coast.
World Wide Web electronic publication, University of Cape Town, http://southafrseaweeds.uct.ac.za; Accessed on 21 September 2023.